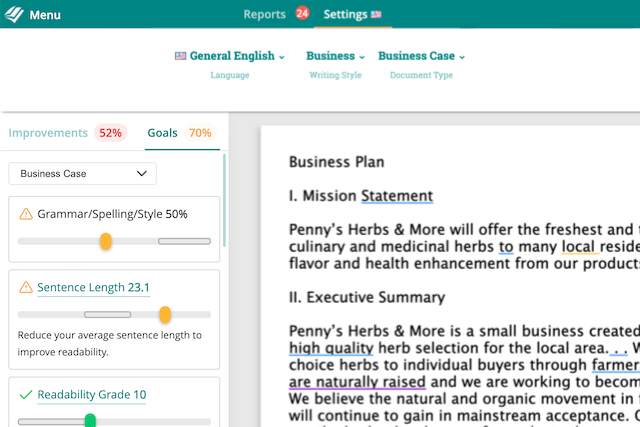 Writing is an essential skill for professionals in all industries. It is a vital part of communication and allows you to convey your message with ease and clarity to a larger audience.
Effective writing builds your problem-solving and critical thinking skills. For example, when you're writing a report about a specific project, your ideas don't come across as ambiguous or incoherent. And if you're interviewing for a job, a well-written résumé—one without spelling or grammar mistakes—can help you get hired.
English experts have different opinions when it comes to improving writing skills. Some will tell you to write every day, while others will tell you to read every day. While this advice works, it can be hard to implement if you're a busy person.
That's why we recommend using ProWritingAid. Our writing assistant is packed with useful features to help you improve your writing style, tone, grammar, and much more.
Whether you're creating a proposal, an annual report, a business plan, or a memo, ProWritingAid can be incredibly useful in helping you write everything right the first time.
It features powerful artificial intelligence (AI) algorithms that flag issues in your text and make context-specific suggestions to help with grammar, spelling, punctuation, wordiness, style, and even plagiarism.
Here's how ProWritingAid can help you learn as you write.
1. It Enhances Your Content's Readability
There's no use writing something your readers won't enjoy reading. Readable content is easy for readers to understand. They will engage with it and continue reading to the very end.
Improving the readability of your content makes your writing stronger and trims it down to its essentials. It enhances the authority and integrity of your writing. Having a great idea isn't enough. You must be able to explain it well to your audience so they can understand it.
ProWritingAid helps improve the readability of your text. The Readability Report helps you know how long readers will take to read your content and how complex it is.
The report highlights the easy and difficult paragraphs in your content and shows you the areas you can tweak to enhance readability. It features the Flesch Reading Ease Score, a popular readability test. The test calculates your content's readability by checking the number of words and syllables in your sentences.
Using the Readability Report
Open the online editor and click on the "Readability" icon (on the right side of the menu bar)
Paste your text for analysis
Every paragraph that is hard to read will be underlined and color-coded according to the level of difficulty (paragraphs highlighted in green are the easiest to read, while those highlighted in red are the hardest)
When you hover your cursor over each paragraph, you'll see its Flesch Reading Ease Score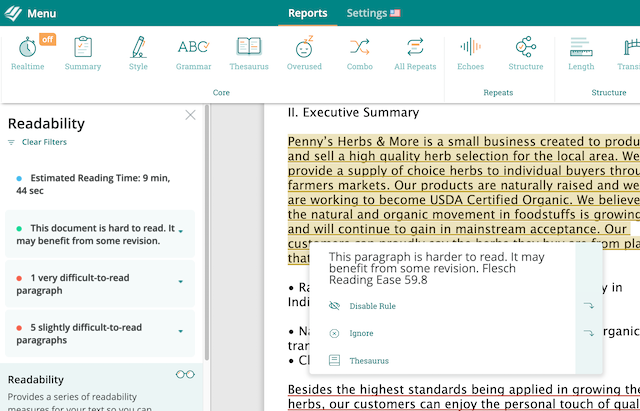 Once you know where your difficult-to-read paragraphs are, you can use the Summary Report to find out what is making your writing difficult to read.
Using the Summary Report
Open the online editor and paste your content, then click on the "Summary" icon (on the left side of the menu bar)
You'll see many readability stats, like the grammar score, spelling score, style score, and other scores that show how readable your writing is
To see the areas you need to improve, scroll down to "Where your document may need work"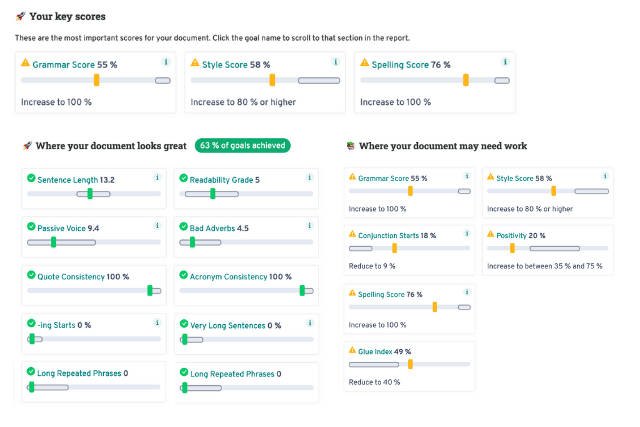 If your writing has a low readability score, it's difficult to read. The sentences may be too long, there may be grammar mistakes, or you may have used a lot of jargon.
A good Flesch Reading Ease Score is 70-80%, which means the text is fairly easy for the average adult to read.
Run the Readability Report again after making changes to make sure your content is readable and ready to publish.
2. Personalized Progress Reports Show How You're Faring
Want to know if your writing has improved? If your verbs are lively and diverse, or if your sentences vary in length and structure? ProWritingAid will tell you. Our Personalized Progress Report lets you see how you've improved each week.
Here's what the Personalized Progress Report does:
It helps you track your performance and see where you've improved versus the areas that still need work
It shows you your most productive days and helps you plan your writing
It highlights your achievements so you can celebrate them
It shares videos, articles, and quizzes that help address your problem areas while making learning fun and interactive
So, how do you get the weekly statistics? Once you open an account, we'll start sending them to your inbox every Monday. You can easily opt out whenever you want.
3. Writing Goals Highlight Key Areas for Improvement
The ProWritingAid Summary Report outlines goals that guide you as you review your work. These goals are based on your writing style and act as your text's report card. They show you where your content looks great and where it needs tweaking.
Once you paste content to the online editor and click on "Summary," you'll see areas where you've scored well or poorly for the specific goal. ProWritingAid gives a target range for each goal, and a colored bar in each section shows how your text scores within the range. Green is good, while yellow means you're outside the target range.
The report scores your content's grammar, style, structure, readability, and much more. Combine it with the Personalized Progress Report to hasten your mastery of English. With each passing day, you'll spend less time editing your work.
4. Your Grammar and Punctuation Will Improve
Good writing is all about the little things, like punctuation. Some companies have paid dearly for incorrect or missing punctuation. Maine Dairy Company had to pay its drivers $5 million because it forgot to include the Oxford comma in one sentence in its overtime law. The drivers sued and won.
For your writing to have an impact, it must leave an impression on the reader. You can't make a great impression with poor grammar and wrong punctuation. If you struggle with grammar, punctuation, sentence structure, or spelling, start using ProWritingAid.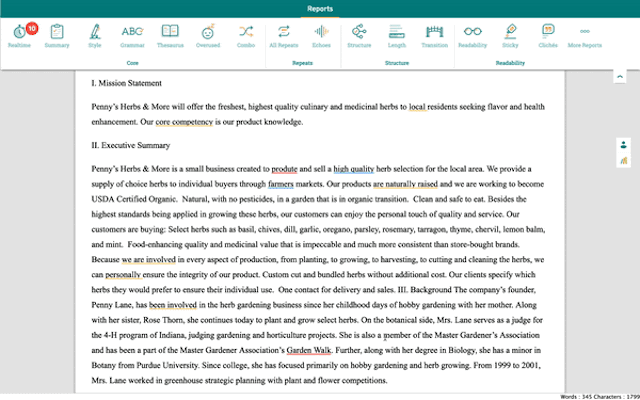 Our writing assistant will clean up your writing by detecting spelling and grammar mistakes, incorrect punctuation, and poor sentence structure. The synonym suggestion feature is pretty good, too.
The editing app provides brief explanations for every issue it identifies. The explanations are in simple language, making it easier for you to implement them.
Our Grammar Report will help take your grammar to the next level. It uses AI algorithms to catch all the errors that other grammar checkers miss.
To run the Grammar Report, do this:
Open the online editor and paste your content
Click on the "Grammar" icon and run the report
A new window will pop up and display every grammar and spelling error identified in the text
Click on the drop down arrow to see the specific mistakes you've made
The pop-up window has three symbols: an eye symbol, a check mark symbol, and a drop down arrow. The eye symbol hides or displays errors in your content, the check mark symbol lets you accept the first option ProWritingAid suggests, while the drop down arrow identifies where the error is in your text.
All mistakes are color-coded. Red highlights spelling mistakes, blue highlights grammar, while yellow shows composition errors. Also, each mistake has a number next to it in brackets. The number shows you how many times the error is repeated in your content.
5. ProWritingAid Helps You Maintain Consistency
You're never really done editing your content until it's consistent throughout. Inconsistency creates a barrier between readers and understanding, prevents effective communication, and lowers the chances of your writing conveying the intended message.
The ProWritingAid Consistency Check reviews your work for consistency in spelling, punctuation, hyphenation, capitalization, and other areas. For example, it reminds you to stick to UK English, US English, or Canadian English throughout your writing, depending on the English variety you're using.
The report also checks if you've accurately used the em-dash, the en-dash, and hyphens. You won't find yourself mixing curly quotes with straight quotes.
To access the Consistency Report, paste your content in the online editor and click on the three dots on the right side of the menu bar. Scroll down and click on "Consistency." Once the report runs, the results will be displayed on the left sidebar.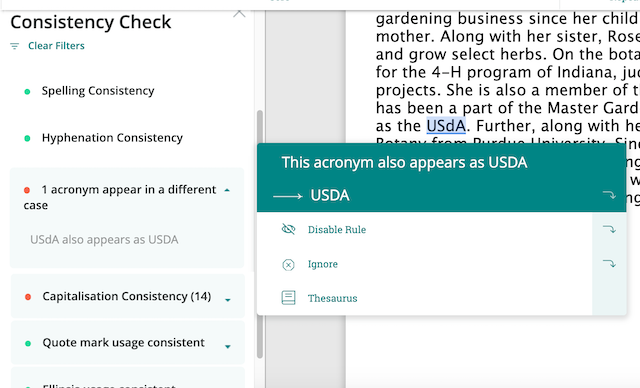 You can also use the Sentence Structure report to see how each sentence in your content starts. Changing the way you structure sentences keeps your audience engaged and adds rhythm to your writing. For instance, if each sentence starts with a subject and a verb, the content will be very boring to read.
Too many long sentences can make your content difficult to read. On average, your sentences should have 20 words. Throw in a shorter sentence now and then that surprises, summarizes, and refocuses.
Use the Sentence Length report to see how long your sentences are. The report will tell you which sentences you should shorten to improve your content's readability.
The Best Tool for Better Business Writing
Whether you work alone or you're part of a team, writing is something you do every day. Use ProWritingAid to strengthen your writing and shorten the time you spend editing. Your content will be more engaging and fulfil its purpose.
Try ProWritingAid's Editor for Yourself
---