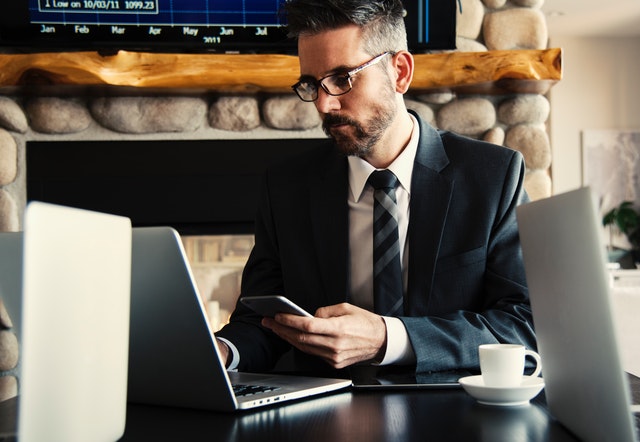 The biggest challenge most entrepreneurs face is trying to stay on top of everything. You have to organize projects, respond to emails, make sure your website works perfectly, avoid getting distracted by social media, and stay in touch with your network.
You can get overwhelmed very fast.
The good news is the internet is filled with tools that can make you more productive and help you to organize your life and business, allowing you to focus on what matters most.
The life of an entrepreneur is a busy one, and sometimes it can feel like your to-do list will never end. That's why you need business tools. The ones we've included in this post were created by people who know the ins and outs of entrepreneurship. Many of them have free versions, so you really have no excuse for not giving them a try.
Here are seven essential tools to boost your business in 2021.
1. Trello: for Project Management
Trello is a project management tool that will help you get organized. It sorts your projects into boards and lets you know what's being worked on, who's working on what project, and the exact phase of each project. You can think of it like a whiteboard filled with lists of sticky notes, each containing a task for you and your team.
You can use Trello to create lists filled with cards, like so: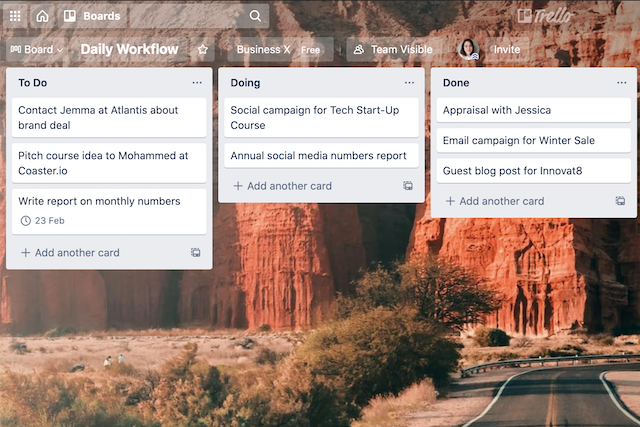 The above example is very basic, but there's a lot you can do with Trello. On each card, you can add comments, create checklists, upload files, and more. And because Trello is highly versatile, it can be used in different ways: to organize specific projects, to write entrepreneurship eBooks, to create email courses, etc.
The ProWritingAid team regularly uses Trello for content management. Everyone on the team can quickly see which articles have been written, which ones have been edited, and which have been published and shared online.
2. Slack: for Team Communication
Slack is so popular that the company that owns it has been valued at more than $20 billion. This workplace communication tool has plenty of add-ins for other workplace tools. However, you don't need the add-ins to use Slack, because the messaging platform is all about talking to other people. There are two ways to chat in Slack: direct messages and channels.
You can create channels in Slack to discuss different topics and have conversations with different groups of people. You can create shared channels with partners and clients. The communication platform allows you to quickly find messages, notifications, and files—and to share files easily. You can connect Slack to other apps, like WordPress or Skype. and everything is automatically synced on all your devices.
Use Slack to share your ideas with peers and get inspired by their suggestions, expertise, and questions. This platform makes working together easy.
3. ProWritingAid: for Writing Professionally
In today's collaborative world, writing is the main way business gets done. When you write well, you do business well. Well-written reports and memos lead to deeper insights, good proposals boost revenue, and gripping marketing materials increase sales.
There are four key principles that should underpin everything you write, however small:
Clarity
Professionalism
Consistency
Efficiency
If your writing is clear and to the point, your reader will feel like their time is respected. When your writing is consistent, you save time checking the same details repeatedly. All of this leads to greater efficiency and happier employees. But when you manage a team, it's hard to ensure each of these four goals are met.
That's where ProWritingAid comes in. ProWritingAid is an editing powerhouse with over 25 writing reports, a customizable style guide, a text expander feature for easy access to information, and so much more.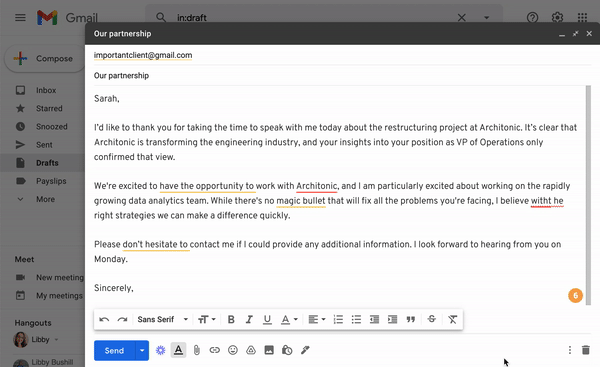 Find out more about ProWritingAid for business here, and book a demo.
4. Leadfeeder: for Tracking Website Visitors
Most email tracking software tells you whether an email was opened or not. However, knowing whether someone opened your email isn't enough.
You also need to:
know where the person is in the buyer's journey
understand why they clicked on your email or where they went from there
contextualize the role of email in your larger marketing funnel
Let's say someone opens your email and clicks on a link. How do you guide them through the buying process? If you only use email tracking software, you won't know which link they clicked on, whether they have already engaged with your brand, and what they did on your website after clicking through.
So, instead of getting a basic email tracking tool, get Leadfeeder. It can help you track your email marketing campaigns and sales with additional information such as who visited your website, where they came from, and what they were looking at.
This information lets you target prospects and close more sales. It helps you understand your email marketing and how it drives visits, leads, and more.
QuickBooks is the most popular accounting software for small businesses. Many companies use it to manage income and expenses and to keep track of the financial health of their business.
Small business owners use QuickBooks to pay their bills, track their cash flow, and manage their invoices. They also use the software to generate monthly and yearly financial reports and to prepare annual or quarterly business taxes. Some entrepreneurs manage QuickBooks themselves while others outsource bookkeeping.
There are several QuickBooks versions, but we recommend QuickBooks Online for new businesses. It has a 30-day trial that doesn't require a credit card.
6. Toggl: for Time Management
Entrepreneurs have a lot on their hands. They have to market their products, juggle clients, attend meetings with investors and employees, and keep track of projects and campaigns. They must also make sure they get paid so as to keep their businesses running.
That's why time management software is so important.
When planning your work, you must be able to set deadlines, mark important milestones, track your time, schedule tasks, track projects, and export timesheets to your clients. Toggl can do all this.
The time management software creates visual reports, allowing you to see how you and your employees use your time and which projects are the most profitable. It integrates with popular project management apps such as Asana, GitHub, and Basecamp and can be used by individuals or teams.
Toggl employs Gantt-chart visualization, making it easier to keep track of things. It is a great time tracking tool for business owners who want to manage their time and projects well.
7. PayPal: for Invoicing and Payments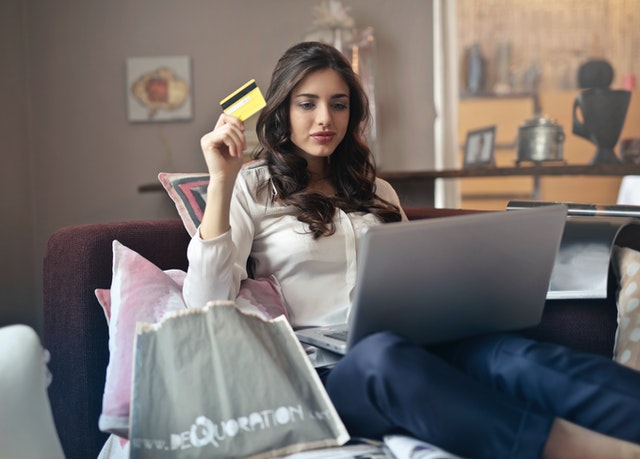 PayPal has over 325 million active accounts in 200 countries and accepts more than 100 currencies. When you set up a PayPal business account for your company, you can access many features that aren't accessible with a personal account. There's no charge to open a PayPal business account, but many of the business account features have associated fees.
It's easy to use PayPal, and because most people trust the company, they won't be reluctant to pay for your products and services. You can create and send invoices through your account, and clients don't need a PayPal account to pay you. Additionally, PayPal's fees are low compared to many merchant accounts. You can also integrate PayPal with many shopping cart systems.
In 2021, Use the Best Tools to Run Your Business
Running your own business is tough because of many reasons: limited financial resources, lack of knowledge and experience, difficulty finding the right partners, and trying to perfect your product or service. These all get in the way of growth and success.
But the good news is most of the problems entrepreneurs face can be solved with the right tools. Business software and solutions tackle the challenges of entrepreneurs across multiple departments: HR, accounting, communication, and even customer support. They help entrepreneurs organize different business processes and have free or low-cost plans.
ProWritingAid is one.
Our editing software is designed to help each of your employees produce polished, high-quality writing that reflects well on your company. It offers detailed corrections for spelling, grammar, and punctuation errors. Your team will get real-time suggestions to refine tone, improve word choice, fix grammatical errors, and make sentences clearer. ProWritingAid makes great writing easy and significantly improves the way your team writes.
Change your writing and change your business!
---
Want to Enhance Your Reputation, Improve Efficiency, and Maintain Brand Consistency?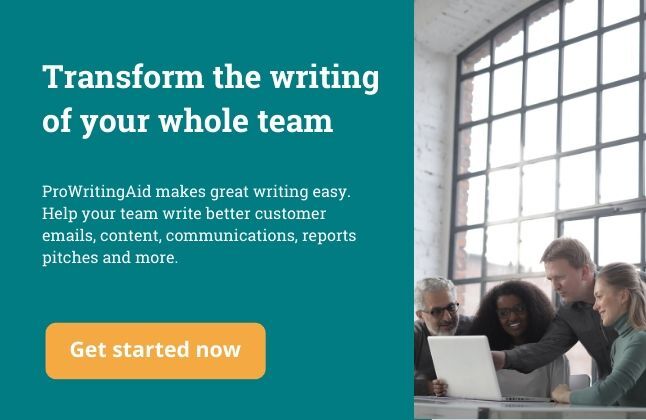 We offer secure, scalable, and customizable writing support for your team. Find out more here!
---