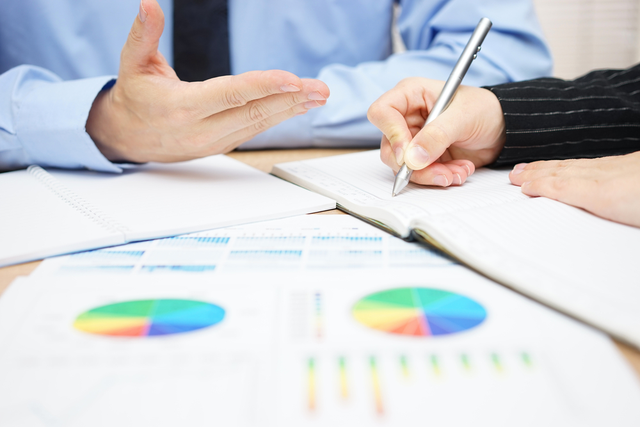 We know that a lot of your business writing skills are picked up and learned along the way as you move through your career. Here at ProWritingAid, we want to make it a little easier to learn new skills and improve your writing. That's why we've teamed up with RingCentral US to learn more about how to write well and succeed in business.
Keep reading to hear their tips for writing a sales proposal that wins more deals.
---
Your sales proposal is the cornerstone of your sales strategy. Even with the best sales team on board and access to the best sales apps, without a strong sales proposal all your hard work will go to waste.
No matter how great your product or service, if prospective customers can't see the value of your offer, they'll walk away. Which happens pretty frequently. According to Rain Group only 47% of sellers achieve a win from their proposals.
To create a great sales proposal you need to position yourself as having specific answers to your prospect's particular problems.
At RingCentral, we sell state of the art telephony systems. To really target our potential clients' needs, we need to go beyond 'state of the art telephony systems', and focus in on a particular product specific to the client's needs.
So, let's say we choose to pitch Voice Over Internet Protocols (VoIP) to a client. Our proposal then needs to answer the question "is VoIP worth it?" with robust reasons as to why it will solve our prospect's problems.
Your proposal should be clear, easy to understand, and include all pricing information. Most of all it needs to sell your company as the only one that's capable of delivering exactly what that customer requires.
In this post we'll outline some key ways to write a winning sales proposal. From what to say to how to perfect your layout, these tips should help you start winning new business right away.
Let's get started with how to prepare to write your sales proposal:
1: The Key to a Great Proposal is in the Preparation
Before you get started with your sales proposal, make sure you do some market research so that you fully understand your prospective customer's pain points, as well as how to address them.
If you're new to the market and looking for inspiration, why not check out what your competitors are doing? While you probably won't be able to gain access to their actual sales proposals, there are other ways to find out how they are addressing your target market.
Check out their website to see what they're writing about in their blogs. This may give you an indication of your prospective customer's burning issues. Follow them on each social media platform to see how they're projecting themselves to their target audience. For example, which keywords are they using when selling on each network?
All these things can give you clues as to how you should be approaching your potential customers.
2: Carry Out In-Depth Research on Each Prospective Customer
Before you start writing your proposal it's essential to not only have knowledge of your customer's industry but of their individual company. You can base your knowledge off both their request for proposal (RFP) or from your conversations with them during your lead qualification process.
You can also research recent news about the company—especially if they're discussing funding issues, recent hires, or looking for ways to boost customer experiences. Check out what's happening on social media for content they've shared or conversations they're having. Press interviews or conferences and trade shows are other good sources of information.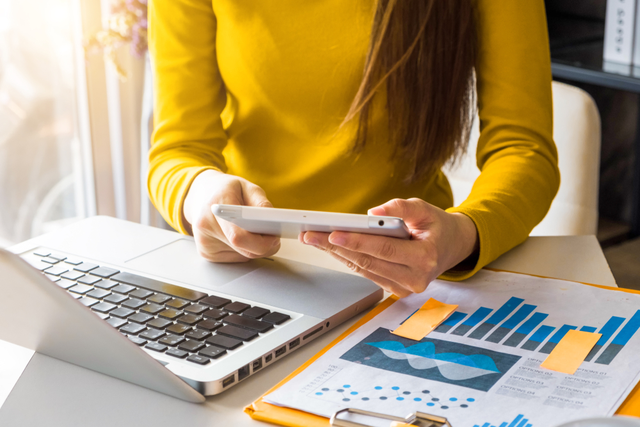 Also find out if your prospects are participating in online groups or forums, such as Slack communities or on Twitter or LinkedIn. These can be great places to uncover reasons why these clients may be moving in a new direction or seeking a new solution.
Have they, for example, been looking to find better ways to improve their enterprise customer service with CCaaS (Contact Center as a Service) on online forums? If so, this is a big hint they might be in the market for these products at the moment.
To better understand their mission and goals ask yourself the following questions:
What are your prospects' biggest areas of concern?
Is there a sense of urgency when it comes to their concerns?
Have they previously used another service-provider? If so, why didn't things work out?
How does your solution solve their problems?
Who are the decision makers?
How can we convince them we have the answers?
How do we communicate our methods and solutions?
These types of questions will help you draw up a detailed and personalized sales proposal which will increase your chances of being successful. Knowing these answers will also help the sales team field questions confidently during meetings and video calls with prospective customers.
3: Think About the Structure of Your Sales Proposal
The structure of your sales proposal can make or break your success rate. It should be laid out so it's easy to read, with short paragraphs and plenty of visual content. Just as you do in your marketing collateral and product descriptions, avoid using jargon and keep things short and to the point.
People generally have a short attention span, so presenting them with reams of information will disengage them. In general, keep proposals to no more than 8 to 20 pages, although this will differ depending on the nature of your business, client, and offer.
Use headings, bullet points, and an active rather than a passive voice to make your content more engaging. For example, opt for 'see the results' rather than 'the results can be seen here'.
---
You can use ProWritingAid to speed up this process.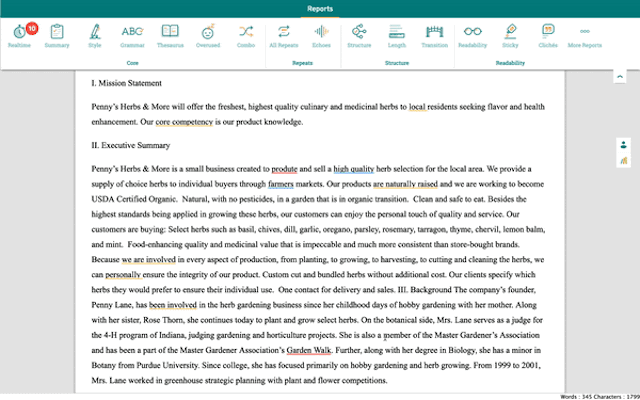 The 'Business' writing style will highlight any jargon in your document so you can change it out for something more meaningful. You'll also see quickly where you've used passive voice, sticky sentences and if you've made any spelling or grammar mistakes.
---
Visuals
Use visuals in your proposal because the human brain processes images faster than text. Visuals are also useful in breaking up the text making it easier to read. Proposals and presentations that use visuals, too, are found to be more effective than those without.
This is why most companies cite visuals as important to their content strategy.
Use graphs, flowcharts, and tables to present data and to break complex ideas down into easy to understand images. Include documentation to help readers visualize how you can help them achieve their solutions. Make sure your visuals are on brand with clear fonts and graphics to make your company stand out as professional.
Finally, suffice to say, your proposal content should be error-free with no typos or grammatical mishaps.
4: What to Include in Your Sales Proposal
Whether you include a cover letter or not is open to question. If you're sending out an unsolicited proposal it may pay you to include one in order to grab the interest and attention of the recipient.
If you're sending your sales proposal digitally, you could even consider having your cover letter in the form of a personalized video from the CEO of your company.
If you decide to include a cover letter make it short and to the point. You could use a question as a hook; e.g. "How would you like to increase customer satisfaction rates by 50% in the next three months?" Then introduce yourself with a few words about how your IVR software, for instance, helped a client do just that.
If your sales proposal is solicited, you could still opt to include a cover letter. This should begin by thanking the prospect for asking you to submit a proposal "as per our conversation".
Then, no matter whether your proposal is solicited or unsolicited, your sales proposal should include the following elements:
Introduction
This is where you introduce yourself and your team members, as well as give a brief summary of your services or products. Add in testimonials from existing clients or customers to build credibility in your reader's mind. When including testimonials, use industry-related examples that will resonate with your target customer. Your aim is to present yourself as the expert in their field.
Discussion
Here's your opportunity to show prospective customers that you understand what their challenges are, with pointers to what could happen if they don't work to address them.
Approach
You need to define your approach towards the prospect's challenges, in terms of objectives and milestones,as well as give an overview of the methodologies you intend to use. Don't reveal all when it comes to your methods. Leave out some of the details for later, so you have something to discuss further down the line.
Plus, you don't want to give out so much information that prospects try to solve the issue themselves.
You do, however, need to be clear on deadlines. For example, if you are proposing to create a website for a client they'll need to know when you will get it finished by. Give as firm a time estimate as possible but always build in a little extra time for yourself, so you're sure to get it completed on time.
Benefits
Here's where you try to convince prospects that they will truly benefit from adopting your products or services. It's important not to be too 'salesy' or pushy. Remember that what you are offering them is something valuable, and that should speak for itself.
Cost
You should always be clear and transparent about how much you charge. When providing costing information provide a number of options or packages to choose from. For example, you could have three plans: a premium, standard, or basic.
By bundling fees into a single solution you are presenting them with a benefit or solution rather than a service. And research indicates that people prefer buying a bundle rather than a single priced offer.
Don't offer too many solutions, however, three at most should suffice (and most people opt for the middle one).
Make sure you explain your pricing plans clearly, especially if the project is large. You can break things down into stages if the project is lengthy and give a cost for each stage.
Make it Clear How to Proceed
Make sure your sales proposal has all the relevant information needed to make a prompt buying decision. Include an easy call to action (CTA) that allows a client to move forward as quickly as possible. Include an electronic signature or indicate that you're happy to get started if they send over a letter of intent.
Include your terms and conditions, too, because your prospect's lawyers may wish to have a peruse to evaluate the risk in proceeding.
5: Build a Sales Proposal Template
Instead of working from scratch every time you're pitching to a prospect, build a template to make sure you're including all the key elements.
While it's fine to use a sales proposal template, you won't win any brownie points by sending out generic documents. It's essential that you talk directly to your prospective customer about their specific problems, so they know you understand them.
It's entirely possible that certain parts of your proposal will remain the same across several prospects, but there are plenty of opportunities to customize them. When you're customizing a proposal make sure you take out anything that applies to another customer or you will look unprofessional.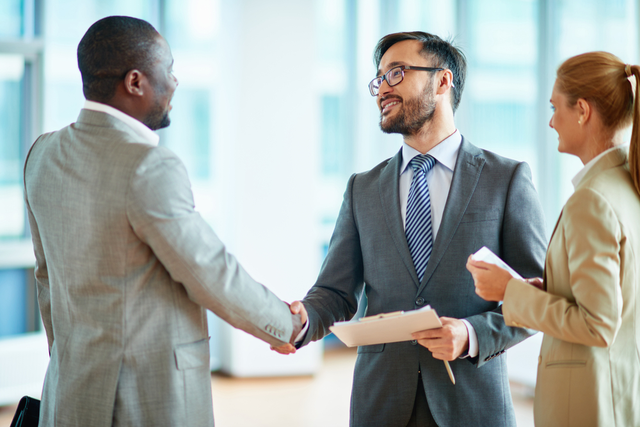 6: Review Your Proposal
Once you've written your proposal, walk away from it for a few hours, or even better, a few days if you can. This will help you return to it with fresh eyes. You may notice things you've forgotten to include or decide to revise sections so they work better. Shorten sentences whenever you can, eliminate jargon, and note where extra visuals could come in handy.
Use a consistent tone of voice and make sure all sections flow naturally. Run the proposal through ProWritingAid and check it for grammar and other mistakes. Ask a colleague to give the proposal a read through, and you're good to go!
If despite your best efforts your proposal gets rejected, analyze your prospect's response for clues. And ask them why via a follow up email. Is it down to budget or did they simply think you weren't a great fit? If it's a timing issue, arrange to speak to them further down the line. If you don't get any feedback despite trying, review the process and see if there's anything you can learn for next time.
Final Thoughts
Your business is unique, so the way you match your offers to your target audience will be equally so.
However, there are some key elements that winning proposals have in common. Next time you're preparing a sales proposal, use our recommendations and we're certain prospective customers will find it irresistible.
---
Want to learn more great business writing hacks? Download this free book now: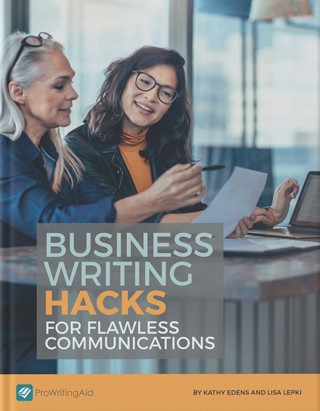 Writing is an essential element of nearly every profession today. Whether you are drafting a proposal for a major prospect or collaborating by email, strong communications help colleagues and clients understand your ideas. Errors and awkward writing can make you lose credibility.
Download this guide to learn the techniques professional writers use to write clearly and persuasively.