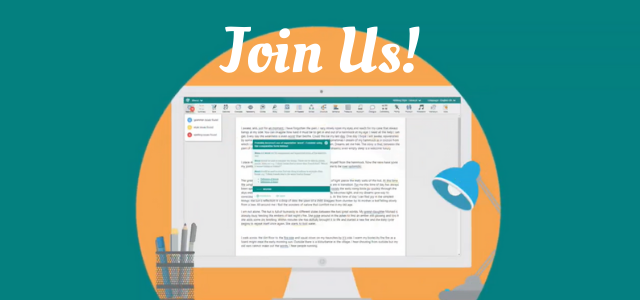 We love offering free training, workshops, and events for writers in our community!
Each month, we host events ourselves and in collaboration with our partners, all aimed at helping you become a better writer.
We will update this article monthly with upcoming training dates so you can sign up for what interests you. Bookmark it now so that you never miss out!
---
NOTE: We record all sessions, so even if you can't make a certain date/time, it's still worth registering so you receive the replay!
---
Regular Monthly Sessions
We host six free monthly series for all kinds of writers.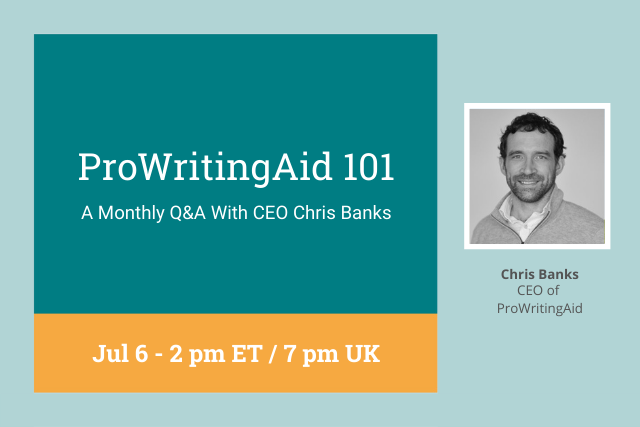 Founder and CEO of ProWritingAid, Chris Banks, will walk you through the ProWritingAid web editor to help you get up and running. See how key features like the Summary Report, Real-Time Checking, and Word Explorer can help you improve your craft. The session will finish with a live Q&A.
Chris Banks is an expert on creativity and language technologies. He started ProWritingAid to help with his own writing, but he soon saw how useful it was for everyone else. Now, he wants to help more people put their ideas into words and those words into the hands (and hearts) of readers.
ProWritingAid 101 happens on the first Tuesday of every month.
---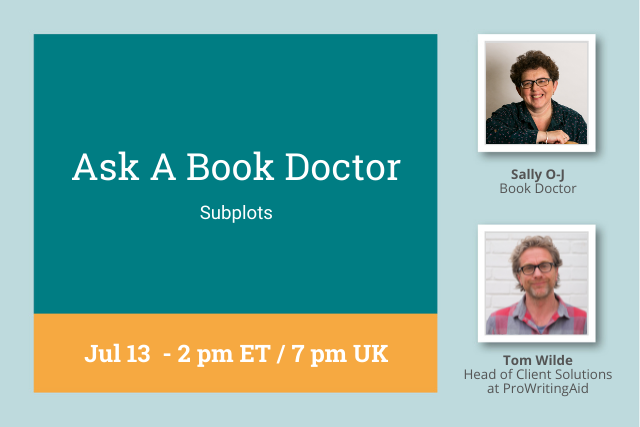 On the second Tuesday of every month, the ProWritingAid community is invited to bring all their questions to our favorite Book Doctor, Sally O-J.
A book doctor works alongside the author, looking at everything from plot and characterization to writing technique, dialogue and texture. If you're wondering how to turn your manuscript from a labor of love into a bestseller, a book doctor's diagnosis might be what you're missing.
When bestselling author Sarah Waters OBE (Fingersmith, Tipping the Velvet) was just starting out, she turned to Sally for feedback, encouragement and support. Sally has worked as a book doctor with Sarah on all of her novels since.
Each webinar will be based around a topic and Sally will provide practical advice and training before opening up for questions from attendees.
Upcoming topics:
July 13: Subplots
Aug 10: Converting Your Fanfiction
Sept 14: Interview with Christine McKerrow
---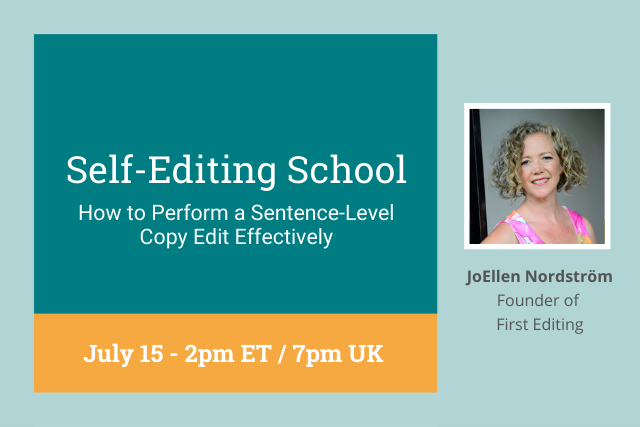 We've teamed up with Story Coach and founder of First Editing JoEllen Nordström for Self-Editing School. On the third Thursday of every month, you're invited to join us as we learn how to use self-editing to take a manuscript from a rough first draft to a polished piece ready to send to editors.
---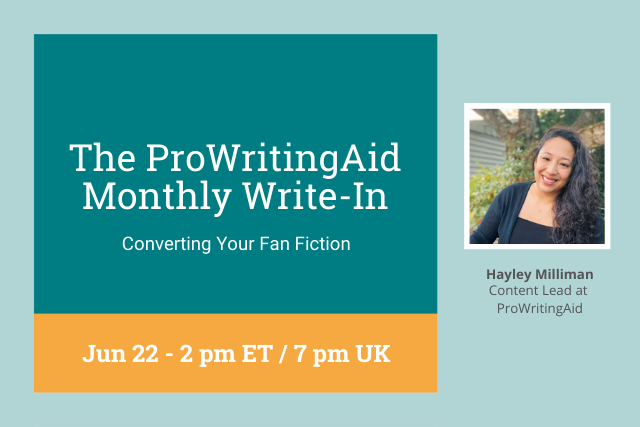 Each month, we gather for the ProWritingAid Write-In. Join us as we work through short prompts and share together for feedback. The Write-In happens on the fourth Tuesday of every month.
Upcoming write-ins:
June 22: Converting Your Fan Fiction
July 27: Chekhov's Gun
---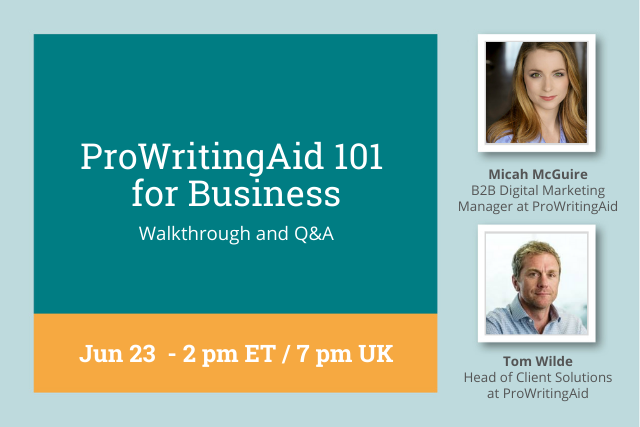 Do you use ProWritingAid at work? Then join our new webinar, ProWritingAid 101 for Business. Our Head of Client Solutions, Tom Wilde, and our B2B Digital Marketing Manager, Micah McGuire, will walk you through our Chrome extension and our most useful reports for business writers. We'll finish with a live Q&A to answer all your questions about our editing suite.
Next session: June 23rd
---
Additional Upcoming Sessions
In addition to our recurring series, we are proud to host guest presenters for sessions on everything from managing your content workflow to learning how to self publish. Check them out below.
---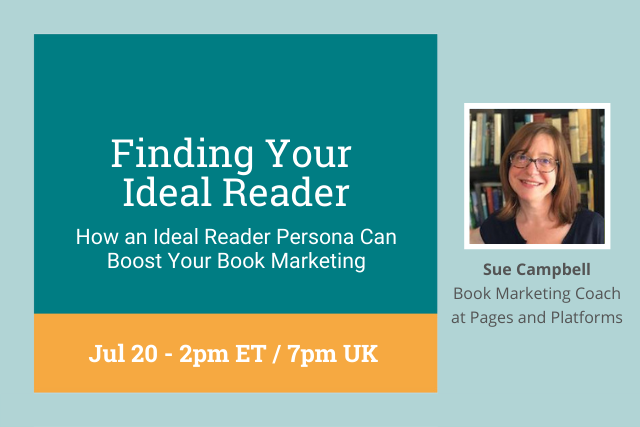 Marketing your book can feel overwhelming. You need to make decisions about your website, your social media channels, ads, how to talk about your book, and more.
But once you know the type of reader you're looking for, marketing becomes much more targeted, effective, and fun! Learn the whys and hows of creating a reader persona in this webinar from expert book marketer Sue Campbell.
---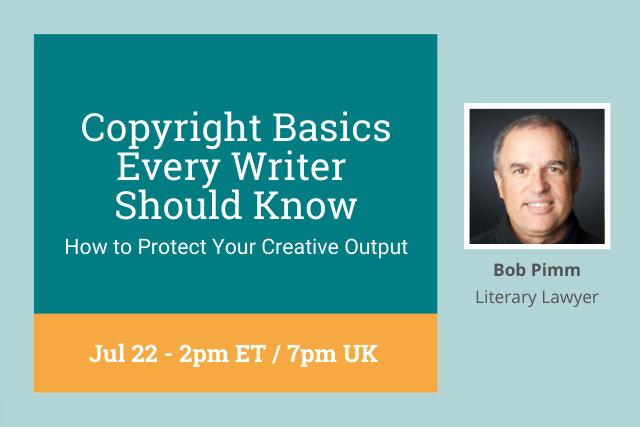 In this session, literary Lawyer Bob Pimm will walk you through a basic introduction to copyright law, so you know where you stand.
Find out:
What copyright is and what is/isn't protected by it

Who can claim copyright

What you can do if someone violates your copyright

… and much more!
---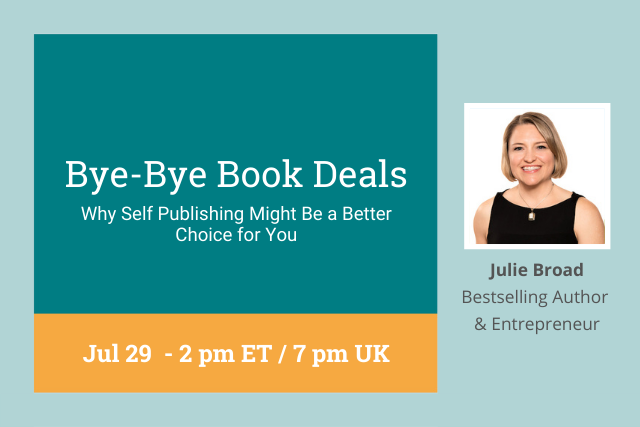 Hustling to find an agent, working hard on a proposal, and then waiting six, twelve, or even twenty-four months to find out if you received a book deal is inefficient and, oftentimes, heartbreaking. Self-publishing is mainstream, highly profitable when done right, and can position you as an expert in any industry. In this webinar with Julie Broad, author of Self-Publish & Succeed, you'll learn why self-publishing might be the better choice, as well as five tips to set yourself up for success.
Missed a session?

---
Have a question about how to register, or is there a training session you'd like to see us do? Feel free to contact us here.
---