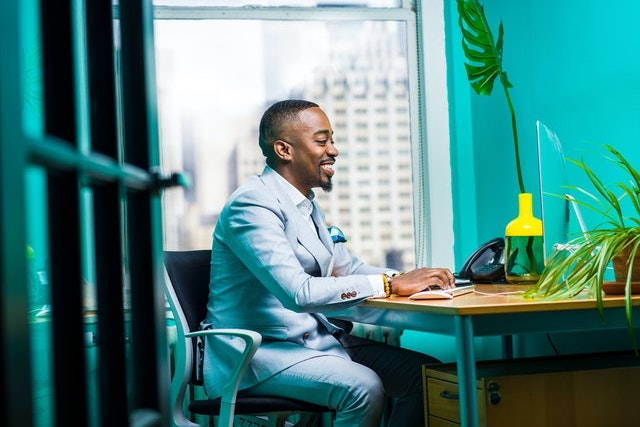 Any business consultant will tell you that one of the key determinants of success in business is communication.
As a business executive, your work involves getting other people to do things – employees to be productive, clients to buy your company's products, and suppliers to deliver supplies on time. If you can't communicate well, you can't make any of these things happen.
Communication can take many forms – email, blogging, commenting, illustration, texting, phone calls – and most of them require good writing skills.
The thing is, good writers are good thinkers. Good writing follows a logical path and is easy for people to follow. Writing forces you to organize your thoughts, improving your thinking capacity.
If you write poorly, your subordinates will have a hard time understanding your content. They may even misinterpret it. In fact, 57% of employees report that they are not given clear instructions at their places of work.
Why is effective communication so important?
It prevents confusion
It creates accountability
It provides purpose
It builds a strong company culture
Edit Your Business Communications
Business executives are responsible for a high amount of written communication every day.
If you've been in management for any length of time, you know the importance of polishing your content before hitting "send." While the informality of texting, tweeting, and emailing has made its way into business communications, good grammar still plays a vital role. It helps you to convey ideas with clarity, precision, and professionalism.
When your reputation is at stake, every little bit of help is welcome. And while the autocorrect and spell check tools most word processors have are great, they can only do so much. A professional editing tool like ProWritingAid offers many features that make polishing content a breeze.
To make the most of ProWritingAid as a professional, you can set your writing style to "Business." This gives you recommendations specific to business writing. The "Business" setting enables rules that you'll find most relevant, like the anti business-jargon rule, to make sure your writing is clear and fit for purpose.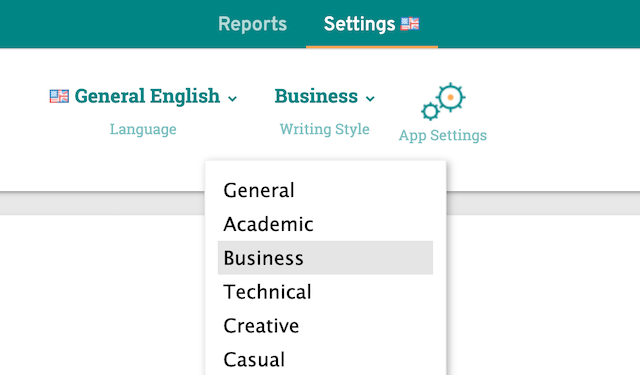 Here's how ProWritingAid can ensure you write like the boss you are.
Get to the Point
Clear writing gives your reader insight into your values. If your writing is clear and to the point, your employees and clients will see you as switched on and efficient. This sets a good precedent for how you want your business to run.
ProWritingAid checks for repeated words and phrases; overused, vague, and abstract words; and clichés and redundancies. In a few minutes, you can transform your writing from amateurish to professional. Each word will move your document forward rather than covering old ground.
Get Rid of Meaning-Sucking Business Jargon
Content that works for business is accurate, clear, and educational. This comes all the way down to the word choices you make.
When you work with like-minded businesspeople with similar professional backgrounds to you, it's easy to fall back on language you all recognise to get your point across. But do you really know what that "magic bullet" solution is going to do?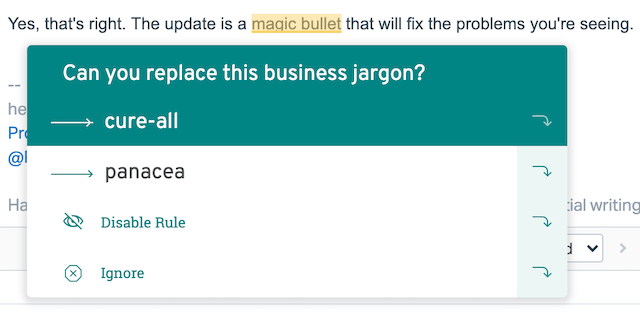 Jargon often acts as a stand in for what you actually mean. Instead of giving a short explanation of what your idea or direction is, you're delaying that explanation process and therefore wasting time. ProWritingAid will let you know when you're using jargon so that you can make sure you're making the most out of the words on the page.
Get Rid of Fluff
It's not just jargon that can suck the meaning out of your text.
When you're talking, there are some words you use to fill the little pauses as you decide what you're going to say next—like "um" and "uh." These words show up in conversations whether you like it or not. And although they don't add any meaning to what you say, they have a purpose in speech. Filler words allow you to pause and think about what you're going to say next.
But when it comes to writing, filler words take a different form. While you may not write "um" and "uh," you may use empty phrases and unnecessary adverbs that add length but not substance to your content. Here are a few examples:
In my humble opinion
Bring to the table
Needless to say
For what it's worth
Basically
Highly/very/really
You may use adverbs to add intensity to your content, but these words are so overused that people tend to skip them when reading.
ProWritingAid removes clichés, shortens sentences, and cuts fluff. Our Sticky Sentences Report checks for glue words – words that make sentences stick together, like "this," "that," "some," and "just." While glue words are important, when too many are used in a sentence, it becomes difficult to read.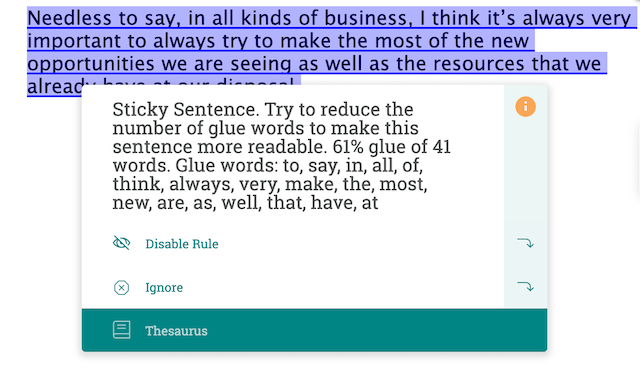 ProWritingAid will flag sentences that use too many glue words so that you can rephrase them to say what you really mean.
Create Consistent Content
Consistency matters because your primary objectives when writing are impact and engagement. You can undermine both if you are inconsistent. You also risk distracting the reader. When they see something unexpected, their cognitive process may be interrupted.
For example, if you use one formatting style early in your content then use a different one later on, your reader will pick this up either consciously or unconsciously. Their brain will ask, Is this change deliberate? Is it accidental? Is there some hidden meaning behind it?
It may only be a tiny inconsistency, but it is an inconsistency nevertheless. If the reader is a person who doesn't like inconsistency or doesn't have time for cognitive interruptions, it can trigger a negative reaction. They may stop reading your content altogether.
Writing consistently also means you are courteous because you don't want your reader to work too hard. The ProWritingAid Consistency Check makes it easy for you to write consistently. It scans your writing and offers to fix inconsistencies in capitalization, spelling, hyphenation, styling of dates and times, abbreviations, and much more.
The rise in remote working may mean you're writing for colleagues and customers living halfway across the world from you. If you're an American writing for a British audience, ProWritingAid will prompt you to write "colour" instead of "color" and "neighbourhood" instead of "neighborhood," and will tell you if you've mixed the two in your document.
Maintain Your House Style
To make sure your language usage is consistent, you can create a Style Guide that will prompt you when you use a word that isn't consistent with your style.
Maybe you manage a law firm, and prefer to refer to your lawyers as attorneys.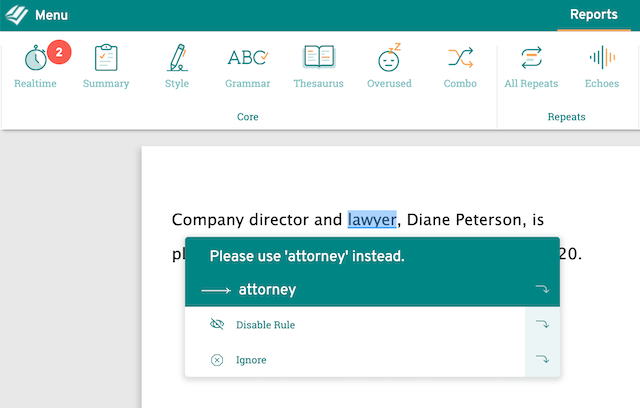 This will make sure that your reader doesn't have to navigate several terms when you're only referring to one subject. If you manage a team, you can create a style guide for all team members to make sure communication is consistent across the board.
Check for Plagiarism
When you're writing a business document, the worst mistake you can make is plagiarism. Plagiarizing someone else's work equates to stealing because you use their words, thoughts, or ideas without giving them proper credit.
If it's discovered that you've plagiarized someone else's content, your reputation may never recover. It is important to check for duplicate content if your company invests a lot of money in publications, online journals, and marketing materials.
ProWritingAid's Online Plagiarism Checker compares your content to over one billion web pages. If any part of your text matches something written online, you get a plagiarism alert. The plagiarism checker flags specific sentences and gives reference information about the source.
Your content remains private and is not searchable publicly; even other plagiarism checkers will not see it. The plagiarism checker is included in ProWritingAid Premium, or you can pay separately for bundles of checks.
You Can Edit Anywhere Online
Many online editors prompt you to copy and paste your content into a blank page. But if you're a busy person, you may not always have time to do this. A grammar checker that integrates with most of the sites and apps you use can be a lifesaver.
That's what ProWritingAid does.
ProWritingAid integrates with Microsoft Word and Google Docs, as well as with most internet browsers. The Chrome, Firefox, Safari, and Edge extensions let you edit your content anywhere you write online.
Email communication can be a time suck. Make sure you're writing effective messages that represent you well. With our browser extensions, ProWritingAid will appear in your email composer. For quick edits, Realtime suggestions will appear as you type. For longer, more info-heavy emails, you can click on the ProWritingAid icon to open the full editor.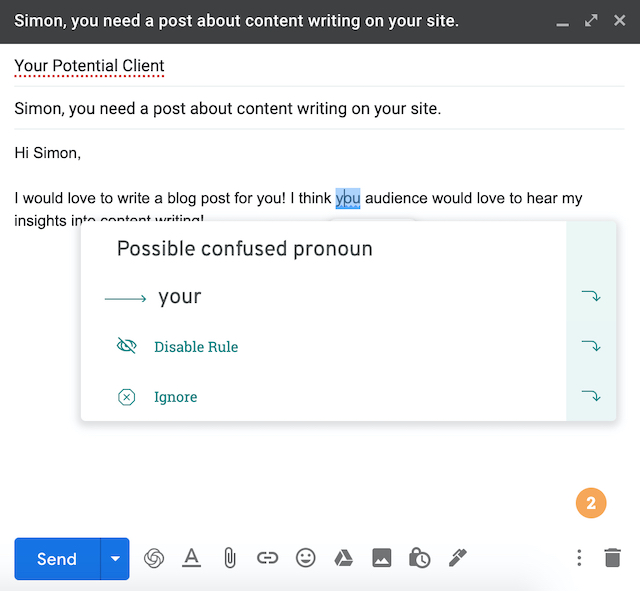 Managing a business can mean you have to wear several hats at once. You can go from writing technical reports to social media marketing within an hour. ProWritingAid reviews everything you write in real time, whether you're writing a blog post or updating your customers on social media. It highlights mistakes with underlines and you can click on each to get detailed information about the errors.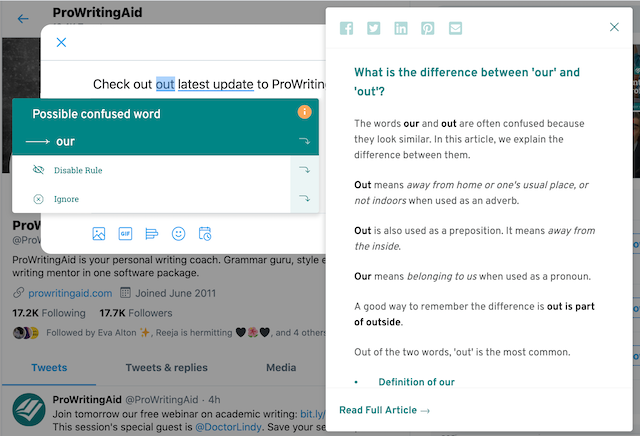 Using ProWritingAid makes flicking between different writing spaces simple, saving you time without sacrificing quality.
Why Are Good Writing Skills so Important?
Mark Twain once said, "to get the right word in the right place is rare."
Writing well is difficult, but it is doable. When you write well, you communicate what your brand represents and how you want others to see you.
The biggest benefit of good writing is that it gives a company credibility. If you don't have good writing skills, you may seem less intelligent to business associates, stakeholders, and even customers. They may even think that there are many things you're careless with since you don't care enough to double-check your writing.
Here's why good writing is important:
It reflects clear thinking: you can't write well if you don't think clearly
It shows you're empathetic: lack of empathy for readers is one of the main reasons people don't write well
It demonstrates your intelligence: flawless writing makes you look smart
You become influential: because you sound convincing, you can easily influence people
It makes for effective communication: your readers will clearly understand what you're saying
Your Writing Reflects Your Company – Write Well
Business owners and CEOs must possess a variety of talents in order to lead their organizations well. The ability to communicate clearly across a spectrum of audiences is one crucial talent worth cultivating.
However, in the hectic rush of daily operations, you can easily forget to hone your writing skills. Poor writing can lead to business dysfunction, failed business deals, internal confusion, and other undesirable outcomes.
There's little room for error in the global workplace. Irrespective of your job position or expertise, you have to be an effective communicator. Writing well is a valuable asset, whether you're communicating with employees, other executives, or clients.
Remember, every business document, email, and social media post makes an impression – either good or bad. ProWritingAid helps you to make the right impression.
---
Want to learn more more great business writing hacks? Download this free book now: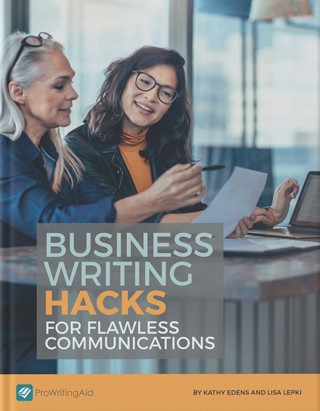 Writing is an essential element of nearly every profession today. Whether you are drafting a proposal for a major prospect or collaborating by email, strong communications help colleagues and clients understand your ideas. Errors and awkward writing can make you lose credibility.
Download this guide to learn the techniques professional writers use to write clearly and persuasively.
---