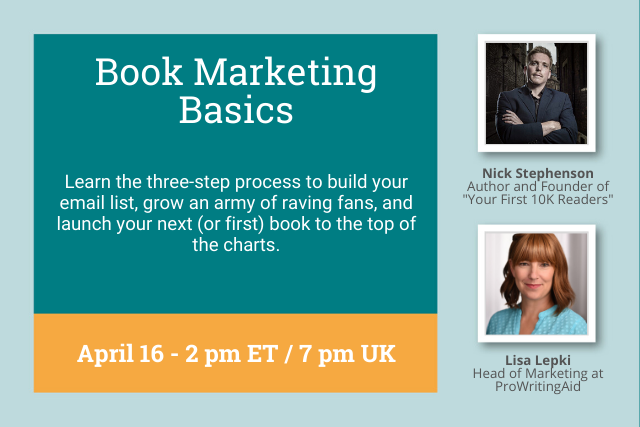 ProWritingAid Presents: Book Marketing Basics, with Nick Stephenson
The Three-Step Process to Build Your Email List, Grow an Army of Raving Fans, and Launch Your Next (or First) Book to the Top of the Charts.
You will learn:
The three-step formula to grow your audience, exposure, and book sales (no more marketing distractions... focus on these three things)
A simple, free way to add hundreds of readers to your email list – once it's set up it runs on autopilot
The exact email-marketing launch strategy Nick used to hit the top of the charts on Amazon with every book launch
How to scale up your results – for free (P.S. This is the approach Nick used to hit the USA Today bestseller list... no paid ads required!)
Nick Stephenson, Author and Founder of Your First 10K Readers
Nick Stephenson is a USA Today bestselling author of thriller, science fiction, and non-fiction. He also teaches other authors how to find their first 10,000 readers and make a living from their writing online.
Watch the replay now!
This webinar went live on April 16 2020, but we recorded it for you to enjoy any time! Just hit the play button below to watch the replay.
Catch up on other free writing events
Check out the ProWritingAid YouTube channel to watch dozens of other free writing events. Click here to start the playlist.
---