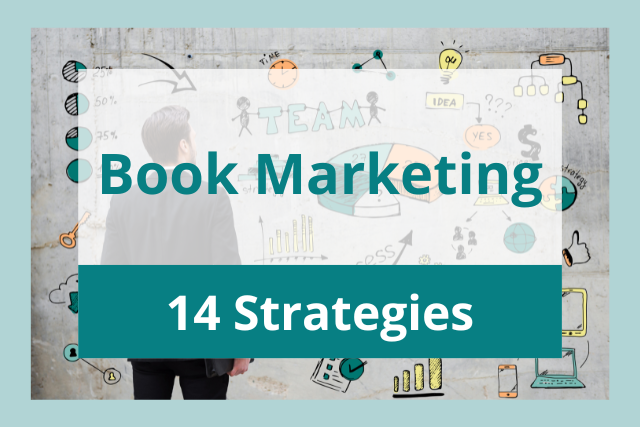 Writing and publishing a book is a major feat. But once you've done all that work, you want people to read your novel.
Getting people interested in your books can feel like screaming into the void if you don't have a solid book marketing strategy. You're one of many authors trying to reach the same readers. How can you convince readers to buy your book?
Book marketing is crucial if you want book sales. Today, we're talking about book marketing ideas you can use to reach people who are excited to read your book.
What Is Book Marketing?
Book marketing is the process of converting potential readers into people who buy your books. Your book is a product. Marketing is how you sell a product.
Just telling people about your book isn't enough to get sales. You might have a few close friends or family members that buy your book as soon as you publish, but that's hardly enough to make a living.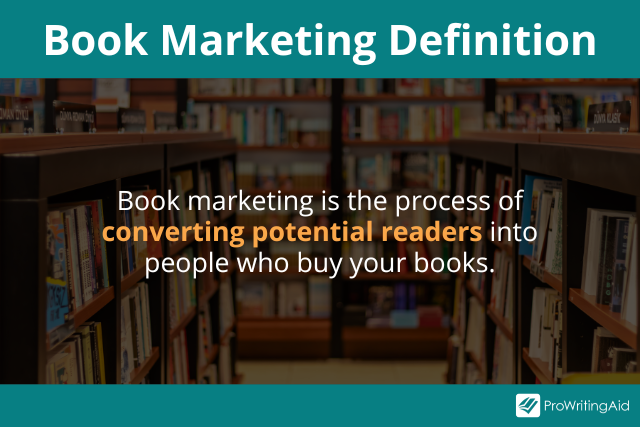 It doesn't matter whether you're a self-published author or you want to publish traditionally. You must learn how to connect with readers.
Most publishers want their new authors to have at least a small social media following with decent engagement. And most traditionally published authors are responsible for at least some, if not all, of their own marketing.
Book marketing is hard work, but it is possible. You've already learned so much to write and publish a book—you can learn how to market your book, too.
You might be thinking, "I'm not a marketing expert!" That's okay. Most writers aren't! You don't need a business degree to succeed in book marketing. You just need some good advice, achievable goals, and determination.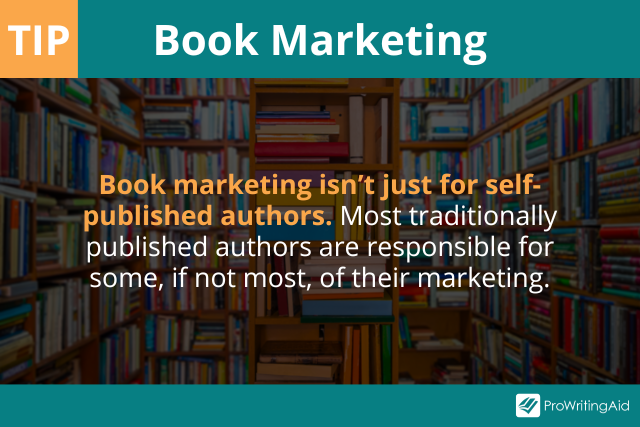 Book Marketing vs Regular Marketing
When it comes down to the basics, book marketing isn't that different from regular marketing. The principles around sales and consumer psychology are the same.
Author and book marketing expert Mark Dawson of Self Publishing Formula says marketing books is the same as traditional marketing. "Books need selling as products in much the same way as a toaster, a car, or a Hollywood film."
This is good news for authors. It means you can pick up a book on general marketing and learn strategies that will work for you.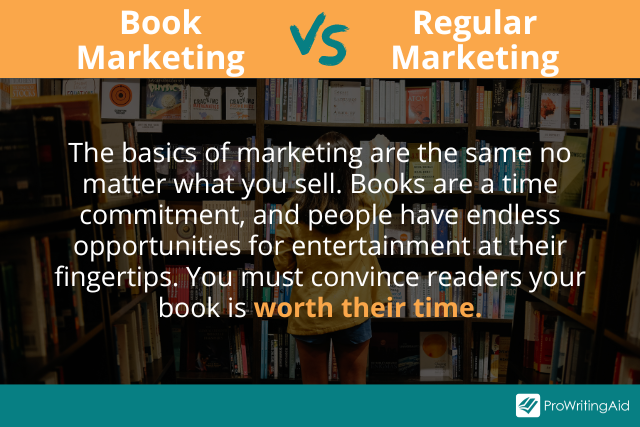 But there are a few key differences to keep in mind, according to book marketing coach Jenn Hanson-dePaula of Mixtus Media.
She says, "I think the biggest difference is that book marketing has to show readers that their book is worth their time. Readers have no shortage of options when it comes to books—and other entertainment for that matter."
Books are a time commitment for readers. For most people, it takes a lot longer to read a book than to stream a movie on Netflix. With so much quick entertainment at our fingertips, authors must show people that their book has value.
Book marketing coach Monique Mensah agrees: "My number one tip for book marketing is to stop selling the book and start marketing the value." For fiction authors, what experience are you providing your readers? What problem are you trying to solve if you write nonfiction?
And, Hanson-dePaula adds, it's not enough to just sell a book and have it sit on a shelf: "We want readers to fall in love with the writing, the story, the answers that writer is providing."
In short, if you just want to sell a book, then marketing is the same as if you're selling a toaster. But if you want those buyers to read your books and become a fan, you need to convince them your book is worth their investment.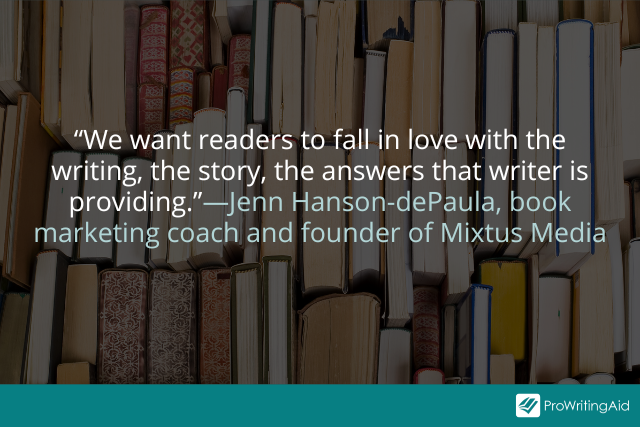 14 Book Marketing Strategies
There are countless book marketing strategies and tips out there. Every author marketing expert will have their own great book marketing ideas you've never thought of. It's easy to get overwhelmed.
This list of fourteen marketing tips is not an exhaustive resource for the field of book marketing. It's a starting point, an overview of what you need to know.
These book marketing strategies will help you get started and hopefully make you feel less overwhelmed by marketing.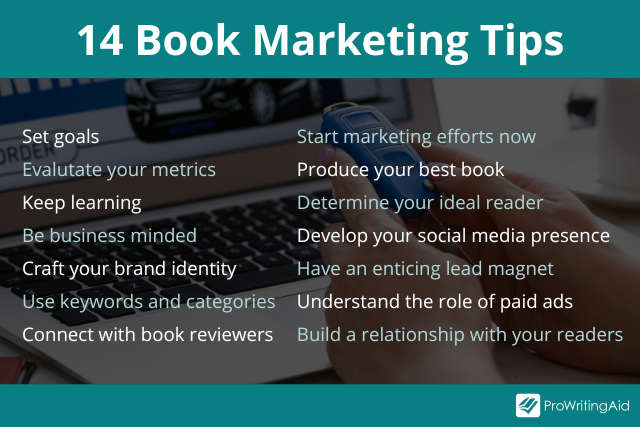 1. Start Marketing Efforts Now
The best time to start marketing your book was yesterday. The second best time is today.
"But I haven't even finished my book!" you say. That's okay. Start marketing anyway.
The time to build interest in your book and you as an author is as soon as you start writing. You can start connecting with potential readers who will be excited to order your book once you publish.
These people will give you pre-orders and release day book sales, which will help you jump up in Amazon and other sellers' rankings.
Set up your social media accounts and author website as soon as you decide to write a book. Begin following people who might be interested in what you're writing about.
You should also start your newsletter list as soon as possible, according to Hanson-dePaula. "It is one of the most powerful tools you'll have as an author—even more so than your social media followers."
You don't have to have a book published to create interesting content for your social media platforms and newsletter. Here are some ideas of what to talk about before you publish:
Your writing process
A snippet you wrote that day
Your inspiration
Interesting research you've come across
Facts about your personal life
Books you love/are reading
Your writing journey
Introductions to your characters and settings
If you've already published but haven't started marketing, that's okay, too. It might take you longer to make sales, but you can still connect with your target audience.
Be careful not to make every post sound sales-y. People don't want to feel like you're advertising to them, even if you are! Avoid spam or gimmicky language.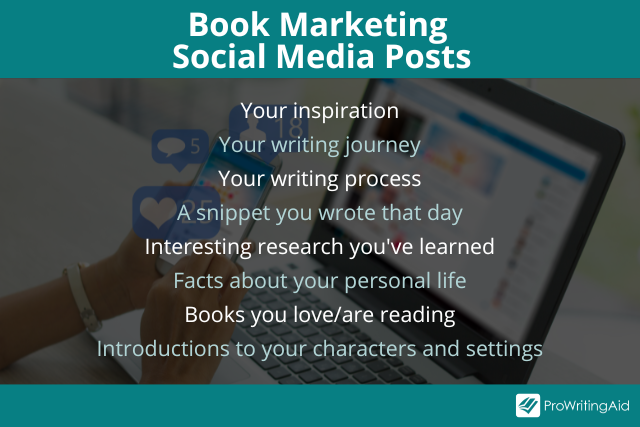 2. Produce Your Best Book
Producing your best book might seem obvious, but many writers rush to get their book out and make mistakes. These mistakes can affect your image and keep people from buying future books.
"Make sure everything—from the manuscript, the cover, the blurb to the ad copy—all dovetails," says Dawson. In other words, every part of your book needs to fit together and be high quality to convert your readers.
This means that you should avoid taking shortcuts. It's better to delay a release than put out a book that isn't ready.
Work with an editor who is experienced in your genre. Proofread your own work using an editing software like ProWritingAid, then send your manuscript off to a proofreader.
Have a perfectly formatted book. This is another thing self-published authors can easily outsource. Book formatting is one of the most affordable services in self-publishing.
Hire an experienced cover artist, and be prepared to spend good money on your book cover. Your book cover is the first impression, and first impressions matter. Your cover should be compelling and fit your genre.
Edit and proofread your book blurb. Have professional-sounding social media posts, newsletters, and website copy.
Remember, you are establishing yourself as an authority. A less-than-stellar product is the fastest way to ruin your image as a serious author.
3. Determine Your Ideal Reader
Many authors will say that their book is for everyone. Here's a secret: that's not true. Not everyone will like your book. Not every book is right for every person. People's tastes in reading material are infinite—and some people, sadly, don't like reading.
Ideal reader is a book marketing term for target audience. Of course, you want the entire world to read and love your story. But if you don't narrow down your ideal reader, you won't sell any books.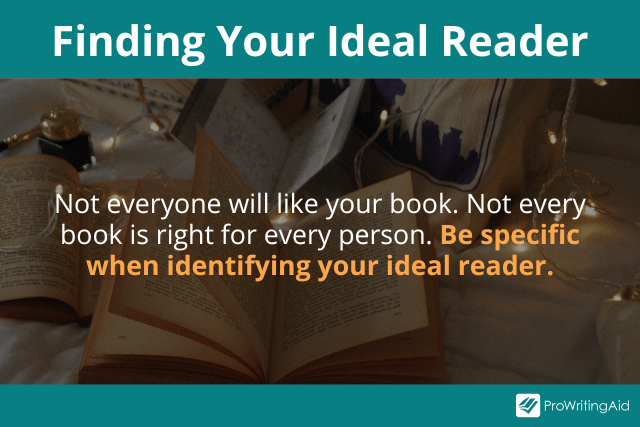 Be as specific as possible. Understand your genre and who the primary readers of that genre are. Be aware of your characters and who you think will relate most to them.
Let's say you've written a sci-fi romance. "People who love sci-fi" is too broad.
Most people who read romance of any genre are women. You can narrow your ideal reader down to "women who read sci-fi romance."
But that's still a huge target audience. Take a look at the age of your characters. Do you have a thirty-something heroine? Target "women in their thirties who read sci-fi romance."
You can even narrow it down further! What sorts of themes are in your book? Is your book clean or explicit?
Hanson de-Paula suggests talking to "one person" as your ideal reader. By having a very precise ideal reader in mind, "we are able to create content, social media posts, and keywords that speak directly to them and create conversations that are specific and targeted."
This content will then get in front of people who can relate to you and your book. Marketing too broadly means no one will see your book—or see themselves in your book. If you don't focus your marketing efforts, most of the people seeing your ads aren't the people who are interested in your story.
Keeping your ideal reader at the forefront of your book marketing strategy will help you reach the best audience for your novel.
4. Set Goals
"I want to sell books" is a big goal. And much like having too broad of a target audience, having too broad of goals doesn't set you up for success.
Set realistic goals with numbers and a timeline. You can have big goals, such as "I want to earn a full-time income as an author within five years," and you can have small goals that support that.
Your goals might be reaching a certain ranking on Amazon, having a certain number of pre-orders, or making a certain income in your first month. You can set goals related to the number of email subscribers, followers, or clicks on your paid ads.
You can use goal-setting methods like SMART (specific, measurable, attainable, relevant, time-bound) to help you. If you aren't sure if your goal is attainable, talk to other authors in your genre or book marketing experts.
5. Be Business-Minded
If you just want to publish your book for friends and family to purchase, that's fine. But if you want new readers to discover your book and fall in love with it, or if you want to make money from selling books, you need to think of yourself as a business owner.
Dawson points out that for self-published authors especially, it's crucial to be business-minded. Indie authors must be a writer, publisher, marketer, accountant, project manager, and everything else. "Treat your writing like a business," he says.
Learn everything you can about the business side of writing. Keep track of your expenses and income. Look for other sources of revenue: book merchandise, speaking events, courses and memberships, etc.
Check out business laws and requirements where you live. If you plan to build a full-time career as an author, you might consider setting up an LLC or your country's equivalent.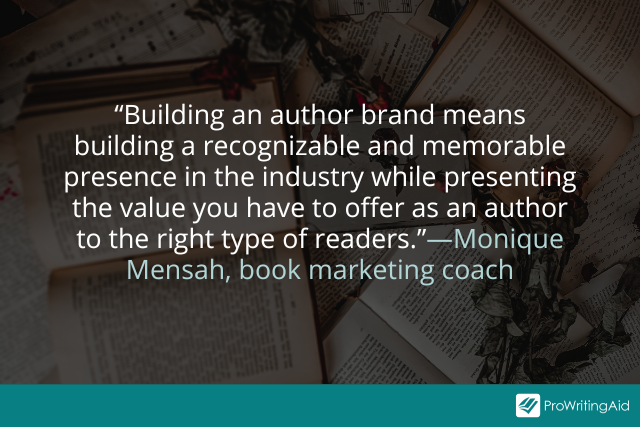 6. Craft Your Brand Identity
An important part of being a business-minded writer is establishing your brand identity. Who are you and what image do you want to project to potential readers?
"Building an author brand means building a recognizable and memorable presence in the industry while presenting the value you have to offer as an author to the right type of readers," Mensah explains.
Your brand identity should represent you and your books. Your brand sends a message, and you should be deliberate in determining what that message is. Then, keep your messaging consistent in all your interactions with readers.
Your brand identity is the message, and there are some steps you can take to get that message across.
Setting up your own website is an important first step in crafting your brand. Use your name for your website, not the name of your book or series. This will save you time and money if you write something different later.
Your author website is just one component of your brand identity. You also want an image that people will relate back to you.
Spend some time picking out a color palette, and use these colors on your author website and social media posts. You can even incorporate those colors into your book cover design. You can also choose fonts that you use consistently on your site and social media.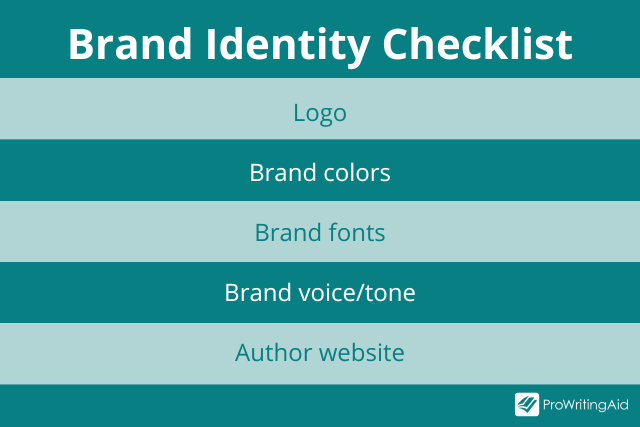 Hire someone to design a logo for you. If you can't afford it right away, start with a basic one that you design on a free program like Canva. You can always change your logo later.
But the most important element of your brand identity is your brand voice. You can be witty, informal, goofy, academic, serious—your options are endless as long as they feel like you.
Your voice will show up in your author bio, your ad copy, your author website, your newsletter, and your social media platforms. Having a consistent tone will help your audience feel like they know you.
7. Use Keywords and Categories
Establishing your brand voice and understanding your genre are important components of book marketing because they help you choose the keywords and categories that will help readers find you.
You'll use keywords in many aspects of your writing business. Let's start by talking about self-publishing platforms.
When you publish on Amazon Kindle Direct Publishing (KDP), you have the option to enter seven keywords. These don't have to be just one word. In fact, long-tail keywords are recommended.
There are programs like Publisher Rocket that can help you scope out competition and choose your keywords. You can also outsource this step to publishing gurus. You can use the same keywords if you publish on another platform like Ingram Spark.
Amazon KDP also gives you two categories, which is one way readers search for books. You can get up to ten categories by contacting KDP customer service and requesting them. This will get your book in front of more readers.
Other keywords are important for your website, your ad copy, and your social media posts. Many of these will depend on what you're writing about in that post or ad.
Where do you find these keywords? From your ideal reader, of course! The things your ideal reader is interested in make great keywords and can even help you find content ideas.
These keywords might be other authors or book titles, interests, themes, and topics. For example, a historical romance author might use "fans of Tessa Dare" in their ad copy. A crime writer might talk about their favorite "true crime podcasts" on their blog.
8. Develop Your Social Media Strategy
Whether you love it or hate it, social media is a vital step of the book marketing process. It's a free way to reach millions of people. But it's easy to get overwhelmed by all the social media platforms.
You don't have to be everywhere all at once. Take a look at your ideal reader. Where do their demographics hang out? Older crowds are on Facebook, and Gen Z is hanging out on TikTok. Gen X loves Twitter, and Millennials love Instagram.
Start with one or two platforms where you're most likely to find your ideal reader. You can always add more social media pages later on.
Posting consistently is more important than posting every single day. Create a posting schedule and a content calendar. Use hashtags, trending audio, and keywords to reach new people.
Many writers fall into the trap of targeting other authors when they get started on social media. After all, you're posting about your writing process: shouldn't you use writing hashtags?
Your target audience is readers. Find out where readers are hanging out on your respective social media platforms and connect with them there.
For example, you will want to reach BookTok rather than WriterTok. On Instagram, you'll want to connect with the #Bookstagram community rather than #Authorsofinstagram.
9. Have an Enticing Lead Magnet
A lead magnet is what you offer people when they sign up for your newsletter. Convincing people to give you their email address is a major show of trust. You need to offer them value for signing up.
Why is it so important to have an email newsletter? "A subscriber is saying, 'Yes, I'm interested. I want to know more.' They are one step away from buying," Hanson-dePaula explains.
Having an exciting lead magnet will convince people to enroll in your newsletter. Here are some ideas for lead magnets:
Free excerpt
Free book or short story
Exclusive Facebook group
Private Discord community
Character profiles
Deleted scenes
Educational content
Promote your lead magnet frequently on your social media platforms. Then nurture your email list with exclusive content that you don't post anywhere else. Make your subscribers feel special. Then they'll be the first people to click "buy" when your book goes live.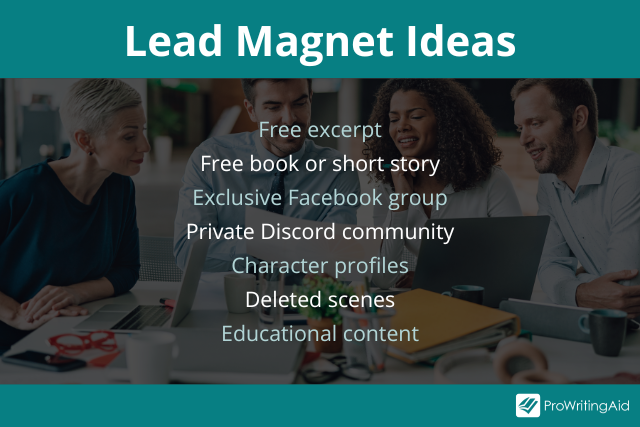 10. Understand the Role of Paid Ads
You can sell a fair number of books with organic (non-paid) traffic. The best way to do this is with your email newsletter.
You might get enough interest to sell a larger amount of books when you first release your novel, but eventually, those book sales will taper off.
If you want a steady income stream, and you're serious about making a living as an author, paid ads are vital.
Dawson advises, "It's pay to play now, so be prepared to understand and embrace the paid ads platforms." The paid ads platforms include Amazon ads, Facebook and Instagram ads, and sites like BookBub.
But throwing money at ads without a solid book marketing strategy can cost you far more than it can make you.
Self-Publishing Formula offers an excellent online course that will walk you through every step of the paid ad process. Dawson offers Ads for Authors a couple times a year, so you can sign up for the waitlist if it's not open.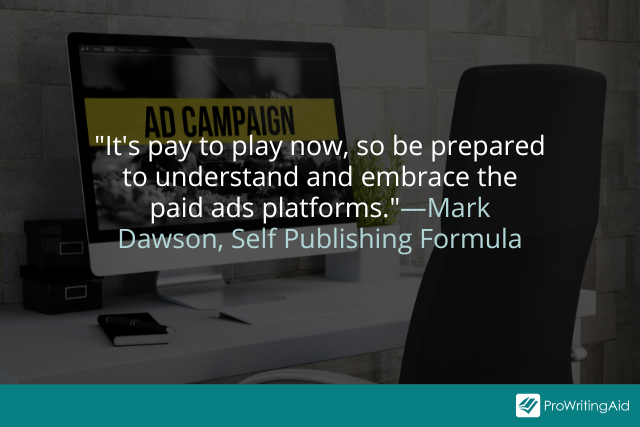 11. Build a Relationship with Your Readers
One of the best book marketing strategies is to connect authentically with your readers. Follow your readers and interact with their content on social media. Respond to their emails. Start a conversation with them.
Don't make every post on social media a free ad for your book or your newsletter. Ask questions, and respond to their comments.
Encourage your newsletter subscribers to connect with you by replying or joining your author community.
If you're selling books at in-person events, strike up a conversation with people who walk by. Don't sit at your booth stone-faced until someone comes up and asks about your book. Be personable. You are your brand.
When readers are invested in you and feel like they know you, they're more likely to buy your books.
12. Connect with Book Reviewers
When you're building relationships with readers, be sure some of those people are book reviewers.
Book bloggers are an excellent way to get your book in front of new readers. Book reviewers often have an incredible social media presence or blog following. Their followers trust their reviews.
You can offer free books in exchange for an honest review to book reviewers. Advanced Review Copies, or ARCs, are when you send out your book before it's published for people to review. One way to reach reviewers is through NetGalley, which sends out ARCs. Even self-published authors can enroll in NetGalley.
But book reviewers don't often respond to cold pitches. They're more likely to review your book if you've established a relationship with them. Comment on their blogs or social media posts. Message them asking for book recommendations. When it's time to review your book, they'll be excited to read it!
13. Evaluate Your Metrics
A business-minded author keeps track of their growth. There are many different metrics you can track and evaluate monthly, quarterly, and annually. Some of these include:
Book sales
Kindle pages read
Email subscribers
Email opens
Email link clicks
Social media followers
Social media reach
Social media engagement
Website visitors
You can track these metrics in a spreadsheet. It's a great way to see growth when you're feeling discouraged. It can also point out where you might need to focus more of your energy and time in your book marketing strategy.
14. Keep Learning
You don't want to wait until you're a marketing expert to start your book marketing strategy. And even experts have more to learn.
Keep learning everything you can about book marketing. Enroll in free and paid courses by marketing experts. Attend conferences and workshops. Join a local writer's group.
Working with a book marketing coach is also helpful for both beginners and established writers. If you can afford it, consider enrolling in a coaching program. You'll have someone with marketing expertise cheering you on and helping you sell your books.
The Importance of Book Marketing
Book marketing is essential for self-published authors and traditionally published authors alike. Good book marketing strategies are the only way you'll make money with your book.
Having a social media marketing plan can help you get an agent or a publisher if you go the traditional route. Some vendor events and bookstores will also ask for a marketing plan or metrics to let you sell your books.
But most importantly, your story was worth writing down and publishing, so it's worth reaching readers to share it with.
---