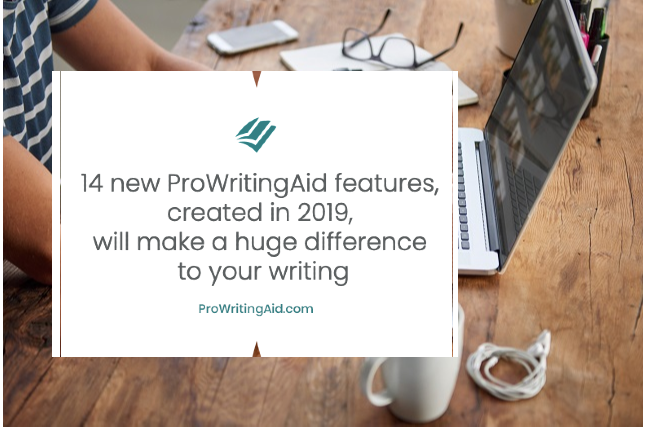 The ProWritingAid team believes everyone can be a strong writer. We want to help you be the best writer you can. You write it; we help strengthen it.
We had three simple goals for 2019:
1. Make the editing software more effective and easier for you to use.
2. Help you elevate your writing skills by offering practical, effective writing resources.
3. Understand what our users need most from ProWritingAid to benefit their business, school, or organization.
If you have been with us on this journey, you will have seen many of the improvements as they were rolled out, but we wanted to share our favorites below in case they passed you by. Each of our 14 new features feeds into one of the above goals.
We'd also like to invite you to take another two-week free trial of ProWritingAid Premium so that you can test them all out yourself.
Goal 1: Make the editing software more effective and easier for you to use.
Everyone has something to say, and the right to say it well.
The ProWritingAid team is constantly evolving and improving our technology. Our team of developers and computational linguists work full-time improving the functionality of the tool and the accuracy of the suggestions that you receive. They are awesome!
Here are the most exciting software improvements this year:
Improvement 1: More (and better) software integrations.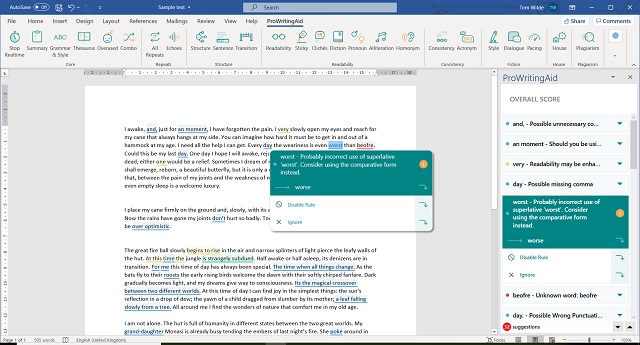 BREAKING NEWS, JAN 2020: The new MS Word add-in is ready for testing!
You can now try out our brand new, much-improved Microsoft Word Add-In. We've built more integrations than any other editing software so you can save time and effort by editing where you write.
Click the button below and then click "Try our new beta" at the top. Remember, it's still in "testing" phase so please let us know if you run into any problems! There are always a few bumps with new software.
Based on your feedback, we've also now added Final Draft to our list of integrations.
Improvement 2: You can find reports more easily in the editing tool.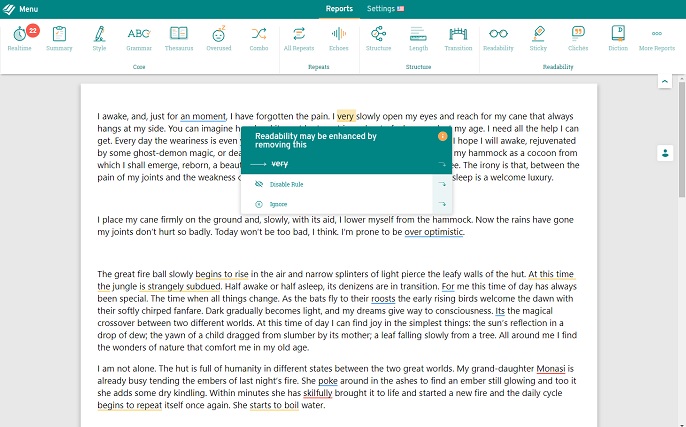 One of our biggest projects in 2019 was to modernize the editing tool. We gave our web editor a huge facelift and made it easier to find and group reports.
Improvement 3: You can edit where you write with the built-out Chrome Extension.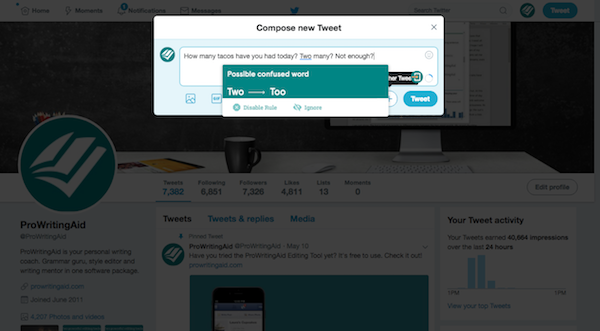 Afraid you're using too much passive voice on Twitter? Concerned about hidden verbs in your emails? No worries. The ProWritingAid Chrome browser extension can save you! Our Chrome Extension is the most robust solution in the world for "editing where you write."
Improvement 4: You now have full ProWritingAid functionality in the Google Docs add-on.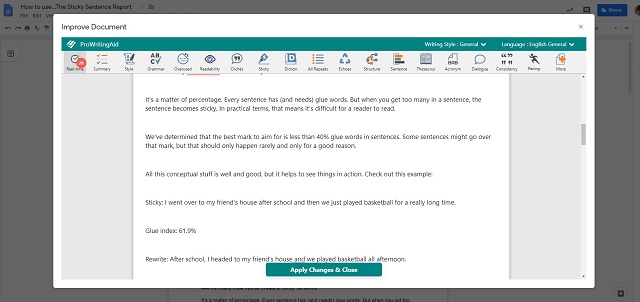 With our new Google Docs add-on, you can access the full ProWritingAid editor without leaving your document.
Improvement 5: You wanted to work with your full text; we made it happen.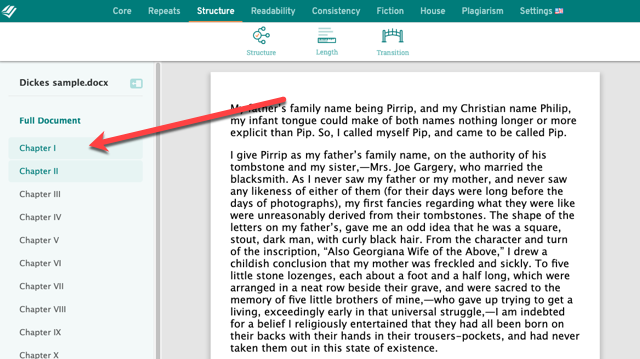 For years, you have asked us for the ability to upload your whole book to the editing tool. With the new chapters functionality, you can upload your entire work... and keep it nice and organized!
Improvement 6: Your feedback helped us optimize the tool's edits and suggestions.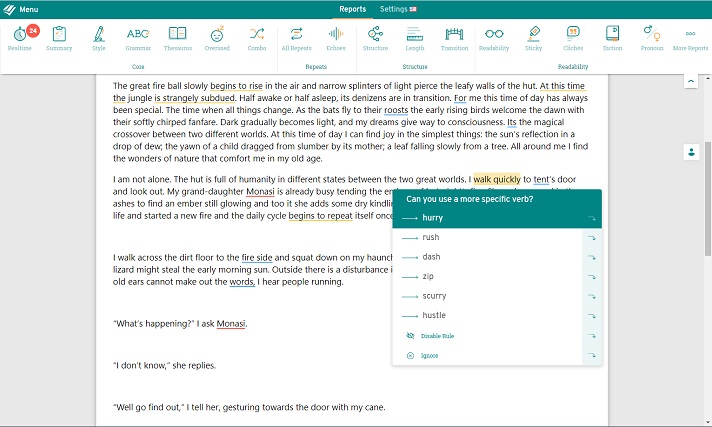 Every day, our NLP (Natural Language Processing) team pores over writing advice and user feedback to make sure the tool's edits and suggestions are effective and useful.
Here are just some ways our NLP team makes the ProWritingAid tool the most robust editing software available:
We catch errors that other tools don't, including comma splices, confused adjectives and adverbs, contextual spelling, and more.
We analyze which of our suggestions you accepted and which you rejected in order to reduce false positives and optimize your editing experience.
Improvement 7: You can now take your questions directly to our founder every month in our new webinar series.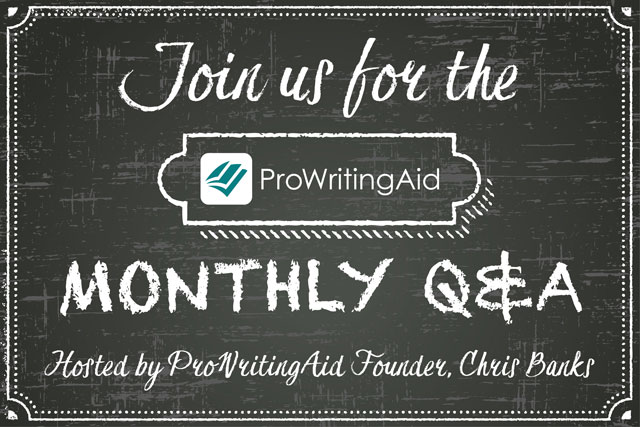 Every month we're inviting all new ProWritingAid users to meet ProWritingAid's Founder, Chris Banks, in a live webinar where you can get a demonstration of ProWritingAid's key features and take part in a Q&A session.
Goal 2: Help you improve your writing skills by offering practical, effective writing resources.
ProWritingAid exists because we truly believe that everyone can learn to write better. Our software helps people edit more effectively, but we know that copyediting is just one step in the writing process. We want to help our community develop all their writing skills so they can get their ideas out into the world.
Here are all the ways we are helping you improve your craft:
Improvement 8: You can learn more about grammar and writing terminology in our new Grammar Guide.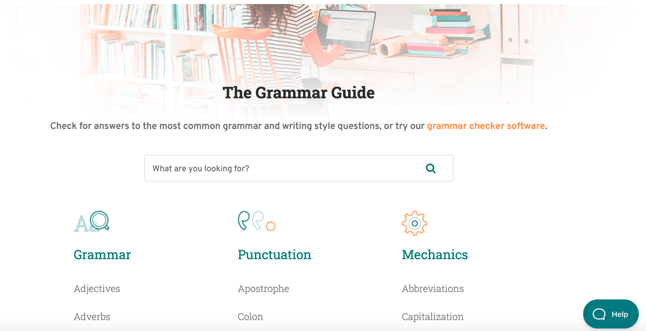 To help you learn while you write, we launched our comprehensive Grammar Guide which features over 60 articles about grammar and writing terms. Dive into our useful content about everything from tautologies to the Oxford comma.
Improvement 9: You can now learn from videos right in our editing tool and on our YouTube channel.
We know that different people learn in different ways. You might not want to read one of our deep dive articles, but you may want watch a video.
Our in-tool explanation videos allow you to watch and learn right in the tool itself. Each video features a robust explanation, and subtitles so you can watch without audio and still get all the content. Video learning will be a big focus for us in 2020 so let us know what topics you would like us to cover.
Improvement 10: You can test your mastery of grammar and writing concepts with quizzes.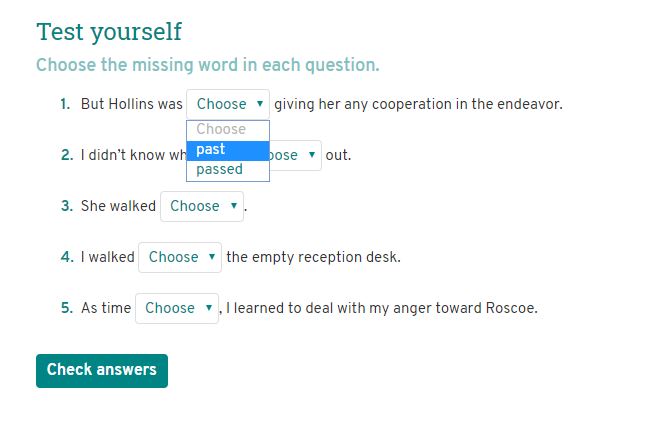 Always mix up "to" and "too"? Now you can test your mastery with quizzes, an exclusive educational feature from ProWritingAid.
We built the quizzes into our grammar checker explanations so you can test your knowledge and make sure you don't repeat the same mistake over and over.
Know when to use "passed" and "past"? Test your knowledge:
Improvement 11: You now have three new books included in the Writing Resources Library.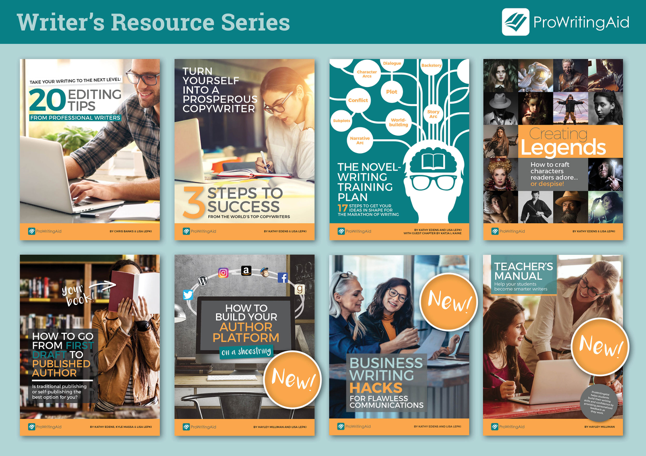 As part of your ProWritingAid Premium account, you have access to more than $75 worth of writing resources that will help you do everything from build your author platform to develop compelling, engaging characters. In 2019, we added three books on business writing hacks, building your author platform, and using ProWritingAid in the classroom.
Improvement 12: You have over 1,000 blog articles to help you develop your craft and make your writing stronger.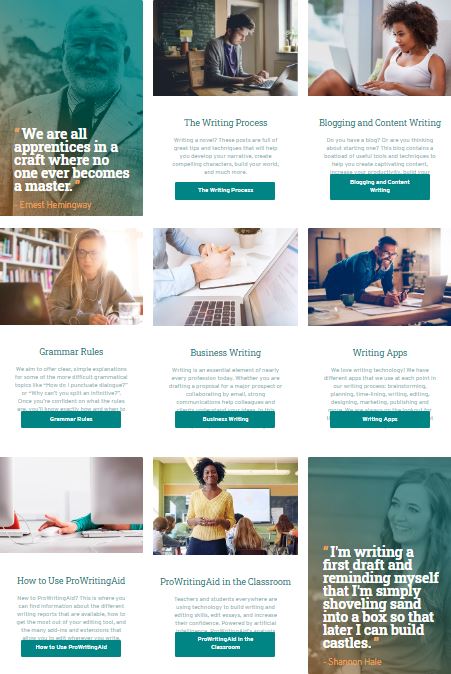 In the last quarter of 2019, we more than tripled our team of freelance bloggers to increase the amount of useful free content we can deliver. And you asked for it: we also added new sections for education and business writing and hired writers who are experts in those areas to craft content for you.
Goal 3: Understand what our users need most from ProWritingAid to benefit their business, school, or organization.
You told us that your businesses and organizations have specific needs for their writing. Our new customizable features allow you and your team more control and flexibility over your users and your reports.
Improvement 13: You asked for help managing groups of users within your organization, so we introduced team user management.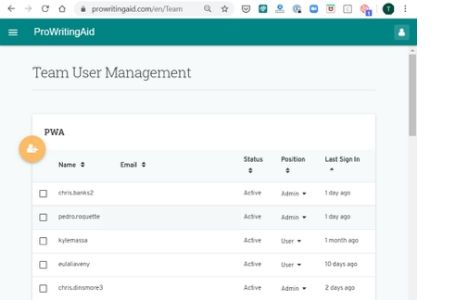 You said you need the flexibility to add and reassign users as team members come and go. We added team user management to the tool so you have greater control over your licenses.
Improvement 14: You can create custom style rules for your organization with our Style Guide.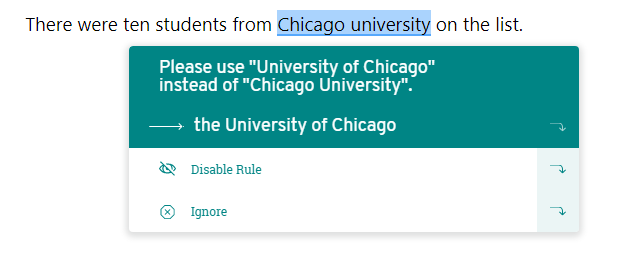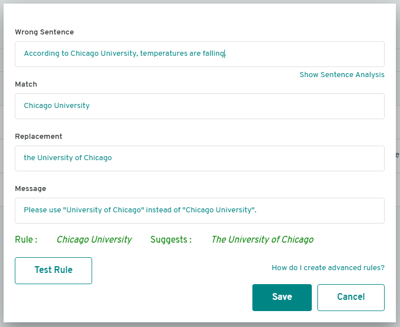 Every organization has certain writing standards that they want their team members to follow. ProWritingAid lets you create your own style guide so you can make sure your team's writing is always on brand.
What's Next?
Which new feature that we introduced in 2019 did you find most useful? And what would you like to see in 2020? Answer in the comments below or send us an email at hello@prowritingaid.com. We'd love to hear from you!