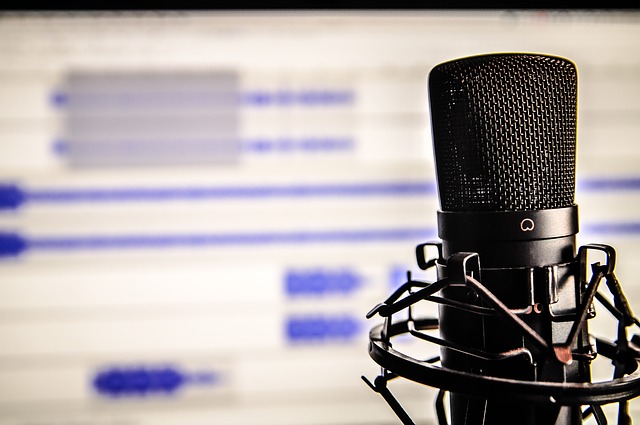 No matter what type of audience you're looking to connect with, it's important to use the right strategies.
10 years ago, RSS feeds were the best thing since sliced bread. Now, almost no one uses them. Likewise, what you used to grow your audience in the past may not be as effective because of newer platforms and consumption habits.
Instagram, Snapchat, Pinterest, etc. didn't exist a few years ago but are now almost necessary to get your message out there.
All is not lost.
In this in-depth article, I'll walk through how you can combine blogging and podcasting to get explosive results in a shorter amount of time.
Pros and Cons of Blogging & Podcasting
Before I jump in and share how to use both mediums together, it's important to know what each one can and can't do.
Blogging advantages
Blogging disadvantages
Podcasting advantages
Podcasting disadvantages
If you look closely, the advantages of one medium are the disadvantages of the other and vice versa. For example, it takes considerable time to create podcasts but articles are much faster. It's much easier to communicate with your audience members through blogging but can be a challenge with a podcast. This is why they work so well together. Where one drops the ball, the other one picks it up.
How to Use Podcasting and Blogging Together
Before you dive into these strategies, it's important to invest in the proper assets such as a brandable domain name, a compelling website design, and a clear message and voice.
Why do I say this?
The methods I want to share aren't short term strategies. What you do today compounds over time. You may not see the effect tomorrow, but you'll see it as long as you don't stop halfway. That's why your brand matters. If you don't do it right from the beginning, it'll only get harder to change down the line.
Disclaimer over. Let's dive in.
Fill gaps in your podcast with blog content
You may have noticed that the most popular podcasts aren't the ones with a lone host talking about a specific topic. The best ones have conversations between two or more people and share unique experiences that teach or enrich the lives of the audience.
The Side Hustle Show by Nick Loper adopts this format. He interviews successful side hustle business owners and gets them to share their stories.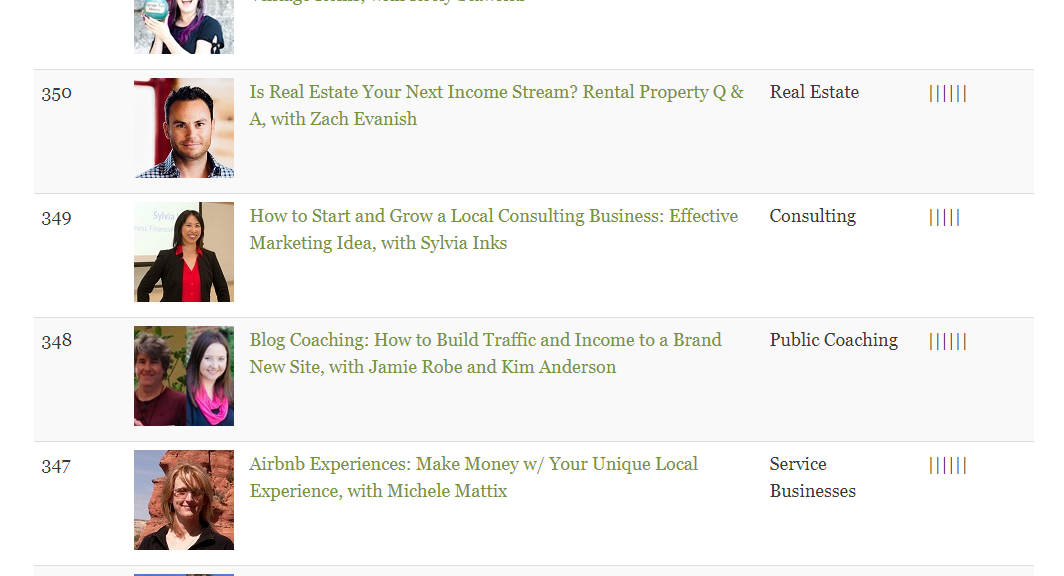 The problem is that the guests won't cover certain kinds of topics. For example, a podcast guest won't cover a topic like "how to come up with side hustle ideas" or "9 of the best writing tools."
That's not to say the topics aren't important for your audience. They just don't work well for podcasting. It's an opportunity to write a blog post and fill the gap. Nick Loper does this as well.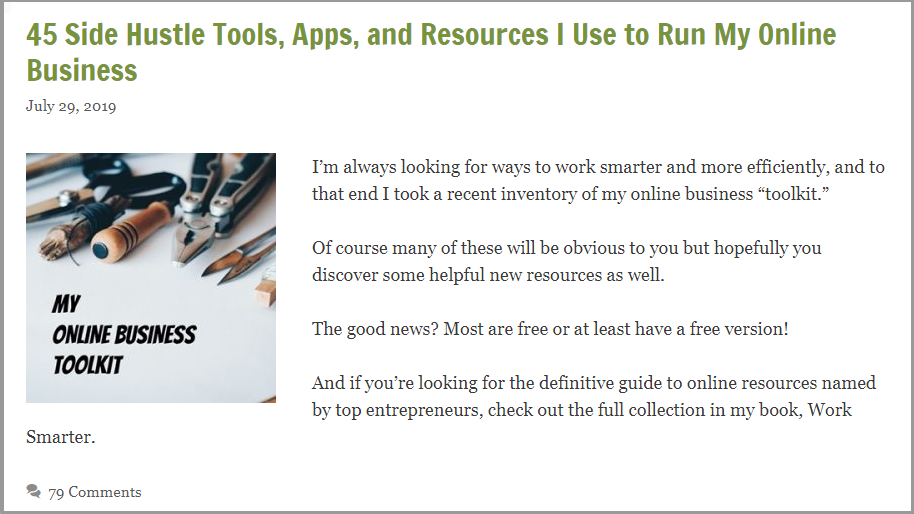 Draw people in with an interesting podcast guest and keep them coming back with practical insights delivered through your blog. Limit blog posts to topics that wouldn't normally be covered on the podcast.
Enrich blog content with podcast episodes
Blog content, especially long-form content, can be difficult to consume in one sitting – especially if it's not formatted properly. Formatting is more than the length of paragraphs and sentences. Images, videos, and audio also play a part.
Improve your formatting, engagement, and dwell time by embedding podcasts related to the blog content on the page. There are two major ways to go about this:
1. Create a summary of the content that highlights the main points.
This will save time while helping casual readers take away most of the value. Instead of reading and recording the content verbatim, you're focused on making it more digestible. You also stand out from the crowd because few people have audio summaries of their content.
Highlight the main points of the article and give a short explanation or provide commentary based on your experiences.
John Lee Dumas of Entrepreneurs On Fire uses this for his blog. Within many posts, especially the income statements, there's an audio summary and commentary.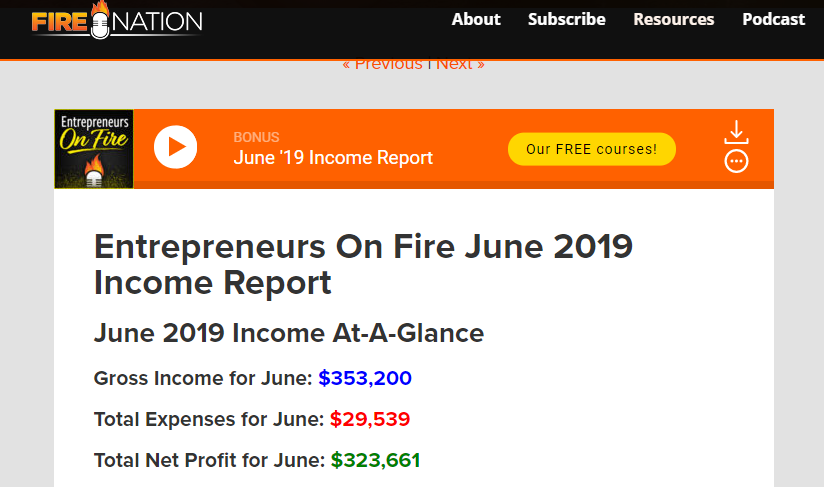 2. Embed relevant podcast episodes
Your blog and podcast should complement each other. Since they're related, it's almost guaranteed that you'll find multiple opportunities to embed past episodes in the content you've created.
A fringe benefit of doing this is increased dwell time and social sharing which creates the right signals in search engines and can improve your rankings.
This strategy is also useful in the reverse. Use written content to enrich podcast episodes. This is more than a few paragraphs for the show notes.
If you like, you can provide the entire transcript on the page. Many podcasters offer transcripts as a lead magnet and there's nothing wrong with that. If, on the other hand, you'd like to leave it ungated so people who don't like to consume audio content have access, even better.
The Indie Hackers Podcast uses this method to cater to two different types of audience members at the same time.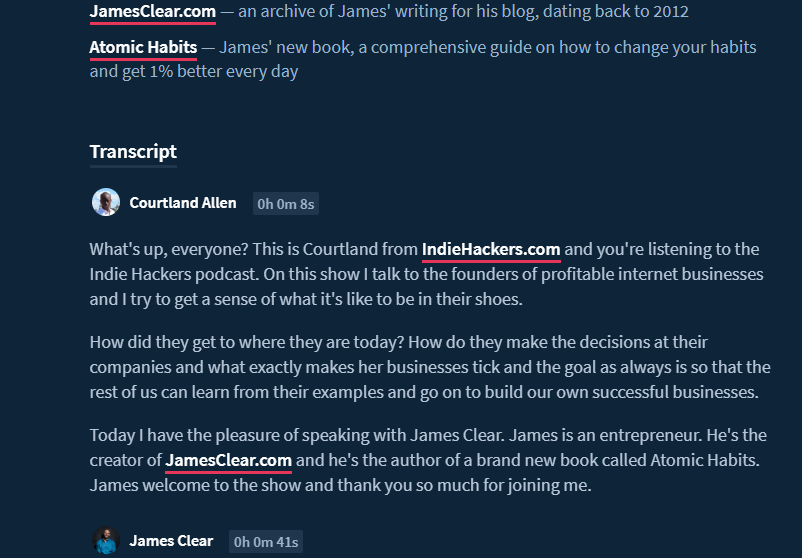 Are there concepts which weren't fully explained in the podcast? You can expand on them so your listeners can get everything they need to take the next steps. It can even provide SEO benefits if those key points have search traffic associated with them.
Convert blog posts to audio content
I like this strategy because it's simple and you can apply it to all your blogs within a few minutes.
It's a bit different from the point above. There, the focus was on enriching blog content with summaries or past episodes. Here, it's about using technology to turn your articles and other written content to audio. It's called text to speech translation. It makes your blog more accessible while appealing to people who otherwise wouldn't interact with it.
There are a few websites which provide this service but one of the easiest to use is called WebsiteVoice.com.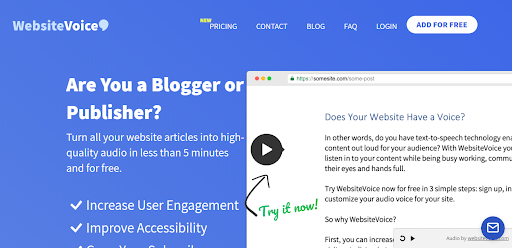 Sign up for an account, customize the player to match your brand and website, and paste the code that's generated for you. It'll automatically turn the text on the pages where it's embedded to audio.
Strategic Calls to Action
This is where the magical audience growth happens. It's great that people are downloading your podcast episodes and interacting with your blog content. That's just one piece of the puzzle.
It's important to be able to communicate with them regularly about projects you're working on, products you're launching, collaboration opportunities, and more. You don't get that with podcast subscribers or casual blog readers.
You do have that opportunity with email subscribers. An email list is podcasting/blogging gold as you're able to bring email subscribers back each and every episode. Re-engage with them if they haven't visited your site in a while and send offers (monetize that list!). Email marketing used to be quite expensive, but now there are very affordable email marketing tools that already do a great job and have lots of fancy functions. Many are even free.
Place strategic calls to action (CTAs) within your podcast and blog content to get people to take your desired action. I mentioned email subscribers but your CTA can be anything that's relevant to your goals. If you want people to check out a product or service then make that the CTA. If you want them to support you on Patreon then make that the CTA.
Blog CTAs
With blog posts, there are countless ways to go about it. You can take a cue from CoSchedule and create different calls to action for specific articles.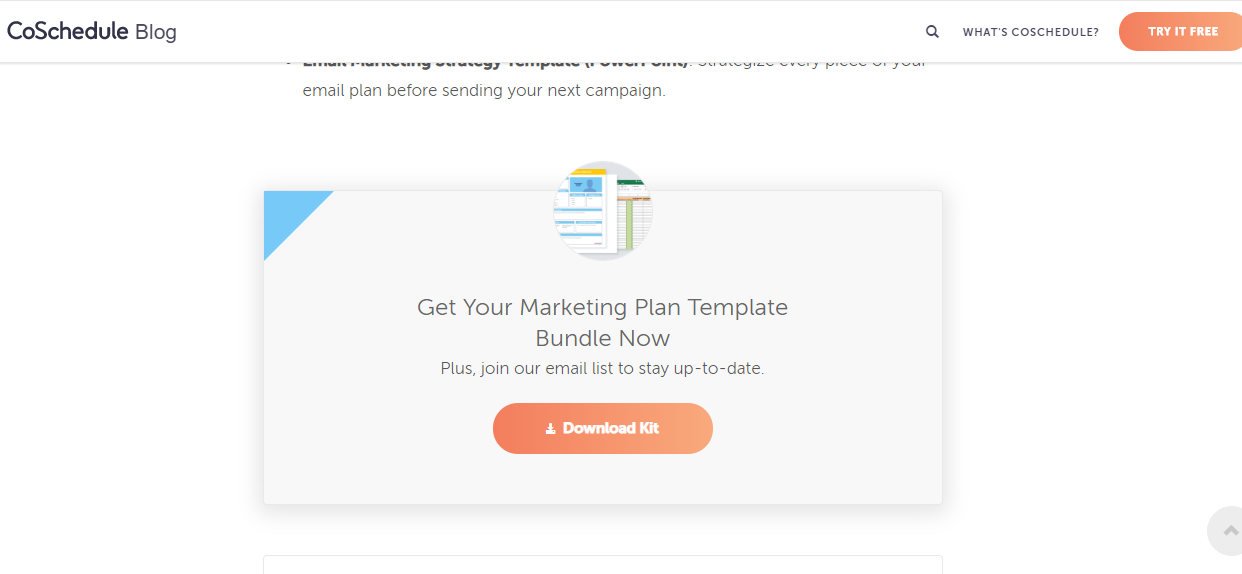 Conversely, you can make one or two CTAs for your entire blog. This works well when you have a deep understanding of who your audience is and what they want. If you're still trying to figure that out then CTAs for individual posts may be the best choice.
Podcast CTAs
A podcast is a different. If you created a CTA for time sensitive content like a product launch or promotion then it would become dated. Podcasts aren't easy to edit.
There are two choices here:
1. Create episode-specific lead magnets and CTAs
If the topics covered are things you know your audience struggles with then you can create a cheat sheet, checklist, or even offer the transcript in exchange for an email. Of course, it'll depend on your audience so test a few variations out until you find what works best for them.
2. Develop a single consistent CTA
This is a bit more difficult because it needs to stand up to the test of time and appeal to the majority of people listening to your podcast. If it doesn't then you won't get the results you're looking for.
Detailed guides, a free course, or other high impact lead magnet or CTA will work well here. When you're promoting it, treat it the same way you'd treat a sponsor. Give it a dedicated time slot on your show, share the benefits, and let people know exactly how they can access it.
Next Steps
Many years ago, blogging was brand new and everyone wanted to get a piece of the pie. Now, it has gone mainstream and it's much more difficult to stand out from the crowd. That doesn't mean it's no longer effective. It is.
Podcasting is having its own golden age, is growing rapidly, and many podcasters have an engaged following. What was once a niche hobby is currently listened to by millions every day.
Blogging and podcasting are powerful individually but when you use them together, you can become unstoppable. This article has shown you how to do that with actionable strategies and tons of examples. It's now up to you to make the most of it.
---