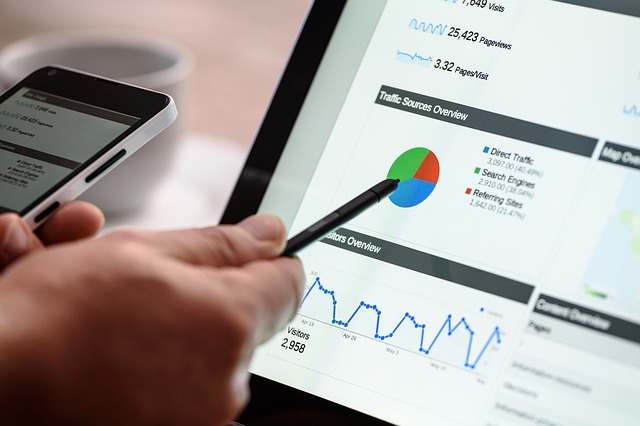 As search engine optimization evolves, writers need to focus on the language real people use when they are trying to find an answer online. Unlike keywords, these queries are in natural language and may touch on a topic without using an exact keyword.
If you're writing phrase-based content for evolving search algorithms, your challenge is to know what phrases the target market is using to find answers. Answer The Public to the rescue.
This site collects data in a way that helps writers find blog article ideas by collecting and categorizing phrases people use in online search.
The free version is open to everyone. Answer The Public presents data in two ways, visualization and straight data.
The visualization gives you an indication of the relationship among the various terms. When you write your article you have a ready-made reference for related phrases in your content.
The visualization includes several sort criteria and groups your answers according to questions, prepositions, and comparisons. Below the visualizations, the results are sorted alphabetically. Finally, Answer The Public gives you a visualization of related queries. This last result allows you to dig deeper for related search queries.
If you love data, Answer The Public provides a second option to review search results: lists of the most used phrases categorized under basic article components like who, what, when, where, and why along with several other categorizations.
You can download the results as a .csv file. This allows you to use pertinent phrases in your article. The answers are already sorted according to the most used phrases.
With this information, you'll have more than enough phrases to use in your article, and for future articles on the same topic.
Blog Ideas that Matter to Your Target Audience
As a consumer insight tool, Answer The Public gives you the current phrases from Bing and Google. You now have an overview of the questions people ask search engines. You have a solid idea of the questions asked by your target audience. Armed with these phrases, you can write an article framed around a specific search phrase. As you provide the answer for a popular phrase, you boost SEO by supplying the answers people search for.
To develop your article, choose a popular search phrase – Answer The Public sorts them by usage – and take that phrase as your key topic. Use it as the pillar for your content. Then, create subheadings using other related phrases.
Organize your article around your key topics to provide the answers you know your target audience asks. You have the confidence to create content that answers direct customer questions because you understand their needs. You've put yourself in their shoes.
When you know which questions your audience asks Google, include these in your content. Step away from creating generic blog posts to delivering the specifics your target audience wants to know. Create the ultimate answer.
Pro Tip: Create a Frequently Asked Questions page using the most popular queries you find in Answer The Public results. Be sure to highlight the benefit in each answer.
How to Access Answer The Public
In the free version of Answer The Public, there isn't a fixed number of free searches per day. This amount varies based on traffic and usage of the tool at that particular moment.
They sometimes experience extremely high volumes of searches and have to throttle free search limits to keep it functioning, so don't be surprised if you hit this limitation.
A paid subscription, the Pro Plan, costs $99 a month and offers more flexibility:
Unlimited daily searches
Language & location based results (e.g. French in France, French in Canada)
Compare data and see new suggestions (e.g. Run a report for "shoes" today and run another for "shoes" in 3 months and see what new suggestions are being searched for)
High-resolution images of the visualisations
Saved reports you can access at any time
Unlimited team members
Hide unwanted sections from the reports and visualisations
Hide individual suggestions from the reports and visuals
Boost Search Results Without Being an SEO Expert
Because Answer The Public displays search phrases used by real people, you can use those phrases to generate a featured snippet. A featured snippet is an excerpt from the web page that answers a search query directly. It is also sometimes called an answer box, because it answers the question without having to go to the site.
Even though the question is answered, people often click through to the website to read the entire page. Question queries prompt featured snippets. As people become used to search and voice search, those queries are phrased in natural language rather than typing or speaking a keyword. This is how Answer The Public brings more site visitors: you find the exact phrases and long-tail-keywords people use in queries.
Optimize your text using natural language, not just terms or keywords.
Use your phrases in text to address the answer
Create a list using the phrases
Create a table that includes the phrases
Each of these presentations in your content that answers a question with the phrases used by real people searching not only boosts visibility but builds exposure, authority and trust for the business.
While someone is on your page because you have the answer they need, you can hook them into a call to action. Round off the information by directing the searcher to the action you want them to take. By speaking the site visitor's language and answering their question, you can boost conversions for your business.
Optimize for Answers
Search engine optimization is moving away from targeted keywords to topic properties. You, the writer, have the power to provide information that impacts buying decisions.
Answer The Public's data puts your writing at the forefront of search optimization. Using the right cluster of phrases related to a topic in an article, a landing page, or a webpage will isolate the exact information a searcher needs.
Author and web marketing authority David Amerland says:
"behavioral marketing can most influence by interjecting, at the most opportune moment, information that helps either direct, shape or trigger a particular decision and affect a desirable outcome."
Answer The Public finds these phrases and leads customers to make the right decision: to engage with your business.
Once you've gathered your answers and written your content, use ProWritingAid to edit your content for readability, style, and grammar. One caveat: be sure to ignore any suggested changes in the phrases you found on Answer The Public. Keep them matching those queries!
---