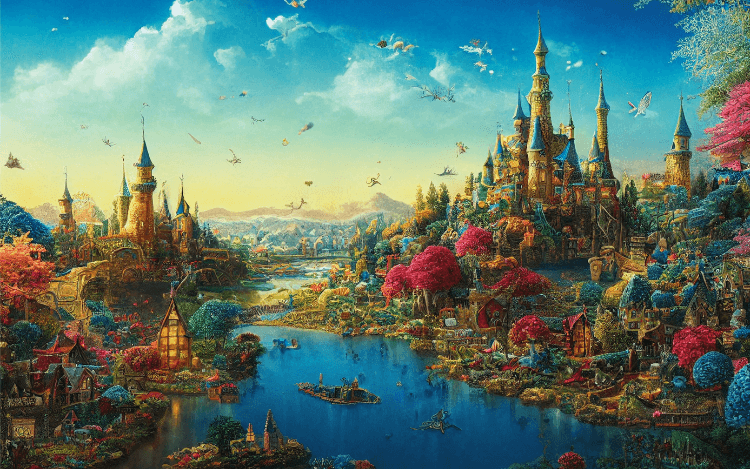 Dragon riders. Secret witches. Faerie princes.
All these characters and more can be found in YA fantasy books, which are full of magic and intrigue. Though young adult fantasy books are typically coming-of-age stories that feature a teenage protagonist, they're stories that anyone can enjoy, from children to adults. So, what are some of the best YA fantasy books you can read?
This article will give you our top 50 recommendations for the best YA fantasy books and series to add to your reading list.
New YA Fantasy Books
The YA fantasy genre is more alive than ever, with new books being published every day. Let's start our list with some recent YA fantasy books, all published in 2022 or 2023.
1.
The Girl who Fell Beneath the Sea
by Axie Oh
In a world inspired by Korean folktales, Mina's village sacrifices beautiful girls to the Sea God in order to prevent fatal storms.
Mina throws herself into the water to save her brother, sending her on an adventure through the spirit realm in this gorgeous YA fantasy book.
2.
Bloodmarked
by Tracy Deonn
The second book in the groundbreaking Legendborn series, Bloodmarked continues the story of Bree, a Black student at UNC Chapel Hill who is King Arthur reincarnated.
Now, she must fight the systemic racism of the Legendborn Order to claim the responsibilities that are rightfully hers.
3.
The Luminaries
by Susan Dennard
Winnie comes from a family of luminaries, the monster hunters who protect our world from nightmares. But her family was cast out of the society because of her father's betrayal.
At age sixteen, Winnie has to restore her honor by undergoing a trial to prove she's still one of the monster hunters.
4.
The Sunbearer Trials
by Aiden Thomas
In this Mexican-inspired fantasy world, ten semidioses must compete in the Sunbearer Trials to decide who wins and who gets sacrificed.
The Sunbearer Trials is an action-packed story, and it's also one of the few YA fantasy novels that has great trans representation.
5.
A Thousand Steps into Night
by Traci Chee
Longlisted for the National Book Award, A Thousand Steps into Night follows a young woman named Miuko who is cursed by a demon.
She undergoes a quest through a world full of Japanese mythology to try to undo her curse.
6.
This Vicious Grace
by Emily Thiede
Alessa is a Finestra, meaning she magically kills everyone she touches.
She must find a suitor who can be her partner to stop the upcoming demon invasion. But she's killed every suitor she's married so far, and she's running out of time.
7.
This Woven Kingdom
by Tahereh Mafi
Alizeh seems like a normal servant girl with strange eyes. But she's secretly a Jinn, willing to fight to protect the kingdom of others like her.
This Woven Kingdom, inspired by Persian mythology, has all the best tropes of teen fantasy books.
8.
A Magic Steeped in Poison
by Judy I. Lin
Ning is a shennong-shi, a magical tea maker. She goes to the imperial city to compete in the competition of the kingdom's greatest shennong-shi.
This book is a fun mix of an exciting magical competition and lush Chinese mythology.
9.
That Self-Same Metal
by Brittany N. Williams
This 2023 debut, set in Shakespearean London, is about a young Black craftswoman who makes prop blades for Shakespeare's company. But they have no idea she has the magical skill of bending metal to her whim.
That Self-Same Metal is one of the most exciting new historical fantasy books for teens.
10.
Blood Debts
by Terry J. Benton-Walker
Clement and Cristina are sixteen-year-old twins who are heirs to a magical family in New Orleans.
When they find out their mother has been cursed, they have to work together to figure out the secrets hiding in their community.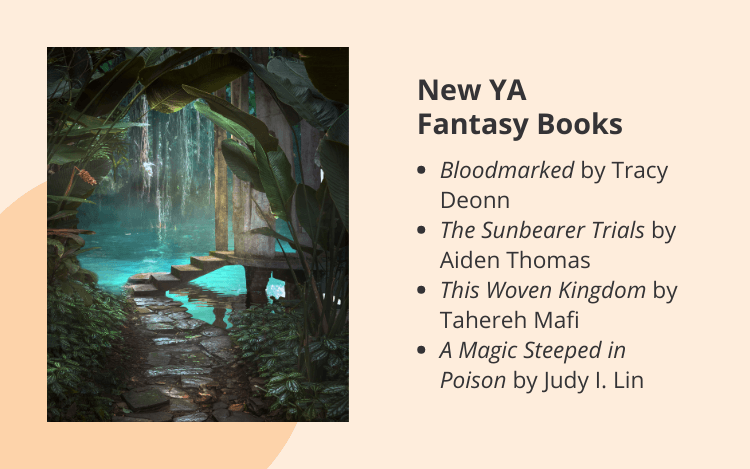 Classic Young Adult Fantasy Books
Some young adult fantasy books were published years or even decades ago, but they still remain staples today.
Let's look at some classic YA fantasy books that have stood the test of time.
11.
His Dark Materials
by Philip Pullman
This classic trilogy, beginning with The Golden Compass, follows a girl named Lyra Belacqua whose friend Roger gets kidnapped. She tries to rescue Roger, along with the other children who have disappeared, which leads to a series of new friends and deadly adventures.
His Dark Materials is essential reading for all young adults who love fantasy.
12. The
Abhorsen
series by Garth Nix
This Australian series begins with Sabriel, which follows a young girl named Sabriel who finds out her necromancer father is trapped in Death.
Sabriel must embark on a journey to save him, using all the magical skills he taught her.
13.
The
Bartimaeus Sequence
series by Jonathan Stroud
The Bartimaeus Sequence, beginning with The Amulet of Samarkand, takes place in a world similar to modern England, except for the fact that it's ruled by magicians. All magicians get their power by summoning djinni.
These books are funny, propulsive, and heartbreaking. Definitely read them if you haven't already, and if you have, go read them again.
14. The
Graceling Realm
series by Kristin Cashore
In the Graceling realm, some people are born Graced with magical abilities. Katsa's Grace is the ability to kill.
This beautifully crafted series includes Graceling, Fire, Bitterblue, and two new books,  Winterkeep and Seasparrow.
15. The
Inheritance Cycle
series by Christopher Paolini
This series, which begins with the bestselling book Eragon, follows a boy named Eragon who discovers a dragon egg.
When the dragon hatches, he bonds with her and becomes one of the world's legendary dragon riders.
16.
The
Song of the Lioness
series by Tamora Pierce
This 1980s series, beginning with Alanna, follows a young girl named Alanna who disguises herself as a boy in order to train as a royal knight.
Alanna trains hard until she finally becomes the warrior she was always meant to be.
17.
The Thief
by Megan Whalen Turner
Gen, a thief locked in the king's prison, is freed to help steal an ancient treasure for the king's magus. He embarks on an exciting adventure full of twists and turns.
18.
A Great and Terrible Beauty
by Libba Bray
This series mixes historical fiction with fantasy. Four young women at a British boarding school in the 1890s discover a strange spiritual world, which might destroy the lives they know.
19.
A Wizard of Earthsea
by Ursula K. Le Guin
This 1968 classic is about a young wizard named Sparrowhawk who tamed a dragon, mastered words of power, and followed his own ambitions too far. 
The Earthsea series has won the National Book Award, the Nebula Award, and the Newbery Honor Medal, among other accolades.
20.
Seraphina
by Rachel Hartman
Seraphina is half human, half dragon living in a world that fears dragons. She must investigate a murder that involves the royal family without revealing her true identity.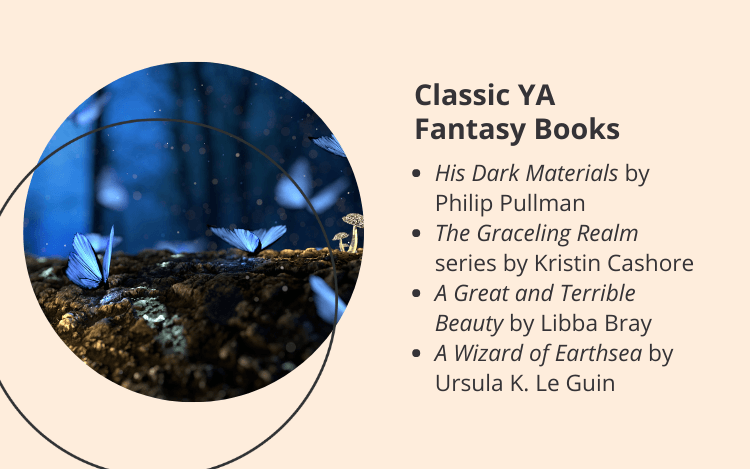 Most Popular YA Fantasy Books
Many YA fantasy novels are so popular that entire fandoms have formed around them. Here are some of the most popular fantasy books for teens.
21.
Miss Peregrine's Home for Peculiar Children
by Ransom Riggs
Miss Peregrine's Home for Peculiar Children is like a YA version of the X-Men franchise, with equal parts darkness and whimsy.
The story follows a boy named Jacob who discovers an island filled with children who have supernatural abilities.
22.
The Cruel Prince
by Holly Black
As a young girl, Jude was spirited into the High Court of Faerie along with her sisters. But the fey are cunning and devious, and they love to taunt humans like Jude, especially when she starts to fall for Prince Cardan.
23.
Children of Blood and Bone
by Tomi Adeyemi
Inspired by West African mythology, Children of Blood and Bone is set in a world called Orisha where white-haired magic users are oppressed by the non-magical rulers.
But there's a scroll that might be able to restore magic, and the magical protagonists need to figure out how to free their community from oppression.
24.
Red Queen
by Victoria Aveyard
Red Queen is set in a world where those with silver blood have magical powers, and those with red blood don't.
Mare is a red-blooded commoner, but when she's sent to serve the elite who live in the Silver Palace, she finds out that all is not as it seems.
25.
The Hazel Wood
by Melissa Albert
When Alice's mother gets kidnapped by mysterious forces, Alice has to figure out how to save her. For the first time, she has to venture into the Hazel Wood and brave dangers she's only seen in fairy tales.
26.
Sorcery of Thorns
by Margaret Rogerson
Elisabeth is a foundling raised in one of the Great Libraries that guard the kingdom's magical grimoires. When she's implicated in the release of one of these grimoires, the only way to clear her name is by teaming up with her sworn enemy.
27.
An Ember in the Ashes
by Sabaa Tahir
In a world ruled by the Martial Empire, many people live in fear of their rulers.
Laia, a member of a rebel faction, infiltrates the empire's military academy. But everything changes when she falls in love with a Martial Soldier named Elias.
28.
Girls of Paper and Fire
by Natasha Ngan
In a kingdom called Ikhara, the king chooses many consorts to serve him in his palace. Two of the king's new consorts, Lei and Wren, fall in love while navigating court life in this lush and enticing fantasy novel.
29.
These Violent Delights
by Chloe Gong
These Violent Delights is a retelling of Romeo and Juliet set in 1920s Shanghai, where two rival gangs rule the streets. Juliette Cai and Roma Montagov fall for one another despite being the heirs to opposite gangs.
This book, known for being the debut novel of one of the first traditionally published Gen Z authors, is full of forbidden romance, political intrigue, and dark magic.
30.
The Wrath and the Dawn
by Renee Ahdieh
The Wrath and the Dawn is a modern retelling of the famous tale A Thousand and One Nights. The Caliph of Khorasan takes a new bride each night and strangles her each morning.
Sixteen-year-old Shahrzad volunteers as his bride in the hopes of murdering him and putting an end to his reign of terror, but when she gets to the palace, she finds out there's more to the story than meets the eye.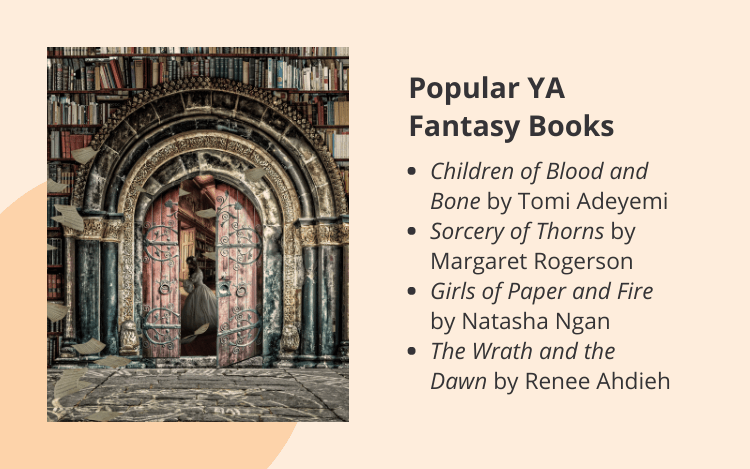 Top Young Adult Fantasy Book Series
Many readers want to spend more than just one book with the characters they love. Luckily, many YA fantasy books are duologies, trilogies, tetralogies, or even longer series.
Here are ten YA fantasy series you can try if you want more than just one book at a time.
31.
A Court of Thorns and Roses
by Sarah J. Maas
Feyre kills a wolf that turns out to be a faerie, and she must pay the price. Her mistake forces her into a world of magic, curses, and deception, where she slowly falls in love with Tamlin, her captor.
A Court of Thorns and Roses, now viral on TikTok, is one of the most well-known YA fantasy series of the modern age.
32. The
Harry Potter
series by J.K. Rowling
Little more needs to be said about Harry Potter, which is one of the best selling series of all time. A seven-book series, it follows a young boy named Harry who is thrust into a world full of magic when he finds out he's a wizard.
33. The
Twilight
series by Stephenie Meyer
Bella Swan moves to the small town of Forks, where she falls in love with a classmate she later discovers is a vampire.
The Twilight series is so popular that it boosted the entire subgenre of paranormal romance for years.
34.
The
Grishaverse
series by Leigh Bardugo
The Grishaverse series, beginning with the bestselling Shadow and Bone, was recently made into a hit Netflix series.
The series is set in Ravka, a country that has been divided by a magical void called the Shadow Fold. It follows Ravka's magical elite, called Grisha, as they use their powers for the good of the country.
35.
Daughter of Smoke and Bone
by Laini Taylor
This bestselling series is about a young blue-haired artist in Prague named Karou, who was raised by monsters called Chimaera. She gets embroiled in an ancient war between Chimaera and Seraphim.
These books are full of delicious romance, intriguing mysteries, and gorgeous magic.
36. The
Scholomance
series by Naomi Novik
This series, beginning with A Deadly Education, is about a magic school full of monsters called mals that will eat unskilled students.
The world building and dark magic in these books are absolutely to die for.
37.
The Raven Cycle
by Maggie Stiefvater
The Raven Cycle is about four teenagers who discover magical ley lines.
One of them is a girl named Blue, who has been prophesied to kill her true love if she ever kisses him. Unfortunately, she's already falling for someone.
38.
The Wayward Children
by Seanan McGuire
This Hugo and Nebula-award winning series is about Eleanor West's School of Wayward Children, which is a home for children who have gone through doorways to other realms. Each heartwarming book follows a different child exploring a different magical world.
39.
Percy Jackson & The Olympians
by Rick Riordan
The Percy Jackson books, which blur the line between YA and MG (middle grade), are set in a version of the modern world where Greek gods sometimes have children with mortals.
Their children, known as demi-gods, are sent to Camp Half-Blood to learn how to control their own powers.
40.
The Mortal Instruments
by Cassandra Clare
The Mortal Instruments is a six-book series that begins with City of Bones.
Clary Fray thinks she's just an ordinary girl, until she discovers an exciting world full of shadowhunters, who protect Earth from demons. She gradually joins them while also finding out more about her missing mother.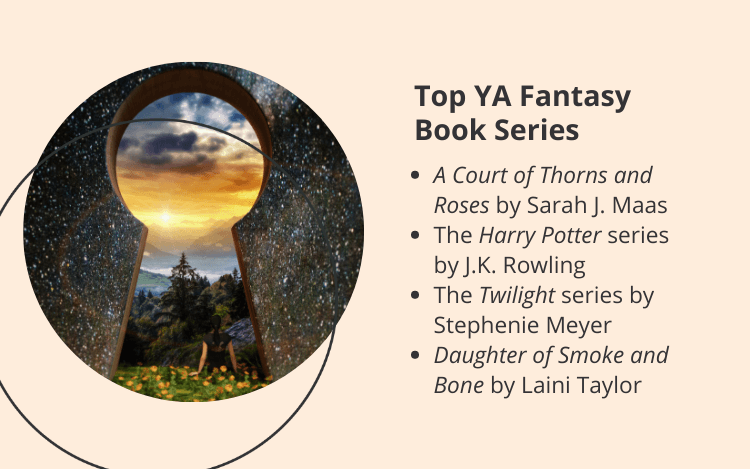 Best Young Adult Fantasy Novels to Give as Gifts
If you're looking for a gift for a YA fantasy reader, there are lots of fantastic books you can consider. Giving books as gifts can be a great way to encourage reading as a hobby, while also supporting your local bookstore.
Here are ten books with beautiful covers and gripping themes, which will make perfect gifts for the readers in your life.
41.
Strange the Dreamer
by Laini Taylor
Lazlo Strange is an orphan who's fascinated with an ancient magical city called Weep. When an emissary from Weep arrives at Lazlo's library, Lazlo joins him in his quest to save Weep.
Strange the Dreamer is poetic, gorgeous, romantic, and uniquely haunting.
42.
Little Thieves
by Margaret Owen
Vanja is the goddaughter of Death and Fortune. When her adoptive mothers demand she repay them for raising her, Vanja escapes to become both a fake princess and a jewel thief.
Little Thieves is beautifully written and a unique take on typical fantasy tropes.
43.
The Gilded Ones
by Namina Forna
Deka has gold blood, marking her as an impure woman. She escapes the fate of other gold-blooded women by joining an army of alaki, who all share the same gold blood and the rare magical gifts that come with it.
The Gilded Ones is an immersive feminist fantasy set in a unique, West Africa-inspired, magical world.
44.
Spin the Dawn
by Elizabeth Lim
Pitched as "Project Runway meets Mulan," Spin the Dawn is a Chinese-inspired YA fantasy about a competition to choose the imperial tailor. Maia Tamarin must pass all the trials in the competition while pretending to be a boy.
45.
The Bone Witch
by Rin Chupeco
Tea is a bone witch with the skill of resurrecting the dead. Her powers mean she's ostracized by her community, so she leaves to train with an older bone witch.
The Bone Witch is full of captivating magic and features a powerful young protagonist.
46.
The Star-Touched Queen
by Roshani Chokshi
Maya is forced into a political marriage with the ruler of Amar. She goes to a palace full of glass gardens, memory trees, and other wonders, but she has no idea who she can trust.
This book is intriguing, poetic, and surprising.
47.
Ashlords
by Scott Reintgen
The Ashlords ride phoenix horses that were gifted to them by the gods. Now, eleven competitors join the deadly Races to see who will win the ultimate glory.
Ashlords combines the competitive elements of The Hunger Games with new mythical creatures to create a propulsive story.
48.
A Winter's Promise
by Christelle Dabos
A Winter's Promise is a French novel about a unique world where everyone lives on floating islands called arcs.
Ophelia, who lives on an arc called Anima, enters an arranged marriage with a man named Thorn from a more dangerous arc. She's forced to rely on her own wits to navigate the new world she lives in.
49.
Lonely Castle in the Mirror
by Mizuki Tsujimura
Seven students discover a portal into a magical world that lets them escape from their terrible school lives.
Lonely Castle in the Mirror is a gorgeous and heart-warming Japanese novel that was recently made into an anime movie.
50.
Gallant
by V.E. Schwab
Olivia has grown up in a boarding school far away from her family. When she gets invited home to Gallant, she must figure out how to belong in a world where ghouls haunt the hallways and strange secrets threaten her family.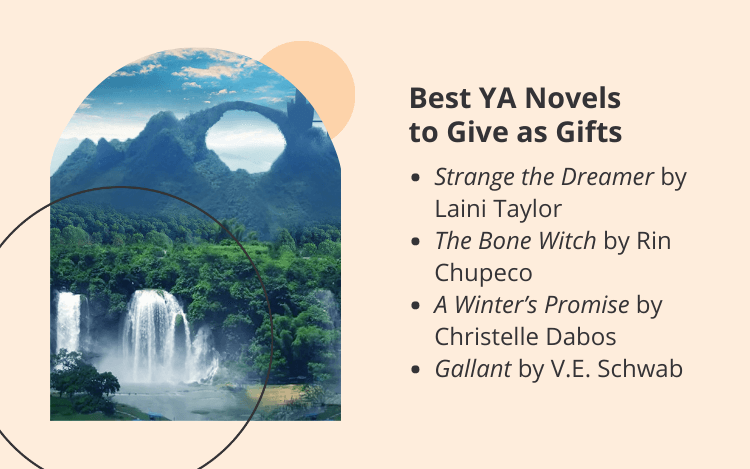 There you have it—our picks for the top YA fantasy books to add to your bookshelf.
Good luck, and happy reading!
---