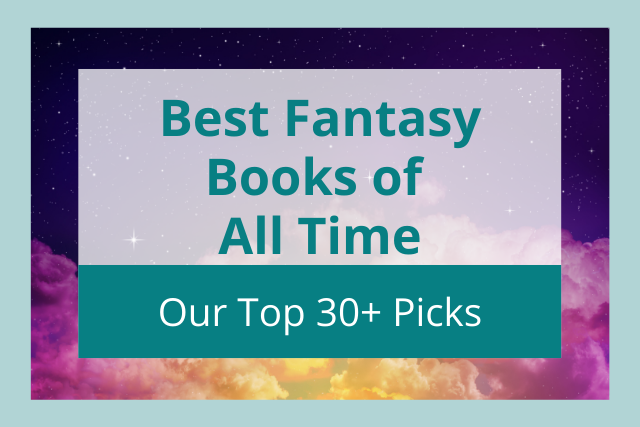 Fantasy is one of the most popular genres. The best fantasy books are those that captivate readers by pulling them into a story full of magical powers, fantastical creatures, and epic world-building.
The fantasy genre has a few different categories, but they all have an element of magic in them. High fantasy, also known as epic fantasy, takes place in a completely separate world apart from our own. There is usually an epic adventure in high fantasy books.
Low fantasy novels are stories that have fantasy elements but take place in our world. Urban fantasy falls into the low fantasy genre and usually features supernatural creatures like vampires, werewolves, or fae.
While those are the major categories in the fantasy genre, there are others that may overlap with other subgenres.
Science fantasy is a mash-up of science fiction and fantasy. Magical realism is a highly descriptive type of low fantasy that blurs the lines between real and magic. Fantasy romance is any fantasy novel where a love story is a major plotline.
With so many great books, it's hard to know where to start! We've selected some of the best fantasy books and fantasy series for you, and we've listed some of the greatest fantasy authors of all time. It's a diverse list sure to please any reader who wants to escape from reality.
How We Chose the Greatest Fantasy Books
All the books on this list completely immerse the reader in the stories. The plots aren't simple by any means, but they are written in a way that allows their readers to ease themselves into complex new worlds without overwhelming them with information.
A list like this is highly subjective. But we've selected books that fit into multiple genres, have great reviews or an active fan base, may have reached bestseller status, or have become archetypal for the genre. You'll see a mix of classic and modern fantasy.
Best Fantasy Books of All Time: for Adults, High Fantasy, Magic Fantasy, and More
Here are some of our picks for best fantasy books.
1. The Fellowship of the Ring by J. R. R. Tolkien
No list would be complete without the father of fantasy fiction. One ring rules them all. The Dark Lord put all his powers in one ring that was then taken from him.
After years in Middle-earth, Bilbo Baggins ends up with the ring. After he reaches his eleventy-first year, he disappears, and the ring becomes the property of Frodo, his cousin.
Thus starts the epic quest to destroy the ring and everything it stands for. It's the first of the Lord of the Rings series and remains one of the best fantasy books ever written.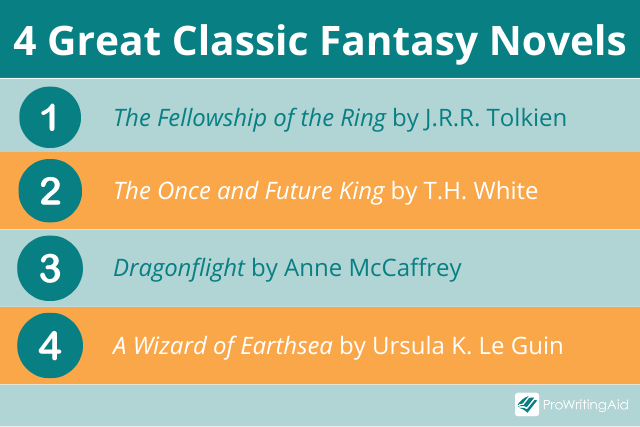 2. The Way of Kings by Brandon Sanderson
In this epic fantasy book where mystical swords and suits of armor transform ordinary men into invincible warriors, kingdoms are won and traded for Shardblades.
With an interesting cast of characters from around the fantasy world, they fight their own battles, sometimes with motives less than pure.
Sanderson has established himself as a leading voice in the epic fantasy genre, and you can always count on immersive world-building in his novels.
3. The Once and Future King by T. H. White
Who doesn't love the mystical, magical legend of King Arthur? In The Once and Future King, a young lad called "Wart" comes under the tutelage of Merlyn the wizard, who teaches him how to create an amazing future.
Wart allies himself with the greatest knights of the realm, loves a legendary queen, and unites a country under chivalrous values. He will be Arthur, King of the Britons.
4. American Gods by Neil Gaiman
Featuring a cast of gods whose powers have waned, American Gods tells the tale of power waxing and waning in the modern age. When war with modern gods rears its evil head, Shadow Moon encounters Mr. Wednesday, who claims to be a refugee, a former god, and the king of America. This fantasy book blends mythology into the real world in an innovative, thought-provoking manner.
5. The Invisible Life of Addie LaRue by V. E. Schwab
In one of the best fantasy books in recent years, Addie LaRue makes a deal with the devil to live forever. But now no one she meets can remember her once she leaves the room.
Addie lives for centuries, making her own impressions in history, yet always feeling alone. Then she meets a nerdy bookshop worker who remembers her when she returns.
This novel is low on fantasy elements but features some beautiful magical realism as Addie learns about love and what makes a life worth living.
6. The Fifth Season by N. K. Jemisin
The first novel in N. K. Jemisin's Broken Earth Trilogy won the Hugo Award for best novel, and it's easy to see why.
In this fantasy book, the world experiences a catastrophic climate change event that occurs every few centuries. The novel follows three main characters who span three different eras.
Jemisin artfully pairs unique, modern prose with deep explorations of race, sexuality, oppression, and environmentalism.
7. The Golden Compass by Philip Pullman
This popular YA fantasy novel has captured the hearts of children for nearly 30 years.
Lyra rushes to the cold North where witch clans and armored bears rule, and where Gobblers take children, including her friend Roger.
Lyra's fearsome uncle Asriel is trying to build a bridge to a parallel world, but Lyra is one small girl. Can she make a difference in this great and terrible endeavor?
8. Jonathan Strange and Mr. Norrell by Susanna Clarke
In over 800 pages of captivating world-building, Jonathan Strange and Mr. Norrell tells the tale of English magicians who have lost their ability to perform magic. That is, until a reclusive magician regains some powers.
Gilbert Norrell is soon in demand for his powers, and all is fine until a rival magician shows up—Jonathan Strange. This is one of the best fantasy books for fans of historical fiction, as it blends history and magic seamlessly.
9. A Song of Wraiths and Ruin by Roseanne A. Brown
The debut novel from Roseanne A. Brown is an epic YA fantasy adventure. Some of the best fantasy books blend mythology into the story, and Brown weaves West African folklore into her world-building.
Malik embarks on a hero's journey to free his sister's soul by killing Crown Princess Karina. Karina needs the heart of a king to resurrect her mother using blood magic. The two cross paths, and passion flares as an ancient evil threatens their world.
10. A Wizard of Earthsea by Ursula K. Le Guin
Ursula K. Le Guin is one of the most prolific fantasy writers, and A Wizard of Earthsea is her best known work.
Ged is the greatest sorcerer in all Earthsea. In his youth, he accidentally summons a shadow creature, which threatens his magical equilibrium. Ged must master the mighty word of power, tame an ancient dragon, and cross death's threshold to restore balance to his world.
11. Dragonflight by Anne McCaffrey
Anne McCaffrey is the true mother of dragons. If you love dragons in your epic fantasy novels, check out Dragonflight.
Lessa, who most think of as an inconsequential kitchen girl, decides it's time to take back her stolen birthright. But then she meets the queen dragon, forming a quick and strong bond. Dragons and their riders must protect the Thread, but at what price?
12. The Name of the Wind by Patrick Rothfuss
A coming-of-age story in a fantasy world, The Name of the Wind tells the story of a young man who grows to become a notorious wizard.
After traveling with a group of roving actors, Kvothe finally enters a school of magic. Plenty of high fantasy action and adventure turns Kvothe into a fugitive sought for murder.
The Name of the Wind is a great fantasy book for people who love classic epic tales and modern prose.
13. Gods of Jade and Shadow by Silvia Moreno-Garcia
There are countless tales where a god sends a hero or heroine on a journey, but there are no other fantasy books quite like this.
Set in the 1920s Jazz Age in Mexico, Casiopea is a Cinderella-esque servant who wants a new life. She awakens the Maya god of death who tasks Casiopea with restoring him to power for vengeance.
It's part hero's journey, part magical realism, and part dark fairy tale steeped in Mesoamerican mythology. This epic fantasy novel turns everything you think you know about the underworld on its head.
14. Children of Blood and Bone by Tomi Adeyemi
Tomi Adeyemi's first book topped the New York Times Bestseller list in 2018.
Magic is dead in Zélie's world, but she remembers. She sets out on an epic quest in a dangerous world to restore magic and overturn a dictatorial monarchy.
West African mythology inspired this book, but it also will appeal to lovers of dystopian fiction. Since publication, Adeyemi has won Hugo and Nebula awards and quickly established herself as a leader in the fantasy genre.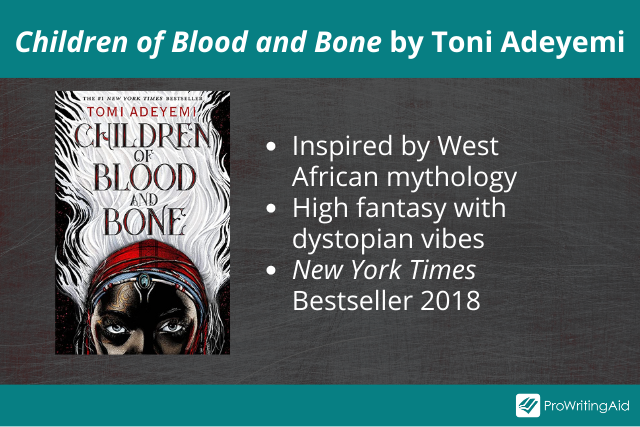 15. The Book of Lost Saints by Daniel Jose Older
Older's literary fantasy story is a multigenerational ghost story.
Marisol haunts her present-day nephew, Ramon, in his mundane life as a security guard. But when he sleeps, she sends him memories of her life in Cuba during the Revolution.
She doesn't remember how or why she died, but her memories will send Ramon and his sometimes-lover, Aliceana, on a quest to uncover family secrets amid a government resistance.
The story moves seamlessly between past and present, with captivating descriptions and poignant messages about family, life, and love.
16. The Lies of Locke Lamora by Scott Lynch
Another story that takes place in two timelines, The Lies of Locke Lamora is an exciting epic fantasy novel.
In a fantastic world of criminals and nobles, this book is an adventure, loyalty, and survival guide along the lines of Robin Hood and Ocean's Eleven. Locke Lamora dodges death, slavery, and more only to fall in the hands of a con artist known as Chains. Locke then leads a thieving gang, becoming a morally gray antihero you can't help but love.
Since its publication in 2004, this book has become an essential read for lovers of fantasy novels.
17. A Discovery of Witches by Deborah Harkness
In this New York Times bestseller, Professor Diana Bishop is a witch by blood, which she tries her best to forget. During her research, she stumbles upon a lost manuscript and activates her magical powers.
Diana gets pulled into a world full of magical creatures and meets a charming vampire. She must protect all the supernatural creatures with her newfound powers.
This novel is a wonderful story about accepting yourself for who you are. It was also turned into a three-season TV show by British channel Sky One.
18. We Hunt the Flame by Hafsah Faizal
We Hunt the Flame is a young adult fantasy novel set in a magical world inspired by ancient Arabia.
A tyrannical sultan rules the land, and war is brewing. Zafira disguises herself as a man known as the Hunter to feed her people. She then sets out on a quest to find an artifact that will restore magic and bring peace to her land.
But the sultan's son, Prince Nasir, has the same mission, and he's supposed to kill the Hunter. Luckily, he's not the tyrant his father is. Nasir and Zafira are both reluctant heroes who must race against the clock to save their people.
Top Fantasy Book Series of All Time
Some of the fantasy books listed above are stand-alone novels, while others are the first book in a series. But some fantasy series are worth mentioning as a whole.
Below, we have listed some of the best fantasy series in the entire genre.
19. A Song of Ice and Fire series by George R. R. Martin
You can't have a list of the best fantasy books without mentioning George R. R. Martin's famous series. Set in the world of Westeros, multiple power-hungry people vie for the Iron Throne—the throne that will allow them to rule the entire land.
There are dragons, ice zombies, and sorceresses, but the most intense conflicts occur between ruthless humans. The first book in the series is A Game of Thrones, which lent its name to the award-winning HBO television series. Each subsequent novel follows various characters as Westeros is thrown into chaos.
20. Percy Jackson and the Olympians series by Rick Riordan
The Percy Jackson books are a middle-grade and young adult series with a massive fan base. This modern reinterpretation of Greek mythology has captivated younger readers as well as adults.
Percy is a demigod who discovers his magical abilities and a fantastical world that exists alongside the real world. Percy befriends another demigod named Annabeth and a satyr named Grover at Camp Half-Blood, where the children of Greek gods learn how to handle their powers.
Overall, the series is a story of good vs evil and the power of love and friendship.
21. Hollow Crown duology by Zoraida Córdova
In these fantasy books, Córdova reimagines the Spanish Inquisition in an alternate world full of magic.
The royal family wants to destroy the Moria, a group of magical people. Renata was kidnapped by the royal family as a child because of her rare abilities as a memory thief. They've used her in their quest to eliminate magic.
But Renata fights back as a member of the resistance known as the Whispers, although even this group of rebel spies doesn't trust her. If you enjoy political intrigue, historical commentary, and tales of vengeance, you'll love this magical duology. The first book in the series is Incendiary, followed by Illusionary.
22. An Ember in the Ashes series by Sabaa Tahir
Stories of rebel spies never seem to get old, but Sabaa Tahir's fantasy series is a fresh take on this fantasy fiction trope.
This series is set in an alternate world based on ancient Rome. A militaristic regime runs this land, and they choose the leader from a military academy with a series of trials.
An Ember in the Ashes uses alternating first-person points of view. In the first book, we follow Laia, a girl who wants to save her brother, and Elias, a boy who wants nothing to do with the Empire.
23. The Witcher series by Andrzej Sapkowski
Before it was a Netflix series or even a video game, The Witcher was a fantasy series.
We first meet Geralt of Rivia in a short story called The Witcher published in 1986. Geralt is a Witcher, who has special abilities and hunts monsters.
His destiny lies in an orphaned princess named Ciri, whom he adopts as his daughter, who has immense, unknown powers. They then travel across a world full of elves and other creatures.
In their war-stricken world, human colonists have largely decimated the populations of non-human people. The series comprises several short stories, a five-novel saga about Geralt and Ciri, and a stand-alone prequel.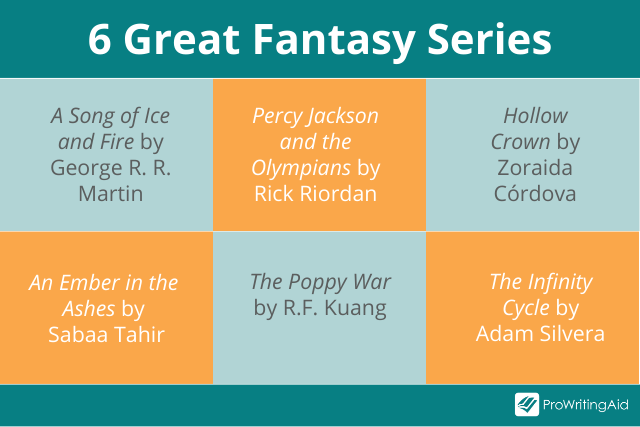 24. The Poppy War series by R. F. Kuang
When The Poppy War came out in 2018, it won the Nebula Award and was nominated for the World Fantasy Award for best novel. It's now a popular trilogy inspired by mid-twentieth century China, the Second Sino-Japanese War, and the Song Dynasty.
Rin is an orphan who enters a military academy, only to discover that she has shamanic powers. She catches the attention of her country's leaders, and they call her to fight their war against the neighboring empire. Rin must choose between her own humanity or making a deal with the gods to embrace her powers.
25. Mercy Thompson series by Patricia Briggs
If urban fantasy is more your cup of tea, then you can't go wrong with the Mercy Thompson series. Briggs has crafted an incredible universe of shapeshifters, werewolves, and other supernatural creatures.
Mercy isn't your typical fantasy heroine. She's a Volkswagen mechanic who can shift into a coyote because of her Native American heritage.
There are thirteen novels in this series and several books in an adjacent series called Alpha and Omega, which follow two werewolf characters introduced in Mercy's story.
26. The Infinity Cycle Series by Adam Silvera
Infinity Son and Infinity Reaper follow two brothers, Emil and Brighton, in New York City. They've joined a group of vigilantes who want to destroy specters, which are creatures who steal magic.
Brighton wants magical powers of his own, while Emil just wants the war to end. But when Emil gets powers he doesn't want, and Brighton is left without magic, their brotherhood is put to the test.
This is a fast-paced, exciting fantasy duology that fans of the urban fantasy genre will love.
27. The Wheel of Time series by Robert Jordan and Brandon Sanderson
The Wheel of Time is a fourteen-novel series that will appeal to fans of both science fiction and fantasy.
In this alternate world, time is not linear but occurs in cycles of ages, known as the Wheel of Time. This means the story occurs in both the past and future.
In a prophecy, the Dark One will return and the world will end as the Dragon defeats him. It's up to channelers of the One Power to keep the darkness at bay and the world safe.
Sadly, Robert Jordan died before he could complete the series, but Brandon Sanderson finished the series based on Jordan's notes.
28. The Discworld series by Terry Pratchett
If you love the immersive worlds of high fantasy fiction, but you want something more lighthearted, the Discworld series is perfect for you.
This comic fantasy series takes place on a flat world that is balanced on the backs of four giant elephants. (And the elephants stand on a giant turtle.) Pratchett often satirizes fantasy tropes while still telling exciting stories of epic quests. You won't run out of books to read any time soon. There are currently forty-one novels in this series!
29. The Sword of Truth Series by Terry Goodkind
The first book in the Sword of Truth series, Wizard's First Rule, starts with the murder of Richard Cypher's father. Suddenly, a mysterious woman, Kahlan Amnell, appears in Richard's forest. She needs help—and more.
The twenty-two-book series follows Richard, Kahlan, and other protagonists on their quest to fight oppression and save their people from evil magic that threatens to destroy the world.
The series remains popular despite criticism about its politics and depictions of women, but there's no question that the world-building and magic system is incredible.
30. The Chronicles of Narnia by C. S. Lewis
In The Lion, the Witch, and the Wardrobe, four children—Peter, Susan, Lucy, and Edmund—discover a world called Narnia inside a wardrobe. There they discover magic, magical creatures, and Aslan, the Great Lion who created Narnia. The rest of the series follows other characters and their adventures in this land.
If you're trying to inspire a sense of wonder in your kids, this is one of the top fantasy series to introduce to them.
Popular Fantasy Authors
Some fantasy authors are popular for more than one book or series, and it's hard to decide what their best works are.
We've rounded up some of the most prolific authors in the fantasy genre and listed a few of their popular works. Check out our picks for some of the best fantasy authors.
Ellen Datlow
Although technically an anthologist, Ellen Datlow deserves a mention on this list for her outstanding accomplishments.
Datlow has won the World Fantasy Award more times than any other author, with an impressive ten wins and forty-two nominations. In 2007, she won the Karl Edward Wagner Award from the British Fantasy Society in honor of her outstanding contribution to the genre.
For anyone who loves short story collections, be sure to check out Datlow's work. She also edits anthologies in the horror and science fiction genres.
Anne Bishop
Anne Bishop is widely considered the pioneer of dark fantasy romance. Her high fantasy series, The Black Jewels, is still in progress, with #12 being released in 2023.
She's also well known for her urban fantasy series, The Others, that now spans eight novels. She has two other series that aren't as popular but are also exceptional. The Tir Alainn trilogy is set in a world full of witches and an adjacent world of Fae. The Ephemera series has a supremely unique setting and magic system.
Bishop tackles tough subjects with elegant prose and immersive magic.
Jacqueline Carey
New York Times bestselling author Jacqueline Carey is best known for her alternate history series, Kushiel's Legacy, which follows a courtesan spy marked by a god across a reimagined Renaissance-era landscape. Two more trilogies came after the first trilogy and follow different characters of the same world.
But Carey is a prolific author, and her other novels are just as enjoyable. The Sundering is a Tolkien-inspired duology that asks what Lord of the Rings would be like from the "evil side's" perspective.
Carey also dove into science fiction with Santa Olivia and Saints Astray, which are about a woman whose father was a genetically modified super soldier.
Carey returned to fantasy with her "small town" urban fantasy, Agents of Hel. She also has a book inspired by Shakespeare's The Tempest called Miranda and Caliban. Her latest novel is a stand-alone epic fantasy called Starless that explores fate, gender, and sexuality.
Terry Brooks
Another prolific, bestselling author is Terry Brooks. He's written dozens of books, but most of them are part of the famous Shannara series. This high fantasy universe actually takes place in a postapocalyptic Earth, but now there are elves and magic.
Shannara spans forty-two novels and short stories, and they are widely considered some of the best fantasy books ever written. Two seasons of a TV show, The Shannara Chronicles, aired in 2016 and 2017.
Brooks also wrote the Landover series about a lawyer who purchases a magical kingdom. The seventh book in the series is due out in 2023. He also wrote the novelizations of the movies Hook and Star Wars Episode I: The Phantom Menace.
Though he's nearing 80, Brooks is still writing magical worlds for his fans.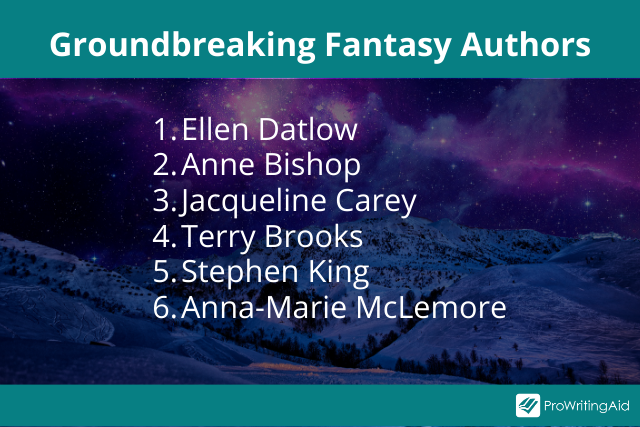 Stephen King
The king of horror also dabbles in the fantasy genre. Stephen King's best known fantasy books are the Dark Tower series.
The first book, The Gunslinger, was originally published as five short stories in The Magazine of Fantasy and Science Fiction. It took King over twelve years to finish this first book. Now there are seven novels in the series.
The story follows a memorable, enigmatic hero, Roland of Gilead, on his quest to catch the Man in Black and reach the Dark Tower.
King's other fantasy novels include The Eyes of the Dragon and Fairy Tale, which came out this year. He's also written fantasy short stories and has won the World Fantasy Award four times.
Anna-Marie McLemore
Although they are new to the game, Mexican American author Anna-Marie McLemore is establishing themself as a leader in queer fantasy. Their eight young adult novels are all stand-alone stories, and they've already won several awards.
McLemore writes about marginalized people, including queer and neurodivergent characters, and explores heavy themes of identity and family. They blend traditional magical realism with modern YA genre expectations for something fresh and diverse.
Editor's Choice of the Best Fantasy Books
We would be remiss to not include some of these other great fantasy novels. Here are three of our favorites.
31. The Wisteria Society of Lady Scoundrels by India Holton
Genre bending is always exciting, and Holton does it well in her debut novel. The Wisteria Society of Lady Scoundrels is a historical fantasy romantic comedy. There are Victorian pirates with flying houses amid excellent banter that will make you laugh out loud.
If you love fantasy elements but are looking for a lighter read, you'll love The Wisteria Society of Lady Scoundrels.
32. The Southern Vampire Mysteries by Charlaine Harris
We can credit Charlaine Harris with much of the popularity of vampires, werewolves, and other urban fantasy creatures. Also known as the Sookie Stackhouse Novels or the True Blood series, these thirteen urban fantasy mysteries also inspired an award-winning HBO television series.
The books pull a science fiction element into the world-building: the creation of synthetic blood for medical purposes led to vampires coming "out of the coffin."
This series follows a telepathic waitress from Louisiana as her life entangles with the vampires Bill and Eric.
33. The Scholars of Elandria series by Krystal N. Craiker
The fantasy world I spend the most time in is my own. High fantasy often comes with a high commitment, with novels well over 500 pages long being the norm.
The Scholars of Elandria series, starting with The Sage's Consort, gives you the immersive magical world of high fantasy with a short word count.
Quinn has immense magical powers he can't control, until he apprentices with Amarice, the youngest and most powerful Sage in history. The story follows them as they fall in love amid a threat to the magical people of Elandria.
Conclusion: Best Fantasy Novels to Read
There are so many great fantasy novels and authors to read, and there's something in the genre for every type of reader.
We can't include every exceptional story, but these are some of the best fantasy novels we've read. Did your favorites make it on the list?