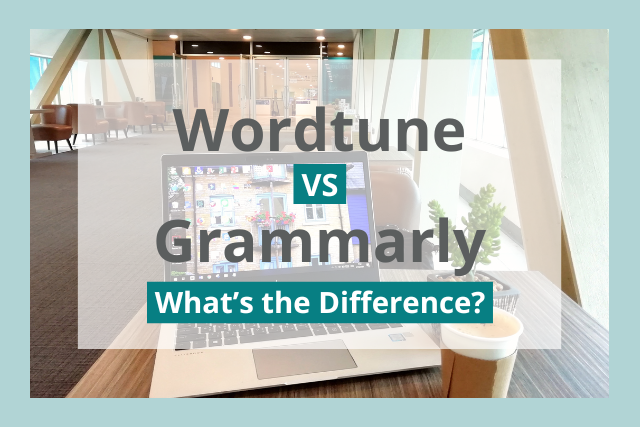 An AI-powered writing assistant is a great way to make sure your writing is clear, professional, and effective.
There are many useful writing assistants you can choose from, including Grammarly, Wordtune, and ProWritingAid.
Grammarly is a popular AI-powered grammar checker that can help you strengthen your prose and correct your grammatical errors. Wordtune is a rewriting tool that helps you rewrite sentences more clearly.
So, how do you decide whether to use Wordtune vs Grammarly?
In this article, we'll give you an overview of the features that each tool offers and help you decide which one is right for you.
What Is Wordtune?
Wordtune is a rewriting tool developed by Yoav Shoham and Ori Goshen in 2018. It uses natural language processing to rewrite clunky sentences.
Its rewriting feature lets you rephrase your text in a clear and concise way. It's also a great way to ensure you're not plagiarizing, since you can easily rewrite any sentences that closely resemble existing works.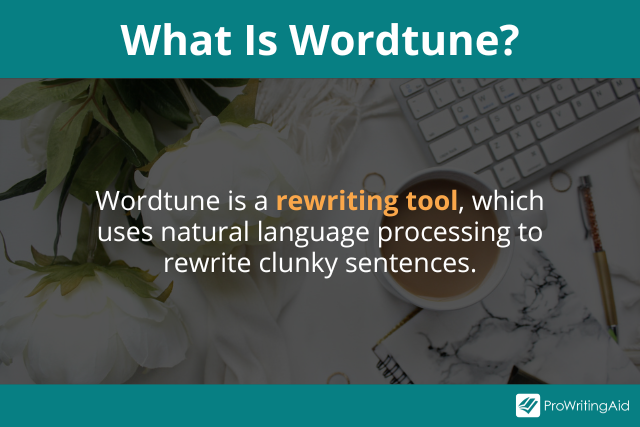 Wordtune lets you specify whether you want to shorten or expand your text, so if you're trying to hit a word count, Wordtune is a great way to do it.
You can also specify whether you're writing in a formal or casual tone. For example, if you're writing a cover letter and you want to make sure it doesn't sound too informal, you can use Wordtune to make sure it's professional.
Here's a list of Wordtune's features:
Sentence rephraser: lets you rewrite full paragraphs at a time, sentence by sentence, or word by word
Translator: helps you translate Spanish, Mandarin, Arabic, Hindi, Korean, Hebrew, or Russian into English, and then rewrites and edits your English sentences for you
Tone checker: lets you choose between tones, such as casual and formal
Grammar check: checks your rewritten sentences for proper sentence structure and grammar mistakes
Many people think Wordtune is a cheap grammar checking tool, but this isn't quite true. It's much stronger as a rewriting tool than as a tool to search for grammar errors.
If you're looking for a tool to help you rephrase your sentences, Wordtune is a fantastic option.
Who Might Benefit from Wordtune?
Wordtune's rewrites can be useful in many different situations. There are many people who might benefit from Wordtune, including:
Students
Content writers
Non-native English speakers
Students
Students need to write essays that are concise, readable, and clear. Convoluted writing doesn't get good grades.
Wordtune can help students spot sentences that are overly wordy. It even creates potential rewrites for you.
It can also help you expand or shorten your essay to hit the right word count for an assignment.
Content Writers
Content writers need to communicate the value of a product or service to large audiences. As a result, it's crucial that they write clear, readable sentences.
Wordtune can help improve readability and make sure written content is accessible to a broad audience.
Non-Native English Speakers
If your native language is Spanish, Mandarin, Arabic, Hindi, Korean, Hebrew, or Russian, and you need to write in English often, Wordtune is a great option for you.
Using Wordtune can help you write like a native speaker, with full rewrites that will make your words sound fluent.
However, it's worth noting that Wordtune doesn't currently support other languages, so you won't be able to use it in your native language. It's only useful for translating into English.
What Is Grammarly?
Grammarly is an AI-powered writing tool founded by Max Lytvyn, Alex Shevchenko, and Dmytro Lider in 2009. It provides a wide range of editing tools to help you produce error-free content.
It checks your writing in real time as you type on your favorite browser or desktop app, so you don't have to copy and paste your writing into Grammarly.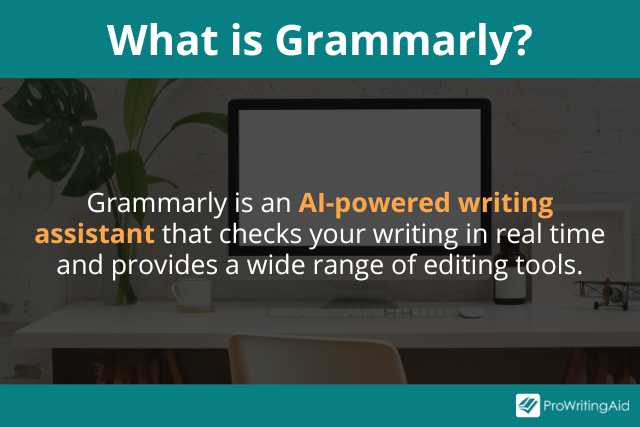 In addition to looking for spelling mistakes and grammatical errors, Grammarly also makes style suggestions. It highlights wordy sentences, incorrect commas, repetitive words, and other similar weaknesses.
Grammarly includes the following features:
Spell check: checks for spelling errors and lets you add words to a custom personal dictionary
Grammar check: looks for common grammar and punctuation mistakes
Readability score: looks at word length, sentence length, and vocabulary choices to create a readability score from 1 to 100
Writing style suggestions: provides word choice suggestions based on the intended audience and tone of your work
Plagiarism checker: compares your writing to other webpages and articles to give you a plagiarism score
Tone adjustments: helps you strike the right tone in your writing
Writing assistant: includes an AI-powered writing assistant that proposes new suggestions for you
Grammarly's suggestions can make sure your writing is error-free. It catches more mistakes than Wordtune and does a better job cleaning up your work.
Who Might Benefit from Grammarly?
There are many people who might benefit from Grammarly, including:
Busy professionals
Freelance writers
Small business owners
Busy Professionals
Professionals in any industry need to communicate clearly in writing. Whether it's a simple email, an office memo, or a LinkedIn post, your writing should be readable and convincing.
Because Grammarly can integrate into your browser, you can check your grammar easily while using any website or platform. Using Grammarly for all your day-to-day communications can help make you sound more professional and trustworthy.
Freelance Writers
If you're a freelance writer, you've likely honed your grammar skills already, but it still takes a lot of time to write well. You probably need to edit your work several times in order to get it ready to publish.
Using a tool like Grammarly can help you speed up your process. You can use it to edit more efficiently and to spot any mistakes you might miss on your own.
Small Business Owners
If you're a small business owner, and you have multiple employees, Grammarly is a great option.
Grammarly Business lets you buy a plan for your entire team, instead of investing in an individual premium plan for each employee.
That way, all your employees can write cleaner and more professional communications to clients, colleagues, and other professionals in the industry.
Key Features of Wordtune vs Grammarly
Clearly, both Wordtune and Grammarly have useful features. So, what are the strengths and weaknesses of each tool?
Here's our assessment of how Wordtune and Grammarly stack up in six key categories: grammar checks, plagiarism checker, rewriting, integrations, languages, and other features.
Grammar Checks
It's no surprise that Grammarly wins as a grammar checker, given its name. Grammarly is great at checking grammar for all types of writing, from blog posts to academic essays.
When it comes to checking your grammar, Wordtune falls short. It doesn't put much emphasis on grammar and spelling, often missing errors that Grammarly catches.
If you want to catch all your grammar and spelling errors, Grammarly is a more useful tool than Wordtune.
Plagiarism Checker
Grammarly's plagiarism checker lets you detect potentially plagiarized content and replace it with more original content. The premium plan gives you unlimited plagiarism checks.
Wordtune doesn't have a plagiarism checker like Grammarly's. All it can do is rewrite content you might have plagiarized into more original sentences.
If you're hoping to check your work for plagiarism, Grammarly wins.
Rewriting
Rewriting has always been Wordtune's strongest skill. You can get any passage paraphrased quickly and painlessly. You can do it one word at a time or even one paragraph at a time.
Grammarly can also rephrase sentences for you, but it's not one of Grammarly's salient strengths.
Overall, the rewriting tool in Wordtune is far more sophisticated. If you're looking for a paraphrasing tool, Wordtune is more effective than Grammarly.
Integrations
Wordtune integrates well with Chrome and Microsoft Word. It's also available on several communication platforms, such as Google Docs, Twitter, LinkedIn, Slack, Facebook and Microsoft Outlook.
Grammarly also integrates with many platforms, such as Microsoft Word, Google Docs, and your internet browser, just to name a few.
Ultimately, both apps tie for integrations.
Languages
Grammarly is only available in English. It doesn't support translations.
Wordtune allows translations into English, but not into other languages. You're still limited to writing a final product in English.
Wordtune wins this category because of its translation tool, which many non-native English speakers find useful.
Other Features
Grammarly includes a tone detection tool that can tell you how your content sounds, such as formal, confident, or optimistic.
Wordtune also offers real-time tone adjustments, allowing you to choose between tones like formal, neutral, or casual.
One useful feature Grammarly offers is the chance to hire a professional editor. You can click an icon on the bottom right to get an editor to look at your work, which can be useful if you want a human perspective on your work instead of just the AI's suggestions.
Price Comparison of Wordtune vs Grammarly
Both Grammarly and Wordtune have free versions that let you use their most basic features, but they require you to pay a subscription to access more advanced features.
Wordtune lets you pay for a monthly plan at $9.99/month, or an annual plan for the same price as the monthly plan.
Grammarly offers three individual payment plans for its premium version. The monthly plan is priced at $30, the quarterly plan is priced at $20/month, and the annual plan is priced at $12/month.
As you can see, Wordtune Premium is much more affordable than Grammarly Premium if you pay on a monthly basis. If you're willing to invest in a year-long subscription instead of paying one month at a time, they're comparable in price.
Why ProWritingAid Is the Perfect Alternative
Other options exist in addition to Grammarly and Wordtune.
ProWritingAid performs more editing and proofreading tasks than a basic grammar checker does. It offers advanced analysis that can help you take your writing to the next level.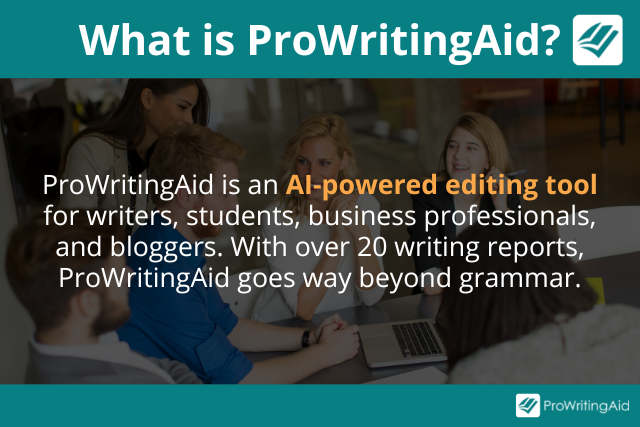 ProWritingAid offers over 20 reports you can use to evaluate your writing and enhance the style, structure, and readability of your work.
Some of these reports include:
Repeated words and close echoes
Commonly overused language
A full summary of your document to help you plan your editing
Sentence structure visualizations
Sticky sentences
Vague and abstract words
...and more!
If you're not sure what a suggestion means, you can use ProWritingAid's in-tool learning resources to help you out. Just click on the orange "i" icon on a ProWritingAid suggestion to learn more.
Both Grammarly and Wordtune only offer automatic correction without added learning resources. With ProWritingAid, you can learn about the issue and improve your writing skills over time.
All the platforms that Grammarly and Wordtune can integrate with, including Microsoft Word, Google Docs, Google Chrome, and Firefox, are also supported by ProWritingAid. Additionally, ProWritingAid also enables integration with popular writing apps like Final Draft and Scrivener.
The free version of ProWritingAid allows you to run almost all of the normal reports on up to 500 words of text. To access more, you can try the 14-day free trial of ProWritingAid's Premium version.
Conclusion on Wordtune vs Grammarly
Ultimately, both Wordtune and Grammarly are useful editing tools.
Grammarly is better for fixing spelling errors and grammatical mistakes, while Wordtune is better for rewriting your sentences.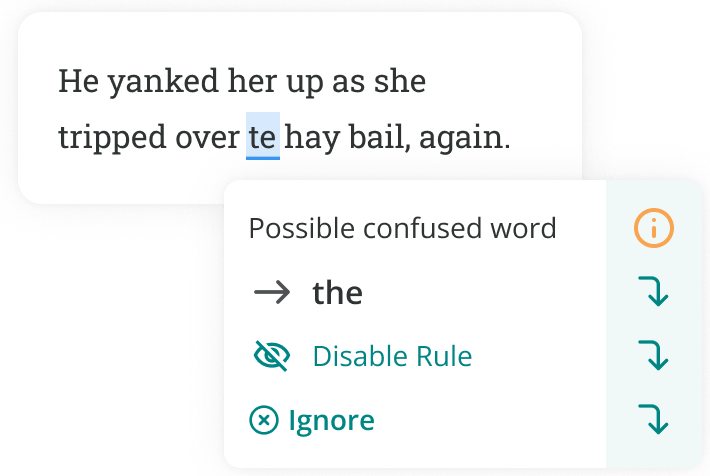 ProWritingAid provides even more advanced analysis than either Grammarly or Wordtune. If you are looking for an online editing tool that works for you to make your writing shine, ProWritingAid is the logical choice.
Good luck, and happy writing!
---