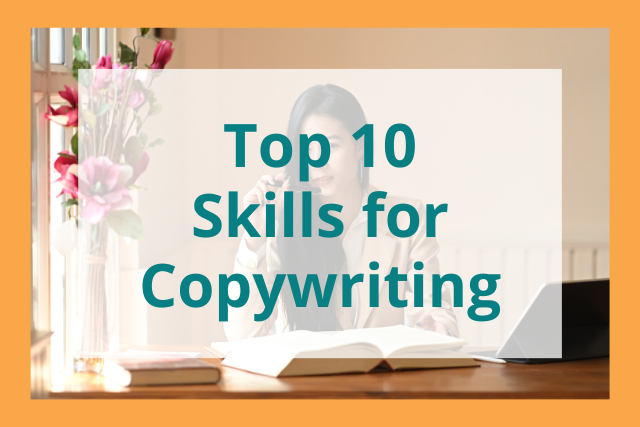 Anyone can become a copywriter, with or without a writing degree.
But just because anyone can become a copywriter doesn't mean it's easy to succeed as a copywriter. There are certain skills you need to master before you can write fantastic copy.
So, what are the most important skills you need for copywriting?
Whether you're just starting out in copywriting or are a seasoned pro, the tips in this article will help you ramp up your skill set and become more attractive to clients looking for content.
Quick Recap of Copywriting
Let's start with a quick overview of what copywriting is.
Copywriting refers to writing for the purpose of advertising or marketing. In other words, it means crafting text that's designed to promote a product or service.
The goal of copywriting is to persuade a target audience to take a specific action, such as buying a product or signing up for a newsletter. Good copywriting can help a business or organization communicate its value to potential buyers and stand out in a crowded marketplace.
Copywriters may work across a wide range of platforms, including company websites, social media sites, email, advertisements, and more.
At a high level, copywriting requires a strong understanding of the target audience, as well as an ability to write in a way that's engaging, informative, and persuasive.
10 Skills You Need to be a Copywriter
Now that we've covered the basics of copywriting, it's time to talk about the most critical copywriting skills you need to do this job well.
Without further ado, here are ten crucial skills you need to become a successful copywriter.
1. Self-motivation
The vast majority of copywriters work from home and set their own schedules. Self-motivation may be the top skill that a freelance copywriter needs.
If you can't motivate yourself to sit at the computer every day and pump out the content clients need, you won't be in business very long.
There's no such thing as writer's block. You need to fill a blank screen with content, no matter how you're feeling that day.
Self-motivation also helps you meet client deadlines, an essential habit for developing a stellar reputation. If you want clients to keep returning to you with new work, never miss a deadline.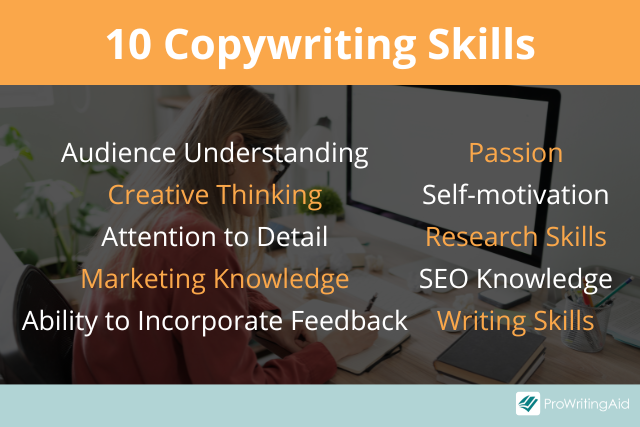 2. Audience Understanding
The ability to empathize with your target audience is key. You'll need to write in a way that will touch upon their deepest desires, fears, wants, and needs.
An in-depth and thorough understanding of your audience leads to click-throughs, opt-ins, and conversions—everything a copywriter should excel in.
In today's content environment, understanding your audience means knowing what information readers want and making it easily and quickly available. Make sure you can address your target audience's specific desires and pain points, so you can persuade them to act.
3. Creative Thinking
A good copywriter should be able to come up with creative and original ideas for marketing campaigns and messaging.
This is especially important in today's competitive and crowded marketplace, where businesses and organizations are constantly looking for ways to stand out and differentiate themselves from their competitors.
You'll need to think outside the box and come up with fresh and innovative approaches to advertising and marketing. This might involve coming up with new ideas for campaigns or finding unique ways to present information.
4. Attention to Detail
As a copywriter, it's important to carefully proofread and edit your work to ensure it's error-free.
Even small mistakes or inconsistencies can undermine the effectiveness of your message and damage the credibility of the business or organization you're working for.
You'll need to make sure your work is free of spelling and grammar errors, and that it's consistent in terms of style and tone. You should also be mindful of other details, such as ensuring your materials are properly formatted and that all images are properly placed and sized.
Good attention to detail is essential for ensuring your copy is high-quality and effective in achieving your company's goals.
5. Marketing Knowledge
A good copywriter should have a strong understanding of marketing and branding principles. You'll also need an understanding of how to craft a message that's aligned with the overall marketing campaign of the business or organization.
Digital marketing is just as important as traditional marketing.
Copywriting often involves working on a variety of materials, such as website content, social media posts, and advertisements. In all of these mediums, you'll need to know how to craft a persuasive message that resonates with the audience and effectively communicates the value of the product or service being promoted.
6. Research Skills
Copywriting and content creation require understanding the product you're advertising. You'll need excellent research skills to complete each copywriting job.
Readers are inundated with information, and they're tired of reading fluff pieces that exaggerate the facts or fail to include reliable information. They want solid, well-researched, informative articles that tell them something new.
You may find you're spending twice as much time researching as you do writing. That's okay. In fact, it's great, especially if you're likely to be writing for the same client or within the same industry in the future. If you don't end up using everything you find during research, it may come in handy for content you're writing down the road.
The key is to understand how to research intelligently. Be aware of your sources on the internet. And use long tail keywords when researching to see what people are saying about your topic.
7. Ability to Incorporate Feedback
Every copywriter gets feedback from colleagues, editors, clients, and more. Even freelance copywriters, who set their own schedules, collaborate closely with others.
If you want to succeed in this industry, you'll need to know how to accept feedback, even if it hurts to hear.
If you're creating content with rigid boundaries set by your client or organization, you'll need to be able to take their feedback and incorporate it into your vision. If you have a little more flexibility, you can decide which pieces of feedback to listen to and which ones to set aside.
Learning how to take feedback is difficult at first, but it's key to succeeding as a copywriter and collaborating with those around you.
8. Passion
Those who create the most compelling content have a passionate voice. It comes through in everything they write, infusing their choice of words with energy and enthusiasm that's contagious.
It's really hard to write about a product or service you're not passionate about.
The best way to write copy is by getting so connected to your client's product or service that you end up wanting to purchase it yourself. If you can convince yourself to care about the product, you'll be able to convince your audience.
9. SEO Knowledge
SEO stands for search engine optimization, which is critical for blog writing, writing web pages, and more.
While you don't need to be an SEO guru, you should have a pretty good understanding of basic SEO practices, like long tail keyword phrases, but no keyword stuffing.
For example, you should learn how to write relevant, concise, and targeted meta descriptions. Also, understand how headings, unique URLs, and subheadings work with SEO best practices.
You should also know how to research keywords and provide your clients with a list of suggestions for three- to four-word phrases that should be part of their content marketing strategies. Then, you should be able to use these phrases, so your content is highly informative, which gets better SEO results.
10. Writing Skills
Last, but certainly not least, you need great persuasive writing skills.
Gone are the days when writers could throw any SEO content on the page and get ranked. Only those who excel at creating easy-to-read content with compelling conclusions will succeed as a copywriter.
Copywriting involves crafting clear, concise, and compelling messages. You need to be able to write in a way that's engaging and easy to understand.
Some specific writing skills you'll need include the ability to make complex topics simple, write great transitions, and choose the best words that engage your readers.
While you needn't be a grammar aficionado, you do need to create content free of grammar, punctuation, and spelling errors, amongst other technical gaffes.
This is where ProWritingAid will help you excel. Cultivate your voice by using ProWritingAid to create clear, consistent copy. Your content will end up polished and ready for any client to review.
Conclusion on Skills for Copywriting
Copywriting is an important field that's drawing new talent every day. Writers who are highly skilled and able to crank out relevant and informative content will always be in demand.
If you can conquer the copywriting skills in this article, you'll be well on your way to achieving a full stable of clients who value your work.
Good luck, and happy writing!
---