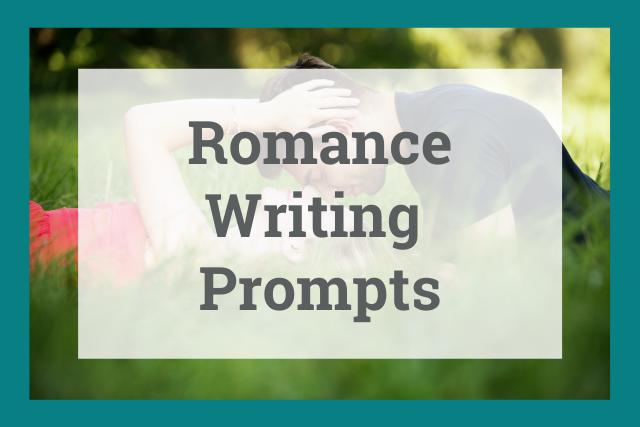 One of the biggest hurdles in writing a romance novel is figuring out what to write. It can be hard to find a plot idea or figure out how to open your story.
If you need some fresh ideas for your next love story, check out these romance writing prompts.
What Makes a Successful Love Story?
A good love story needs to have a memorable meet cute, a buildup of romantic tension, and a happily-ever-after ending.
Sure, there are some tragic love stories out there, but most people read and write romance so they can root for love.
It might sometimes feel like all the romance-novel ideas have already been done. That's just because people love reading those familiar themes and tropes over and over again.
You can easily take a familiar concept and change it up to create something new. No love story will ever be exactly like the one you write.
Here's a basic love-story formula you can use to create your own romance: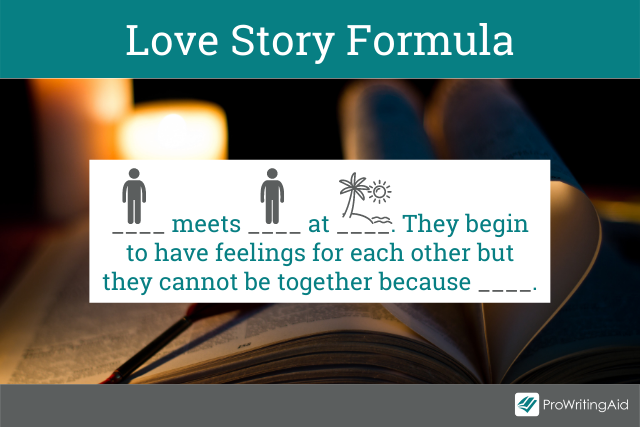 That may look simple, but crafting a love story might take a little more help.
Keep reading for 81 romance-writing prompts.
What Are the Main Romance-Novel Themes?
The main themes in romance have to do with love, of course. This might be something like love conquers all, the transformative power of love, or acceptance and belonging.
There are also hundreds of romance tropes. These are familiar story premises or plot points. Romance fans have their favorite tropes and tropes that they hate.
Here are a few popular romance writing prompts that never seem to get old. Can you see any of these as your next story idea?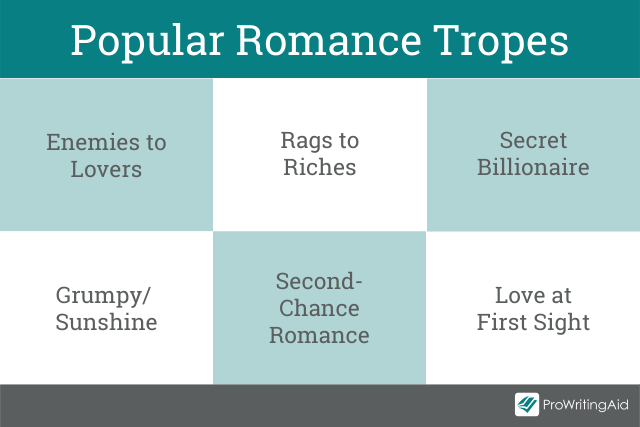 Enemies to Lovers
A fire marshal falls in love with a serial arsonist.
A tattoo artist and a florist in the same shopping center both want to expand into the space next to them. They hate each other as they compete for the lease until they fall in love.
Fake Relationship
Two platonic college friends marry to avoid one of them being deported.
A CIA agent and an MI6 agent who have never met are sent undercover together as a married couple to infiltrate a human trafficking ring.
Secret Billionaire
A chef falls in love with a new line cook in their kitchen who is fresh out of culinary school. The new cook is heir to a family fortune but wants to take their own path. They keep their wealth and true identity hidden.
Two strangers get married in Vegas and barely remember the night. One is a billionaire who refuses to file for divorce because they did not sign a pre-nuptial agreement, and their new spouse would be entitled to half their wealth. They must stay married until a post-nuptial agreement can be written and signed, but they fall in love in the meantime.
Grumpy/Sunshine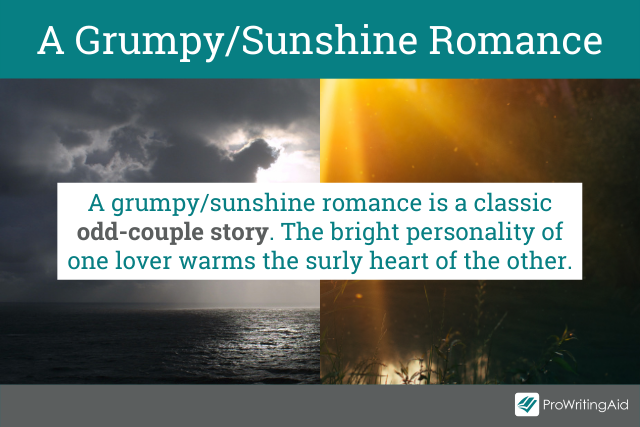 A cynical, experienced teacher clashes with the bubbly, idealistic new teacher next door.
A doctor with a terrible bedside manner is in danger of losing their job from patient complaints. They are paired with a patient-favorite doctor who is their complete opposite.
Forced Proximity
Due to university budget cuts, two rival scientists are forced to share an office only to find out they aren't so different after all.
Two journalists from different news outlets have a chance to interview a high-profile figure who is vacationing in Dubai. Unfortunately there is only one hotel room left. They decide to share it even though there's only one bed.
Friends to Lovers
Two old friends who have lost touch reconnect at their high-school reunion. They now live on opposite sides of the country, but they cannot deny their chemistry.
Two coworkers at a bookstore always tell each other their latest string of bad dates. Eventually, they realize that the love of their life has been there all along.
Second Chance Romance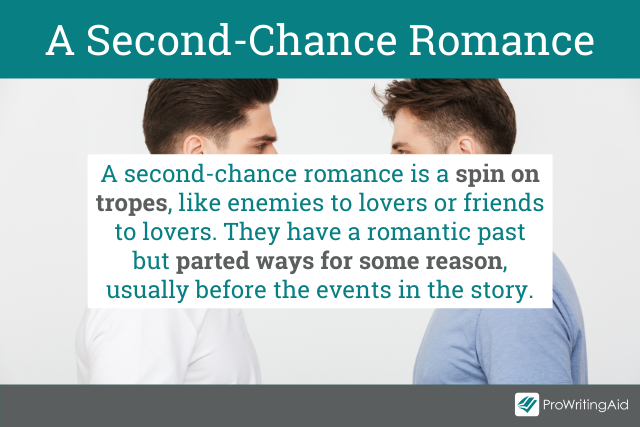 One partner moved away, choosing their career over love. They must earn their ex-lover's trust and love once again.
A soldier returns from war to find his sweetheart has moved on, and he tries to win her back.
What Does a Love Story Consist Of?
A love story consists of some basic elements: a meet cute, encounters to build romantic tension, getting together or nearly getting together, torn apart by some circumstance, and a reunion and happily ever after.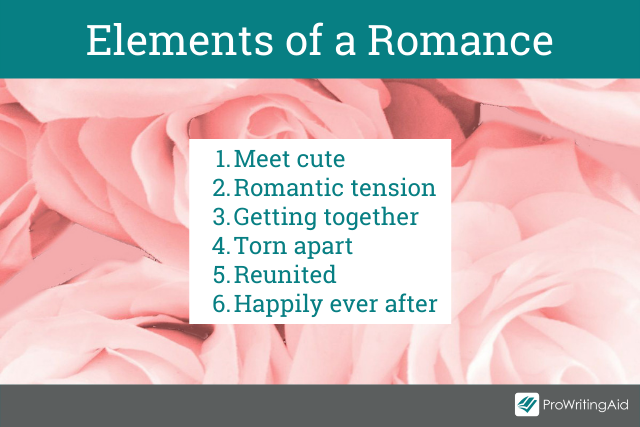 Here are some plot points that might work in your romance novel.
Meet Cute
A barista spills coffee on the expensive suit of an ad executive.
They meet at a wine and paint class. One spills paint and destroys the other's painting.
A neighbor returns a package that was delivered to their address by mistake.
They share a dance at a masquerade and don't know each other's true identity.
One sends the other a wrong-number text, thinking they are texting their ex.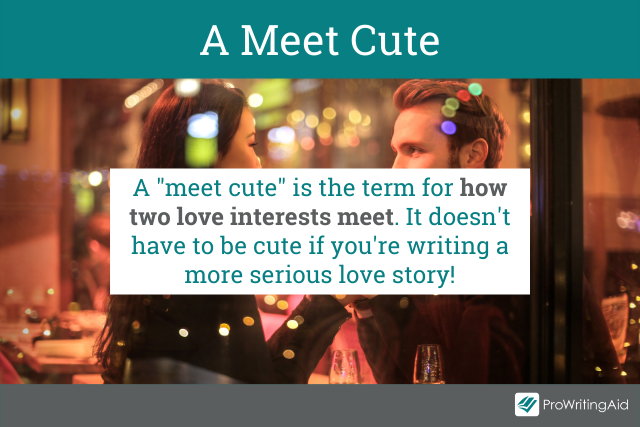 Romantic Tension
Their hands brush when they both pick up something and sparks fly.
They end up under the mistletoe at a holiday party.
Their friends leave the bar early and leave them alone.
They get stuck in an elevator.
They are assigned a project together even though they hate each other.
Torn Apart
One must betray the other to save them from a terrible fate.
An ex-lover shows up and drives a wedge between the two main characters.
One lover overhears the other say something cruel out of context and leaves them.
One must return to their hometown to care for an ailing parent.
One is given an ultimatum by their family: be disowned or break up.
How Do You Start Writing a Romance?
The beginning of your story is crucial. The opening paragraphs of your romance novel establish the tone, the setting, and the characters. That's a lot of pressure!
Below are some story starters if you're stuck on how to begin. Or maybe you are more of a discovery writer or "pantser" and prefer a story starter to a plot idea. Then your plot can develop naturally as you write.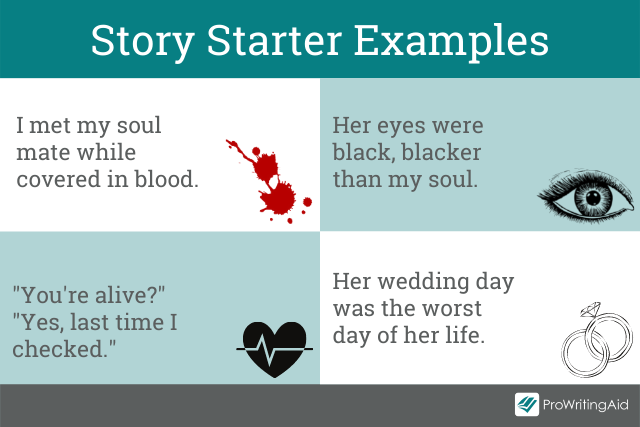 Her eyes were black, blacker than my soul.
"Hey, mister! You dropped this!"
It was the best of times; it was the worst of times; it was the company holiday party.
Her wedding day was the worst day of her life.
The rain bathed the London night in a soft, watercolor glow. Like an Impressionist painting, he thought as he approached the pub.
"Sir, I'm going to have to ask you to leave."
I met my soul mate while covered in blood.
When she said she wanted a fairy-tale romance, she did not mean at the checkout counter at Shoe Palace.
As he studied the ballroom full of members of the ton, the duke decided he would rather be mucking out the stables.
Once upon a time, the Queen of the Fairies escaped into the night, leaving her kingdom in chaos.
She stared down at the two pink lines, her mouth agape. She couldn't be pregnant, could she?
There he was, chained to a tree, spouting nonsense, and directly in the way of my bulldozer.
"I've never seen that much money in real life," she said as he counted the bills.
His fingers gripped the arm rests. "Is it your first time flying?" I asked.
She had never seen another human.
"You're alive?" "Last time I checked."
What Are Some Great Romantic Writing Prompts?
Here are even more great romance-story prompts. These are divided by sub-genre.
Fantasy and Paranormal Romance
Love with a little bit of magic? It's a spell for success!
Dragons are banned, and a prince or princess finds a dragon egg. Rather than destroying it, they hire a dragon smuggler and go on a quest to get the baby dragon to safety.
A warlock takes an apprentice who lied about their magical abilities. They have no magic, but the warlock is prejudiced against non-magical people. The warlock and apprentice fall in love. What happens when the warlock discovers the truth?
A matchmaking angel is sent to earth to make two people fall in love, but they end up falling in love with one of their targets.
A werewolf saves a vampire from a vampire hunter, even though their kind are sworn enemies.
Historical Romance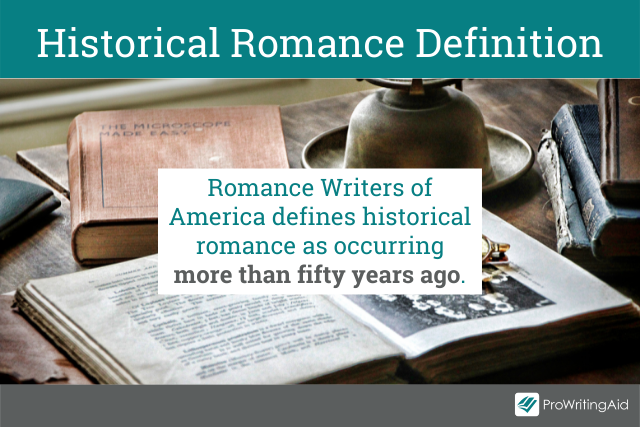 Love is a tale as old as time.
A German nurse falls in love with a British soldier whom she found injured and unconscious, and she nurses him back to health.
In 1910s Mexico, a revolutionary soldier falls in love with a girl as he raids her farm, but she is the daughter of a Porfiriato general.
A Mongol warrior woman falls in love with a Chinese royal.
A Viking warrior is set to marry a chief, but then they meet the grumpy blacksmith.
Nothing raises tension like a little criminal activity.
A detective falls in love with a suspect whom they believe to be innocent, even though all signs point to their guilt.
Two young members of rival crime families fall in love in a modern take on Romeo and Juliet.
A bank robber gets locked in a vault with the bank manager.
Sci-Fi Romance
Even extraterrestrials deserve a chance at love.
Two strangers are captured by aliens and taken far away from earth.
She was sent back in time to stop a catastrophe. He is determined to discover this strange person's true identity.
An alien has studied one particular human from afar as part of their school project. They decide they must finally meet them.
Contemporary Romance
A love story set in the modern world is easy to imagine.
Two friends made a pact in high school to marry if they hadn't married others by age forty. They haven't seen each other in over twenty years, but one reaches out to the other to fulfill their pact.
Two single parents are at the skating rink each hosting their child's birthday. One falls on the ice, and the other helps them up. Later, they run into each other at a parent meeting at school.
A person believes their new neighbor is up to no good. They begin to spy on them.
A waitress is rear-ended on her way to work by a wayward prince of a royal family.
Classic Story Reinterpretations
There's a reason we keep seeing certain stories brought to life over and over again.
Write a retelling of Rapunzel where the person was kidnapped and forced to live outside of society and has no clue about modern life.
Retell Pygamlion/My Fair Lady with a woman who helps turn a socially awkward jingle writer at an ad agency into a superstar musician.
Reimagine Cinderella with a movie star and a virtual assistant.
Write a reinterpretation of Little Red Riding Hood where the "wolf" is a person who has stolen Red's grandmother's identity.
What Makes a Love Story Interesting?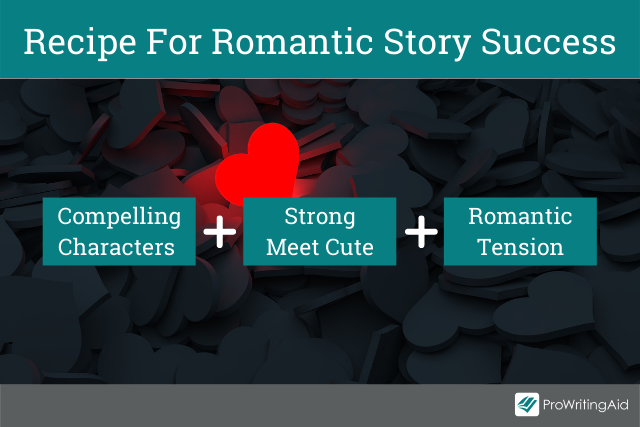 Characters make a love story compelling. Readers want likeable, interesting love interests that they can root for. Without good characters, romance falls flat.
You can quickly create excellent characters through effective and intriguing dialogue. Don't let unnecessary dialogue tags distract the reader from your exceptional dialogue.
ProWritingAid's Dialogue Report can help you locate these pesky tags so you can keep them to a minimum.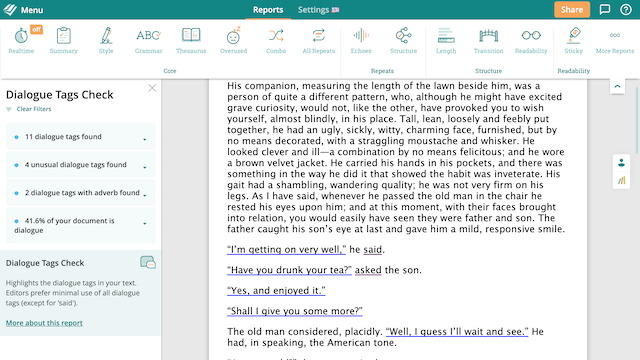 Do you have trouble creating characters? Here are some ideas for the heroes and heroines of your next love story. Can you mix and match any of those in your story?
A recluse physicist
A baker with a peanut allergy
An overly excited blacksmith's apprentice
A librarian who moonlights as a superhero
A clockmaker who can tell the future
A conservationist who uses vigilante methods to fight poachers
A queen who everyone thinks is a king
A rakish bad boy with an affinity for romance novels
An action star who becomes a vocal anti-war activist
A shopkeeper with a secret
A spaceship captain
A petsitter to the stars
A pirate who puts the jolly in "jolly roger"
A writer who can talk to the dead
May Inspiration Strike with our Best Romance Writing Prompts!
We hope you've found some inspiration for your romance novel with these romance writing prompts.
You can also take elements from different prompts and combine them into something completely new!
Playing matchmaker with fictional characters is a blast. Now, pick up the pen or open your blank document and start writing that happily ever after.
---
Writing romance? Join us for our FREE online summit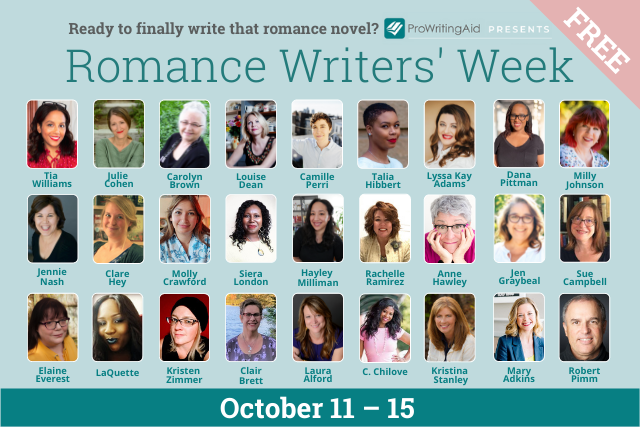 ProWritingAid will be hosting our first ever Romance Writers' Week in October. Join hundreds of other romance writers to learn what makes a romance novel swoon-worthy. Whether you're writing contemporary, paranormal, historical, or speculative romance (or something in between), you'll find practical, actionable sessions to help you plan, write, and market your romance story.
Learn from bestselling authors like Tia Williams, Talia Hibbert, Louise Dean, and Carolyn Brown, as well as romance writing experts from Pages & Platforms, Simon & Schuster, Harlequin, Romance Writers of America, and more.