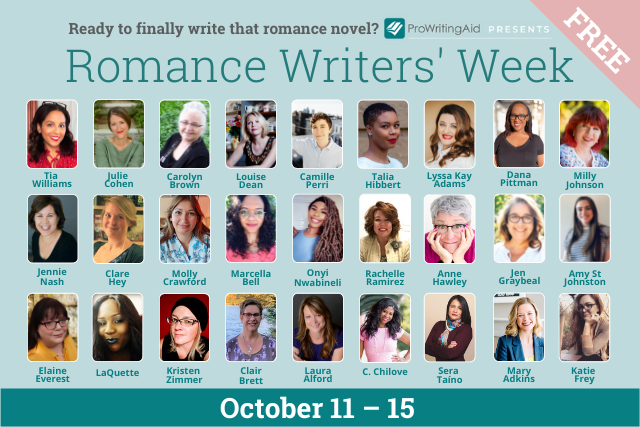 Thank you to everyone who joined us for Romance Writers' Week! This event has now passed.
Replays of all Romance Writers' Week sessions can be found on the ProWritingAid Academy course platform.
We had the best time talking all things romance with over 10,000 aspiring romance authors—what an amazing writing community!
Join ProWritingAid for More Free Events
If you're looking for more help and support on your writing journey, join us for our frequent live training sessions for writers.
Each month, you can:
Discover how to actually use common writing advice with Book Doctor, Sally O-J
Learn how to self-edit your book with professional editor, JoEllen Nordstrom
Write live with other writers during our themed write-in sessions
And so much more
What are you waiting for—it's all free!
---
Join the ProWritingAid Romance Writers Facebook Community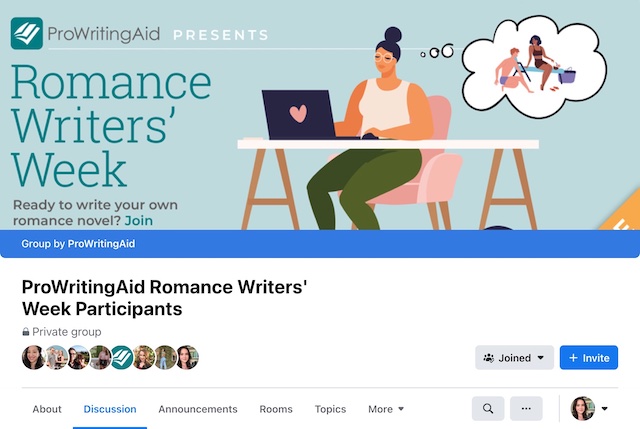 Writing can be lonely—but it doesn't have to be! Join our Romance Writers' Community over on Facebook to connect with other writers in your genre, ask questions, share ideas, and of course post your favorite romance-writing memes. Join us now!
---
Romance Writers' Week: What We Got Up To
This event has now passed. Below, you'll find details of last year's events so you can see what we got up to.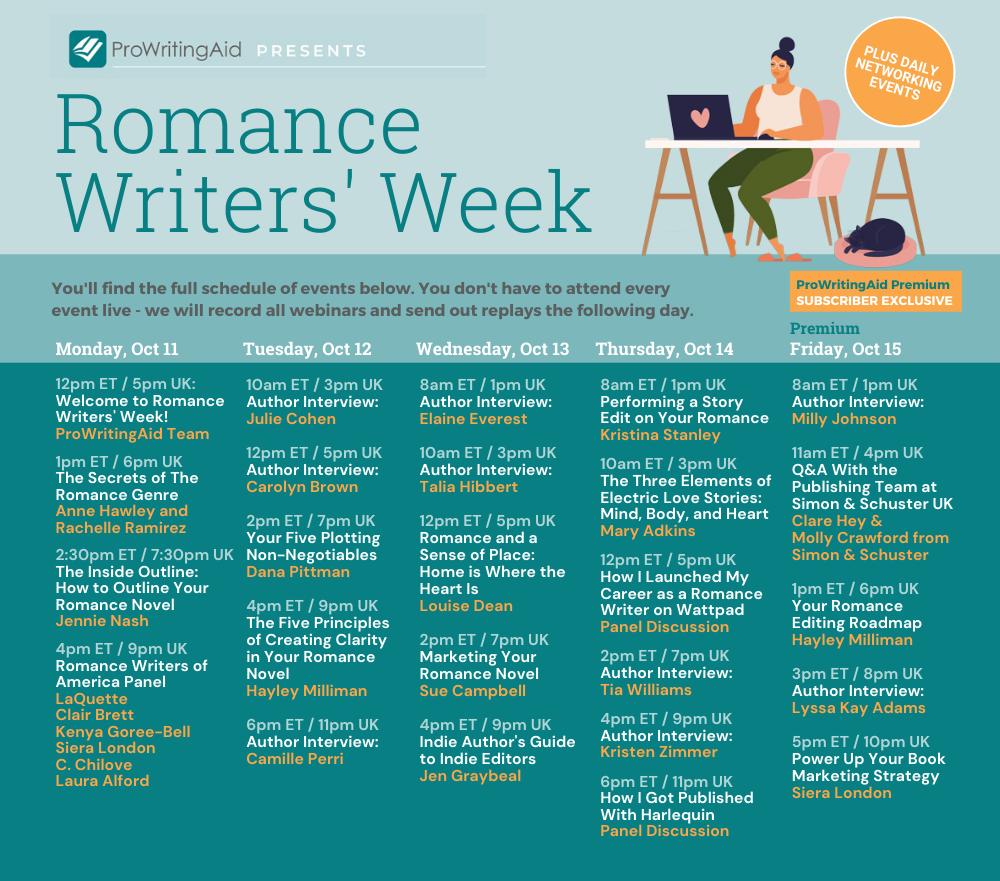 Click on the image to enlarge.
---
Romance Week Full Schedule (October 2021)
Day 1: Monday, October 11
12 noon ET/5 p.m. UK: Welcome to Romance Writers' Week!
Come and meet the team, find out what to expect, and learn more about how the conference will work. We'll also be announcing some special offers exclusive to Romance Writers' Week participants, so get involved!
1 p.m. ET/6 p.m. UK: The Secrets of The Romance Genre
Presented by Rachelle Ramirez and Anne Hawley from Pages & Platforms
Do you have an idea for a sizzling romance story but don't yet know how to structure it? Got the perfect meet-cute and some scenes that don't really work together yet or entertain? Want to introduce moments of heightened passion and emotional conflict into your writing? You're in the right place. In this webinar, you'll learn the romance story essentials so that you can create intrigue for your readers and have them recommending your story to others.
2:30 p.m. ET/7:30 p.m. UK: The Inside Outline: How to Outline Your Romance Novel
Presented by Jennie Nash, Book Coach
The Inside Outline helps you define the foundational elements of your story before you start writing—which means understanding your motivation as a writer, considering your reader's expectations, and making sure your story has a solid structure that will hold up inside and out from beginning to end. This clarity is what gives a novel its power and a writer their confidence. In this session, book coach Jennie Nash teaches you how to use the Inside Outline method to outline a romance novel your readers can't help but fall in love with.
4 p.m. ET/9 p.m. UK: Romance Writers of America Panel: The Voice of Romance Writers
Presented by RWA President LaQuette
Romance Writers of America (RWA) is a nonprofit trade association whose mission is to advance the professional and common business interests of career-focused romance writers through networking and advocacy and by increasing public awareness of the romance genre. RWA works to support the efforts of its members to earn a living, to make a full-time career out of writing romance—or a part-time one that generously supplements their main income.
Panelists include:
Clair Brett
Kenya Goree-Bell
LaQuette
Siera London
C. Chilove
Laura Alford
---
Day 2: Tuesday, October 12
10 a.m. ET/3 p.m. UK: Interview with Bestselling Author Julie Cohen
Julie Cohen is a bestselling author of romance and book-club fiction. Her award-winning novels have sold over a million copies worldwide. She is a vice president of the Romantic Novelists' Association and founder of the RNA Rainbow Chapter. Her bestselling novel Together has been translated into eleven languages and optioned for television adaptation. She lives in Berkshire with her family and a terrier of dubious origin.
As a creative writing tutor, Julie has taught for Jericho Writers, Cornerstones, Penguin Random House, Hachette, The Guardian, Literature Wales, and others. Julie runs an oversubscribed literary consultancy which has helped many writers go on to be published.
Join Julie for her popular creative writing workshop, Using Post-its to Transform Your Writing.
Romance Writers' Week Attendees can get a 20% discount on all pricing plans by using the code PROWRITINGAID.
12 noon ET/5 p.m. UK: Interview with Bestselling Author Carolyn Brown
Carolyn Brown is a New York Times, USA Today, Wall Street Journal, Publisher's Weekly and Washington Post bestselling author. With more than 100 novels under her belt, she's a RITA finalist, a recipient of the Bookseller's Best Award, and the prestigious Montlake Diamond Award, as well as a three-time recipient of the National Reader's Choice Award. Brown's books have been published for more than 20 years and translated into 19 languages.
2 p.m. ET/7 p.m. UK: Your Five Plotting Non-Negotiables
Presented by Dana Pittman, Bestselling Author and Editor
Plotter? Pantser? Plotser? Okay, we totally made the last one up. During Your Five Plotting Non-Negotiables, presenter and developmental editor, Dana Pittman shares how every writer is a plotter and gives five must-haves to get from beginning to The End of your writing project.
4 p.m. ET/9 p.m. UK: The Five Principles of Creating Clarity in Your Romance Novel
Presented by Hayley Milliman, Head of Education at ProWritingAid
As writers, we often spend too much time focusing on what our ideas are instead of how to communicate those ideas most effectively. If we don't sharpen our sentences with our readers in mind, then our ideas will get lost and our writing will be less engaging.
In this actionable presentation, Hayley will walk you through five key ways to improve the craft of your writing. By the end of the session, you'll know exactly how to tackle your work to make it more powerful for your readers.
6 p.m. ET/11 p.m. UK: An Interview with Camille Perri
Camille Perri is the author of the novels The Assistants and When Katie Met Cassidy, both of which have been optioned for feature films with her attached as screenwriter. She is a former editor at Cosmopolitan and Esquire and her essays on queer identity and culture have been widely published. Camille holds a bachelor of arts degree from New York University, where she majored in English and gender and sexuality studies, and a master's degree of library science from Queens College.
---
Day 3: Wednesday, October 13
8 a.m. ET/1 p.m. UK: An Interview with Author Elaine Everest
Elaine Everest, author of bestselling novel The Woolworths Girls and The Butlins Girls was born and brought up in North West Kent, where many of her books are set. She has been a freelance writer for twenty years and has written widely for women's magazines and national newspapers, with both short stories and features. When she isn't writing, Elaine runs The Write Place, her successful creative writing school in Kent, UK.
10 a.m. ET/3 p.m. UK: Interview with Bestselling Author Talia Hibbert
New York Times and USA Today bestselling author Talia Hibbert is a Black British author who lives in a bedroom full of books. Supposedly, there is a world beyond that room, but she has yet to drum up enough interest to investigate. She writes sexy, diverse romance because she believes that people of marginalized identities need honest and positive representation. Her interests include beauty, junk food, and unnecessary sarcasm.
12 noon ET/5 p.m. UK: Romance and a Sense of Place: Home is Where the Heart Is
Presented by Louise Dean, Bestselling Author and Founder of The Novelry
Place is vital to romance. The setting you choose for your romance novel adds color to your plot and characters by tying intimacy to geography and giving your reader a place to land. In this session, award-winning author Louise Dean explores how you can use setting to create unique romance situations, how enforced proximity makes sparks fly, and why linking your setting to relationship development helps create a richer experience for readers.
2 p.m. ET/7 p.m. UK: Marketing Your Romance Novel
Presented by Sue Campbell from Pages & Platforms
One of the toughest parts of being an author is tackling your own marketing. Too often, writers rely on tactics without having an underlying strategy.
Book marketing and mindset coach Sue Campbell of Pages & Platforms will help you understand the foundation of every good book-marketing plan. Sue works with award-winning and bestselling authors, traditionally published and self-published, to help them build an engaged audience, spread their message, and sell more books.
4 p.m. ET/9 p.m. UK: Indie Author's Guide to Indie Editors
Presented by Jen Graybeal, Editor
Editors are the not-so-secret sauce that helps authors take their book to the next level. Everyone knows you need one, but finding the right editor for your project can be a challenge. Jen Graybeal has worked with indie published romance authors for years and is sharing the top ten things you need to know about finding, hiring, and working with freelance editors.
---
Day 4: Thursday, October 14
8 a.m. ET/1 p.m. UK: How to Perform a Story Edit on Your Romance Novel
Presented by Kristina Stanley, Award-Winning Author and Founder of Fictionary
A story edit is the first step in the self-editing process. We're not talking about copyediting or proofreading—that comes later. Story editing is what's also known as structural editing. In a story edit, you analyze your story from a high-level perspective and make sure that the structure makes sense, the scenes are tense, your characters are engaging, there are no plot holes, and you haven't left any subplots unfinished.
In this session, Kristina will help you make sure your story hits all the right beats in order to truly resonate with your reader. You'll leave with practical advice you can apply right away to your story. Before you share your book with anyone else, you owe it to yourself to make it the best book possible. Learn how to story edit, and you'll create a story readers LOVE.
Fictionary StoryTeller is intelligent STORY editing software that takes the guesswork out of revising your novel.
10 a.m. ET/3 p.m. UK: The Three Elements of Electric Love Stories: Mind, Body, and Heart 
Presented by Mary Adkins, Author and Writing Coach
Mary Adkins is the author of When You Read This, Privilege, and Palm Beach. A native of the American South and a graduate of Duke University and Yale Law School, her writing has appeared in the New York Times and The Atlantic.
As a writing coach, she loves to help aspiring and established authors write through resistance and finish their books by finding a creative process that works for them and their lives. In this session you will learn:
How to write a love story with complexity
How to layer love stories to enrich them
How to play to different types of love
12 noon ET/5 p.m. UK: How I Launched My Career as a Romance Writer on Wattpad
Wattpad is home to more than 90 million readers and writers worldwide and is the digital space where romance stories thrive. From teen love stories to Muslim romances, paranormal LGBTQIAP+ affairs, and everything in between, there's a love-laden story for everyone on Wattpad. So, what does it take to launch your career as a romance writer on Wattpad?
Join us for an intimate virtual conversation with three successful romance writers who've had hit stories on Wattpad: How they did it, what they learned, and tips and tricks for success.
2 p.m. ET/7 p.m. UK: An Interview with Author Tia Williams
According to NBC News, Tia Williams "is a writer's writer with a fashionista twist." In 2016, her novel, The Perfect Find, won the African American Literary Award for Best Fiction—and garnered rave reviews. Tia's latest novel, Seven Days in June rocketed straight on to the New York Times bestseller list in summer 2021 and Reese Witherspoon chose it for her June book club read. Currently an Editorial Director at Estée Lauder Companies, Tia lives in Brooklyn with her daughter, her husband, and several half-written manuscripts.
4 p.m. ET/9 p.m. UK: Interview with Kristen Zimmer
Kristen Zimmer is a Massachusetts-based freelance writer and editor. She holds a BA in English with a Concentration in Creative Writing from Montclair State University. Her first novel, The Gravity Between Us, a contemporary New Adult Romance, was included in "10 of the Best LGBTQ+ Books to Read for Pride 2018" by USA Today's Happy Ever After book blog and was Amazon's #1 Best Seller in Lesbian Fiction and Romance for over eight weeks. Her second novel, When Sparks Fly, debuted at #1 in the same categories.
6 p.m. ET/11 p.m. UK: How I Got Published With Harlequin
Harlequin is the world's largest romance book publisher. In this highly actionable panel, hear from a series of Harlequin writers on how they kickstarted their romance writing career and ended up published with Harlequin. Moderated by Carol Dunsmore, Author Communications & Events Manager for Harlequin.
Panelists:
Learn more about writing for Harlequin and sign up for their newsletter by clicking here.
---
Day 5: Friday, October 15
8 a.m. ET/1 p.m. UK: Interview with Milly Johnson
A Sunday Times bestseller, Milly Johnson is one of the Top 10 Female Fiction authors in the UK with millions of copies of her books sold across the world. In 2020, she was honoured with the Romantic Novelists' Association's Outstanding Achievement Award and was a featured author in the Reading Agency's Quick Reads and World Book Night campaigns.
A writer who champions women and highlights the importance of friendship and community, Milly's characters are celebrations of the strength of the human spirit.
11 a.m. ET/4 p.m. UK: Publishing Your Romance Novel: Q&A With a Publisher
Presented by Simon & Schuster's Publishing Director for Adult Fiction, Clare Hey, and Commissioning Editor, Molly Crawford
We are thrilled to have two of Simon & Schuster's top publishing executives joining us for an interactive Q&A. Get your questions about how to break into traditional publishing answered by these two industry insiders.
1 p.m. ET/6 p.m. UK: Your Romance Editing Roadmap
Presented by: Hayley Milliman, Head of Education at ProWritingAid
As nice as it would be, writing your romance novel isn't over when you type "The End." In fact, the actual work is just beginning. During the editing process, your novel will go from rough first draft to thrilling final manuscript. In this workshop, Hayley will walk you through the most important edits you should make to your manuscript to ensure it's publish-ready.
3 p.m. ET/8 p.m. UK: Interview with Lyssa Kay Adams
Lyssa Kay Adams read her first romance novel in eighth grade after swiping one from her grandmother's book shelf and was hooked forever. After a nearly 20-year career as a journalist, her dreams of writing and publishing her own HEAs came true in 2015 with the release of her first novel, Seventh Inning Heat, followed by the RITA-nominated novella, Wild in Rio. Today, she writes full-time from her home in Michigan with a pesky, fluffy K9 assistant named Domino who spends most of his day snoring on her desk (that is, when he's not burying things around the house).
5 p.m. ET/10 p.m. UK: Power Up Your Book Marketing Strategy with the BEN-P Method
Presented by: Siera London
Writing better books doesn't equate to selling more books. Do you need a simple strategy to power up your book marketing plan and increase your sales?
Marketing to Sell More Books offers a straight forward approach, the BEN-P Method, to build your author brand, reader engagement, professional network, and book promotion plan. The BEN-P method teaches you how to create a cost-effective annual marketing plan in manageable intervals.
---
You Can Still Get Involved
We host tons of writing events for writers each month—and they're all free!
Check out our YouTube Channel to catch up on past sessions, like this one:
What Editors Look For in a Love Story