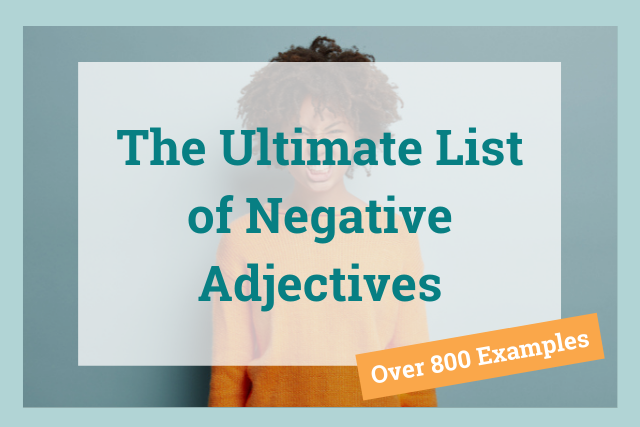 How to Add Negativity to Your Nouns
An adjective is a word that describes a noun. Use adjectives to enhance comprehension of a person, place, or thing to add emotional wallop. Used as a technique, adjectives add specificity and emotional charge to your writing.
In fiction, an emotional connection with your reader ignites a bond that makes them care about your story. In non-fiction, adjectives help you to set the tone of your writing and help your reader understand why what you are saying matters.
Adjectives are the perfect tool to add feelings to your writing. They add a sensory element to whatever noun they describe. One adjective can color a noun to elicit a neutral, positive, or negative feeling about the person, place, or thing it describes.
What Is a Negative Adjective?
Every adjective adds a dimension to the noun it describes. Negative adjectives work to connote bad feelings about the noun. They express criticism or pessimism regarding the noun described. When you are writing, they can enhance character understanding, set the story's mood, create tone, and color setting. A noun without a descriptive adjective can be bland. One negative adjective adds tonality and resonance.
Negative Adjectives to Describe People
Here's how a negative adjective works to describe a person.
A man burst through the door.
Add the negative adjective:
A disheveled man burst through the door.
Just one word, and you have feelings about that man, and they're not good. You build apprehension in your reader. What is he going to do? Why is he disheveled? What is going on outside the door? All those questions arise from one additional word. That's the power of adjectives.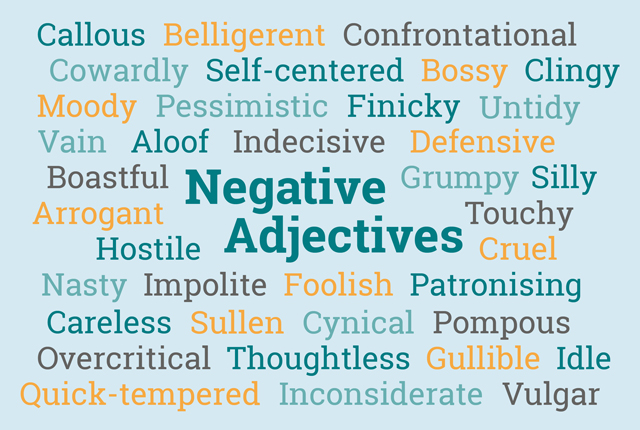 Adjectives for Negative Personality Traits
Fiction writers and screenplay writers mainly want to show a character's traits through action. But sometimes a negative personality adjective or two helps to define a character when they are introduced.
Here's a sample list of negative personality adjectives for character introduction and description:
Aloof
Arrogant
Belligerent
Big-headed
Boastful
Bossy
Callous
Careless
Clingy
Confrontational
Cowardly
Cruel
Cynical

Defensive
Finicky
Foolish
Grumpy
Gullible
Hostile
Idle
Impolite
Inconsiderate
Indecisive
Irresponsible
Moody
Nasty
Overcritical
Overemotional
Patronizing
Pessimistic
Pompous
Self-centered
Silly
Sullen
Thoughtless
Touchy


Untidy


Vain
Weak-willed
Negative Adjectives to Describe Places
It's fairly easy to understand how negative traits evoke responses about people, but what about places? They work in a similar way, telling your reader how a place feels, or should make them feel. Your character's feelings about a place set the mood for your reader. So, negative adjectives are powerful tools to set tone and mood in setting.
Jeff looked up at Colson's office complex surrounded by mini-malls and apartment blocks.
Just one negative adjective will give the reader a sense of Jeff's feelings about the complex.
Jeff looked up at Colson's arrogant office complex surrounded by mini-malls and apartment blocks.
Now the reader has a sense of what the building feels like, at least to Jeff. And, they'll form an image of a modern building that stands out from the plain surroundings.
Negative Adjectives to Describe Things
It doesn't take much living to feel as though a thing—your stove, the corner post of your bed, the computer—is out to get you. You can reflect those bad feelings using negative adjectives with things. You may have applied this principle when you stubbed your toe.
Linda looked at the pot, but after soaking and scrubbing, it was still the same.
One negative adjective.
Linda looked at the disgusting pot, but after soaking and scrubbing, it was still the same.
Use negative adjectives in fiction to portray a character's sentiment about the thing. This technique ties the character to their surroundings and reveals a character trait.
How Many Adjectives Should I Use for One Noun?
If one's good, two should be twice as good, right? That's not always the case with adjectives. When you use two adjectives that have the same meaning your writing can feel bloated. That makes the writing hard to read.
Let's rewrite the disheveled man with more adjectives.
A filthy, disheveled, unkempt man burst through the door.
You could use one adjective to give your reader a sense of the man's appearance. All those adjectives strung together make your writing redundant. Redundancy means you are saying the same thing more than once.
In fact, writing with multiple adjectives used with one noun makes your writing more difficult to read. A quick way to excise redundancies is to pay close attention to implied meaning.
If you have a tendency to use multiple adjectives, ProWritingAid's Clichés and Redundancies Report identifies your overused words and makes suggestions for changes. You want your writing to be concise.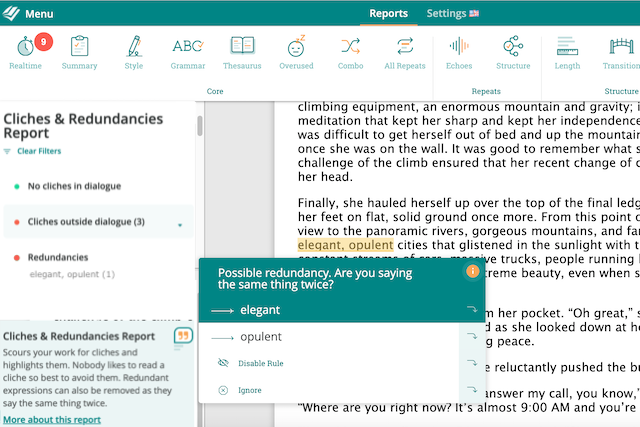 Guidelines If You Use Multiple Adjectives
In other languages, adjectives can come before or after a noun. In the English language, adjectives normally come before the noun. Commas separate multiple adjectives.
Home was always a dark, unwelcome place.
When more than one adjective occurs after a verb such as to be, the word and connects the penultimate adjective to the last:
Home was always a dark, unwelcome place. Now it is terrifying, sad, and cold.
The conjunction and is used before a noun when using two or more adjectives of the same type, or when adjectives refer to different parts of the same thing.
It was a gray and black cotton shirt.
If you want to emphasize one trait over another for the same noun, put the emphatic adjective first. For example, if you want to emphasize color you could write:
The black, jagged fighting knife
But if you want to emphasize shape, you would write:
The jagged, black fighting knife
You may not consciously know adjective placement order, but native speakers place multiple adjectives in a specific order. The sequence goes: quantity or number, quality or opinion, size, age, shape, color, proper adjective (nationality, place of origin or material), purpose, or qualifier.
The online Cambridge dictionary establishes a sequence for adjectives if you do not use a preferred order for emphasis.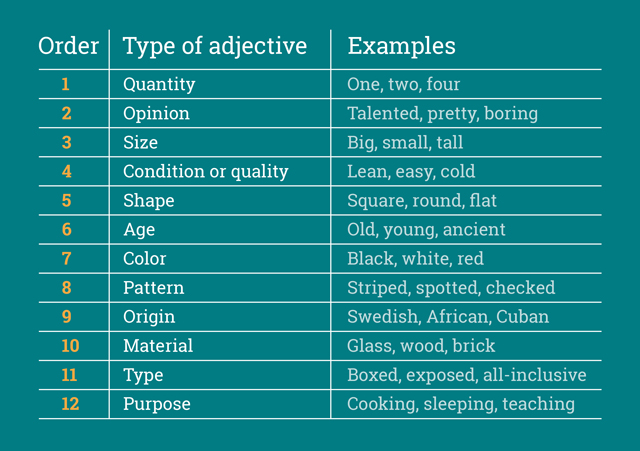 Negative Adjective Examples by Type
Opinion: unusual, ugly, repulsive
Size: monstrous, gargantuan
Condition: broken, useless, rough, untidy, jagged
Shape: square, hexagonal, boxy
Age: ancient, juvenile, menopausal
Color: rusty, drab
Pattern: garish
Multiple Adjectives Sequence Examples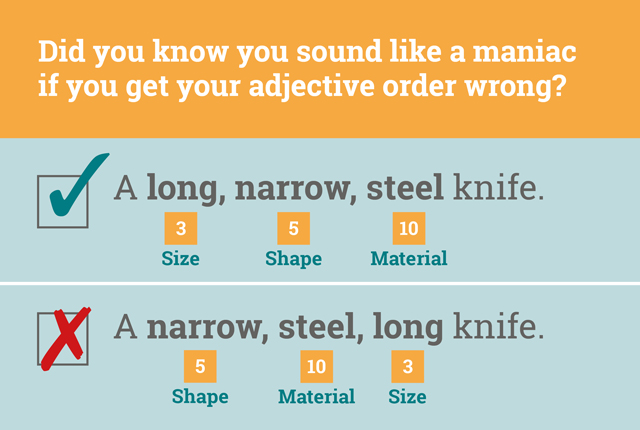 Negative Adjectives in Non-Fiction
Adjectives are descriptive words you can use in all types of writing. People often think of them as describing unpleasant characters in fiction, but they also work in non-fiction essays, articles, and manuscripts.
Non-fiction may be written with either objectively or subjectively. In an objective non-fiction, use detailed facts to present your material, minimizing use of emotionally charged adjectives. With subjective non-fiction, you have more leeway to incorporate adjectives, including negative adjectives. The most appropriate places to include negative adjectives would be in the opinion and conclusion sections.
Example of non-fiction negative adjective use:
Some learners are strong readers and find they learn more by reading than listening in a class. Others will find the reading text tedious and lose focus.
The Ultimate List of Negative Adjectives to Describe
Now that you understand how to use negative adjectives in your writing, dive into our ultimate list of negative adjectives to find the perfect word to describe your person, place, or thing.
Negative Adjectives that Start with A
Abhorrent




Abject




Abnormal




Abrasive




Abrupt




Absent




Absentminded




Absurd




Abusive




Abysmal




Accidental




Acerbic




Aching

Acrimonious


Adversarial




Afraid




Aggravating




Aggressive




Agonizing




Aimless




Alarming




Aloof




Anemic




Angry




Annoying




Antagonistic




Antiquated


Appalling




Apprehensive




Argumentative




Arrogant




Artificial




Artless




Ashamed




Astringent




Atrocious




Awful




Awkward




Negative Adjectives that Start with B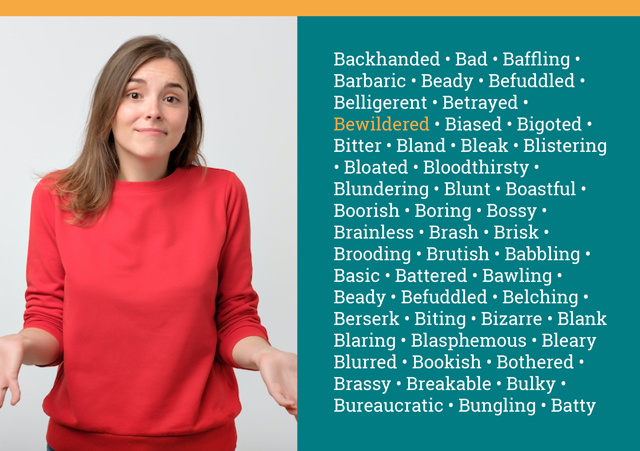 Babbling
Backhanded
Bacterial
Bad
Baffled
Baffling
Barbaric
Barbarous
Barren
Basic
Battered
Batty
Bawling
Beady
Befuddled
Belching
Belligerent
Berserk
Betrayed
Bewildered
Bewitched
Biased
Bigoted
Biting
Bitter
Bizarre
Blamable
Bland
Blank
Blaring
Blasphemous
Bleak
Bleary
Blind
Blistering
Bloated
Bloodied
Bloodthirsty
Bloody
Blue
Blundering
Blunt
Blurred
Blurry
Boastful
Bookish


Boorish
Bored
Boring
Bossy
Bothered
Brainless
Brash
Brassy
Breakable
Bribable
Brisk
Bristly
Broken
Brooding
Bruised
Brutal
Brutish
Bulky
Bumpy
Bungling
Bureaucratic
Busiest

Negative Adjectives that Start with C
Caged
Cagey
Callous
Cancelled
Cancerous
Cantankerous
Capricious
Captive
Careless
Carsick
Catastrophic
Catatonic
Caustic
Cavalier
Certifiable
Challenged
Challenging
Chauvinistic
Cheap
Cheerless
Chemical
Chicken
Childish
Chilling
Chilly
Choking
Choppy
Chubby
Chunky
Clammy
Clamoring
Clashing
Clingy
Clinical
Cliquish
Clogged
Cloistered
Clownish
Clueless
Clumsy
Cluttered
Coarse
Cocky
Coercive
Cold
Coldhearted
Colorless
Combative
Commercial
Common
Complacent
Complaining
Complicated
Compulsive
Compulsory
Conceited
Concerning
Condemned
Condescending
Conditional
Conflicted
Conflicting
Confounded
Confused
Confusing
Congested
Conspicuous
Constrictive
Contagious
Contemptible
Contemptuous
Contradicting
Contradictory
Contrarian
Contrary
Controllable
Controlling
Controversial
Convoluted
Cornered
Corny
Corporate
Corrosive
Corrupt




Corrupting
Corruptive
Costly
Cowardly
Cowering
Coy
Crabby
Cracked
Crafty
Crammed
Cramped
Cranky
Crass
Craven
Crazy
Creaky
Creeping
Creepy
Crestfallen
Criminal
Crippling
Critical
Crooked
Cross
Crotchety
Crowded
Crude
Cruel
Crumbling
Crumbly
Crumply
Crushable
Crushed
Crusty
Crying
Cryptic
Culpable
Cumbersome
Cursed
Curt
Cutting
Cynical

Negative Adjectives that Start with D
Daffy
Daft
Damaged
Damaging
Damp
Dangerous
Dark
Daunting
Dawdling
Dazed
Deadly
Deafening
Decayed
Decaying
Deceitful
Deceivable
Deceiving
Deceptive
Decimated
Decipherable
Declining
Decrepit
Defeated
Defective
Defenseless
Defensive
Defiant
Deficient
Deformed
Degenerative
Degraded
Dejected
Delinquent
Delirious
Deluded
Demanding
Demented
Demonic
Deniable
Dense
Dependent
Deplorable
Depraved
Depressed
Depressing
Depressive
Deprived
Deranged
Derivative
Derogative
Derogatory
Deserted
Desolate
Despairing
Desperate

Despicable
Despised
Despondent
Destroyed
Destructive
Detached
Detestable
Detrimental
Devastated
Devastating
Devious
Diabolical
Difficult
Digressive
Dilapidated
Dim
Diminishing
Diminutive
Dingy
Dire
Dirty
Disadvantaged
Disadvantageous
Disaffected
Disagreeable
Disappearing
Disappointed
Disappointing
Disapproving
Disastrous
Discarded
Disconnected
Discontented
Discordant
Discouraged
Discouraging
Discourteous
Discredited
Discreet
Discriminatory
Disdainful
Diseased
Disenchanted
Disgraceful
Disgruntled
Disgusted
Disgusting
Disheartened
Disheartening
Dishonest
Dishonorable
Disillusioned
Disinclined
Disingenuous


Disinterested

Disjointed
Dislikeable
Disliked
Disloyal
Dismal
Dismissive
Disobedient
Disorderly
Disorganized
Disparaging
Dispassionate
Dispensable
Displeased
Displeasing
Disposable
Disproportionate
Disproved
Disputed
Disreputable
Disrespectful
Disruptive
Dissatisfied
Dissimilar
Distant
Distasteful
Distracted
Distraught
Distressed
Distressing
Distrustful
Disturbed
Disturbing
Divided
Divisive
Dizzy
Domineering
Doubtful
Doubting
Dowdy
Down
Drab
Drained
Dramatic
Drastic
Dreaded
Dreadful
Dreary
Dripping
Droll
Drooping
Droopy
Drowsy
Drunk
Dry


Negative Adjectives that Start with E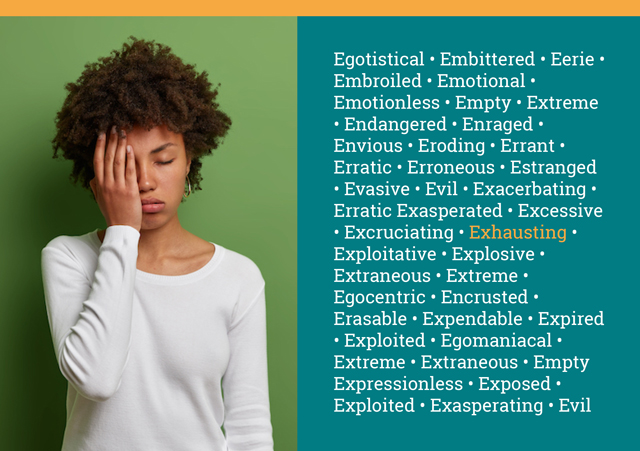 Eerie
Egocentric
Egomaniacal
Egotistical
Emaciated
Embarrassed
Embarrassing
Embittered
Embroiled
Emotional
Emotionless
Empty
Encrusted



Endangered


Enraged
Envious
Erasable
Eroding
Errant
Erratic
Erroneous
Estranged
Evasive
Evil
Exacerbating


Exasperated




Exasperating
Excessive
Excruciating
Exhausting
Expendable
Expired
Exploitative
Exploited
Explosive
Exposed
Expressionless
Extraneous
Extreme
Negative Adjectives that Start with F
Facetious
Faded
Failed
Faint
Faithless
Fallacious
Falsified
Faltering
Famished
Fanatical
Fatal
Fatigued
Faulty
Fawning
Feared
Fearful
Fearsome
Feckless
Feeble
Feeble-minded
Feigned
Felonious
Fetid
Feverish
Fidgeting
Fidgety
Fiendish


Filmy

Filtered
Filthy
Finicky
Fishy
Flaky
Flat
Flavorless
Flawed
Fleeting
Flimsy
Flippant
Floppy
Foggy
Foolhardy
Foolish
Forbidding
Forceful
Foreboding
Forgetful
Forgettable
Forgotten
Formulaic
Foul
Fractious
Fragile
Fragmented
Frail
Frantic



Fraudulent
Frayed
Freakish
Freaky
Freezing
Fretful
Fried
Frightened
Frightening
Frightful
Frigid
Frilly
Frivolous
Frosty
Frowning
Frozen
Frugal
Fruitless
Frumpy
Frustrated
Frustrating
Fumbling
Fuming
Furious
Furtive
Fussy
Futile
Fuzzy

Negative Adjectives that Start with G
Gabby
Galling
Gangly
Gaping
Garbled
Garish
Garrulous
Gasping
Gaudy
Gaunt
Gawky
Generic
Ghastly
Ghoulish
Glassy
Glib


Gloomy
Glum
Gluttonous
Gnarly
Goofy
Grainy
Grating
Grave
Greasy
Greedy
Green
Grim
Grimacing
Grimy
Gritty
Groaning

Groggy
Gross
Grotesque
Grouchy
Growling
Grubby
Grueling
Gruesome
Gruff
Grumbling
Grumpy
Guarded
Guilty
Gullible
Negative Adjectives that Start with H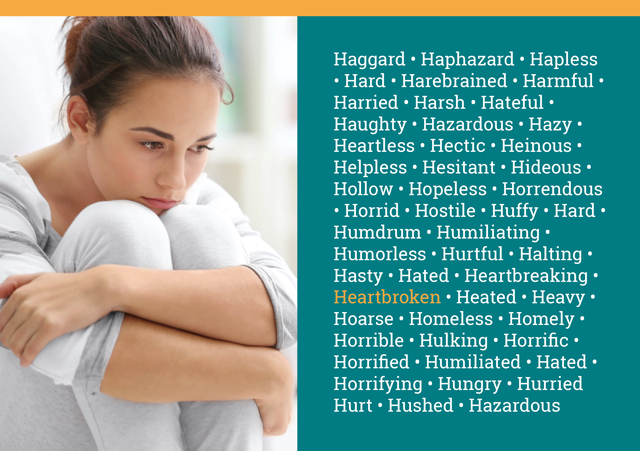 Haggard
Halting
Haphazard
Hapless
Hard
Harebrained
Harmful
Harried
Harsh
Hasty
Hated
Hateful
Haughty
Hazardous
Hazy
Heartbreaking
Heartbroken




Heartless
Heated
Heavy
Hectic
Heinous
Helpless
Hesitant
Hideous
Hoarse
Hollow
Homeless
Homely
Hopeless
Hormonal
Horrendous
Horrible
Horrid


Horrific


Horrified
Horrifying
Hostile
Huffy
Hulking
Humdrum
Humiliated
Humiliating
Humorless
Hungry
Hurried
Hurt
Hurtful
Hushed
Negative Adjectives that Start with I
Icky
Iconoclastic
Icy
Idiotic
Ignorable
Ignorant
Ill
Illegal
Illegible
Illegitimate
Illicit
Illiterate
Illogical
Immature
Immodest
Immoral
Impatient
Imperfect
Imperial
Impersonal
Impertinent
Impetuous
Impolite
Imposing
Impossible
Impoverished
Impractical
Imprecise
Improper
Imprudent
Impulsive
Impure
Inaccessible
Inaccurate
Inactive
Inadequate
Inadmissible
Inadvisable
Inane
Inappropriate
Inarticulate
Inattentive
Inauspicious
Incapable
Incessant
Incoherent
Incompatible
Incompetent
Incomplete
Incomprehensible
Inconceivable
Inconclusive

Incongruent
Inconsequential
Inconsiderate
Inconsistent
Inconsolable
Inconvenient
Incorrect
Indecent
Indecipherable
Indecisive
Indifferent
Indignant
Indiscriminate
Inefficient
Infantile
Inferior
Infuriating
Inhospitable
Insane
Insincere
Insipid
Irksome
Irrational
Negative Adjectives that Start with J, L
Jaded
Jeering
Judgmental

Lame
Laughable
Lecherous
Leering
Loathsome
Lowly
Negative Adjectives that Start with M, N
Malevolent
Malignant
Manipulative
Melodramatic

Messy
Moody
Muddled
Myopic
Narcissistic
Negligent
Nosy
Negative Adjectives that Start with O, P, Q
Obscene
Obstinate
Odd
Opportunistic
Oppressive
Parasitic


Pathological
Pedantic
Pessimistic
Petty
Petulant
Pitiful


Predictable


Prejudiced
Putrid
Querulous
Negative Adjectives that Start with R, S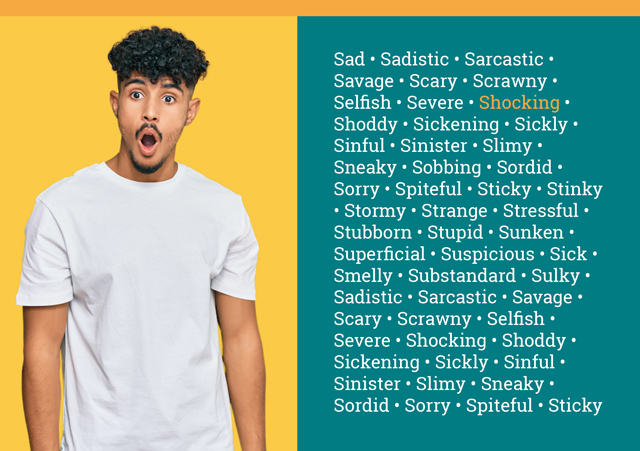 Racist
Redundant
Reprehensible
Repugnant

Rude
Sanctimonious
Sickening
Smothering
Smug
Squalid
Negative Adjectives that Start with T, U, V, W, Y
Tacky
Tasteless
Temperamental
Thoughtless

Timid
Toxic
Tyrannical


Upsetting

Vacuous
Wasteful
Wretched
Yellow
Adjectives Evoke Emotions
Negative adjectives have the power to color nouns, bringing them to life by evoking an emotional response. When you use negative adjectives, readers will respond emotionally, understanding the disgust, fear, repulsion, disdain, and disagreement.
Understand the meaning of the adjectives you use to call out the specific emotions you want from your readers. The right, strong negative adjective is more powerful than a string of adjectives. One good word adds punch to your writing. Choose well to create the feeling you want your reader to feel.
---
Take your writing to the next level: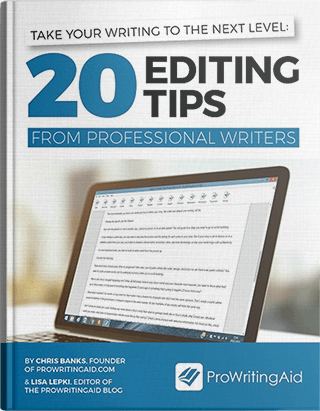 Whether you are writing a novel, essay, article, or email, good writing is an essential part of communicating your ideas.
This guide contains the 20 most important writing tips and techniques from a wide range of professional writers.
---