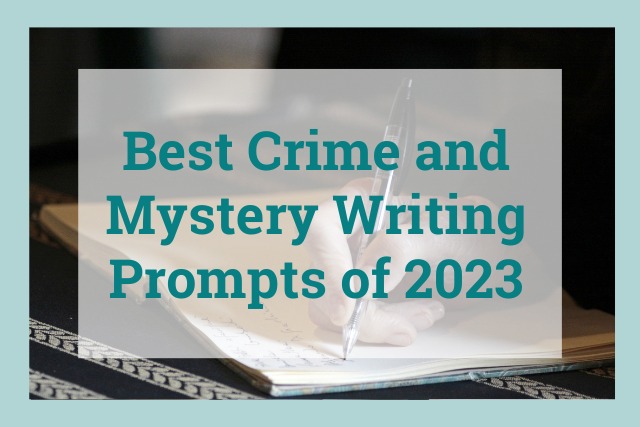 Readers love mystery stories because of the suspense, the puzzle, and the plot twists.
The mystery genre is a great genre to explore for writers who love writing suspense and enjoy learning about true crime.
Writing a crime or mystery novel can be a lot of fun, but it can be difficult to come up with fresh ideas.
Writing prompts are a great way to get your creative juices flowing. These writing prompts and story ideas can give you enough fodder for everything from a short story to a whole series of novels.
The great thing about writing prompts is they aren't restrictive. The prompt will probably be unrecognizable by the end of your story because you changed it so many times.
Even if you stay true to the prompt, you can still write an original story. If you give five authors the same story idea, you will get five unique stories.
So, take these mystery writing prompts and make them your own.
Use them as inspiration and change them up. Write a whole novel based on one of them. Take bits and pieces from several prompts for something epic. Or just use them as writing exercises.
Historical Mystery Story Ideas and Prompts
Bootleggers in 1920s Chicago keep winding up dead. Two detectives must partner together to solve the murders. One detective has dedicated his life to ending bootlegging, as his father was a raging alcoholic. The other is a homicide detective who dabbles in bootlegging on the side.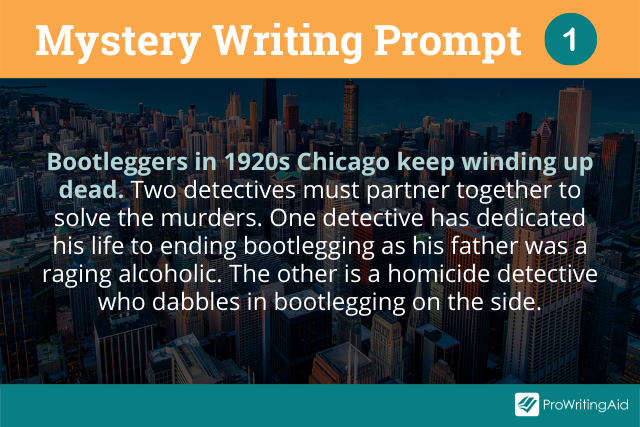 In World War II, an army nurse goes missing in the Pacific Theater of Operations. The disappearance is written off as a defection by superior officers, so it's up to her nurse friends to discover what happened.

A dead body appears at a noble's house party in Regency England. No one claims to know who the victim is, which leads to two mysteries: who is it and whodunit?

A town in the Mughal Empire falls victim to a serial killer. The victims are all middle-aged mothers. A young woman, whose mother was the first victim, works with a military general to find and stop the murders.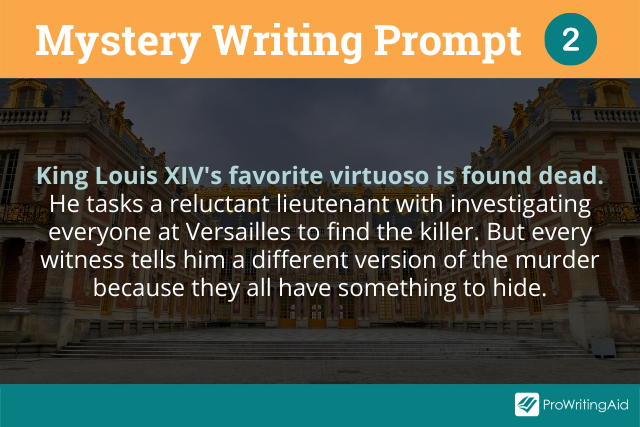 King Louis XIV's favorite virtuoso is found dead. He tasks a reluctant lieutenant with investigating everyone at Versailles to find and stop the killer. Every witness tells the lieutenant a different version of the murder because they all have something to hide.

Someone has kidnapped the daughters of two prominent figures from both sides of the Mexican Revolution in 1912. Both leaders send a detective to investigate the kidnappings. The two detectives are from rival sides of the revolution, but they must put aside their differences to find the missing girls.
Police Procedural and Detective Writing Prompts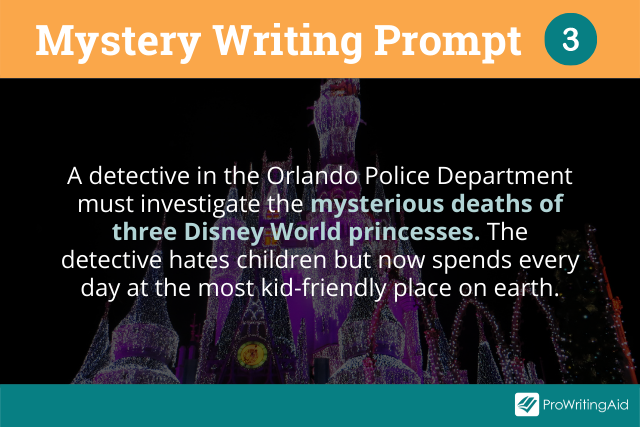 A detective in the Orlando Police Department must investigate the mysterious deaths of three Disney World princesses. The detective hates children but now spends every day at the most kid-friendly place on earth.

A Scotland Yard detective is at risk of being fired for her reckless behavior. She's sent to a remote village to investigate the disappearance of a local baker. None of her superiors care about the case, but she quickly finds herself in a dangerous game of cat and mouse with the killer—and no backup.
Coffee is delivered to the police station by an anonymous donor. One of the cups doesn't have a name written in the cup. Instead, there's a creepy note, and the cup is filled with something far more sinister than coffee.

A burnt-out police detective must work with his ex-wife, a renowned forensics expert, to solve the murder of a prominent member of the government.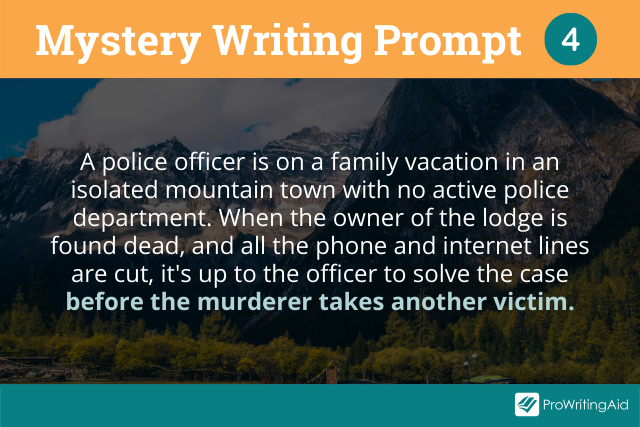 A police officer is on a family vacation to an isolated mountain town with no active police department. When the owner of the lodge is found dead, and all the phone and internet lines are cut, it's up to the officer to solve the case before the murderer takes another victim.

An investigative journalist believes that several high-profile thefts, spread over five decades, are related. The only person who believes them is a quirky small town sheriff.
Cozy Mystery Writing Prompts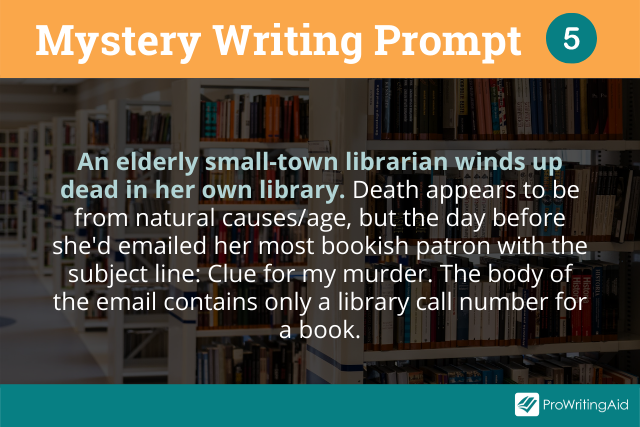 An elderly small town librarian winds up dead in her own library. It appears to be from natural causes, but the day before she emails her most bookish patron with the subject line: Clue for my murder. The body of the email contains only a library call number for a book.

A star athlete on a full-ride scholarship and a studious aspiring scientist must solve a series of mysterious deaths in their dorms before their dream university is closed forever.

The grumpy owner of a local pub (who hates children) and a young girl from the local elementary school pair up to solve the disappearance of an elementary teacher who moonlights as a bartender.

A successful businessman returns to his coastal hometown for the holidays. After drinking spiked eggnog, he wakes up in the boat of his high school girlfriend, who is now a professional fisherwoman. He has no memory of the night before, but now he's the prime suspect in a murder investigation. With the help of his ex, his overbearing mom, and his former chemistry teacher, he must work to clear his name.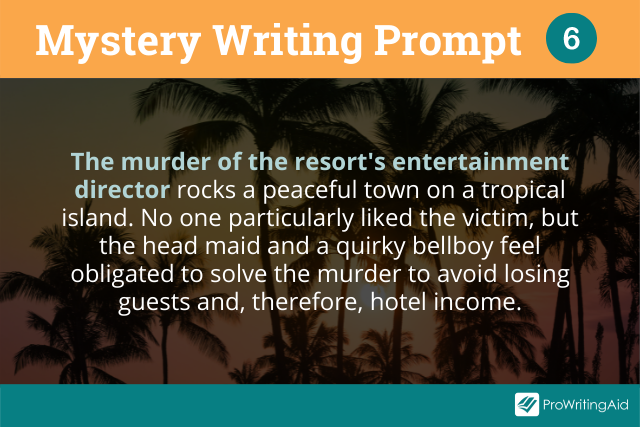 The murder of the resort's entertainment director rocks a peaceful resort town on a tropical island. No one particularly liked the victim, but the head maid and a quirky bellboy feel obligated to solve the murder to avoid losing guests and, therefore, hotel income.

An accountant has always believed that her mother died in a car crash. When her grandmother passes away, she finds a half-finished investigation in the old woman's basement. Her grandmother suspected murder for almost two decades and never told a soul! She picks up her grandmother's investigation to discover what really happened to her mom.
General Suspense Thriller Novel Writing Prompts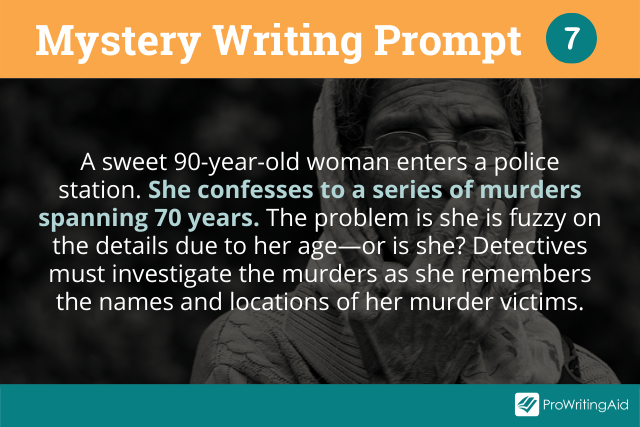 A sweet 90-year-old woman enters a police station and confesses to a series of murders spanning 70 years. The problem is she is fuzzy on the details due to her age—or is she? Detectives must investigate the murders as she remembers the names and locations of her murder victims.

Fed up with the bureaucracy and corruption of the criminal justice system, an assistant district attorney fakes their own death to enter the seedy underbelly of the organized crime world. They want to bring down the killers who keep getting away with murder—and their mysterious top boss.

A criminal psychologist helps profile an unknown murderer in a brutal triple homicide. But as she completes her profile, she notices some shocking similarities to her washed-up brother, who lives with their elderly father.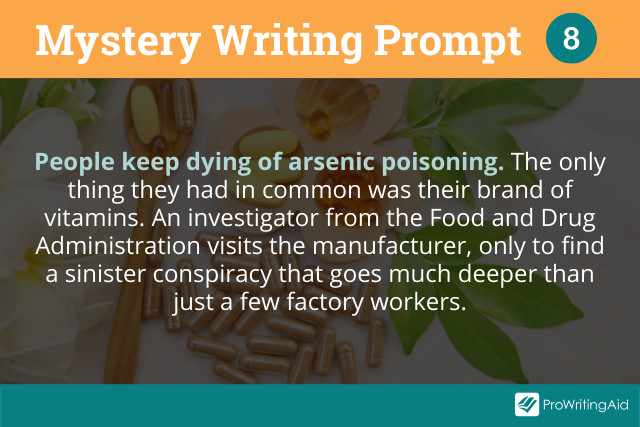 All over the country, people are dying of arsenic poisoning. They all had one thing in common, they took the same vitamins. An investigator from the Food and Drug Administration visits the manufacturer, only to find a sinister conspiracy that goes much deeper than just a few factory workers.

The office gossip winds up dead after a company retreat. Multiple people had a motive. The main character let their dark secret slip that weekend, and now they must solve the murder to avoid the truth getting out.

A series of bank heists occur on the same day in four different countries. The next week, several heads of crime organizations descend on Monaco. An Interpol agent must go undercover in the high-stakes world of organized crime and gambling to solve the mystery.
Serial Killer Mystery Writing Prompts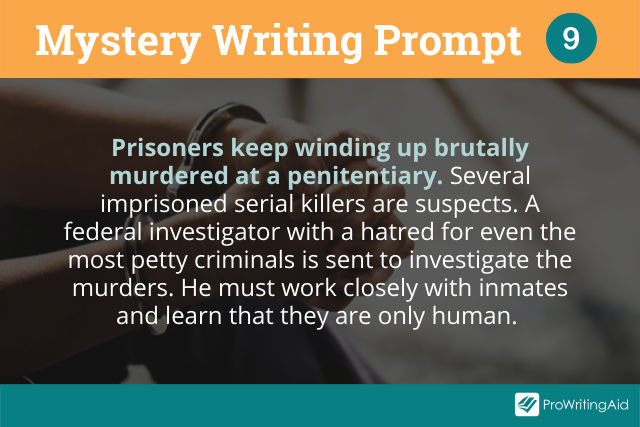 Prisoners keep winding up brutally murdered at a penitentiary. Several of the imprisoned serial killers are suspects. A federal investigator, with a hatred for even the most petty criminals, is sent to investigate the murders. He must work closely with inmates and learn that they are only human. Bonus: the serial killer is a prison staff member, not an inmate.

A serial killer terrorizes a major metropolitan area, but officials can find no common link between the victims except how they're killed. When her sister is murdered, an Uber customer service representative takes matters into her own hands. The murderer is an Uber driver who saves addresses and waits months before returning for the victims to avoid suspicion.

Ten people, from across the country, wind up dead. They're all killed in exactly the same way, and they all have a page from Shakespeare's Complete Works pinned to their shirt. A detective pairs with a literature professor to solve the case before the Bard Killer can claim any more victims.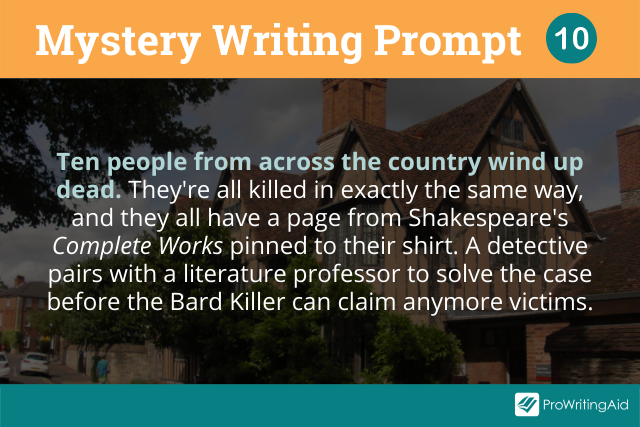 A series of murders occurs in the Midwest. All the victims fit the same profile: young with dyed hair. Every victim visited a busy truck stop the day they died.

Someone is murdering L.A. food truck owners, leaving only their charred remains behind. The protagonist is a forensic anthropologist who is married to a food truck owner.

The first victim enters a crowded store wearing a bomb. They are clearly under duress, but they steal a cheap item, only to be blown up remotely, causing many deaths. Organized crime and terror units investigate this, only for another victim to go in exactly the same way a few weeks later. By the third victim, it's clear there's a sadistic serial killer at play.
How to Use Mystery Prompts in Writing
Using mystery prompts can help get your story flowing. It's a great way to challenge yourself as a writer.
Prompts are open to interpretation, so it's up to you to find the next great story within them.
---
Want to write your own spine-tingling mystery? Register for Crime Writers' Week, April 24-27.
Learn from bestselling authors like Janice Hallett, Ajay Chowdhury, and Sophie Hannah.
Sign up today. It's free! Register now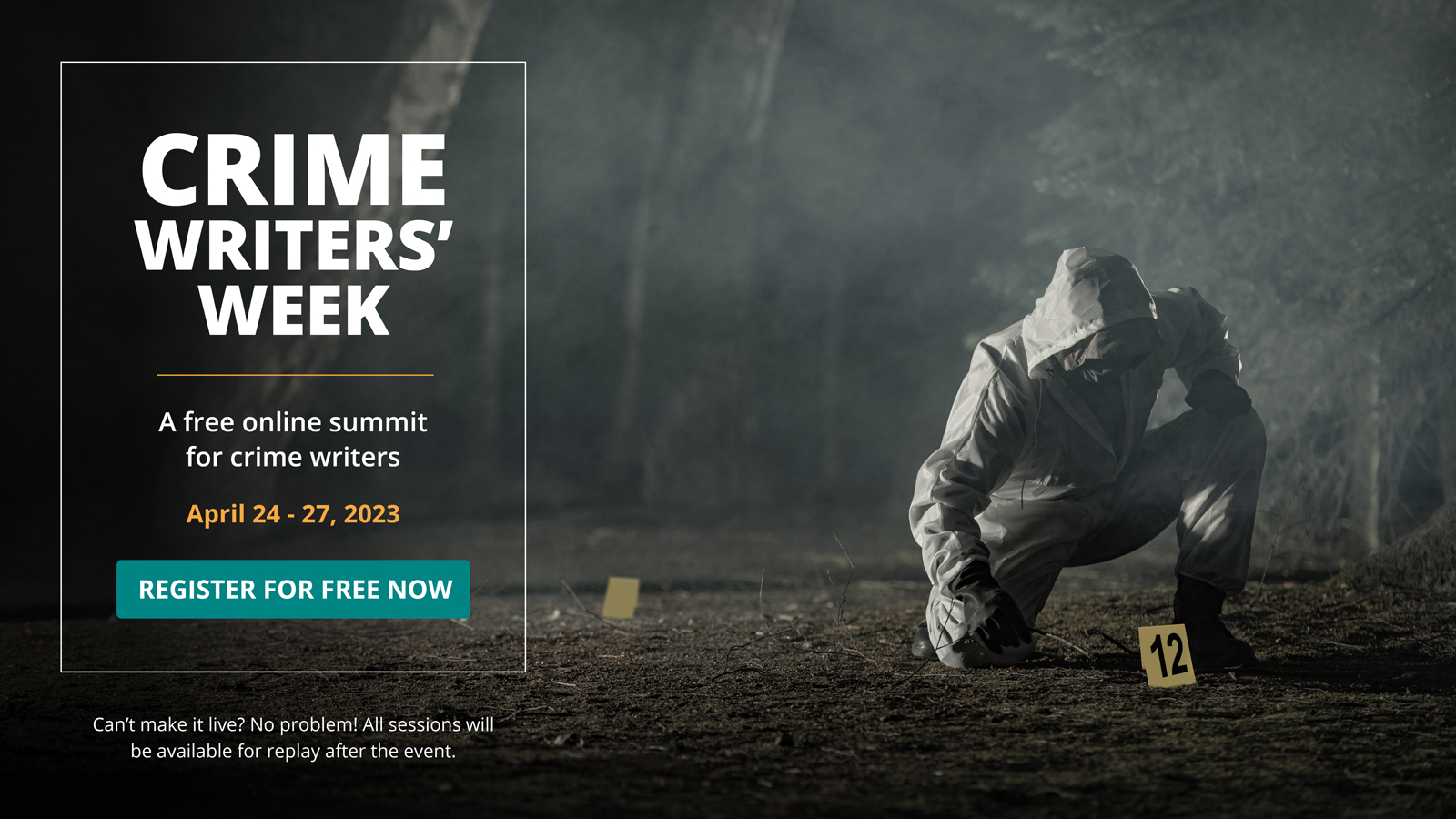 ---