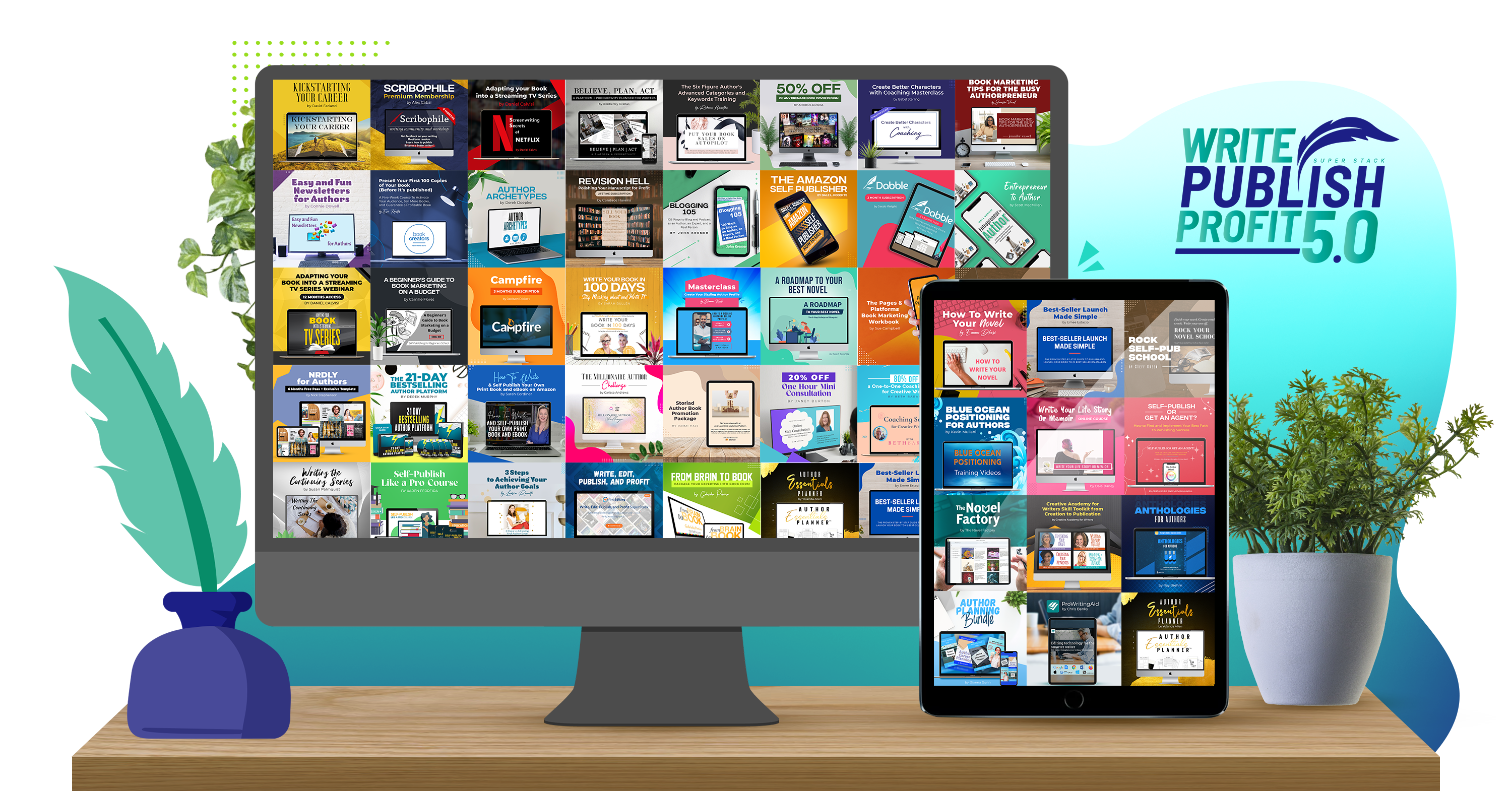 $6,500 of Writing Resources for $49
(including a 3-month ProWritingAid Premium license, reg $60!)
Our friends over at Infostack have compiled an amazing selection of resources for writers at a really affordable price.
You will recognize many of these resources (and maybe you already have some of them) such as Campfire, Scribophile, and Nrdly.
And as an extra bonus, you can also get a 3 month ProWritingAid Premium subscription.
So you can get a $60 ProWritingAid Premium Subscription for $49 PLUS over 50 other programmes that have been chosen specifically for writers for free.
This bundle is only available until June 14th 2022.
Check out the write-publish-profit superstack.
What's Included in the Infostack Bundle?
There are over 50 resources in the bundle, including courses, masterclasses, writing, publishing, and marketing resources, and software.
Here are just ten of our favorites.
Course and Masterclasses
1) Create Your Sizzling Author Profile by Donna Kozik
Attract readers like bees to honey with a swoon-worthy "dating profile" for your book! Learn how to position your book from USA Today & Wall Street Journal bestselling author Donna Kozik.
This course includes templates and instructions to create a compelling "dating profile" for your book, plus a fun video class.
(worth $399)
2) Kickstarting Your Career by David Farland
Learn the resources, habits, and skills you need to succeed as a writer from the NYT bestselling author of The Runelords. In this series of lectures, Dave shares some of the steps you need to take in order to build your successful career as a writer.
(worth $199)
3) A Roadmap to Your Best Novel by Philip Duncan
Turn your novel into a bestseller with this proven step-by-step roadmap which is suitable for beginners and experienced authors alike.
Included in this course is the exact blueprint Philip used for his debut novel!
(worth $297)
Software
4) Nrdly
Get a 6 month pass to Nrdly which is a beautiful, easy-to-navigate website design specially made for authors.
You will enjoy quick setup, built-in tools, custom drag-and-drop author templates, and an easy way to hook up your email marketing provider.
PLUS! When you sign up for your six-month free pass, you'll also get an exclusive Infostack author website template plus hosting and a custom subdomain.
(worth $250)
5) Scribophile Premium Membership
Get feedback, find beta readers, and get the know-how to pitch to agents and/or self-publish with confidence with this 6 month membership.
Make lifelong friends in a vast community of writers from all over the world and access feedback from writers and beta readers. Plus, learn about writing and the publishing industry with a library of resources and community knowledge.
(worth $66)
6) Campfire
Get the power to write better stories faster. Join over 150,000 writers who use Campfire to organize, improve, and showcase their writing.
With your new membership, you can organize your stories with character sheets, timelines, and relationship webs. Alongside this, you will also gain access to a hub of educational resources.
(worth $37.50)
Writing, Publishing, and Marketing Resources
7) Storiad Book Promotion Package
Access the power of the pros to promote your books with Storiad.
During your one month of free access, you'll get over 50,000 novel influencer contacts, apps to build and manage a comprehensive book promotion campaign, and two one-on-one sessions to work with you to set up your Storiad Book Promotion Platform.
(worth $280)
8) A Beginner's Guide to Book Marketing on a Budget by Camille Flores
If you are an author who wants to sell more books, but has a small marketing budget, this course will show you how to market your books and keep the costs low.
Yo will learn which social media platforms to use, when to launch paid ad campaigns, and how you can optimize book formatting to make more sales.
(worth $49)
9) The Six Figure Author's Advanced Categories and Keywords Training by Rebecca Hamilton
Master your Amazon Categories and Keywords for increased organic sales and immediate results in rank and royalties!
Learn how to select categories that establish you as a leader in your genre and choose keywords that skyrocket your organic visibility and sales.
(worth $499)
10) How To Write & Self Publish Your Own Print Book and eBook on Amazon by Sarah Cordiner
Become a published non-fiction author in just 30 days with this best-seller system for writing and publishing on Amazon.
You will learn how to plan, outline, write, edit, format, publish, and print a best-selling book.
These 10 resources are just a selection of the overall bundle. There are over 40 further resources we haven't even covered!
If your dream is to get published, then this is a tremendous opportunity to develop all the skills you need.