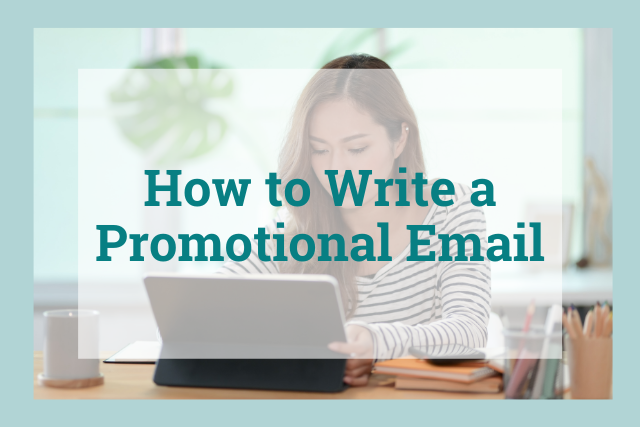 Good email marketing should include engaging copy, attractive visuals, and actionable CTAs (calls to action).
Your subscribers receive a huge number of promotional emails each day. So, if you do not spare enough time on writing your emails, you might become another unread email in their inbox.
To ensure your subscribers see your emails and take action, follow these 8 promotional email marketing principles.
1. Use an Engaging Subject Line
In order to stand out and make sure people open your emails, you must include a unique and purpose-driven subject line. Make it succinct and interesting enough to pique the subscriber's curiosity.
Rather than promoting your sale or discount offer, tap on the fear of missing out by creating a sense of urgency through the subject lines. For example: "75% Off Ends Today."
In addition, you should personalize subject lines with the subscriber's name or a reference to their past purchases. It will help drive a higher open and conversion rate.
2. Use a Conversational Tone
Your promotional email shouldn't be boring or salesy. To avoid this, use a second person narrative with actionable language.
Personalized emails should be relevant and deliver value to the reader. Therefore, it is important to segment your email list. For example, if you want to send a promotional email featuring pet care products, you should send it exclusively to pet owners or people who have previously purchased relevant items.
3. Highlight the Benefits of Your Product
Instead of using complicated language to highlight features of your product, focus on the benefits and how they will make life easy for your subscribers.
Take a look at this email from Oros in which they have talked about the benefits of their performance styles, without using complex expressions. Also, note the attractive imagery which entices users to take advantage of the 60% discount.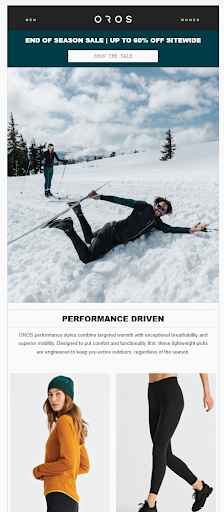 Source: Oros Apparel
4. Use Emotional Messaging
All your emails, including promotional ones, should have an empathetic tone. Given the recent pandemic and ever-changing political scenario, it is all the more important to consider how your reader may interpret your promotional email.
I recently received an email with the subject line: "Covid clearance sale: 50% off" which is tactless and will likely upset recipients.
Try to put yourself in the subscriber's shoes before sending out any marketing email.
5. Tell a Story
Last year I received an excellent Women's Day email from Bliss Lau that told the story of the founder's grandmother.

Source: Email.uplers
Marketing emails like this tap on the recipient's emotional instincts while encouraging them to take action.
You can use this tactic to share your vision and mission statement in your automated welcome emails too. It is a great way to acquire first time buyers and win customer hearts.
6. Use the Problem Agitation Solution (PAS) Formula
The Problem Agitation Solution (PAS) technique allows you to talk about your subscriber's challenges and let them know how your products or services can address them.
Besides eCommerce stores, B2B businesses and SaaS business owners can also use this formula for better conversions.
7. Use Attractive Visuals
Relevant images, animations, and videos increase the overall impact of your promotional emails and generate sales.
The Sill recently included pretty pictures of their plants to woo their email subscribers:

Source: The Sill
If you have a complex product or service, you can include GIFs or videos in your marketing emails to demonstrate its usage.
8. Include a CTA
If your email is perfect, but your call to action is not up to the mark, it will bear no results. You must design an actionable CTA that is clearly visible in the body of the email. You can even consider having multiple CTA buttons throughout the email.
Check this email by B&H Photo in which they have added a "BUY NOW" CTA button for every product on sale, and then ended the email with the CTA button "VIEW MORE DEALS."

Source: B&H Photo
Wrapping Up
One of the primary objectives of marketing emails is to bring conversions. Therefore, it is tricky to draft an effective message that generates sales without being pushy.
The tips shared here will help enhance your writing while aiding your email's readability. I hope this comes in handy when you next write a promotional email.
---
Want to learn more great business writing hacks? Download this free book now: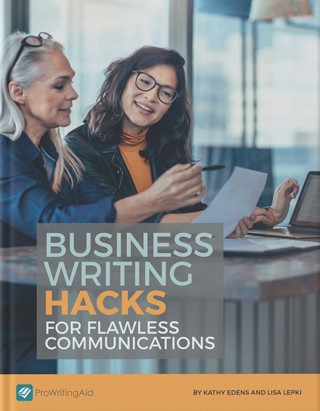 Writing is an essential element of nearly every profession today. Strong communications help colleagues and clients understand your ideas. Errors and awkward writing make you lose credibility.
Download this guide to learn the techniques professional writers use to write clearly and persuasively.