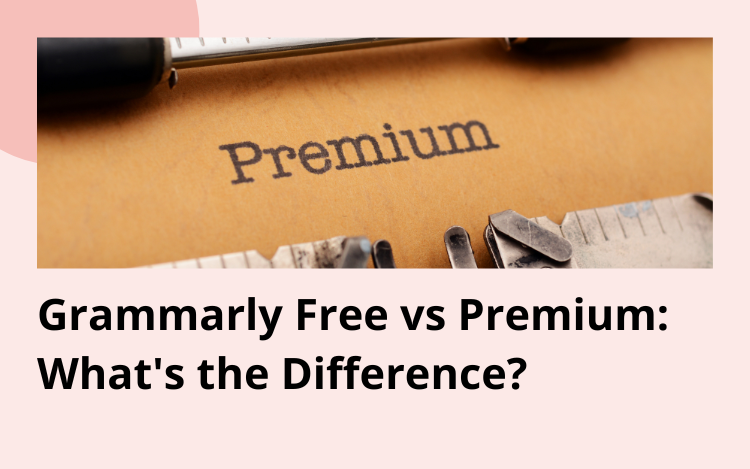 Grammarly is a popular grammar checker that can help you strengthen your writing.
You can use a limited selection of Grammarly's features for free, or you can buy a premium subscription to use more advanced features.
So, what exactly is the difference between the free version and the premium version?
The short answer is that Grammarly Free only gives you a grammar checker, a spell checker, and a punctuation checker, while Grammarly Premium also includes a plagiarism checker, an AI-powered writing assistant, and several other features writers might find useful.  
Read on to learn the exact differences between Grammarly Free vs Premium so you can decide which grammar checker is right for you.
Is Grammarly Free?
The basic version of Grammarly is completely free to use. You don't need to pay for a subscription to use all its basic features.
The Grammarly Free version includes some essential tools for helping you correct your writing mistakes, such as a spell checker, a grammar checker, and a punctuation checker. These limited features aren't very sophisticated, but they'll be able to catch basic errors in your writing.
If you like the free version and want even more advanced options, you can consider upgrading to Grammarly Premium for a monthly subscription of $30/month, a quarterly subscription of $60/quarter, or an annual subscription of $144/year.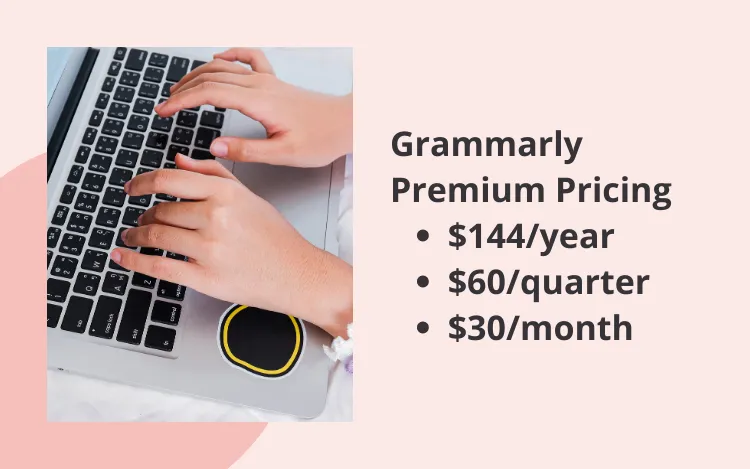 What Features Do You Get With Grammarly Free?
Let's take a closer look at the features you get with the free version of Grammarly.
Grammar Checker
Grammarly's grammar checker will underline any major grammar issues, such as run-on sentences or dangling modifiers.
The free version will provide a basic comment about what the issue is but not the detailed explanations you'd get with the premium version.
Spell Checker
The free version of Grammarly will underline any typos and basic spelling errors, so you can check your spelling. It's similar to the spell checker you'd get on any word-processing software that includes one, such as Microsoft Word.
Punctuation Checker
The free version of Grammarly will underline punctuation issues, such as missing commas or unnecessary apostrophes.
Again, you'll see a bit of context about what the issue is, but you'd need to upgrade to the premium version to get more useful insights.
Dialect Options
Grammarly doesn't currently support any languages other than English, but it does work for many different dialects of English. Specifically, you can choose between American, British, Australian, and Canadian English.
Citation Suggestions
If you're writing an essay or paper that includes a bibliography, Grammarly Free can generate citations for you whenever you research articles from popular research websites. This feature comes in handy for students and academics.
Tone Detection
Grammarly Free will tell you what type of tone you're writing in. For example, if you're writing a cover letter for a job application, Grammarly might tell you your writing sounds formal and friendly.
However, Grammarly Free doesn't include any tone suggestions to help you aim for the tone you're going for. The tone detection can be an interesting diagnostic, but it's not very actionable in terms of how you use it to improve your writing.
Integration Options
You can use the free version of Grammarly in several ways. The simplest way is to use the web app or the desktop app.
For an easier grammar-checking experience, you can integrate Grammarly into your favorite writing app, such as Microsoft Word.
You can also use it as a plug-in on a web browser, including Chrome and Safari. That way, you can use it to check any writing you do online, such as a Google Docs document, a social media caption, or a blog post.
What Additional Features Do You Get With Grammarly Premium?
The Grammarly Premium version lets you use all the features you get with the basic version, as well as several more advanced features. Here's a breakdown of the additional features you get with a paid subscription.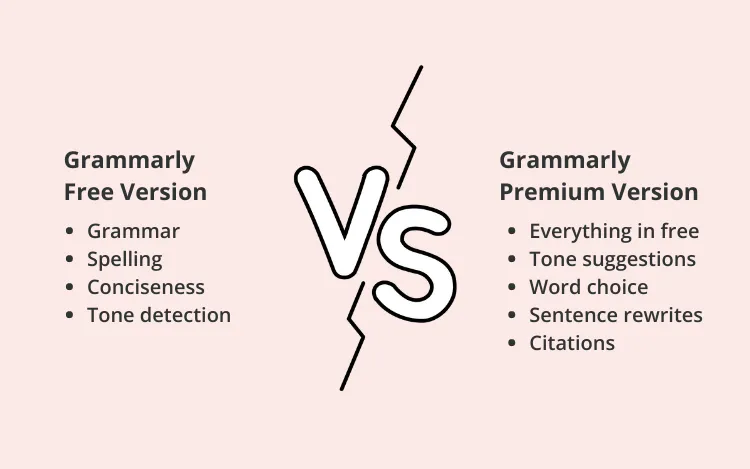 Advanced Writing Suggestions
Grammarly Premium gives you more advanced suggestions for correcting your writing than Grammarly Free. In addition to simply catching errors with the spell checker and grammar checker, it will also look for ways to improve weak writing.
For example, it will suggest ways you can improve your word and sentence variety so you can better engage your audience by avoiding too much repetition.
Another useful feature is Grammarly's word-choice corrections, which look at the words you're using and propose stronger ones. If you use the phrase "very happy," Grammarly Premium will suggest stronger words like "thrilled" or "delighted."
AI-Powered Writing Assistant
Grammarly includes an AI-powered writing assistant that reviews any clunky, confusing, or hard-to-understand sentences. It then proposes a new way to write that sentence so you can have a better version in a single click.
These full-sentence rewrites can be useful if you have clunky sentences you want to fix, and you don't know how to fix them on your own.
Plagiarism Checker
Grammarly's plagiarism checker checks your writing against billions of web pages and articles on the internet. It will tell you if any passages in your content run the risk of plagiarism.
The plagiarism checker is a must-have if you're a student or a professional writer because copying from another source could risk your reputation.
Citation Suggestions
Like the free version, Grammarly Premium will generate automatic citations for you. In addition, it will also correct any common formatting issues in your citations.
Formatting Suggestions
Grammarly Premium offers formatting corrections. If you have a bulleted list or other formatted text, the tool can help you make sure you're formatting everything consistently.
Writing-Style Report
Grammarly Premium analyzes your writing style to help you ensure you're writing in the way you intend to. It also provides suggestions to help you improve your writing style.
It can give you suggestions to make your writing sound confident, friendly, diplomatic, constructive, formal, or sincere. For example, it will correct words like "wanna" to "want to" if you're aiming for a more formal tone.
The Premium tool can also recommend more inclusive language to make sure your writing is respectful and current, such as "people who use wheelchairs" instead of "people who are wheelchair bound."
Does ProWritingAid Offer More Features for Free?
Grammarly Free can give you a few basic features, but if you want a free tool that will really take your writing to the next level, you should try the free version of ProWritingAid.
The free version of ProWritingAid lets you access almost all the advanced writing reports you would get with the premium version. That's 20+ writing reports—far more than you would get with Grammarly.
Here are just a few examples of the reports you get with the free version of ProWritingAid:
Writing-Style Report: gives you advanced writing-style suggestions like the ones you'd have to pay an expensive subscription to use on Grammarly, such as avoiding passive voice, etc.

Grammar Report: uses an advanced AI algorithm to catch all your grammar and punctuation mistakes, plus commonly mixed-up words like "weather" vs "whether"

Contextual Thesaurus Report: lets you explore a diverse selection of synonyms for any word so you can choose the best words for your writing

Repeats Check: tells you if you're using the same words repeatedly

Sentence Length Report: helps you make sure you're varying the lengths of your sentences to keep your reader engaged

Readability Report: uses readability tools to score your writing and highlight sentences that might be hard for readers to digest

Transition Report: looks for transition words like "nevertheless," "additionally," and "therefore" so you can make sure you're guiding your reader through the logic of your writing

Consistency Check: checks for consistent formatting, punctuation, capitalization, and more

Clichés and Redundancies Report: highlights overused phrases so you can find more original ways to express your ideas
And that's not even the full list!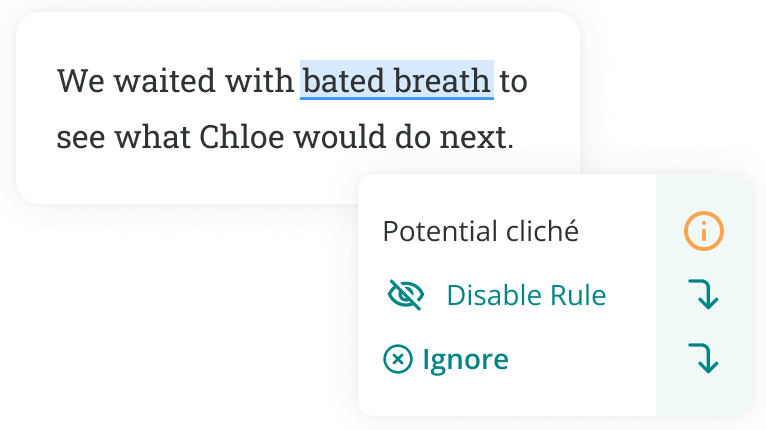 Just like Grammarly, ProWritingAid can easily integrate with your favorite writing software or web browser, such as Microsoft Word or Google Chrome. It's easy to integrate into your normal writing routine.
ProWritingAid will also give you context-specific suggestions. You can tell the software whether you're working on an academic essay, a cover letter, a web article, or any other type of writing, and it will tailor its suggestions to match.  
The only limitation with the free version of ProWritingAid is that you can only edit 500 words at a time, so you'd probably want to upgrade to Premium if you're working on a long project, such as a novel or a memoir. But for improving shorter writing like emails, essays, blog posts, and more, the free version gives you everything you need.
Conclusion on Grammarly Free vs Premium
There you have it—a complete guide to the differences between Grammarly Free vs Premium. Here's a quick recap:
You can use the basic version of Grammarly for free, or pay a monthly, quarterly, or annual subscription to access the premium version

Grammarly Free checks your grammar, spelling, and punctuation, and it also gives you basic features like tone detection

Grammarly Premium offers a plagiarism checker, formatting suggestions, citation suggestions, more advanced writing reports, and an AI-powered writing assistant that will rephrase your sentences for you
Don't forget that the free version of ProWritingAid is one of the most sophisticated free editing tools available to writers. Try it out today and see for yourself.
Good luck, and happy writing!
---