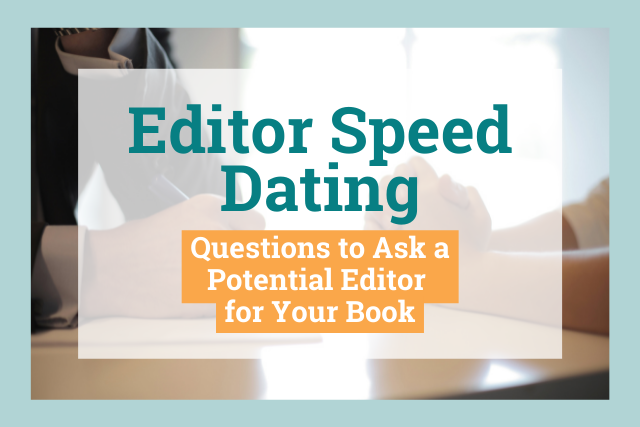 When you have completed self-editing, we recommend you always seek the assistance of a professional editor to complete your writing project. But before hiring, make sure you ask your potential editor these 10 questions.
Just like speed dating attempts to simplify the process of finding the right partner, we hope these questions simplify the process of finding the right editor.
Ask the right questions before you hire any professional. Understand your commitment as an editing client and author to create clear communication with your editor.
Ultimately, state your editing expectations and needs clearly. This helps your editor understand and provide the best service for you.
Most importantly, learn and understand your editing journey which we have written in collaboration with ProWritingAid and Fictionary.
Self-Editing
I highly recommend doing your self-editing through ProWritingAid so you can get an idea of where you are. They run your manuscript through over 20 high-powered reports and make it easy to compile a basic copy edit.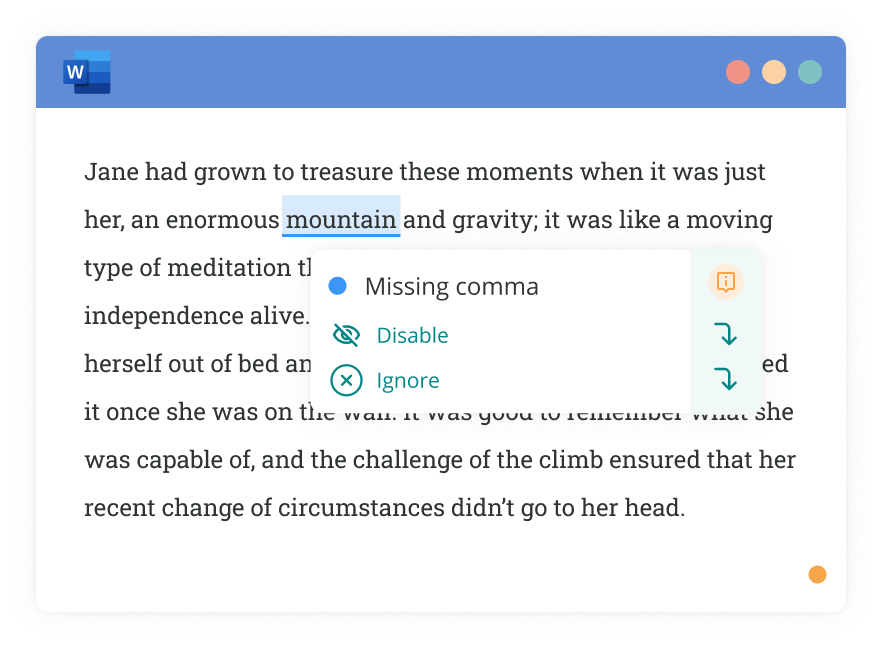 Just like dating, learn to meet your individual needs by speaking the same editing language as your editor. Ask for help whenever you are lost or confused. By being open about your knowledge and experience, you will get the best results from this partnership.
Ultimately, prepare your manuscript and yourself for this journey. Give your best. This results in a mutually satisfying experience for both you as the author and your editor.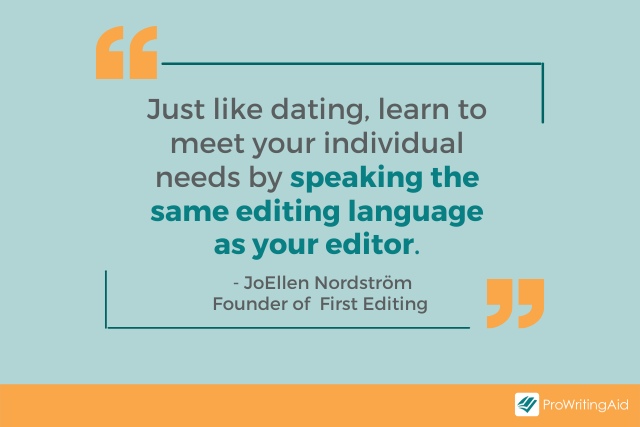 Self-Editing School is one way to prepare for professional editing. Here we are creating a foundation of mutual understanding between writers and professional editors such as those at FirstEditing.com.
The more you self-edit over time the easier it becomes to write. Plus, you communicate knowledgeably with your editor. This is a proactive method that is mutually beneficial. Prepare yourself for success and find the right editor match for your manuscript.
Professional editing is not cheap. Thus, it is important that you prepare in advance.
You get the best return on your investment when you prepare properly. You will achieve better results when you are familiar and knowledgeable of the editing process. Your editor is also able to dig deeper into your message.
10 Questions to Ask Your Potential Editor
1. What is your experience?
You are seeking an editor with a verifiable professional history. Ideally, they should have a strong background as a paid editor with supplementary writing and teaching skills. They should be knowledgeable in publishing, maintain up-to-date certification, training, and continued education.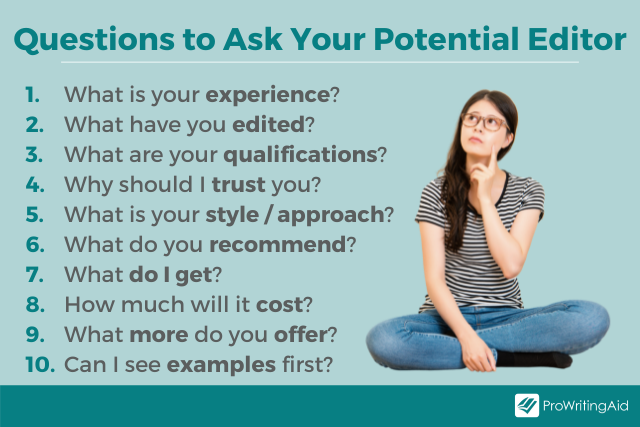 2. What have you edited?
You need an editor who is an expert in your genre and familiar with your author heroes. They should be adept in either traditional publishing or independent self-publishing, depending upon what you are seeking.
Now is a good time to ask about their past clients. It is always helpful to review their references and client testimonials. We like to share our successfully published authors on our website. I recommend that you look for a strong portfolio of books.
3. What are your qualifications?
Search for editors with editing certifications and expertise. Ask about their advanced degrees, additional on-the-job training, professional affiliations, and more.
4. Why should I trust you?
You will be paying your editor based upon a promise and/or contract. Professional editing services from established providers can confidently offer you a satisfaction guarantee which will be difficult for freelancers.
Ask them how they will deal with any errors, corrections, or revisions. Again, ask for examples of their work and past clients.
Beware any editor who promises publication without having read your manuscript.
5. What is your style / approach?
Make sure that your editor matches your personality and writing style. Also, get confirmation on what they will deliver and when so you have clear expectations. Establish how you will communicate during the editing project and after.
Lastly, be 100% confident. Ask for a free editing sample so you can try before you buy.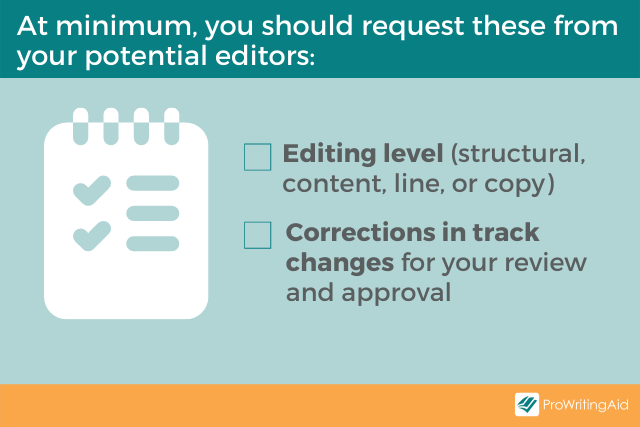 6. What do you recommend?
Your editor should make a professional recommendation providing an editing sample. Their recommendation will be based upon three important factors.
Which stage of editing you are in
How much editing your manuscript requires
What you desire from your editor
7. What do I get?
Editors have traditionally delivered differently as there was no industry standard. However, as we now have more tools and objective measurements for success with technology, you can expect more.
I would request the following minimum from your editor
Editing level (structural, content, line, or copy)
Corrections in Track Changes for your review and approval
There are additional deliveries you can request. For example, our certified structural editors also deliver:
Summary letter with a professional critique
Embedded notes within your manuscript
Story arc visual graph
Word count and scene analysis
Story map, elements, and other objective evaluations completed on your behalf
Software access
Consultation and coaching services
If your editor does not offer these, ask them why not.
Also, compare prices to ensure their quote accurately reflects their level of promised editing services.
8. How much will it cost?
Editing is not cheap. It is your largest investment in your writing. Editors charge according to different methods, such as by the hour, flat fee, and per word. Find out your price before you begin.
I also encourage you to get a delivery deadline which will reflect their professional performance.
9. What more do you offer?
Editors can also provide formatting, supplementary writing, consulting, ghost writing and more. However, I encourage you to avoid the editor who promises a one-stop-shop. No one can be an expert in everything.
10. Can I see examples first?
I encourage you to see their editing first. Always. They should have samples to share or provide a free sample. I believe this is essential to matching the right editor with the author.
Final Thoughts
Always make a list of questions to ask your potential editor. Have a clear plan and get precise answers. You will get better results from your editing investment.
---
Take your writing to the next level: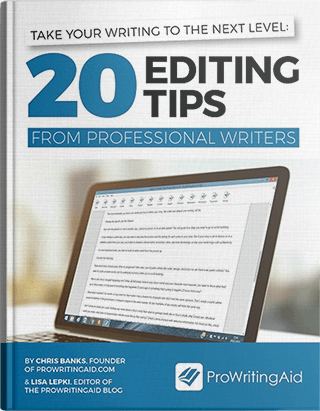 Whether you are writing a novel, essay, article, or email, good writing is an essential part of communicating your ideas.
This guide contains the 20 most important writing tips and techniques from a wide range of professional writers.