Join professional editor JoEllen Nordström for in-depth editing training on the third Thursday of every month.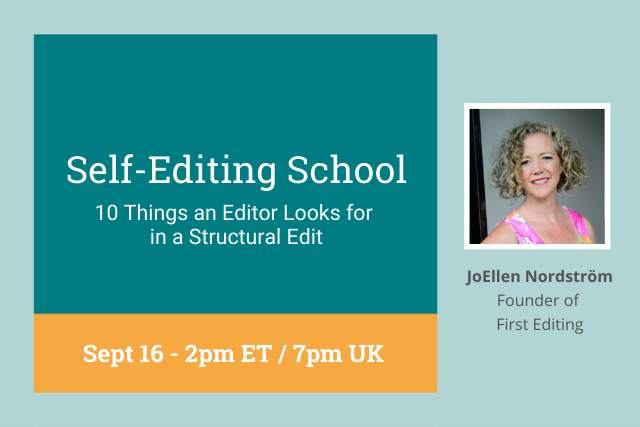 The structural edit is the first edit you'll complete on your manuscript. This is where you look at the big picture: your plot, characters, settings, and scenes. In this session, JoEllen guides you through what professional editors look for during a structural edit so you can make sure your manuscript is the best it can be.
---
Get Free Help from a Professional Editor at Self-Editing School
So many of you in the ProWritingAid community have been asking us to get into the nitty gritty of editing in our webinars—so we're doing just that. We reached out to professional editor and founder of First Editing, JoEllen Nordström, who agreed to host a new monthly series: Self-Editing School.
We're so excited to add Self-Editing School to our monthly webinar schedule and can't wait to get started.
Keep reading to find out more.
---
Learn how to edit your book in our brand new monthly webinar
We've teamed up with Story Coach and founder of First Editing JoEllen Nordström for Self-Editing School. On the third Thursday of every month, you're invited to join us as we learn how to use self-editing to take a manuscript from a rough first draft to a polished piece ready to send to editors.
Self-Editing School
Each session of Self-Editing School helps you edit your book. You'll learn applicable editing techniques and helpful writing skills from a professional editor and Story Coach. JoEllen will also answer your questions, so come prepared.
JoEllen Nordström
JoEllen Nordström passionately combines online editing tools, AI (Artificial Intelligence), and writing software with vetted, professional editing services to create your publishing success. As the founder of FirstEditing, JoEllen's editors have assisted over 50,000 writers and boast 400+ published authors. They are the world's first-certified Story Coach Editor company. Learn more about self-editing on her Publishing Power podcast. Besides writing, JoEllen is a digital nomad, yogi, and mamma of six!
First Editing
JoEllen's professional editors at First Editing have assisted over 50,000 authors in just the last decade. In fact, First Editing's services have helped writers transform into successful authors since 1994. Now they are the first company in the world certified as professional Story Coach Editors. First Editing is partnering with ProWritingAid to provide the most comprehensive online professional editing available.
JoEllen's passion is combining AI (Artificial Intelligence), online editing tools, and high-tech writing software with her vetted, professional editors. They create the recipe for your publishing success in writing fiction novels, nonfiction books, student essays, research journals, blogging content, and business papers.

19 August 2021
What is the Difference Between Editing and Proofreading?
Learn how to self-edit your book and conduct a final proofread after formatting - just like professional editing services! Discover the different levels of editing and the techniques necessary to complete each stage so you become a better author. Plus, find out how you can use writing software and online editing tools today to save time and money.
Past Sessions
Check out the replays of our past sessions below.
July: How to Conduct a Sentence-Level Copy Edit
June: How to Self-Edit Faster and More Efficiently
May: The Five Principles of Editing
April: How to Navigate the Four Stages of Editing
March: 10 Common Editing Mistakes that Authors Make... And How to Fix Them
February: Copy Edit or Developmental Edit: What's the Difference?
January: Self Editing Software Vs a Professional Editor: Get the Most Out of Both
December: How to Self-Edit Your Novel to Improve Readability
Edit your book by evaluating the 38 Story Elements necessary to a successful story. Discover how to engage your readers by correcting each of these areas and strengthening your manuscript. You will learn how to apply self-editing to your daily writing and master your craft as an author.
Sign up for Self-Editing School today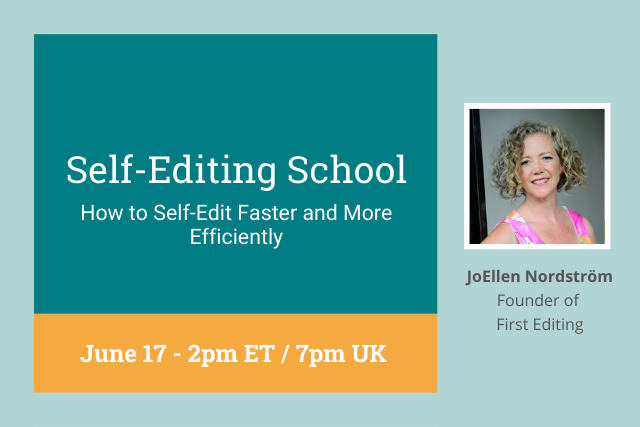 Learn how to edit your book's story via high-level content editing which focuses on the scenes, characters, and plot of your manuscript.