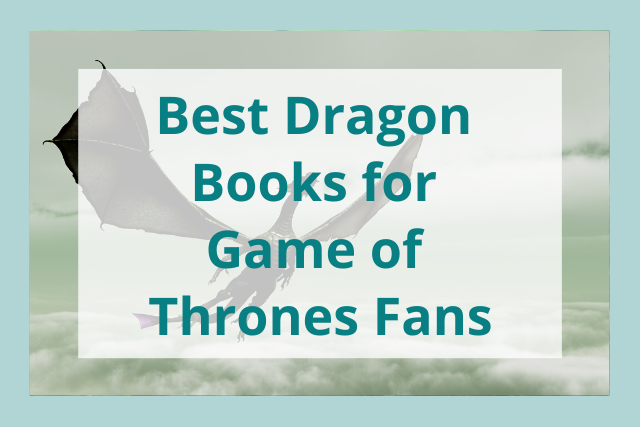 Dragons have featured in myths and stories from various cultures around the world, from ancient Mesopotamia to medieval Europe. Today, these winged, fire-breathing beasts are a popular staple in fantasy novels.
If you enjoyed shows like Game of Thrones and its spin-off House of the Dragon, you might be looking for more stories that feature these awe-inspiring creatures.
In this article, we've compiled a list of our favorite dragon books. Happy reading!
Best Classic Fantasy Dragon Books
Many fantasy novels published throughout the 20th century are still beloved by readers today.
We've defined "classics" as books published over twenty years ago that have stood the test of time.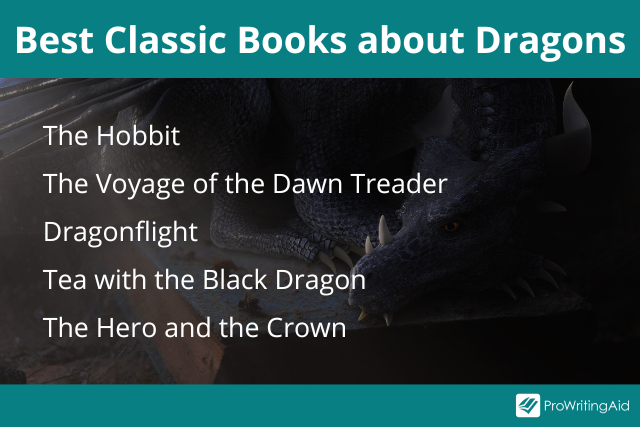 The Hobbit, or There and Back Again (1937) by J.R.R. Tolkien
A must read if: you want to read a book that shaped the fantasy genre
In this classic prequel to the Lord of the Rings series, Bilbo Baggins goes on a quest through Middle Earth to kill the dragon Smaug.
The Voyage of the Dawn Treader (1952) by C.S. Lewis
A must read if: you like Narnia and want to see more
The Voyage of the Dawn Treader is the fifth book of the Chronicles of Narnia series, in which the Pevensie children's cousin, Eustace, gets greedy for a dragon's hoarded treasure.
Dragonflight (1968) by Anne McCaffrey
A must read if: you love science fiction that features intricate, immersive new planets
Dragonflight is the first book in the award-winning Dragonriders of Pern series. It's set in the far future on a planet called Pern, where humans harness and ride telepathic dragons.
Tea with the Black Dragon (1983) by R.A. MacAvoy
A must read if: you're a fan of action, adventure, kidnappings, and heists
Martha Macnamara searches for her missing daughter with the help of Mr. Long, a mysterious Chinese man who might be a 2,000-year-old dragon.
The Hero and the Crown (1984) by Robin McKinley
A must read if: you love compelling heroines who take control of their own lives
An outcast princess named Aerin Dragon-Killer makes a name for herself as the kingdom's dragon-slayer.
Guards! Guards! (1989) by Terry Pratchett
A must read if: you love humor, wit, and satire
A secret society in Ankh-Morpork summons a dragon to overthrow their ruler, but their scheme doesn't quite go according to plan.
The Iron Dragon's Daughter (1993) by Michael Swanwick
A must read if: you like the idea of science fantasy dragons that are part-magical and part-cybernetic
Jane, a slave at a dragon factory, builds iron dragons that are used as jet fighters. The Iron Dragon's Daughter subverts classic tropes in unique ways.
Best Modern Books About Dragons
Dragons in myth date back to ancient times, but plenty of modern writers are adding their own twists to dragon stories. Here are our favorite twenty-first century books about dragons.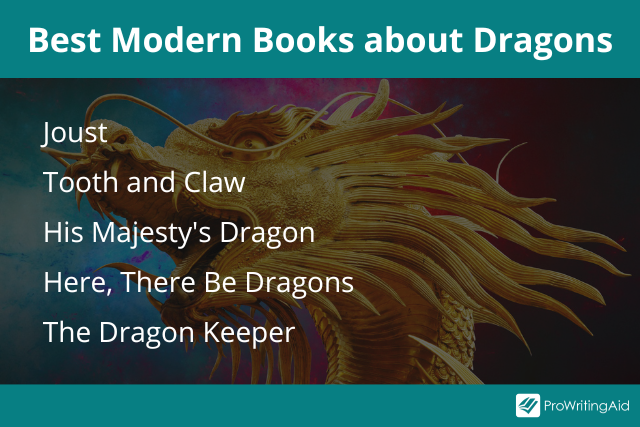 Joust (2003) by Mercedes Lackey
A must read if: you want to imagine the detailed minutiae of taking care of a dragon
A poor serf named Vetch gets trained as a dragon-boy and learns how to care for his Jouster's dragon, Kashet.
Tooth and Claw (2003) by Jo Walton
A must read if: you love political intrigue and Victorian romance
The author describes Tooth and Claw as "a sentimental Victorian novel in which all the characters are dragons who eat each other."
His Majesty's Dragon (2006) by Naomi Novik
A must read if: you're wondering what British history might have looked like with dragons
The first book of the Temeraire series, His Majesty's Dragon follows a captain who joins Britain's fleet of dragon-riding aviators in the middle of the Napoleonic Wars.
Here, There Be Dragons (2006) by James A. Owen
A must read if: you love myth, mystery, and literature
Three Oxford scholars are entrusted with a book that contains the secret locations of mythical lands full of dragons.
The Dragon Keeper (2009) by Robin Hobb
A must read if: you love three-dimensional characters and atmospheric settings
The first book in the Rain Wild Chronicles quartet, The Dragon Keeper follows a group of Dragon Keepers herding dragons to find their lost legendary city, Kelsingra.
A Natural History of Dragons (2013) by Marie Brennan
A must read if: you admire groundbreaking female scientists like 19th-century paleontologist Mary Anning
Lady Trent is a Victorian aristocrat who becomes an expert in studying dragons, despite the restrictive patriarchal conventions of the society she lives in.
Sorcerer to the Crown (2015) by Zen Cho
A must read if: you want to see a magical version of the Regency period
Zacharias Whyte, a freed slave who has become one of the best sorcerers in England, ventures into Fairyland to investigate why the magic in England has been drying up.
The Rage of Dragons (2017) by Evan Winter
A must read if: you want rich worldbuilding inspired by Zulu history and mythology
The Omehi people, some of whom have the ability to command dragons, have been fighting an unwinnable war for almost two centuries. The main character is a young man named Tau, who's determined to seek revenge on the nobles who destroyed his family.
The Priory of the Orange Tree (2019) by Samantha Shannon
A must read if: you love epic, sweeping tales full of intricate worldbuilding
Tané has trained to be a dragonrider since she was a child, but political intrigue between the divided East and West is changing her plans.
Phoenix Extravagant (2020) by Yoon Ha Lee
A must read if: you want to explore the intersection of dragons, art, and anti-colonialism
Gyen Jebi is a nonbinary artist recruited by the Ministry of Armor to paint the occupying government's mechanical monsters. Phoenix Extravagant is a magical, steampunk story that isn't afraid to face the impacts of colonization.
Best YA Books About Dragons
Middle grade readers and young adults have plenty of fantastic dragon books to consider, too! Here are some options for young readers who love dragons.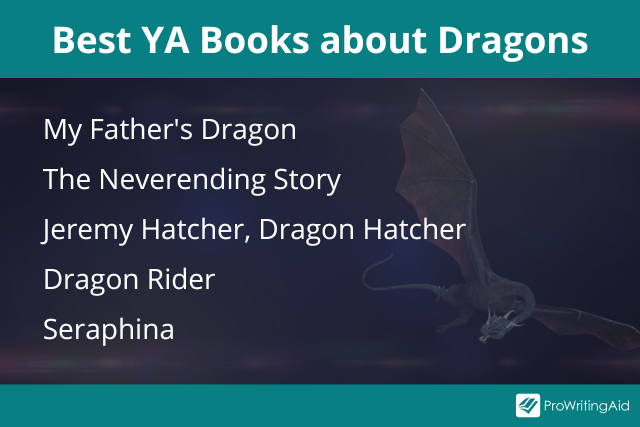 My Father's Dragon (1948) by Ruth Stiles Gannett
A must read if: you love gorgeous illustrations and imaginative adventures
A young boy named Elmer Elevator runs away to Wild Island to rescue a baby dragon that's being exploited there.
The Neverending Story (1979) by Michael Ende
A must read if: you want to explore a land of dreams and fantasy
A young boy named Bastian gets sucked into the magical land of Fantastica, where a warrior named Atreyu saves the world with the help of a luckdragon.
Jeremy Thatcher, Dragon Hatcher (1992) by Bruce Coville
A must read if: you like funny middle school shenanigans
This is the second book in the Magic Shop series, in which sixth grader Jeremy Hatcher accidentally hatches a dragon in his bedroom.
Dragon Rider (1997) by Cornelia Funke
A must read if: you love heartwarming friendships between magical creatures
A dragon named Firedrake must find a new home for himself and his dragon-kin after he learns that humans plan to flood his home.
Harry Potter and the Goblet of Fire (2000) by J.K. Rowling
A must read if: you love tournaments and magic schools
Harry Potter competes in the Triwizard Tournament, which includes battling dragons like the terrifying Hungarian Horntail.
Eragon (2002) by Christopher Paolini
A must read if: you like Chosen One stories with classic high fantasy tropes
A poor farm boy named Eragon discovers a strange rock in the mountains, which turns out to be a rare dragon egg—and changes his life forever.
The Last Dragonslayer (2010) by Jasper Fforde
A must read if: you want to see a magical alternative version of the modern world
In a world where magic has been weakened by modern technology, a teenager named Jennifer Strange becomes a Dragonslayer's apprentice.
Seraphina (2012) by Rachel Hartman
A must read if: you love intrigue, mystery, and gorgeous worldbuilding
Seraphina is a secret half-dragon, living in a world where tensions between humans and dragons run high. After the prince is murdered, most likely by a dragon, Seraphina must protect her own identity while solving the mystery.
Can't get enough fantasy? Check out this article for some of the best fantasy worlds ever created.
---