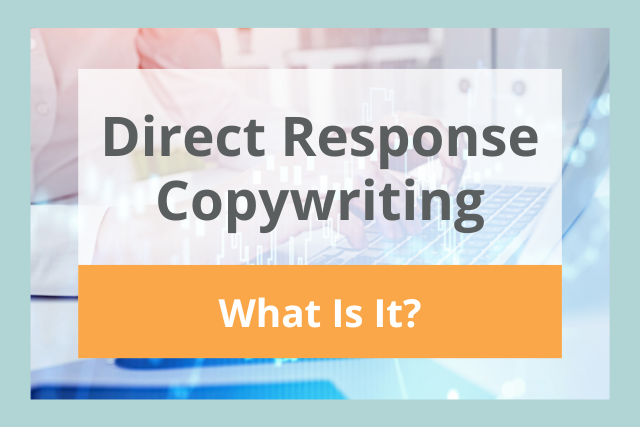 When you're learning about copywriting, you'll come across a lot of industry terms that don't have obvious meanings.
One term you might have come across is direct response copywriting.
So, what exactly is direct response copywriting, and what are some examples of it?
The short answer is that direct response copywriting convinces the reader to take immediate action, while other forms of copywriting focus on broader and less immediate goals.
Read on to learn about this specific type of copywriting and to see examples of how direct response marketing is used by real businesses and organizations.
What Is Direct Response Copywriting?
Direct response copywriting is a type of copywriting that is designed to elicit an immediate action from the reader.
It typically includes a call to action that asks the reader to respond in a specific and immediate way, such as signing up for a newsletter or making a purchase.
The direct response copywriting method was highly valued by David Ogilvy, a British advertising expert often referred to as the "Father of Advertising." He ran successful marketing campaigns for clients such as IB, American Express, and Unilever, many of which included direct response copywriting.
These days, you'll most often see direct response copywriting used in online advertising materials, such as emails, landing pages, and sales pages. That's because it's easy for readers to click a button or type in their email address when they're already on the internet, as opposed to when they're watching TV or reading a magazine.
Using direct response copy online is a great way for businesses to generate leads quickly. It can also help businesses collect data about the effectiveness of their marketing materials since they can view immediate metrics like new newsletter subscribers or new followers on social media.
Difference Between Direct Response and Normal Copywriting
The main difference between direct response copywriting and normal copywriting is the goal of the message.
Direct response copywriting is specifically designed to elicit an immediate response from the reader. It's all about what happens in the few seconds after the reader finishes reading the copy.
Normal copywriting, on the other hand, has a broader focus. It's often focused on building brand awareness or conveying information that the reader will remember long term.
For example, ad copywriting often involves telling customers about a product and making sure they remember it in the future. Most TV ads and magazine ads are designed to provide information about a product so that if a customer sees that product again, they'll be more inclined to buy it.
Both direct response copywriting and normal copywriting have their own benefits. Most organizations use a combination of both to generate immediate leads while also building brand awareness.
5 Direct Response Copywriting Tips
Writing direct response copy is easy if you follow the right tips. Here are five tips that can help you write copy that gets an immediate response from readers.
Tip 1: Know Your Target Audience
To be effective, direct response copywriting needs to be targeted, relevant, and personalized to a specific audience.
You need to know who your target audience is so you can tailor your messaging and language to appeal to them.
The more you can address the specific pain points of your potential customers, the more likely you'll be able to inspire them to take action as soon as they finish reading your work.
Tip 2: Include a Strong Call to Action
Direct response copywriting often includes an actionable and concrete call to action, also known as a CTA, which directs the reader to respond. Some examples of useful CTAs include:
Signing up for a newsletter
Taking a survey
Following a brand on social media
Buying a product or service
Making a phone call
These are some phrases you might use to make the CTA clear:
Enter your email to subscribe
Sign up for our exclusive content today
Click the link below
If you're writing a long piece of direct response copy, you might include a CTA at both the beginning and the end of your copy so it's impossible to miss.
Some copywriters even include a mention of a possible action in the middle of the copy, to further cement that goal in the readers' minds.
Tip 3: Use a Persuasive Headline
Writing headlines is a crucial part of writing copy. The headline is the first thing your readers will see, so you need to use it to grab their attention.
If you can, try to include a specific value proposition in your headline so your reader knows why your product or service is worth their time.
Tip 4: Include an Incentive
Direct response copywriters often include a freebie or discount to incentivize the reader to follow the CTA. Give the reader something they'll find valuable.
For example, your copy might include:
A free resource available for download
A special discount code for anyone who enters their email address
A chance to win a prize
Tip 5: Use the Scarcity Principle
As a direct response copywriter, you'll need to find a way to create a sense of urgency for the reader, so they'll act right away.
One way to do this is by invoking the scarcity principle, which says that people are more likely to feel demand for a product if that product seems rare. You might see lines like:
Only 2 left in stock
Hurry while supplies last
Limited time offer
8 Real World Direct Response Copywriting Examples
What does direct response copywriting look like in action? Here are some examples of great direct response copywriting.
Example 1: Betabrand
Betabrand is a clothing brand that designs comfortable pants for women.
When you're on their website, you may see a pop-up appear with a 20% discount for anyone who enters their email. The pop-up also includes a countdown timer with 30 minutes to claim your discount.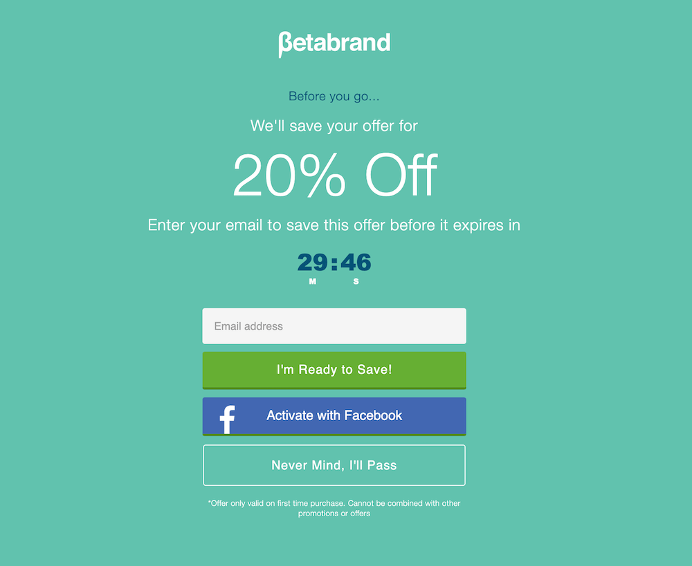 The timer creates a sense of urgency that makes it feel like the offer will be gone forever if you don't act right away. A timer like this can convince the reader to enter their email address within the next 30 minutes when they otherwise might not have entered their email at all.
This pop-up also does a great job with the text on their buttons. The green button could have simply said, "Submit email address," but instead it says, "I'm ready to save!" which is much more user-centric and generates a sense of excitement.
Example 2: Robinhood
Robinhood is a popular no-fee stock trading and investment app.
Referral marketing is an effective way to drive sales since people tend to trust their friends' suggestions more than they trust advertisements.
The Robinhood app promotes a referral program where you and a friend can both get a free stock if you invite them to join Robinhood. This piece of copy is designed to convince readers to invite their friends.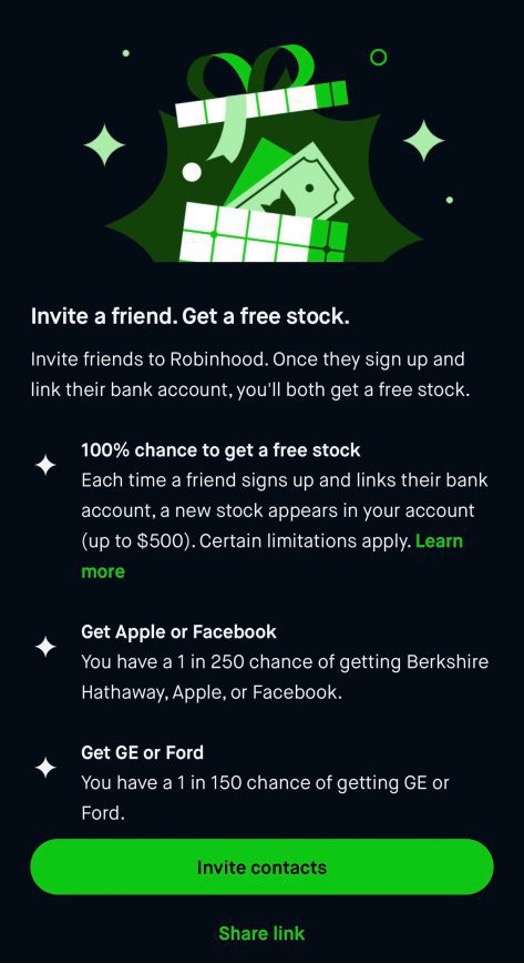 The bullet points clarify the incentives for joining the referral program. It tells you more about the free stock you'll get by referring a friend—you have a 1 in 250 chance of getting an extremely valuable stock like Berkshire Hathaway, Apple, or Facebook.
The CTA is announced clearly in the "Invite a friend" headline, and it's repeated in the "Invite contacts" button at the bottom.
Example 3: MasterClass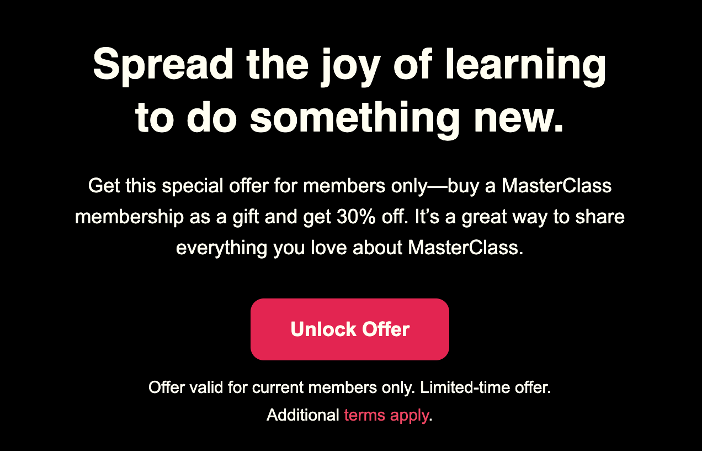 MasterClass is an online platform that offers classes for students of all skill levels. The above image is an example of an email advertisement MasterClass sent out to its members.
Like the previous example about Robinhood, this example is also of a referral program. Members can get 30% off if they buy MasterClass as a gift for a friend.
In this case, the copywriting is designed specifically to make the reader feel generous and giving, with phrases such as "Spread the joy" and "Share everything you love." The tone of the copy is intended to make readers feel good about themselves, which makes them more inclined to participate.
The CTA is clear in the large "Unlock Offer" button, which convinces users to click it and go on to the next step.
Example 4: Booking.com
Booking.com is one of the world's largest online marketplaces for booking travel reservations. The Booking.com website is designed to convince readers to click to the next stage of the process.
When you search for hotels, you're taken to a page full of listings. Each listing has a "See availability" button—that's the CTA at this stage. Clicking "See availability" will take you to a page with a "Reserve" button, which is the next CTA in the process.

All the copy on this page is designed to make readers comfortable clicking forward, with reassuring phrases like "FREE cancellation" and "You can cancel later, so lock in this great price today!"
Booking.com uses the scarcity principle to create a sense of urgency. The phrase "Only 1 room left at this price on our site" is easily visible in red, making readers feel excited to snatch up the last room available.
Example 5: Trip.com
Trip.com is an online travel agency that helps you book flights, hotels, and more.
This image is one example of the type of email that Trip.com sends out to subscribers every year during the winter holiday season.
The email grabs subscribers' attention with the headlines "Top 20 Luxury Hotels in Bangkok" and "Top 8 Instagram-Worthy Hotels in Phuket." The paragraphs under each headline are full of enthusiasm and excitement, trying to convince readers to take a new adventure.
The CTAs are the "Explore more" buttons, which will take readers to the Trip.com website. It's a small but crucial action that gets the reader to engage on the website itself instead of simply in their email inbox.
Example 6: Lyft
Lyft is a rideshare app that connects nearby drivers to people who need rides.
The image above shows one of Lyft's job advertisements to recruit new rideshare drivers. The $1,000 worth of guaranteed savings is an incentive that grabs the reader's attention and sweetens the deal for anyone who signs up.
The details of the deal are listed in clear and easy-to-read bullet points, so the reader can get all the information they need before they sign up.
As you can see, the CTA is clear both at the top and bottom of this copy. At the top, the headline says, "Apply to drive with Lyft and get up to $1,000 worth of guaranteed earnings." Similarly, at the bottom, there's a button that says, "Get my driver earnings guarantee."
Example 7: Nav
Nav is a company that connects small business owners with financing options.

The Nav website has a piece of direct response copy that convinces readers to sign up for their newsletter.
The copywriting is clear and concise, giving readers all the information they need to feel comfortable signing up. The phrase "each week" tells readers exactly how often they'll receive emails from Nav, and the phrase "tips from our small business experts" clarifies the value proposition and why signing up benefits the reader.
It's a simple and streamlined page with a clear "Submit" CTA.
Example 8: Outdoor Photography Guide
Outdoor Photography Guide is a resource for nature and wildlife photographers.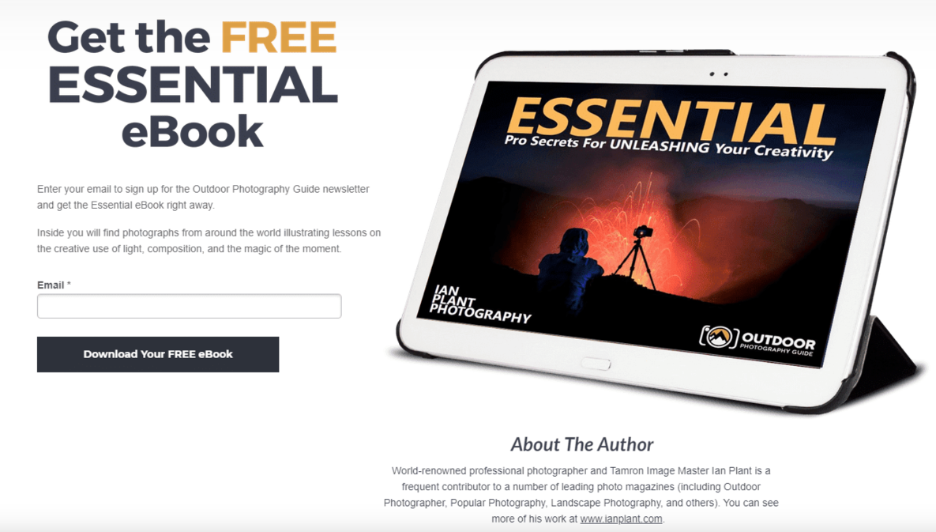 This sales page is designed to convince readers to download the "essential" eBook, which includes "photographs from around the world illustrating lessons on the creative use of light, composition, and the magic of the moment."
The visual on the right is striking and compelling, making readers curious to see more about this book. The fact that the eBook is free is also an enticing incentive—it essentially serves as a freebie to convince readers to enter their email and join the community.
The CTA stands out in the headline that says, "Get the FREE essential eBook," as well as in the bottom button that says, "Download Your FREE eBook."
Conclusion on Direct Response Copywriting
There you have it—our complete guide to direct response copywriting and some great examples to study.
Direct response copywriting is an effective way for a business to generate leads and make new sales. It's a useful tool to add to your copywriting toolkit.
Good luck, and happy writing!
---