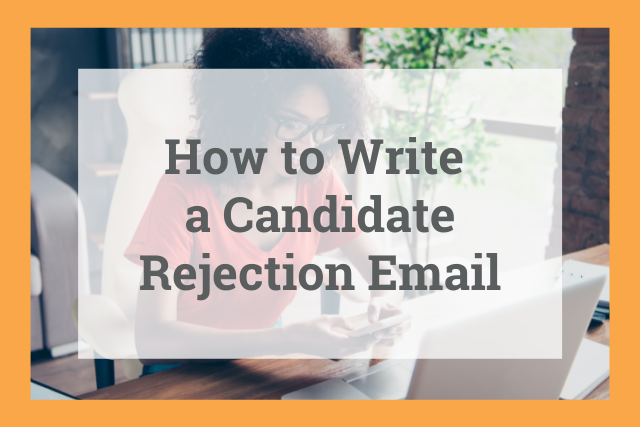 If you're interviewing candidates for roles at your company, you might be required to send out rejection emails to the candidates who didn't make the cut.
It can be tough to write a rejection email because you need to maintain a professional tone while delivering information that will be hard for a candidate to hear. So how do you write a good one?
This article will share ten tips for writing a candidate rejection email and show you two templates that you can use in your hiring process.
What Is a Job Rejection Email?
A job rejection email is a notification you send to job applicants to let them know you won't be moving forward with their application.
Some organizations don't send one at all, which leaves candidates with a bad impression of your company or brand. Neglecting to send a rejection email in the professional world is like ghosting someone in the dating world—a clean break-up is always better.
As soon as you're sure you won't be proceeding with a candidate's job application, you should send them a rejection email as a professional courtesy. Doing so helps the applicant get closure on their hopes of joining your company and protects your company's reputation.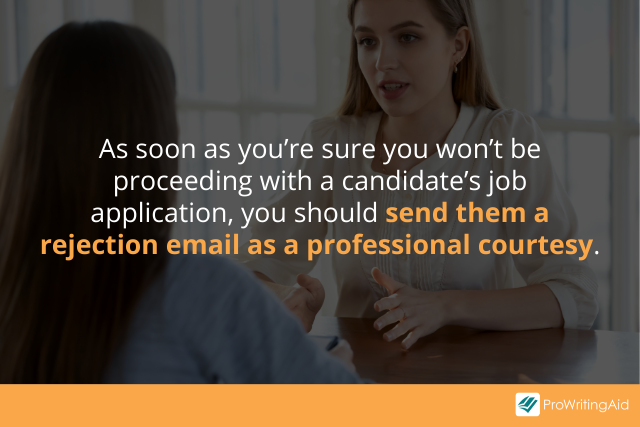 10 Tips for Writing the Perfect Candidate Rejection Email
Delivering bad news is never easy but writing the email doesn't have to be difficult. You can draft a template, using a few basic tips, that you can reuse whenever you need it.
Here are our ten favorite tips for how to write a rejection email.
Tip #1: Thank the Applicant for Their Time
Job candidates often put a lot of time and effort into the recruitment process.
Early on in a candidate rejection email, you should let them know you appreciate the effort they put into applying to your company. If they took the time to complete a job interview, you should thank them for that as well.
Here are some sentences you can use:
Thank you for taking the time to apply for [job title].
We appreciate the time you've invested in applying for [job title].
We appreciate you taking the time to visit our office for an interview. It was a pleasure to learn more about you and your accomplishments.
Tip #2: Be Clear About the Bad News
Make sure the candidate understands that this is a rejection letter. Don't leave any room for the applicant to think they still have a chance to get the job.
You should deliver this news early on in the email, immediately after thanking them for their application. The clearer your email is, the easier it will be for everyone to move on.
Here are some examples of clear ways to deliver the rejection:
Unfortunately, we are unable to offer you a position.
I'm writing to let you know that you have not been selected for an interview.
We've decided not to proceed with your application at this time.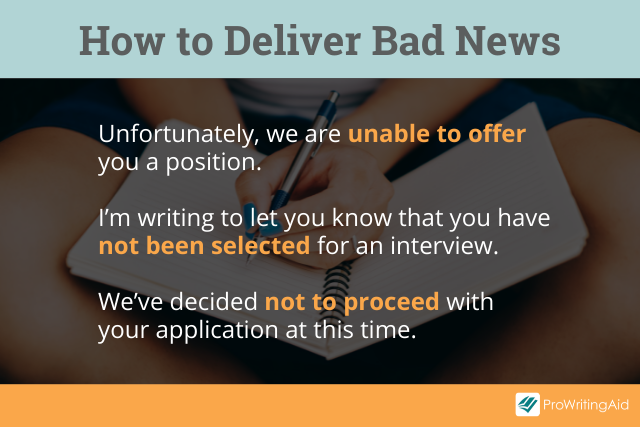 Tip #3: Don't Apologize
You might be tempted to apologize for not accepting the candidate, but there's no need to. You chose the best candidate for your business, and that's the right thing to do.
Offering an apology when none is necessary will make the interaction feel more personal than it needs to be. This is purely a business decision, and you should remember that you have nothing to apologize for.
Tip #4: Show Empathy
Even though you shouldn't apologize, you can still express your empathy. This is an optional component, but it can make applicants feel more heard and understood.
It's tough for candidates to receive these emails. You can let them know that you understand their point of view.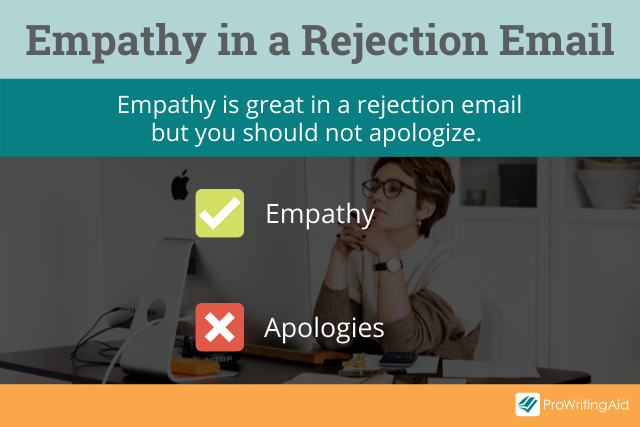 You could say something like:
We recognize this may be a disappointment to you.
I know you might be disappointed about this news.
We know the job search can be tough.
Tip #5: Give a Reason
It's a good idea to include a reason why this candidate wasn't selected, even if the reason has nothing to do with them.
Keep it focused on the positives—the strengths of the person you did hire, rather than the qualities the unsuccessful candidate lacked.
Here are some examples:
We received a significant number of strong applications, and we weren't able to select all of them.
Competition for jobs at our company is always strong, and this choice wasn't easy.
We chose to proceed with a candidate who more closely fits the requirements for this role.
Tip #6: Consider Offering Personal Feedback
Giving the candidate feedback is optional, but it can be very valuable to write a more personalized rejection letter if you have time.
According to an Indeed survey, 86% of job seekers want constructive feedback about their interview performance. Giving them that feedback will give them a better impression of your company.
You can highlight one or more of the candidate's specific strengths that stood out to you. It's best to focus on strengths, rather than weaknesses.
If there's a clear reason why you decided not to proceed with their application, you can let them know. Many candidates will find your feedback valuable, because it will help them nail the next job application.
For example, if you decide they're not a good fit because they're lacking experience with a specific tool, you can tell them that directly.
Here are some examples of feedback you could offer:
I was personally impressed with your…
We were impressed with your skill set, particularly…
For this particular job, we were looking for someone who had more…
Alternatively, you can let the candidate choose how much feedback they want by saying something like, "I would be happy to chat further if you would like specific feedback about your application."
Tip #7: Include the Job Title in the Subject Line
A clear and simple subject line is the best policy. Include the job title and the company name.
A simple subject line, like "Your Application for [job title] at [company name] ", is always an effective option.
Tip #8: Use First Names
Using first names will personalize the email and make it feel less like a form rejection that you're sending to people en masse. Address the email to the candidate's first name, rather than saying "Dear Candidate" or "To Whom It May Concern."
Tip #9: Keep It Short and Sweet
No candidate wants to spend time reading a long rejection email. As much as possible, keep it short and sweet.
It's worth noting, however, that the longer the application process has been, the less this rule applies. If the candidate has already had multiple interviews with the company, you can write a longer and more personalized email to acknowledge the time they've put in.
Tip #10: Wish Them Well in Their Job Search
Whenever possible, you should end your email on a positive note. You can invite the candidate to apply for another job in the future if you feel they'd be a good fit for your company. Alternatively, you can simply wish them well in their future job search.
Here are some examples of closing sentences you can include in your email:
I wish you well in your job search and your future professional endeavors.
We encourage you to apply again.
We'll be posting a few similar positions soon and welcome you to apply again.
Job Rejection Email Samples
Here are two email templates you can use, depending on the situation.
Sample #1: Basic Rejection Email (for early on in the hiring process)
You can use a basic rejection email for applicants whom you haven't interviewed yet and don't feel personally invested in.
Subject Line: Your Application for [position title]
Dear [candidate's first name],
Thank you for applying for [position title] at [company name]. I am writing to let you know that,unfortunately, you have not been invited for an interview.
We know this may be a disappointment to you. We received many strong applications for this position, and we were only able to proceed with a few.
We wish you the best of luck in your future career endeavors.
Sincerely,
[your full name]
[your job title]
Of course, you may have a template already based on your company. In that case, ensure that it's free from grammar, spelling, and punctuation errors. The last thing you want is to seem unprofessional. Run your emails through ProWritingAid's grammar checker so they'll always have a polished look and read.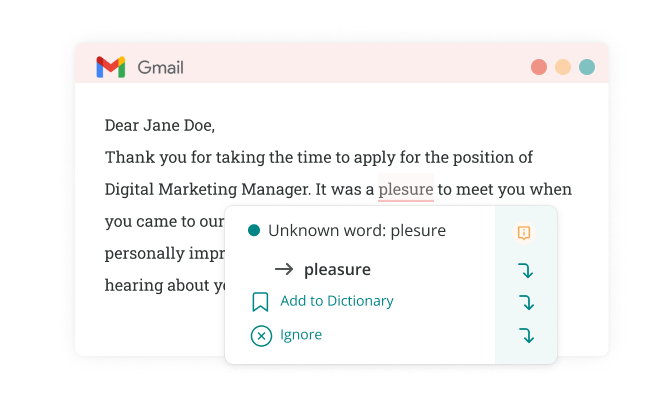 Send error free emails with a free ProWritingAid account
Sample #2: Personalized Rejection Email (for after the interview process)
If you've met an applicant personally, or if they've invested a significant amount of time into applying to your company, it's better to send a more personalized email.
Subject Line: Your Application for [position title]
Dear [candidate's first name],
Thank you for taking the time to apply for [job position]. It was a pleasure to meet you when you came to our office to interview with our team. I was personally impressed with your [strengths], and I enjoyed hearing about your past work experience.
Unfortunately, our team has chosen not to proceed with your application. At this moment, we're looking for [specific skills], so we ultimately decided to go with another candidate who has more experience in that area.
We'll be posting more jobs in the coming months, and we encourage you to apply again if one of them is a good fit.
We wish you the best of luck with your future career endeavors. Feel free to connect with me on LinkedIn if you'd like to stay in touch.
Sincerely,
[your first name]
[your job title]
What are your favorite tips for writing candidate rejection emails? Let us know in the comments.
---
Want to learn more great business writing hacks? Download this free book now: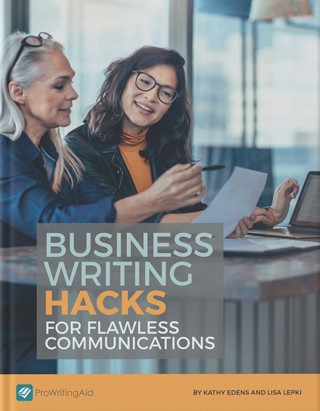 Writing is an essential element of nearly every profession today. Strong communications help colleagues and clients understand your ideas. Errors and awkward writing make you lose credibility.
Download this guide to learn the techniques professional writers use to write clearly and persuasively.
---