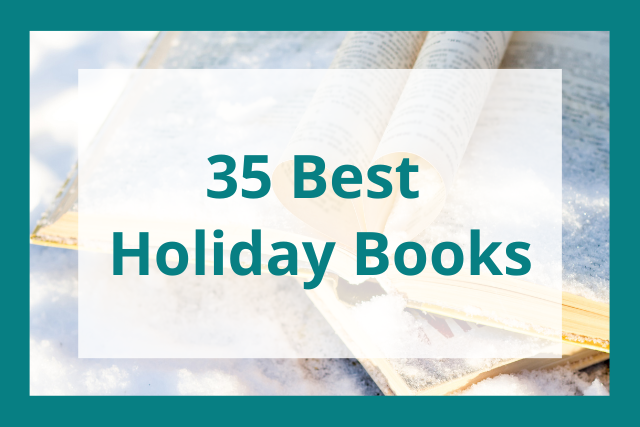 'Tis the season for reading festive books! We don't need an excuse to buy more books, but we'll happily use the holidays as a reason to broaden our literary horizons.
We love celebrating the different traditions and religious holidays that are shared by people all over the world at this time of year. By telling stories during the holidays, we can connect with each other and remember that the core values of the season are universal.
In this article, we've put together a list of our favorite holiday books in seven different categories: classic books, romance, fantasy, crime, children's books, young adult, and general fiction.
Whether you like a winter's tale, a cozy love story, or a chilling murder mystery, you'll find plenty of options on our list.
Classic Holiday Books
There are many books and classic stories that are shared throughout the generations. Here are our top five timeless tales of love, tradition, and magic.
A Christmas Carol by Charles Dickens
Three ghosts help Ebenezer Scrooge learn the importance of sharing love and warmth just in time for Christmas.
Why it's a favorite: This story reminds us that Christmas is a time to reach out and help others feel the festive spirit.
The Snowman by Raymond Briggs
A little boy creates a snowman who comes to life, and they both go on a magical adventure together.
Why it's a favorite: It triggers a nostalgic feeling of waking up and heading into a snow-covered garden to build a snowman.
The Legend of the Poinsettia by Tomie dePaola
This is a story of how the poinsettia flower became a symbol of Christmas in Mexico.
Why it's a favorite: It's a beautifully illustrated retelling of a Mexican legend about Christmas.
Little Women by Louisa May Alcott
Four sisters spend Christmas together and learn important lessons about growing up.
Why it's a favorite: This novel reminds us to celebrate the simple joy of spending time with friends and family.
The Polar Express by Chris Van Allsburg
On Christmas Eve, a boy boards a magical train that takes him to the North Pole to meet Santa.
Why it's a favorite: It tells us that even small gifts can mean so much to those who receive them.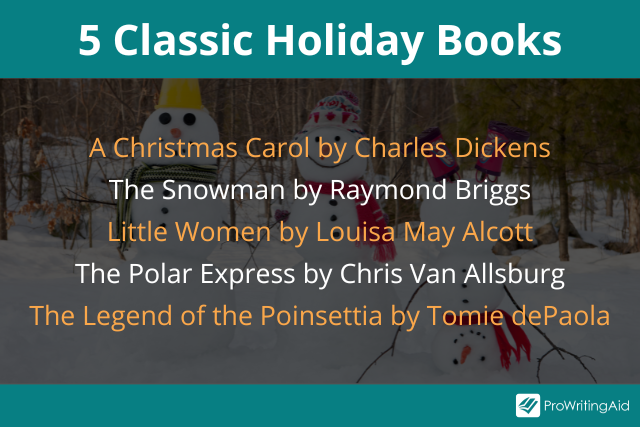 Romance Holiday Books
Romance novels have become a staple of the holidays. Here are five romance holiday books we think you should pick up this winter.
Season of Love by Helen Greer
Miriam and Noelle need to work together to save Carrigan's Christmas tree farm from going under.
Why it's a favorite: This brings us all the festive tropes we love, as well as being a queer love story about Jewish lesbians.
This Time Next Year by Sophie Cousens
Minnie and Quinn were born on the same day and, after 30 years of missed opportunities, their paths crossed again.
Why it's a favorite: It's a slow burn romance set during New Year's Eve.
The Matzah Ball by Jean Meltzer
Rachel must work with her archenemy, Jacob, to rekindle her love for Jewish traditions, so she can write a Hanukkah romance.
Why it's a favorite: It's a delightful insight into the world of Jewish romance and the true meaning of Hanukkah.
Royal Holiday by Jasmine Guillory
Vivian visits the UK and is enchanted by Malcolm, who is a private secretary for the British royal family, but they must decide what to do when she needs to return to the US.
Why it's a favorite: This is a love story about two people in their 50s who deserve another shot at happiness.
In A Holidaze by Christina Lauren
Maelyn finds herself stuck in a time loop, reliving the same Christmas holiday over and over again until she figures out what makes her happy.
Why it's a favorite: This modern feel-good romance reminds us it's okay to put yourself first, even at Christmas!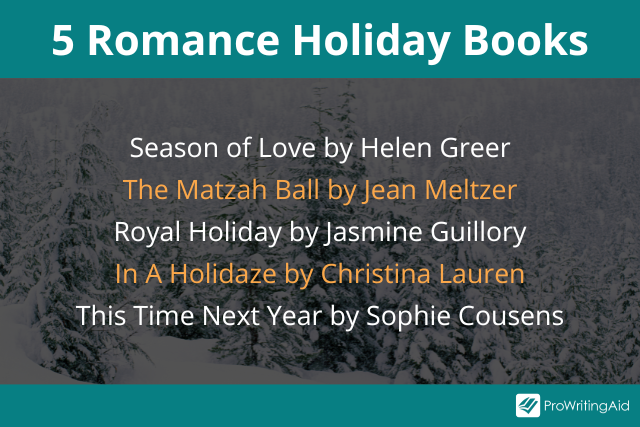 Fantasy Holiday Books
The magic of the holidays has inspired many fantasy stories. These are five novels that transport you to a different world to enjoy the holiday traditions.
Hogfather by Terry Pratchett
Death tries to save Hogswatch by delivering toys, fruits, and nuts to the children of the Discworld so they will believe in the Hogfather.
Why it's a favorite: Pratchett gives us an alternative Christmas we want to believe in.
The Lion, The Witch, and The Wardrobe by C.S. Lewis
Four siblings travel to the land of Narnia and confront the White Witch with the help of a talking Lion called Aslan.
Why it's a favorite: Who doesn't want to escape to Narnia for a cup of tea and some Turkish delight before meeting Santa?
Hiddensee: A Tale of the Once and Future Nutcracker by Gregory Maguire
This is the tale of Godfather Drosselmeier and his journey to become the toy-maker who carved the Nutcracker.
Why it's a favorite: It's more than a retelling of The Nutcracker—it's a story of hope for all at Christmas.
The Toy Makers by Robert Dinsdale
Cathy joins a magical toy emporium, but she discovers that there are many secrets in the family.
Why it's a favorite: This is a darker fantasy tale with history, magical realism, and gripping drama.
A Winter's Promise by Christelle Dabos
Ophelia, a girl who can travel through mirrors, finds herself stuck in a political game when she becomes engaged to Thorn, a member of a clan far different to her own.
Why it's a favorite: Dabos has created a beautiful world to escape to during the winter.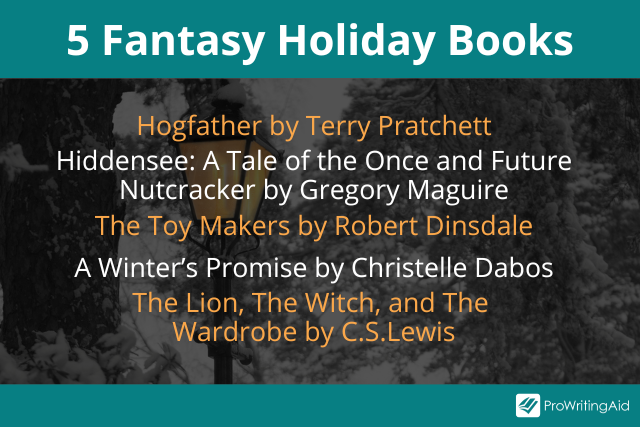 Crime Holiday Books
Don't be fooled into thinking holiday books are all magic and sparkles. Here are five books that bring some mystery and murder to the festive period.
Chanukah Guilt by Ilene Schneider
Rabbi Aviva Cohen becomes an amateur sleuth in the murder of an unpopular land developer.
Why it's a favorite: It's a murder mystery that keeps us guessing until the very end.
Nothing Lasts Forever by Roderick Thorp
An office Christmas party turns into a hostage situation as terrorists lock down the building.
Why it's a favorite: It's the book the Die Hard film was based on and a classic example of Christmas plans going awry.
Silent Winter Solstice by Bonnie Oldre
A library assistant and her best friend hunt down a suspected murderer.
Why it's a favorite: It's set during the winter solstice of 1968, which acts as the perfect backdrop for the cozy historical mystery.
The Christmas Murder Game by Alexandra Benedict
Lily returns to her family home to play the Christmas Game, where she hopes to find out who killed her mother.
Why it's a favorite: This story makes you question whether a family gathering is a good idea when one of them might be a murderer.
Hercule Poirot's Christmas by Agatha Christie
Poirot joins the Lee family as the horrific murder of Simeon Lee interrupts their Christmas reunion.
Why it's a favorite: It's a classic Poirot mystery with a festive setting.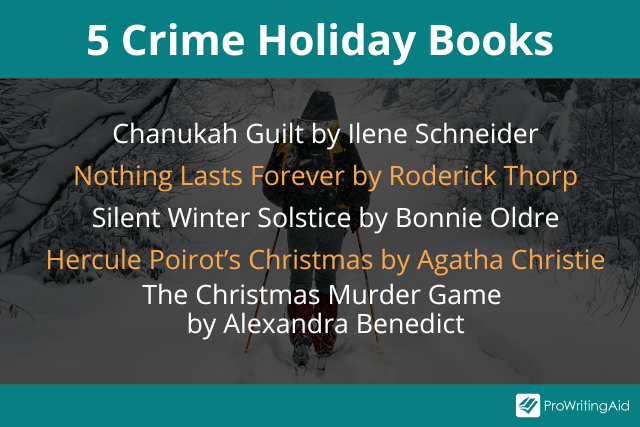 Children's Holiday Books
A holiday book is a great gift for a child. These are five fun stories that make perfect presents for the holidays.
How the Grinch Stole Christmas by Dr. Seuss
One year, the Grinch steals Christmas from the people of Whoville.
Why it's a favorite: It's a classic tale of how a special gift can change someone's outlook on life.
Shmelf the Hanukkah Elf by Greg Wolfe
Shmelf is an elf who discovers the traditions of Hanukkah and asks Santa if he can be a part of it.
Why it's a favorite: It's a cute story of magic and a great way to introduce children to Hanukkah.
Li'l Rabbit's Kwanzaa by Donna L. Washington
Li'l Rabbit goes looking for a special gift for Granna Rabbit, so she can celebrate Kwanzaa.
Why it's a favorite: This story gives children an insight into the true meaning of Kwanzaa and why everyone comes together to help each other.
Tinsel: The Girls Who Invented Christmas by Sibéal Pounder
Blanche Claus and her best friend, Rinki, work together to deliver presents to children on Christmas Eve.
Why it's a favorite: This is a fun shake up on the traditional notion that Santa is a man and an inspiring story of what is possible when you work together.
The Night I Met Father Christmas by Ben Miller
A boy called Jackson meets Father Christmas and learns about how the man became Father Christmas.
Why it's a favorite: This is the perfect alternative if you're looking for a children's adaptation of A Christmas Carol that shows the true spirit of Christmas.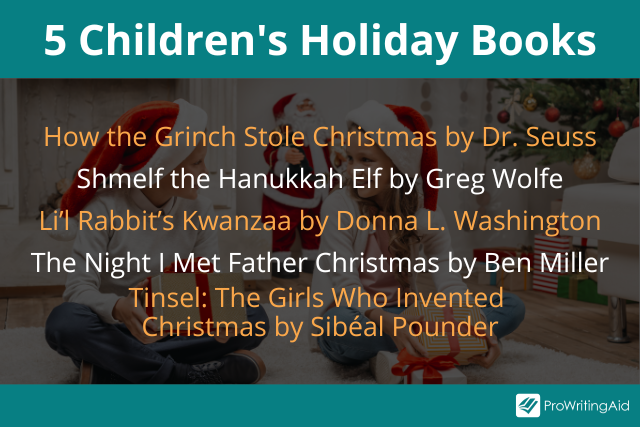 Young Adult Holiday Books
Young adult holiday books are brilliant for getting into the festive spirit. Here are five books to read while you drink hot chocolate as the snow falls outside.
Let It Snow by John Green et al.
This is a collection of three stories about the residents of Gracetown and how they survived a blizzard on Christmas Eve.
Why it's a favorite: These three holiday romances are perfect for fans of young adult love stories in the snow.
The Bear and the Nightingale by Katherine Arden
Vasilisa can see the house spirits in her home, and she must use her powers to save her family from a magical threat.
Why it's a favorite: This is a winter coming-of-age fantasy novel that will transport you to a snow-covered wilderness in Russia.
Recommended for You by Laura Silverman
In order to win a holiday bonus, Shoshanna must sell more books than the new guy, Jake.
Why it's a favorite: It's a young adult holiday romance with rich character development and plenty of relatable representation.
How to Excavate a Heart by Jake Maia Arlow
Shani's mum accidentally drives into a girl called May. Days later, snow traps the two girls together on Christmas Eve.
Why it's a favorite: This is a romance that asks the big questions about pain, love, and life.
The Afterlife of Holly Chase by Cynthia Hand
After Holly dies, she works for Project Scrooge as the Ghost of Christmas Past. Things change for her when the next Scrooge piques her interest.
Why it's a favorite: It's a paranormal holiday story inspired by A Christmas Carol and what happens if Scrooge didn't change his ways.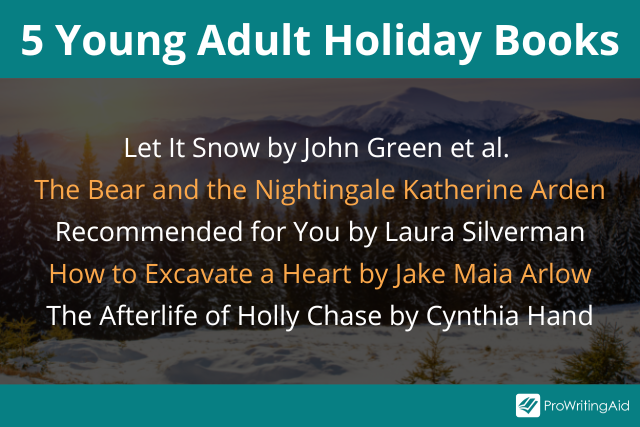 General Fiction Holiday Books
These five books are modern classics that tick all the right boxes for a perfect winter read.
Skipping Christmas by John Grisham
Luther and Nora Krank attempt to skip Christmas to go on a Caribbean cruise.
Why it's a favorite: It's the novel that Christmas with the Kranks is based on, and it's a great feel-good holiday story.
Mr Dickens and His Carol by Samantha Silva
If he doesn't want his publishers to call in his debts, Charles Dickens must write a book in a month.
Why it's a favorite: This historical fiction novel is the perfect Christmas story for Dickens' fans.
Seven Days of Us by Francesca Hornak
In quarantine together for the holidays, a family learns a lot more than they expected about each other.
Why it's a favorite: It's a story about how hiding secrets from family isn't easy, and sometimes sharing things can be easier and better.
The Return of the Light: Twelve Tales from Around the World for the Winter Solstice by Carolyn Edwards
This is a collection of stories about how cultures around the world celebrate the winter solstice.
Why it's a favorite: It's got twelve inspiring stories that give us an insight into the traditions of the shortest day of the year.
The Cat of Yule Cottage by Lili Hayward
Jessamine intends to spend the Yuletide in a cottage in Cornwall. She learns about the cottage, the tomcat who lives there, and the magical tale she's a part of.
Why it's a favorite: It's set in a cute cottage in winter with a cat and a warm fireplace—we wish we were there!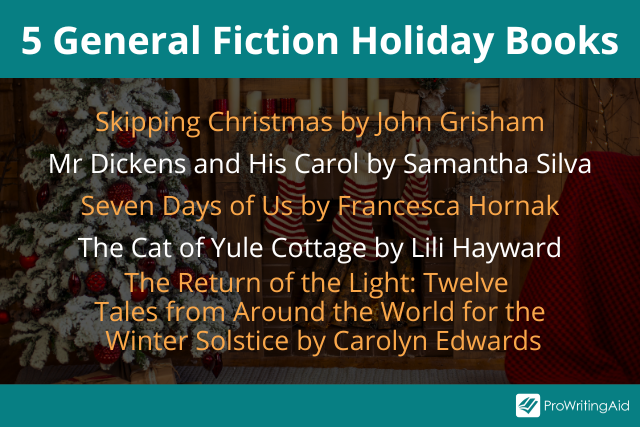 Conclusion on Best Holiday Books
That's it then—our list of the 35 best holiday books. We hope you've found some books you'd like to read over the holidays or even to give to someone special.
Happy holidays!
---