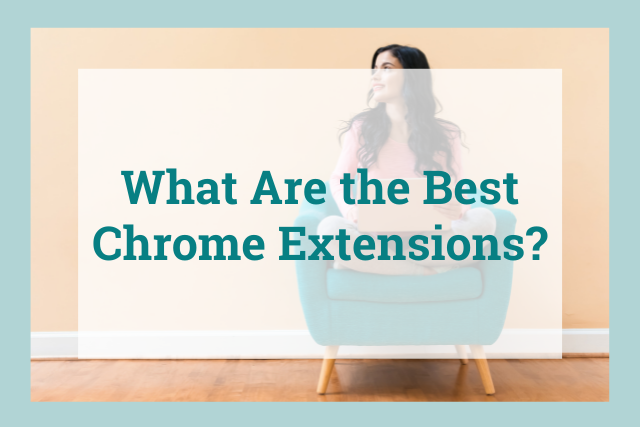 The Chrome web store might make you feel like an overwhelmed kid at the candy store. But how do you choose the best Chrome extensions? Which ones are actually worth installing on your Chrome browser?
We've taken the guesswork out of it for you. Here are the best Google Chrome extensions for business writers.
What Are Good Chrome Extensions for Writers?
As our world becomes more and more digital, you need more than a word processor to write! These are the best chrome extensions for writers that I use personally on a daily basis.
ProWritingAid
You didn't think we would leave off one of the best Chrome extensions ever, right? For Premium ProWritingAid users, our Google Chrome extension is possibly our most powerful tool. You can check spelling and grammar on most web pages. You can easily access our editing tool to run all of our reports.
My favorite feature is Text Expansion. Create a library of personal text snippets to save time and use these shortcuts on any site. Our extension works seamlessly across the Google Chrome browser to improve your writing and increase your productivity.
Getting Started with the ProWritingAid Chrome Extension.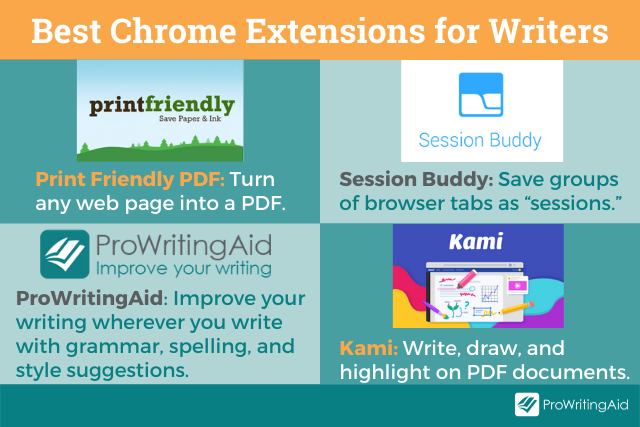 Print Friendly & PDF
As writers, we often need to save or print an article or other source we've used as reference materials. The Print Friendly & PDF Chrome extension allows you to turn any webpage into a PDF. You can also delete elements like ads to make it a clean, print-friendly document. I consider this one of the best Chrome extensions out there because I use it all the time.
Session Buddy
Speaking of the best Chrome extensions, you need Session Buddy. This Google Chrome extension could fall under productivity. However, I consider it one of my writing BFFs. You can save all of your tabs as a session.
Give your session a name, then close out of all of those tabs without the fear of losing a website. I save every tab I need for different articles under the article name. Then I can jump between projects with a click of a button.
Kami
There are so many PDF editors out there, and not all of them are created equal. I love the Google Chrome extension, Kami. Kami was created with students and teachers in mind, but it's great for anyone who needs to mark up a PDF. Add text boxes, highlights, and drawings wherever you need. You can also upload any document from your computer or Google Drive and save it as a PDF.
What Are the Best Chrome Extensions for Boosting Your Productivity?
If you're on the hunt for the best productivity hacks, you're in luck. There are some great Chrome browser extensions that will change the way you get things done.
In a crowded field, here are our three favorite Chrome extensions for improving productivity.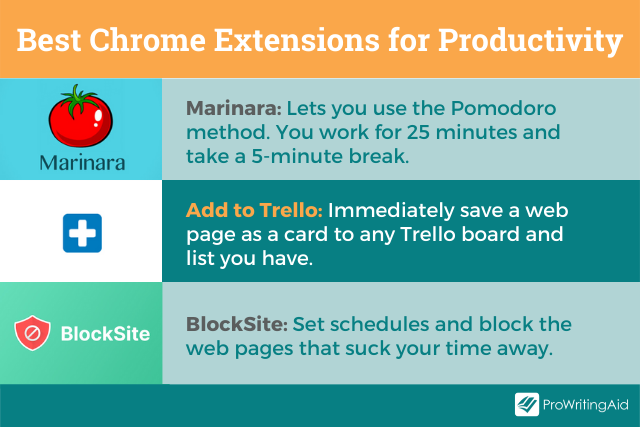 Marinara
While this Chrome extension does not give you spaghetti with marinara sauce, it's still one of the best chrome extensions out there. Marinara is a Chrome extension that lets you use the Pomodoro method with the click of a button.
The Pomodoro method is a productivity hack that many swear by (this article is brought to you by Pomodoro). You work for 25 minutes and take a 5 minute break. Every three or four cycles, you can take a long break for 15 minutes. Marinara keeps you from having to set your own timers.
Add to Trello
I'm the first to admit that I'm obsessed with Trello. I use it for my professional life and my personal life. Trello is based on the Kanban system. You can create boards full of lists, and it's very customizable to your purposes.
If you're a Trello user, you need the Add to Trello Chrome extension. When you click this Chrome extension, you're able to immediately save a webpage as a card to any board and list you have.
BlockSite
Do you ever find yourself wondering how you ended up scrolling Facebook when you're supposed to be writing that report? BlockSite is a Google Chrome extension that allows you to block all the web pages that suck your time away. You can even set schedules that allow those web pages to become unblocked after a set amount of time.
What Are the Best Chrome Extensions for Privacy?
The web can be a dangerous place. Boost your privacy and security with these great Google Chrome extensions.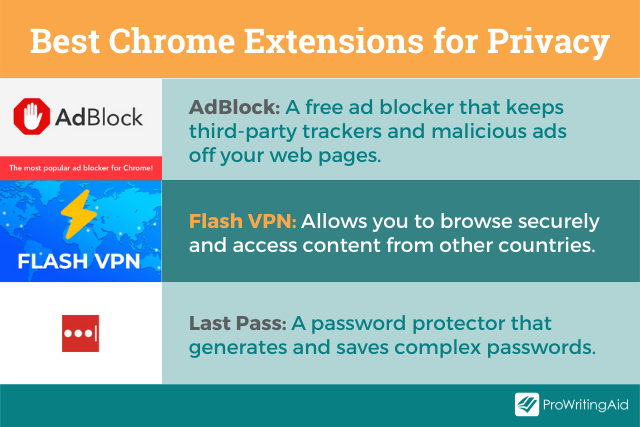 AdBlock
Keep third-party trackers and malicious ads off your web pages with AdBlock. It's simple to use and free, though the developers highly encourage you to donate to keep the Chrome extension running. With over 10 million users, it's one of the best Chrome extensions for blocking ads.
Flash VPN
VPNs can get pricey. If it's not something you need every day, why not use a Google Chrome extension that's free and easy to use? Browse securely and access content from other countries with this Google Chrome extension. It's free with no registration required.
LastPass
It seems like every web page has different password requirements. It's also a security risk to use the same passwords over and over. LastPass is a password protector that will save your passwords and generate passwords that are impossible to remember and next-to-impossible to hack.
You only need to remember one long password to access your LastPass account. I consider a good password manager like LastPass a must-have Google Chrome extension.
What Are the Most Useful Chrome Extensions for Email?
Do you feel a sense of dread every time a new email appears? Would you rather count grains of rice than send yet another email? Here are some of the best Chrome extensions that take the pain out of email.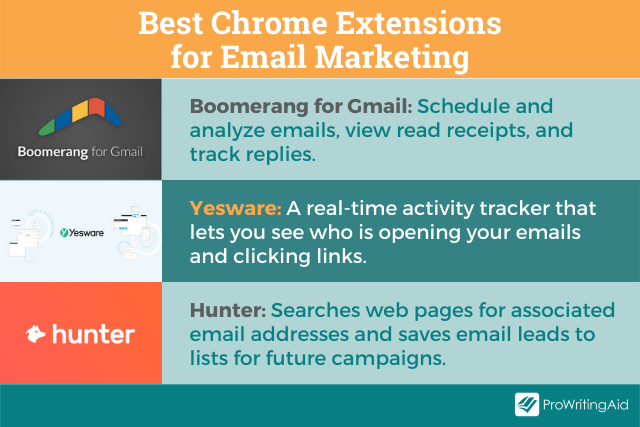 Boomerang for Gmail
I can't say enough about how powerful this Google Chrome extension is. Boomerang will fix all your emailing woes. You can schedule your emails to be sent at a later time. You can view read receipts and track replies and follow-ups. The inbox pause feature keeps you from getting distracted but still lets important emails through.
You can even analyze your email to see the likelihood of getting a response, which is excellent for sales. I could go on and on, but trust me when I say it's one of the best Chrome extensions I've ever seen.
Yesware for Chrome
If you've ever wanted to know if someone is reading your email, Yesware is the Chrome extension for you. Yesware has a real-time activity tracker that lets you see who is opening your emails and clicking links.
Unlike other Google Chrome extensions for email, it also lets you schedule call touches, LinkedIn mail messages, and custom touches. You can schedule meetings directly to Google Calendar. The reporting and analytics tools let you see how emails are performing overall. Plus, it integrates with Salesforce. All of this makes it one of the best Google Chrome extensions for sales teams.
Hunter
Don't you hate it when you can't find an email address that you need? Hunter is a Chrome extension that searches web pages for the email address associated with websites. It's a must-have for writers, marketers, and sales teams. You can also use Hunter to save email leads to lists for future campaigns or contacts.
What Chrome Extensions Are Good for SEO?
Love it or hate it, SEO (Search Engine Optimization) is important for getting your content seen. These three browser extensions are great for SEO amateurs and pros alike.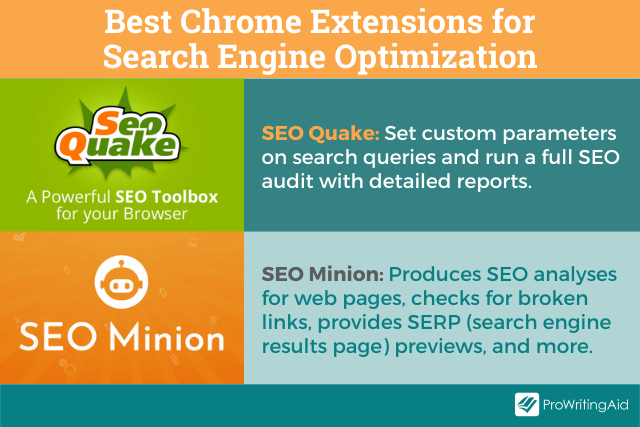 SEOQuake
There are a ton of SEO Chrome extensions, and many of them are great. But SEOQuake is an easy-to-use Chrome extension that even SEO newbies can use. You can run a complete SEO audit with just a click. You get access to all the major metrics and more detailed reports.
The Chrome extension even allows you to set custom parameters on search queries. All of these features (and more) are free to use! With over 700,000 users, SEOQuake is definitely one of the best Chrome extensions on the market.
SEO Minion
Haven't you always wanted a minion to do your bidding? It may not help you take over the world, but SEO Minion is a Chrome extension that will help you improve your SEO. While the reports aren't as detailed as SEOQuake, you can analyze any HTML page for optimization. It also highlights all links and reports any broken links. You also get access to SERP (search engine results page) utilities and  SERP previews. It's a handy Chrome extension for quick optimization.
What Are the Best Chrome Extensions for Social Media Marketing?
Facebook, Pinterest, Instagram, Reddit, LinkedIn... the list goes on and on. Managing social media can be overwhelming, but we've rounded up four Chrome extensions to make it more manageable.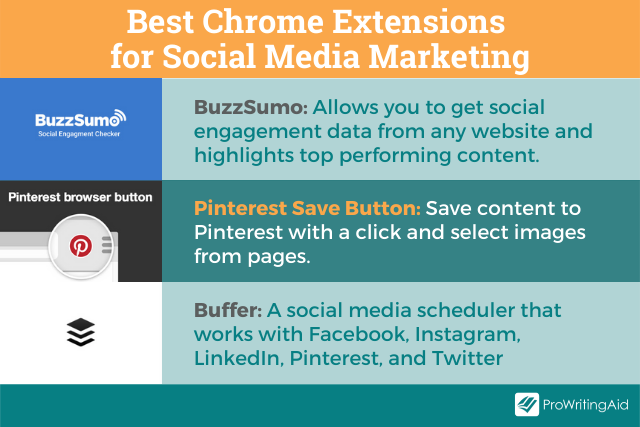 BuzzSumo
Tracking your own engagement is easy with all the tools out there. But how do you track your competitors' engagement? BuzzSumo is a Chrome extension that allows you to get social engagement data from any website.
It will also tell you the top-performing and most shared content from that web page. You can analyze content formats that are performing well. Plus, you can share content easily to Facebook, Twitter, and Pinterest.
Pinterest Save Button
Pinterest is an easy social media site to overlook because many scheduling apps don't have Pinterest access. But Pinterest can also generate tons of traffic to your content. Use the Pinterest Save Button Chrome extension to easily save content to Pinterest with just a click. It will also allow you to select an image from that page.
As a bonus, this Chrome extension is also available for Chrome on Android, so you can share content on the go.
Buffer
You might be familiar with Buffer because it's one of the top social media schedulers. But you might not know they have a Chrome extension, too! Easily share content to Facebook, Instagram, LinkedIn, Pinterest, and Twitter with just one extension.
You can get access to the Chrome extension with the free version of Buffer or use it with your paid account. If you manage multiple social media channels, this is one of the best Chrome extensions you can get.
What Are Some Other Must-Have Chrome Extensions for Working Writers?
There are so many great Google Chrome extensions out there that we could practically write a new list of our favorites every day! Here are a few more must-have Chrome browser extensions.
Helperbird
Let's face it. Some web pages just aren't accessible enough. Helperbird is one of the best Google Chrome extensions for dyslexia, but it's also great for other types of accessibility. This Chrome extension gives you access to dyslexia fonts and other ways to change the text to make it easier to read.
It also lets you highlight, which is helpful for reading dense content. You can limit distractions while reading any web page, use text-to-speech, and access Google Translate and a dictionary without leaving the site. The list of features goes on and on. If you consume a lot of content for work, this browser extension can make it easier.
Dark Reader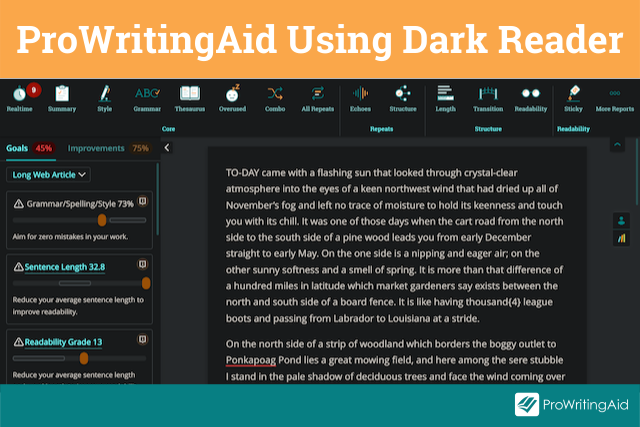 Bright, white screens are hard to look at for hours a day. Dark Reader is a popular browser extension that turns any web page into dark mode. It's easier on the eyes, and you can even adjust brightness and filters. With over four million users, it's one of the best Chrome extensions on the Chrome web store.
Those are our favorite Chrome extensions for every kind of writer. If you want to make sure you're writing clearly and accurately wherever you write, remember to check out ProWritingAid's Chrome extension to see our writing improvements on millions of sites.
What are some of your favorite Chrome browser extensions? Let us know in the comments.
---
Want to learn more great business writing hacks? Download this free book now: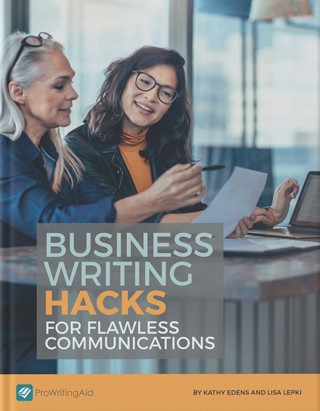 Writing is an essential element of nearly every profession today. Strong communications help colleagues and clients understand your ideas. Errors and awkward writing make you lose credibility.
Download this guide to learn the techniques professional writers use to write clearly and persuasively.
---