$5,120 of Writing Resources for $49
(including a 1-year ProWritingAid Premium license, reg $60!)
The folks over at Infostack have once again bundled together a huge number of writing resources (47, in fact!) at one stupidly cheap price.
You'll recognize most of the creators of these products, including Mary Buckham, C.S. Lakin, Jesse Tevelow, Kristen Joy Laidig, Derek Doepker, and Alexa Bigwarfe.
And a ProWritingAid Premium license is included with the bundle!
Look at it this way: this is your chance to upgrade to Premium, while getting over $5,000 in writing resources for free.
This bundle is only available until June 18th.
Note: If you purchase the bundle through our link, your payment pays for the ProWritingAid license and everything else is free for you. If you are already a Premium subscriber, buying this stack will extend your license by one year. If you have a lifetime license already, you can transfer this new license to someone else.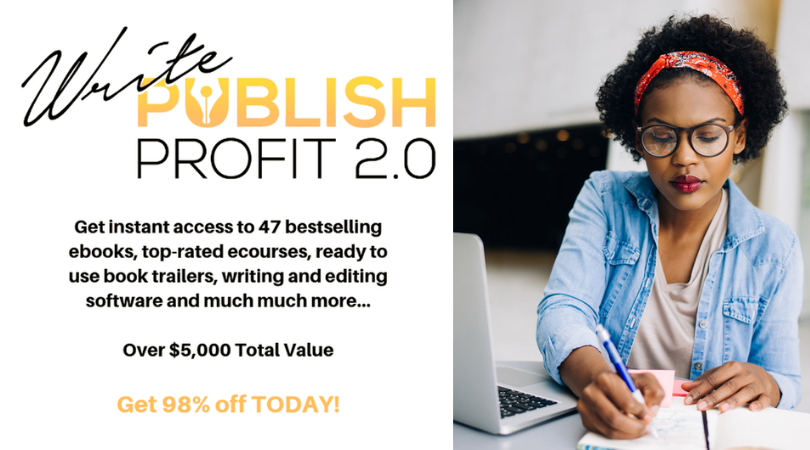 ---
There are a lot of resources included in the stack, but here are 10 of our favorites:
The Bulletproof Bestseller Launch
Learn how to hit #1 bestseller status in a relevant category on Amazon, rank in the top 5,000 books on the entire Amazon platform, generate thousands of book sales, and accumulate 20, 50, or even 100 positive reviews within the first week of their launch. ($697.00 VALUE)
Scrivener 3 Fundamentals
The self-paced Scrivener 3 Fundamentals course introduces the essential functions and features of Scrivener that you need to start writing. Valuable for plotters and pantsers, fiction and nonfiction of all lengths, blogging, and more.
($39.00 VALUE)
Getting Started on Your Nonfiction Book
Getting Started on Your Nonfiction Book offers practical, tested advice for going from idea to action on a nonfiction book. Whether you're writing a how-to, memoir, history, or narrative nonfiction, this online course will help you focus your efforts and create a plan.
($150.00 VALUE)
Mastering the 10 Universal Hooks
Mastering the 10 Universal Hooks breaks down the ten most essential hooks needed by authors. Work at your own pace while learning from samples by published authors in all genres to clarify what hooks can do, how to recognize when a hook works, and when it doesn't.
($297.00 VALUE)
Growing Your Author Platform Bundle
Easily create beautiful books right in Microsoft Word. Built to industry-standard specifications, and handcrafted by an award-winning book designer, our technology allows you to format your book for both print and eBooks without spending hundreds of dollars.
($497.00 VALUE)
4 Months Free of SpeakerTunity
SpeakerTunity Radio Insider™ provides direct contacts for 25 new radio shows and podcasts each month. Designed for authors, experts, transformational leaders, health practitioners & entrepreneurs to increase your impact and sell more books.
($140.00 VALUE)
Kindle in 30 Challenge
This 30-Day Challenge is designed to help you write a Kindle book in 30 days, then publish and effectively market it for maximum profits. From writing styles to marketing strategies, the easy-to-follow four weeks' worth of training will set your first (or next) Kindle book up for success from the start.
($497.00 VALUE)
Bestseller Journey Simplified
The Bestseller Journey Simplified gives you a real behind the scenes look at exactly how to go from book idea to published bestseller. You'll discover a step-by-step to find your book's unique hook, build an audience from scratch, and launch a book that sells potentially thousands of copies.
($47.00 VALUE)
Author Book Trailers Pro
Author Book Trailers Pro is the easiest way to create video trailers for books. These versatile and professionally-designed PowerPoint templates allow you to create trailers that are guaranteed to grab the attention of your audience, whether you write fiction or non-fiction books.
($97.00 VALUE)
How to Write Short Romance Kindle Books
Writing short romance Kindle books is an ideal home-based business, with minimal start-up costs.This eBook guides you through an in-depth Step-by-Step on the key techniques that you need to start writing short romance fiction, which you can then publish on the Amazon Kindle platform.
($9.00 VALUE)
(Did we mention it includes a 1-year ProWritingAid Premium license?)