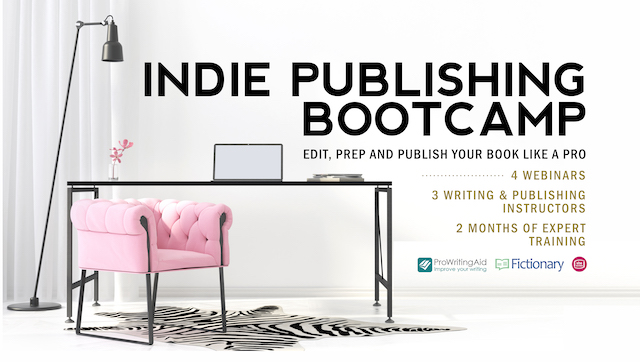 As an indie author, sometimes it might feel like you're out there alone. You're not!
There are plenty of fantastic resources here to help you. The Indie Publishing Bootcamp is one of them.
We're partnering with She Writes University and Fictionary to bring you a two-month webinar series all about succeeding as an independent author. No matter whether you're on your first book or your 50th, this course will teach you vital skills for succeeding in today's independent publishing landscape.
What Is the Indie Publishing Boot Camp?
It's a two-month webinar series featuring four live lectures and four Facebook Live Q and As. (If you can't make them live, no worries—we'll offer recordings of all events.)
What Is the Schedule?
Here's a full list of events:
Webinars
July 10: Story Editing for Fiction Authors
July 24: Copy Editing for Authors
August 7: Indie Publishing Options
August 21: Prepping Your Book for Publication
Facebook Live Events
July 17: Facebook Live Q&A on Story Editing
July 31: Facebook Live Q&A on Copy Editing
August 14: Facebook Live Q&A on Publishing Options
August 28: Facebook Live Q&A on Prepping Your Book
What Will You Learn?
Every independent author needs to be a master of editing their own work. Therefore, we'll start with in-depth editing tips from the experts at both ProWritingAid and Fictionary. Learn how to refine your story and find all the right words.
Next, we'll delve into indie publishing options. Since the industry's changing all the time, this is info you need to have. We'll cover Amazon KDP, hybrid publishers, vanity presses, and more. Also, we'll help you decide which path is right for you.
Finally, we'll ensure your book stands out in a competitive market. That means tips on cover design, interior formatting, blurbs, descriptions, titles, and more.
What Else Do You Get?
Tons! In addition to the above courses and Q and As, attendees of the Indie Publishing Boot Camp receive…
Four handouts
Three free ebooks (Including our very own "How to Go From First Draft to Published Author")
50% off a Fictionary subscription ($100 saving)
50% off a ProWritingAid Premium licence ($30 saving)
How Much Does the Boot Camp Cost?
A ticket to the Indie Publishing Boot Camp costs $197. However…
Are There Any Discounts Available?
Yes! If you purchase your spot before June 13th, you can get a ticket for just $97. That's a $100 saving!
Where Do I Sign Up?
We can't wait to see you there!