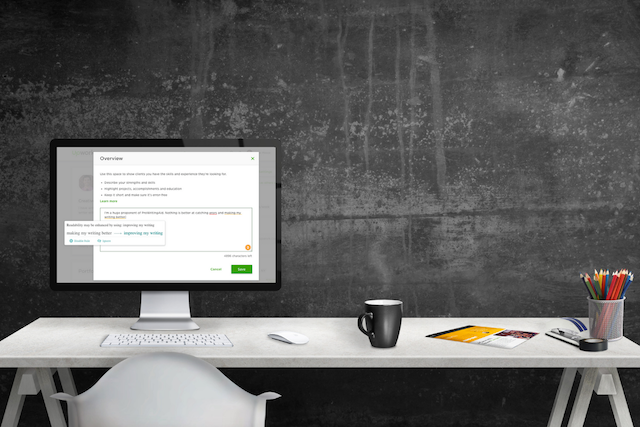 There are many ways to lose a freelance writing job on Upwork. The easiest? A grammatical error!
Whether they're in your bio or your application, nothing says "stay away" like an unseemly typo. In fact, even poor style could be the difference between winning and losing an important job. If clients have any reason to think you aren't right for them, they'll pass.
Fortunately, you've got ProWritingAid on your side. Think of our Chrome and Safari extensions as your virtual personal assistants. They'll help you catch subtle errors, find extra room to write, and improve your craft. Here's how it works.
No More Errors!
You're a writer, so you know the perils of typos, improper punctuation, and poor style. That's why ProWritingAid provides feedback as you type.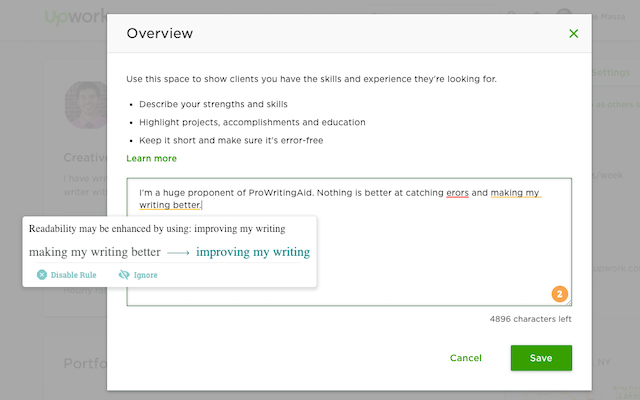 To see potential errors, just hover over the underlined words or phrases. A window will automatically appear, complete with a description of the problem and a suggested solution. If you like it, click it. ProWritingAid will insert the suggestion for you. If you don't like the suggestion, just click "ignore."
Spelling errors are just the start. As you'll notice in the example above, our extensions also catch poor phrasing and suggest better alternatives. This tightens your writing and makes you more appealing to prospective clients. Let's see a simple spell checker do that!
Stretch Your Legs
Writing a cover letter for your latest proposal? Sometimes that text box isn't big enough for everything you've got to say. Or maybe you'd just prefer a cleaner look. Either way, click the ProWritingAid logo in the bottom right-hand corner of the Upwork text box.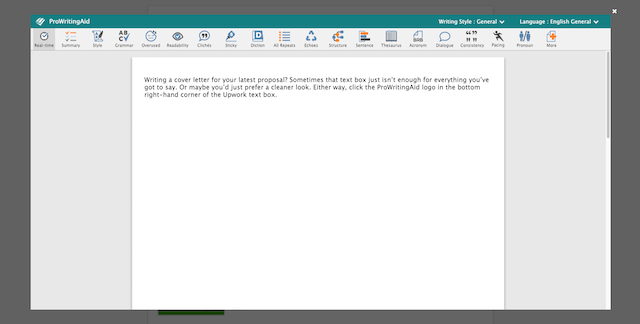 If you've used our desktop app or web editor before, this screen should look familiar. Feel free to compose within it and run any of our 25 outstanding writing reports. Once you're finished, simply click the X in the upper right hand corner. All your text will appear in the text box, all ready to send.
Become a Better Writer
The best way to find more freelance work is to get better at writing. Our extensions can help. Next time you find a suggestion, look for a down arrow in the upper right-hand corner of the box. If it's there, click it.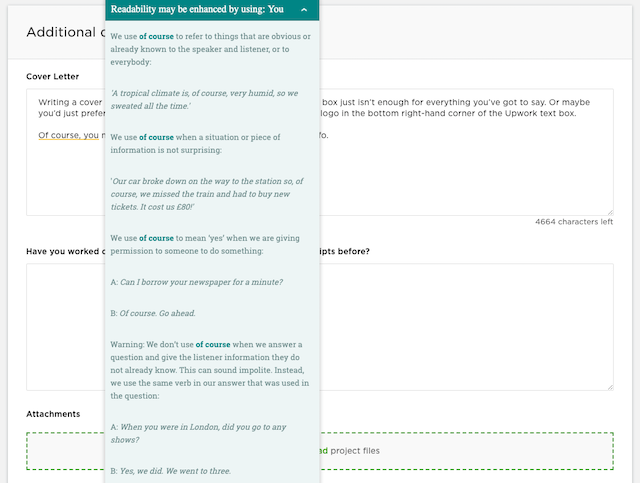 As you can see, this feature offers in-depth explanations of style and grammar guidelines. These aren't just copied from some website, either—they're detailed descriptions written for writers, by writers. If you learn from them, it'll help you become an even better writer. And that means more jobs in the future.
Try ProWritingAid on Upwork Today!
Ready to start earning more on Upwork? Download the Chrome or Safari extensions today. Happy editing!
---