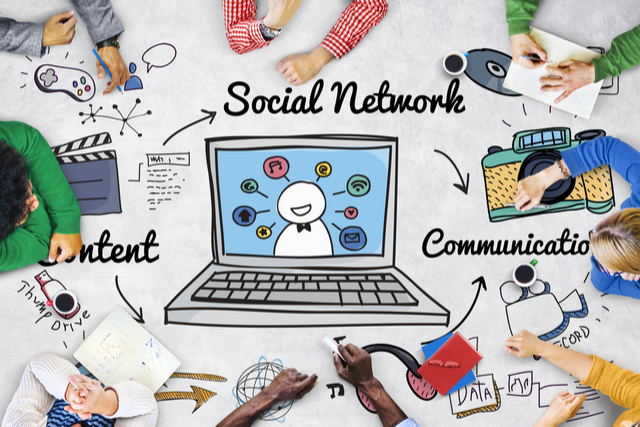 When you do it the right way, link building is one of the best ways to boost your following.
If search engine algorithms notice more and more links going back to your web page, it will start to take priority on relevant searches. And if your links are attached to engaging, helpful content, you'll intrigue human audiences as well.
When you create backlinks by engaging with like-minded bloggers, however, you're doing more than simply putting your webpage out there. You're forming professional connections, relationships which ultimately might be even better for your business. You can learn and grow from your fellow bloggers and their audiences can become aware of your blog as well.
Business is competitive, but blogging doesn't have to be. There are few blog readers who say, "I've read this blog. I don't need to read any others." On the contrary, blog readers love to soak up whatever information they can about the topics that are important to them. In many ways, the more bloggers work together and support each other, the more successful they can be.
Here are some tips for link building with other bloggers.
Find Like-Minded Blogs
Well, of course, first you have to do your homework to find the right blogs to work with. Do you work in digital content marketing? Fashion? Writing help? Search for popular blogs... and search the back pages of Google for some less popular blogs in your industry, too. To some blogs, you might be the little guy that needs a hand, but you should also be willing to help give bloggers with less of a following a hand up.
Once you find them, read a few posts to make sure they have the kind of content you'd want to associate with. Is it helpful? Well-written? Are they an active blogger, or has it been a few months since they've posted? If you like their content and think they would be a good connection, follow up by checking out their social media links. Try to engage with them on social media as well as on some of their blogs themselves.
Leave Comments
A good, engaging blog comment can both serve as a way to link back to your own blog and to engage with the blogger. Don't leave anything too spammy, something that's clearly supposed to plug your site and nothing more. Engage with their content. Add to their points, or tell them the points that you enjoyed in the post. Don't argue with them, that's unlikely to build a good working relationship, but leave a comment that will start a conversation as well as a backlink.
Write as a Guest Blogger
If they have submission guidelines for guest bloggers, adhere to those when submitting your own content. In most cases, guest blogs will include a short bio which can link back to your own blog. If they don't have submission guidelines, reach out to them (in an email or social media private message if possible) to see if they would be willing to accept a guest post. You can offer to let them post on your blog as well, although if you don't have a large following yet and they do, that might not offer much incentive to them. But promotion is still promotion and would help to boost their own link building. There are many reasons why guest blogging should be part of your strategy.
Split a Two-Part Series
One way for bloggers to help each other is to split a two-part series. In this way, you can agree to and plot a topic together. Then each of you will cover one half of the topic on your own blog and link to the other half on the other's blog. The result? Both of you will be able to build links, and everyone in their audience who didn't previously know of your blog will now have a chance to read it.
This is best done with two bloggers who have a similar size in following. Again, if their following is five times the size of yours, being promoted on your blog won't have the same benefits for them that it will for you, and if you're the more popular blog, you may not glean as many results from pairing with a blog who has a smaller following. For best results, you should be roughly, but not necessarily exactly, even.
Final Thoughts
Often, link building opportunities happen naturally in forming connections with other bloggers. It's easy for bloggers to write a post and link to one they read earlier this week about a similar topic. Bloggers who connect with each other will naturally want to work together through guest posts and series. When you go about link building organically, by reaching out to like-minded bloggers, you may find that you gain so much more than simply backlinks.
---