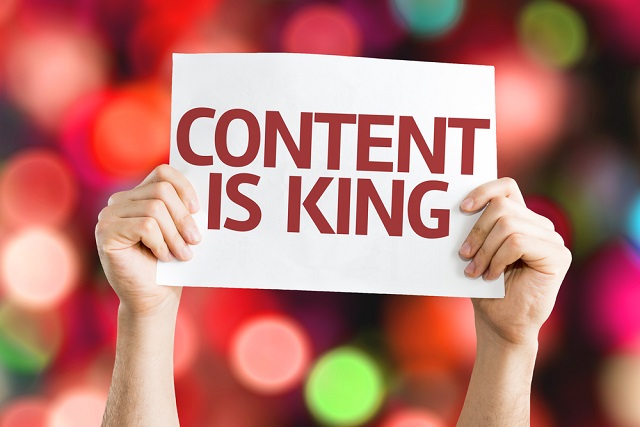 Content marketing is king for both B2B and B2C companies.
In their B2B Content Marketing Report: 2016 Benchmarks, Budgets, and Trends, Content Marketing Institute and MarketingProfs flag that 88% of their respondents rely on content marketing, up from 86% in 2015.
Of particular interest to content creators: 76% of companies surveyed said they were increasing content creation in the upcoming year.
How do you stay abreast of the latest, greatest information about content marketing? We put together a list of our top 15 content marketing blogs you need to start following.
The Top 15 Content Marketing Blogs (in no specific order)
1.The Content Marketing Institute
The Content Marketing Institute's website is full of practical, how-to guidance on content marketing. You can get advice and insight from experts, and there's even an active community to discuss cutting-edge news, information, and advances.
Their home page reads "Get superior content marketing education so you can build a remarkable online presence." Copyblogger has been on the forefront of the content marketing movement since the beginning of 2006.
Don't be fooled by thinking its only their marketing, sales, and CRM software that's phenomenal; their marketing blog is amazing, too. They get 4.5 million monthly visitors to their blog. Good stuff.
KISSmetrics is everything online marketing, a great resource to stay up to date. They also have free webinars on hot topics, if you have the time.
If you're focusing mainly on B2B content marketing, this is a must-read blog. They cover everything from AI and data analytics to the voice of the customer.
You should mainly read Seth Godin because he's pithy and fun. But there's also the great, thought-provoking insights he shares every day.

Neil's insightful blog covers everything from current SEO practices to how to create video landing pages and using Trello for your content marketing.
8.Harvard Business Review-Marketing
I actually have a yearly subscription to HBR because their content is so amazing. If you need to research anything, HBR usually has an in-depth article with quotes from leading thinkers and industry sources.
MarketingProfs has a little bit of everything, from online ad campaigns to how to create a killer infographic. Check out their post "Eight Simple SEO Mistakes Killing Your Content Marketing."
SEO is still important for content marketers, and Search Engine Watch are the true watchdogs that bring you the latest advancements, best practice, and amazing tips.
11.Content Marketing Association
This is more of a monthly newsletter the Association puts out with news, research, insight, and opinions on everything to do with content marketing. Well worth the read.
12.Jay Baer's Convince & Convert
Jay has down-to-earth posts like "6 Reasons Your Next Content Project is a Mess Before It's Even Started" that are compelling to read. I've linked to his content marketing-specific posts but he has other blogs if you'd like to check them out.
B2B have written their own accurate description: "B2B Digital Marketing covers a range of topics in B2B marketing, social media, analytics and advertising, through B2B marketing and digital marketing lenses."
Contently is actually a content creation company, but their blog is pretty insightful. They cover everything content marketing from how to hire a content marketing strategist to an interesting question: "Should pharmaceutical companies be allowed to do content marketing?"
This is Heather Lloyd-Martin's blog, and she's been doing SEO copywriting for over 19 years. She really knows her stuff and shares some great insights and tips.
Content Marketing—B2B and B2C
The B2B Content Marketing Report: 2016 Benchmarks, Budgets, and Trends also had a nifty chart detailing the differences between B2B and B2C content marketing. Here it is: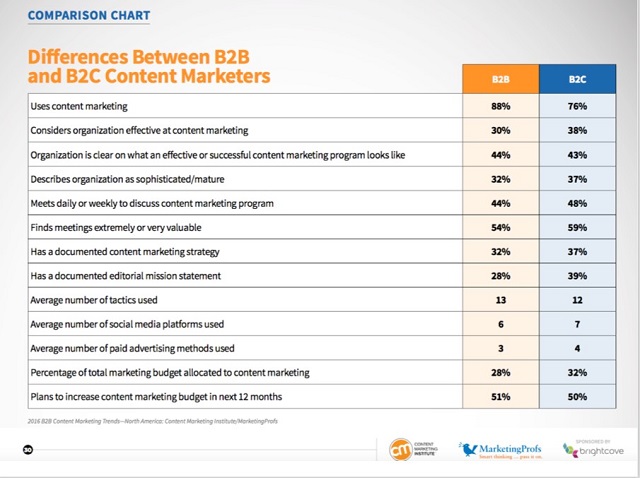 This chart should give you an idea of the impact content marketing has on both B2B and B2C companies' marketing strategies. As a content marketer, your writing and blogging skills are highly prized. This is good news for everyone.
What Blogs Do You Follow?
It was hard to limit the list to 15. What content marketing blogs do you follow that aren't on our list?
Let us know in the comments below so we can capture a more extensive resource list.
Do you believe the world needs more good writing? Please, share this article using the buttons below to help your friends write better!
---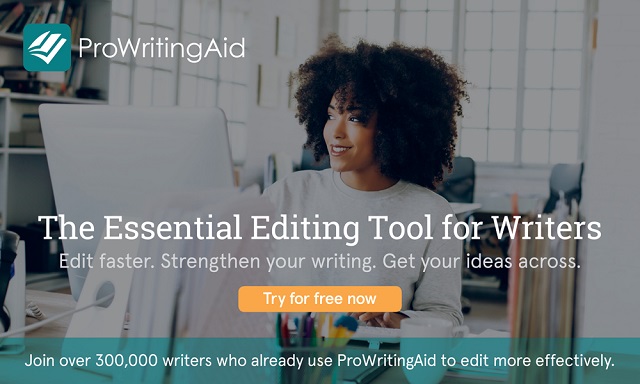 ---