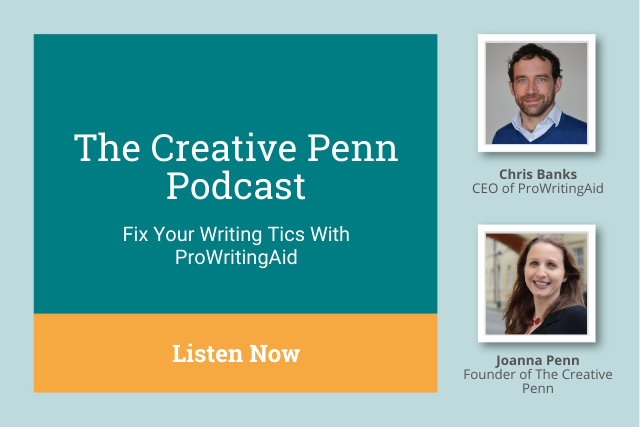 When writing is difficult to read, it's hard to put your finger on why. Most of the time, we just know that things aren't flowing. ProWritingAid helps you learn more about your own writing so you can start addressing the issues that weaken it.
ProWritingAid's CEO Chris Banks recently joined Joanna Penn on her podcast The Creative Penn to talk all things ProWritingAid. Listen now to find out the most common writing tics, how ProWritingAid helps you address them, and how AI could open up a whole new future for writers.
Listen for free below, or catch the episode on Spotify.
Find and Fix Your Writing Tics with ProWritingAid
The key to improving your readability, and improving overall as a writer, is editing.
When we think about editing, we often think of moving commas around and fixing spelling mistakes. But the truth is it goes much deeper than that.
When done right, editing reveals patterns in your writing that help explain common readability issues that many authors face.
Repeated words, vague or overly complex language, telling rather than showing, sticky sentences, unvaried sentence length, and a host of other issues can lead to poor readability. And if your writing isn't readable, chances are it won't do what you want it to, whether that's to explain, persuade, or entertain.
But, as we've said, it's often tricky to spot when you're making these writing faux-pas. That's why ProWritingAid finds them for you. Once you're armed with the knowledge of where your writing might be lacking, you'll be ready to self-edit your work to make it the best it can be.
After you've listened to the podcast above, keep reading for more detail on how ProWritingAid helps you take control of the editing process from start to finish.
Start with the Stats and Set Your Editing Goals
The first step is to work out where the key problem areas are in your manuscript. ProWritingAid's Summary Report is a great place to start.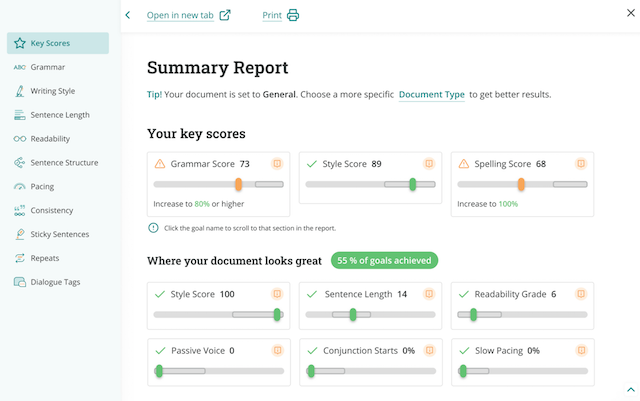 Here you'll see the areas where your document is looking good, and then the areas where you may need to improve. These scores are generated based on averages for your genre, which you can select from a list within the app.
When your scores are in the green, you can feel confident that you've made improvements to your text that will matter to your readers.
Let's take a look at those improvement scores.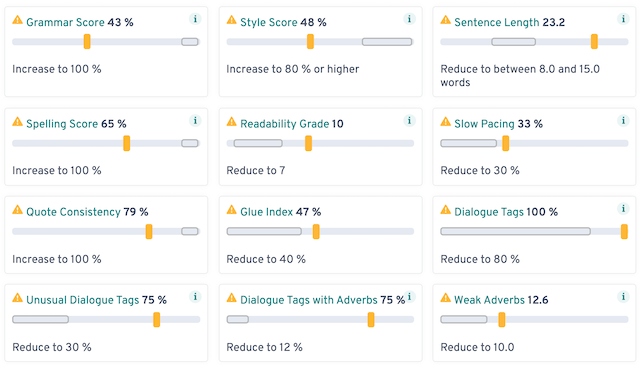 That might seem a little overwhelming, but ProWritingAid's reports help you make quick work of all of these categories. We'll be showing green across the board in no time!
The reports can be separated broadly into two categories: high-level and sentence level. High-level reports will help give you an overview so you know where in your document you need to focus. These reports, like the Readability, Structure, and Sentence Length Reports, give you visuals and statistics to help you spot problem areas rather than offering suggestions on how to improve.
Those suggestions appear in the sentence-level reports, many of which you can see in the screenshot above. Let's look at some of the reports that will help you bring your Readability score into range.
Fix Errors Quickly with the Realtime Report
One of the best reports for making big improvements in a short space of time, the Realtime Report combines tools for grammar, spelling, and style editing.
With this report, you can work through highlighted suggestions and make changes with a click. Here's what that looks like in the editor: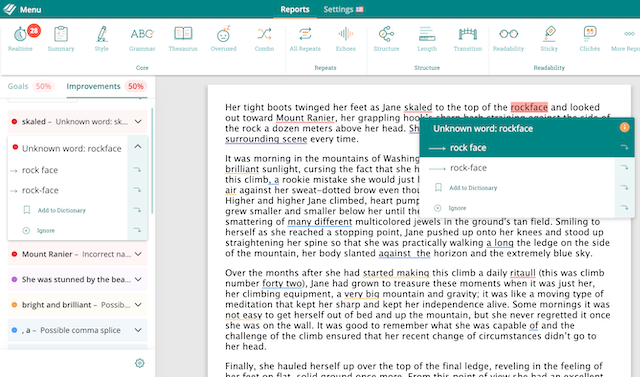 These suggestions will help you rewrite sentences you've written in passive voice, remove unnecessary words to improve readability and, of course, remove any embarrassing spelling and grammar errors. It'll even tell you if you've misspelled names, so you don't get your Forest Gump mixed up with your Forrest Gump.
I went through and fixed the issues highlighted in the report, and then ran the Summary Report again: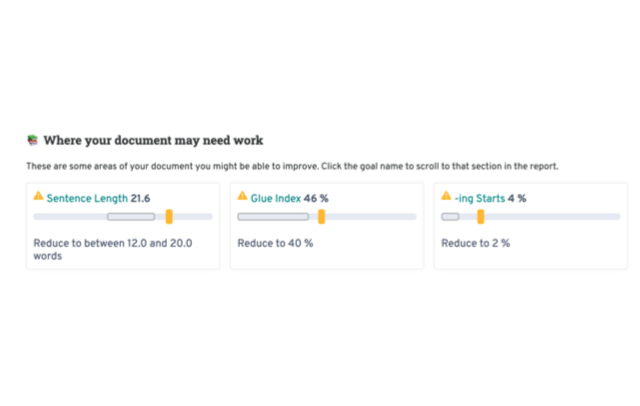 Most of my "needs improvement" goals have now jumped up to the "Where Your Document Looks Good" section—and I've only run one report!
In the podcast, Chris mentioned the myriad comma rules we have to remember as writers. Now, you don't have to. ProWritingAid remembers those (and many other) rules for you.
That doesn't mean you're handing your manuscript over to a piece of software to do all of the work. Each suggestion comes with an explainer article, so you always know why you're making a change. You also have the option to ignore suggestions where they don't fit your style.
Poor grammar, spelling, and style can make readers stop reading. Let ProWritingAid help you create a final piece they can't put down.
How to Spot Repeated Words and Phrases
Joanna sums up why many writers end up repeating words perfectly in the podcast:
"When you're writing, you just put down generally the first word that pops into your head because you're trying to get your ideas down, you're in the state of flow, it's about getting your ideas down, so that later you can come back and refine them."
When you're in the flow of writing, it's best to write first, worry later. And when a certain word, phrase, or way of describing something is at the top of your mind, it's likely that phrase will keep cropping up when you go back to edit.
ProWritingAid's Repeats Report helps you assess all of the repeats in your document so you can decide if you need to change them. Some repeats are fine, but too many will distract your reader and pull them out of what you're trying to say.
The Repeats Report tells me that I've used the word "view" twice in my document. This doesn't sound too bad, but by clicking on the menu to the left of my screen and jumping to the highlights for "view," I can see that I used it twice in one sentence—not so great.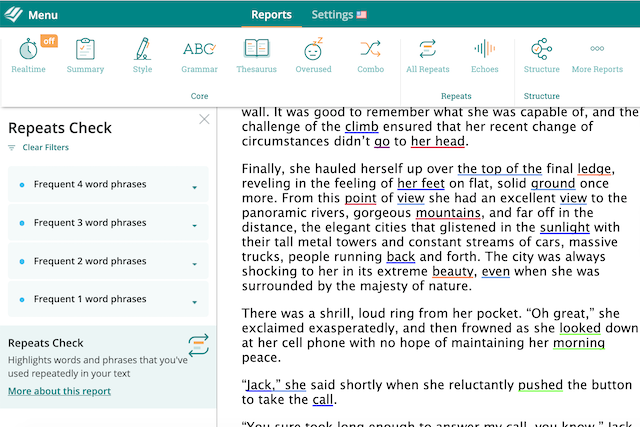 With the repeats report, I don't have to read through my document repeatedly to notice repeats. I can jump to them with a click and change them as necessary. There's a contextual thesaurus built in, so you can find relevant synonyms straight away.
Catch ProWritingAid's Chris Banks on the Creative Penn Podcast
Start Editing Smart with ProWritingAid
There's so much more to ProWritingAid than the reports highlighted above. The best way to see what it can do for you is to try it yourself!