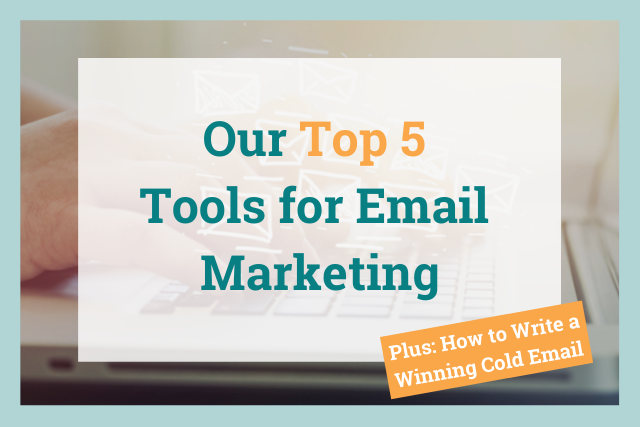 3.9 billion people in the world use email, which means you can quickly get in touch with any person via cold prospecting. People also pay more attention to their email inboxes these days because Covid-19 has greatly impacted work habits.
However, not many people open cold emails—under 24% of them get opened. If you're tired of not seeing results from your cold emails, get email outreach automation software. This post explains why you need it and the great things it can do for you.
Looking for more info on what to include in your cold sales email? Check out our five-step framework for writing emails that get you results, with templates and examples.
What Is Cold Email Outreach?
Cold email outreach is a form of outbound marketing that involves building a potential client list and using a template email to reach them. It's the tool businesses use to convert B2B clientele.
A cold email is an email you send to a potential customer who has had no prior relationship with you to try and win their business. It's like a cold call, but much less obtrusive. Your sales team can use the responses gotten from cold emails to turn prospects into clients.
Here's what an outreach email is not: an email that bombards people with offers until they buy from you.
Hi there,

Hope you are doing well.

Your website isn't appearing on the first pages of search engines. I can help it rank better if you hire me.

Let me know if you're interested.

Kind regards,
Mark,
Business Development Executive
Here's why many people would consider this outreach email spam:
The person uses one name, which could be fake
They don't include any contact information
There's no company name
The email isn't personalized and could have been sent to numerous people
It has a commercial motive
It's not meant to start a conversation but targets a direct purchase
Let's compare it to this other outreach email:
Hi John,

I hope you had a great weekend!

I'm Mike, a freelance writer and a regular contributor for XYZ and other popular websites.

I've got a brilliant idea for a post that would do well on ProWritingAid. Are you currently looking for more contributors? If you are, I can send some original content your way.

My posts usually rank well on Google and get 2k+ social shares.

Let me know if you're still hiring and I'll send the topic right away.

Thanks,
Mike Doe
This email does three things the first one does not:
It addresses the recipient directly
The request is highly specific and relevant
The sender doesn't try to push a product or schedule a phone call for a sales conversation
If you frequently get outreach emails that look spammy (like our first example), you may wonder, "Does email outreach actually work?"
The answer is yes, email outreach still works. However, if you want people to respond to your cold email, you must craft it well. Outreach emails shouldn't be spammy and should provide value to the recipients. Then, and only then, will you get the results you want.
When you automate cold email outreach, you never miss an opportunity to generate leads, sales, and revenue. You send time-triggered or action-triggered emails to subscribers with relevant information.
Why Is Cold Outreach Automation Important?
Email outreach is one of the best ways to grow your business. It can help you boost sales and build meaningful relationships with other firms in your industry.
However, cold email outreach is difficult to do well and can be very time-consuming. Inboxes have become more crowded, and people don't have time to read all the emails they get.
So, how do you cut through the noise and reach your potential clients? You have to write the perfect subject line to increase the email open rate and also ensure each email is personalized. And if you want to get a response, your follow-up emails shouldn't be spammy.
And there's more.
You must track metrics and test different email variations to enhance your email strategy and campaign. That's a lot of work! It may take you hours to send highly personalized emails, and even longer to follow-up. If you try to do everything on your own, some tasks will fall through the cracks.
That's why you should consider getting an email outreach automation tool. It will help you manage email outreach, follow-ups, and other tasks on auto-pilot. Read on for our top five recommendations.
NOTE: ProWritingAid is the best tool to make sure that everything you write is as clean and clear as possible. Nothing makes you lose credability faster than a grammar mistake or an awkwardly constructed sentence. Install the ProWritingAid Chrome Extension today.
---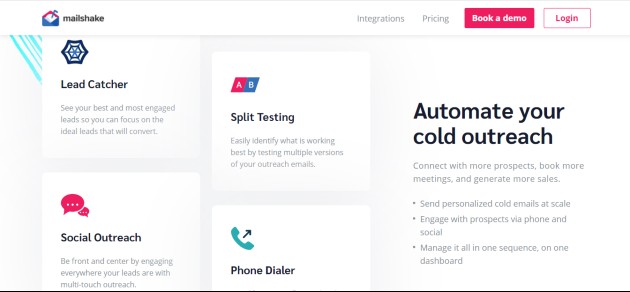 Mailshake is an email outreach and sales engagement tool that helps businesses improve their sales and marketing. It automates your cold email campaigns, allowing you to scale customer outreach with less effort. The software is mostly used by sales teams, email marketers, and B2B companies to personalize, schedule, and track email campaigns.
It's worth mentioning that Mailshake is not a CRM (customer relationship management) tool. This means it doesn't help you find contact information or leads. However, it integrates with many CRM tools. Once you get a prospect's information, you simply add it to the platform and the software automatically sends cold emails at set intervals.
Here are four ways Mailshake makes automating email outreach easy:
Email personalization: it helps you personalize each email for better sales campaigns
You can easily schedule follow-up emails
Live campaign management: you can edit campaigns that are already running
You can get started immediately thanks to Mailshake's cold email templates
Mailshake is an affordable and easy-to-use solution for sending cold emails for sales prospecting, building relationships, link building, and securing guest posts. It integrates with many email providers and apps. Pricing starts at $59.00 per month, per user.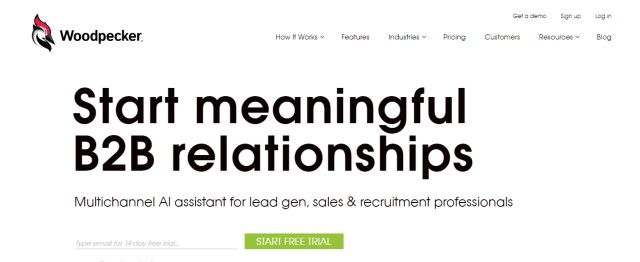 Woodpecker is email marketing software that allows you to send emails and follow-ups from different email services—like Gmail and Outlook. Companies use it to personalize, automate, and track sales campaigns. The tool is specifically designed for cold emails and follow-ups and is ideal for companies that contact potential clients via automated emails.
The software tracks many email metrics and measures different stats like the click-through rate, email open rate, and delivered emails. These stats can help you to know which subject lines, email templates, and links produce the best results. You can customize your other email campaigns accordingly to increase the conversion rate.
Woodpecker integrates with Salesforce, Zapier, and 3000+ other apps. It's one of the best tools for automated campaigns. It is also a great solution for teams that collaborate, share contact lists, or blacklist domains.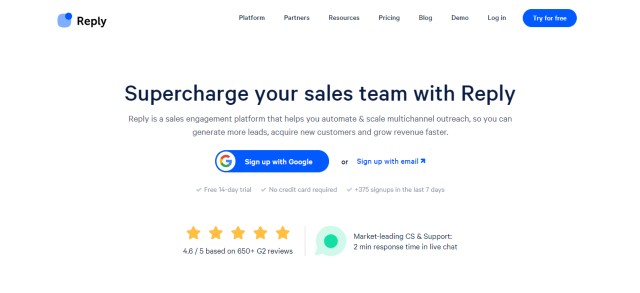 Reply will completely revolutionize your sales outreach. It has an easy-to-use dashboard that lets you create an outreach campaign with follow-ups in minutes. After you create the campaign, you can do A/B tests to improve your conversion rate.
The sales automation software helps you scale multichannel outreach and generate more leads, gain new customers, and quickly grow revenue. You can add emails, calls, LinkedIn messages, text messages, and WhatsApp messages in a multi-channel sequence and reach your prospective clients wherever they are.
One of the things we like about Reply is its awesome tracking system. It displays all the data for your campaigns, including delivered emails, bounced emails, open rates, and more. You can also remove certain recipients from your automated emails queue based on their actions.
Reply contains powerful features such as time zone detection, A/B testing, and lead qualification. Its security features ensure you don't send numerous emails in a short time span. Doing so can cause your emails to end up in spam folders.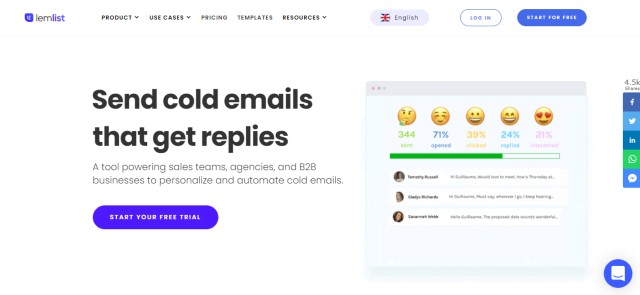 Lemlist is a powerful cold email outreach platform with a unique selling point. It allows you to send personalized cold emails with images and videos. You start relationships with clients on a good note by making your cold emails human and highly personalized.
With Lemlist, you can easily create customized images—website screenshots, logos, and pictures—and include them in your emails. These can enhance the experience for the reader. Using videos and images can make you stand out in your prospect's inbox.
Lemlist also allows you to streamline and automate follow-ups and repetitive tasks. If you need to send personalized emails at scale without compromising quality, Lemlist can let you do it. And that's not all. You can also track your success to see how to improve your email campaigns.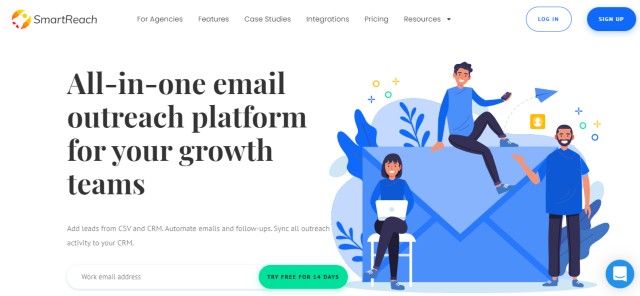 If you're not new to using email automation software and you're looking for a feature-packed solution for cold emailing, SmartReach may be what you need. Its advanced scheduling and hyper-personalization features increase the chances of your emails getting a response. You can also send emails in your prospect's time zone.
SmartReach stands out for its useful features. Its spam tests help you spot and rectify any issues with your cold emails. You can warm up email campaigns slowly for high deliverability rates. You can track individual or team performance and see detailed analytics for different metrics. The email automation software supports all popular email clients, including Office365, Outlook, GSuite, Mailgun, and SendGrid.
And Numbers 6 and 7
Wait! You said this was a top 5 list! Well, yes, but several folks reached out and said that we should have Quickmail and Hunter.io on the list, so we added them below. We didn't want you to have incomplete information.
QuickMail is the powerhouse in the email outreach automation world, and it is usually the preferred choice of large agencies because of its client management and teamwork features. You can reduce client sign-on friction by having your clients add their own inboxes, and you can add an infinite number of your team members to your account, free of charge.
QuickMail boasts advanced campaign customization, process automation, and deliverability. You can customize your campaign with advanced options such as conditional steps and inbox rotation, you can set up a Google Sheets import that automatically adds prospects to your QuickMail list, and you can enjoy best-in-class deliverability technology and reporting, to make sure you don't land in the spam folder.
QuickMail's deliverability technology, the Auto-Warmer, is also completely free of charge.
Hunter Campaigns is a cold outreach tool that allows you to send cold email campaigns from your Gmail or Outlook account. It supports custom sending schedules and multiple follow-ups.
You can use custom attributes to personalize your campaigns, and track the open and click-through rates for your cold emails. Hunter offers hundreds of cold email templates you can use to set up a campaign quickly.
Hunter's suite of tools also includes an Email Finder, an Email Verifier, and Domain Search, which means that you can also use it to find prospects' email addresses and verify them.
Hunter Campaigns can be used for free with one email account and up to 500 recipients per campaign. If you'd like to add more email accounts or recipients, you can opt for one of the paid plans, which start at $49/month.
Pair Your Cold Email Automation Tool with ProWritingAid for Best Results
An effective email marketing process means nothing if your email content turns potential customers away. Grammar and spelling mistakes are obvious errors to avoid, but poor readability, overused words, clichés, and repetition can also stop readers getting past the subject line.
ProWritingAid checks for these common email-writing errors as you write, allowing you to make quick fixes with just a few clicks.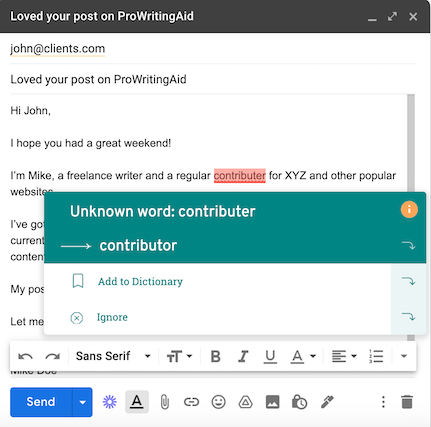 The best way to find out how much ProWritingAid can do is to try it yourself!
Try ProWritingAid's Editor for Yourself
---