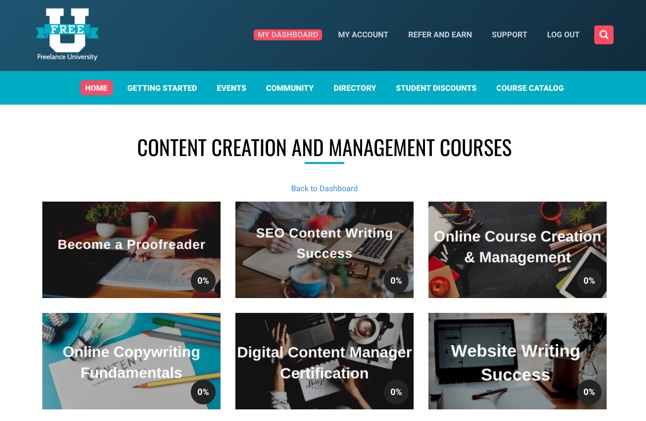 Are you considering a career in freelance writing (or another freelance pathway)? If so, you probably have a lot of questions. I know I did!
When I first started my freelance writing journey (over five years ago at this point), I didn't know the first thing about freelancing. I knew that I wanted to write, and I knew that people had paid me to write in the past. But I wasn't sure how to market myself or how to translate my passion into paying clients.
I also had no idea how to manage the finances of a freelance writing business or how to protect myself as a contractor. While I haven't had too many mishaps, I have dealt with nonpaying clients and had to be reactive, rather than proactive, in everything from marketing myself and my services to setting up the legal structure of my business.
That's why I'm so excited to be reviewing Freelance University. Founded by freelancing experts Craig and kelly Cannings, Freelance University provides a "one-stop platform for Virtual Assistants, Freelancers, and Online Professionals to learn and develop in-demand skills."
In this article, I'm going to show you what's included in Freelance University and discuss whether I think it's worth the investment. Let's dive in!
Disclaimer: We are Freelance University affiliates, so this post contains affiliate links and we will be compensated if you make a purchase after clicking on our links. Don't worry – there is no extra cost to you. That being said, we wholeheartedly recommend Freelance University and wouldn't be sharing if we didn't believe in their offerings!
What is Freelance University?
Freelance University helps you grow a profitable freelance business in seven areas:
Social Media
Content Creation and Management
Business Management and Support
Technology
Digital Marketing
Graphic Design
Digital Media & Events
Each of the seven tracks contains multiple courses that teach you in-demand skills. For instance, the Content Creation and Management track contains courses like Become a Proofreader, SEO Content Writing Success, and Online Copywriting Fundamentals, among others.
After enrolling in Freelance University, you immediately receive access to the entire library of courses and training resources, no matter what track (or tracks) you choose to focus on.
Besides the courses included in the main tracks, your Freelance University membership also gives you access to:
Industry-leading certification programs
A 90-minute live training workshop each month
A monthly live Q+A with Chief Learning Officer Craig Cannings
A software sandbox that lets you build your skills and support your clients using industry-leading and standard software
Freelance 101, a special course designed to help you build the basics of your freelance business
A private Facebook group where you can connect with other freelances
A listing in the Freelance Directory so you can advertise your skills and expertise
The breadth of resources included in Freelance University impressed me. As someone who has enrolled in (and created) many online courses, Freelance University's value and content stood out for its scope and usefulness.
What Courses Are Available Through Freelance University?
As I mentioned in the previous section, there are seven main tracks in Freelance University. Each track has multiple courses within it. The courses are a mix of video lessons, handouts, and other types of exercises.
Since I've worked most as a freelance writer, I investigated the Content Creation and Management Courses most heavily and found the courses to be extremely comprehensive.
The SEO Content Writing Success course, for instance, contains sixteen lessons on everything from how to select appropriate content topics to how to build an SEO content writing service. The videos in this course ranged from two to sixteen minutes and included supplemental handouts to help you practice your new skills.
Outside of the Content Creation courses, I loved that Freelance University has resources on building your freelance business. The Freelance Foundations Courses cover topics like pricing, legal protections, finding a niche, and personal branding, all of which are key for new and seasoned freelancers alike. There are also multiple courses on finding and managing clients, covering topics like creating client proposals and onboarding your clients with excellence.
Enrolling in Freelance University gives you immediate access to dozens of courses, with more being added all the time. Freelance University adds at least 18 new courses each year, meaning the value of your enrollment will only increase.
Who Should Enroll In Freelance University?
As a seasoned freelancer, I was pleasantly surprised to see just how many resources were available through Freelance University. While I wholeheartedly recommend enrolling if you're just starting out, I also think a Freelance University membership is worth it for more experienced freelancers and service providers. The breadth of content and continual updates means that there's something for everyone.
Bottom Line: Is Freelance University Worth It?
In one word: yes! I definitely recommend Freelance University if you're looking to build your freelance writing business (or if you're pursuing a freelance career in one of their other tracks, too).
Freelance University is a one-stop-shop for freelancers. With content on everything from increasing your skills to managing your business, it's the perfect place to get all the knowledge you need to build a successful freelance career.
P.S. On January 11, 2021, Freelance University will be hosting a free webinar titled: "Discover Seven Proven Pathways to Freelance Success in 2021" during which they will share:
Three trends that will shape the Freelance economy (and your success in 2021)
Seven proven pathways to building a thriving and profitable Freelance business
The IDEAL clients who will need your skills and services more than ever before
The fastest way to level up your skills and prepare for your best year ever
---
Freelance University is now enrolling students for 2021!
Check it out here.
---
Now is a wonderful time to be a copywriter. Download this free book to learn how: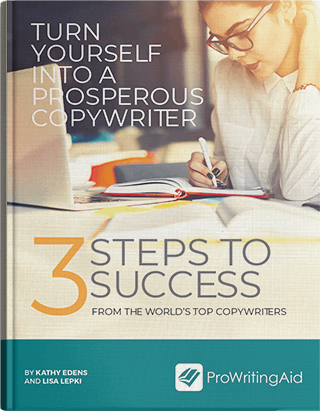 With the advent of the internet, the copywriting industry is exploding. Content is now seen as critical for all online businesses.
This guide breaks down the three essential steps you must take if you think copywriting is the career for you.