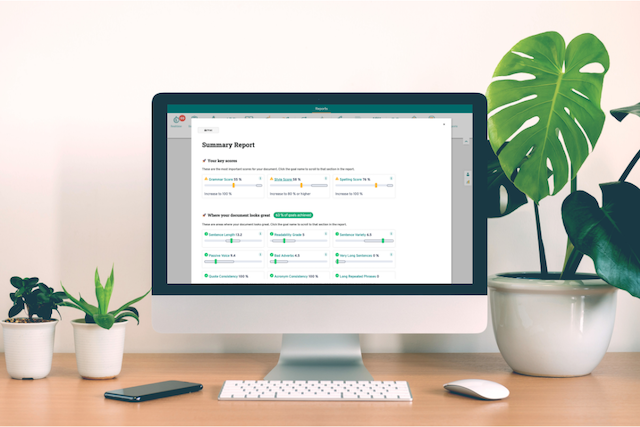 You don't need us to tell you that it's been a crazy year. Despite all the madness, we've been working hard to make ProWritingAid even better for you in 2020.
We know that there's a writer in everyone. Whether you're an author, customer service rep, business owner, teacher or office employee, writing is a big part of how you communicate your ideas with others. Our goal this year has been to help ProWritingAid users realize their writing potential, whatever they're writing. By improving our editor and making ProWritingAid accessible through even more integrations, we hope to put the power of good writing into your hands.
From the launch of our popular webinar series to our new add-in for Word for Mac to our brand new Snippets feature, here are 13 exciting features we released this year.
Want to Try ProWritingAid?
See something you like in the list below but already used your free trial? We'd like to invite you to take a second free trial so you can start editing like a pro with our newest features (and our old favorites).
We approached 2020 with three priorities in mind:
Improve the functionality of the ProWritingAid editing tool
Create more places to use ProWritingAid
Create more ways for you to learn about writing
Here's how we made those priorities a reality this year:
Priority: Improve Functionality of the Editing Tool
Our main focus is always our editing tool, and how we can make it as useful as possible for our users. With that in mind, we overhauled our Summary Report to help you identify actionable goals for your writing, added author comparisons, introduced a text-expander feature and more. Let's take a look.
Improvement 1: Goals
ProWritingAid's new Goals feature helps you to see at a glance where your document looks good and where it might need improvement. You'll see how your writing shapes up across a variety of categories, with your progress towards each goal being displayed as a progress bar.
To access goals, just run the Summary Report within any ProWritingAid editor.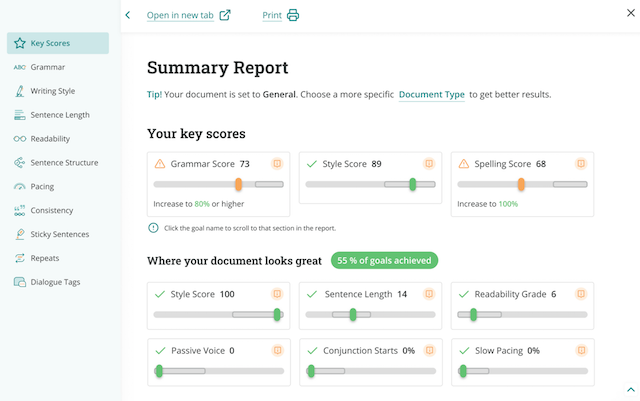 At the top of the page, you'll see your three key document scores for spelling, grammar and style. Then you'll see the things you're doing well, followed by what you can improve.
You're aiming to get the coloured slider into the target bubble. To learn more about how to improve on each goal, just click the relevant heading. Goals will help you to see what you need to do to improve your writing as quickly as possible. You can use these areas as a checklist to help you create an editing plan. You'll have a better sense of what you need to do and how long it will take you to do it.
We all have our writing heroes. C. S. Lewis, Stephen King, Margaret Atwood—the writers we read all help shape us. But how much have they shaped your writing?
ProWritingAid's author comparisons feature allows you to select your favorite author and compare their writing to yours in areas like emotional tells, sentence length variety, dialogue tags and more.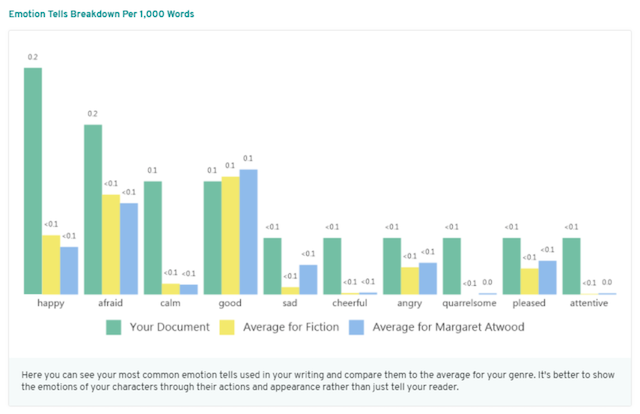 Find out how to start using author comparisons in this article.
Snippets are short pieces of text that you use frequently throughout your day. You might need to send your author bio to clients regularly, or send the same information about your company to several customers. You probably lose time searching for the original text and copying it over to an email or document. If you've ever wished that you could summon that text with the press of a button, now you can!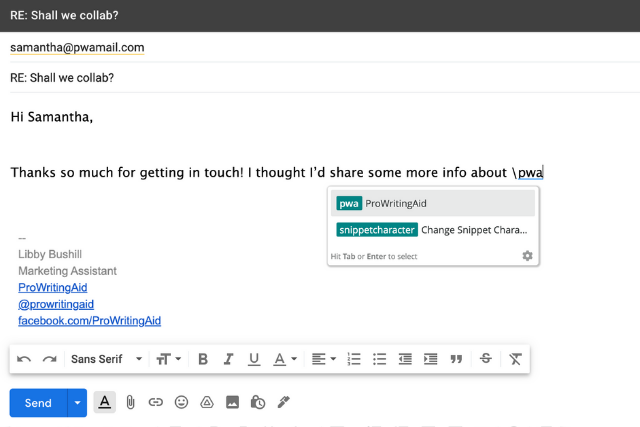 You can now create your own personal list of Snippets within ProWritingAid which you can use on any website where you have the ProWritingAid browser extension enabled.
Find out more and try Snippets now!
Inclusive language is language that addresses diversity of all types, like racial diversity, neurodiversity, and gender diversity. Effective writing uses inclusive language so that all audiences receive appropriate acknowledgement and regard.
This year, ProWritingAid introduced Inclusive Language suggestions to our Style Report and Realtime Checker to help you make sure your writing is accessible to all.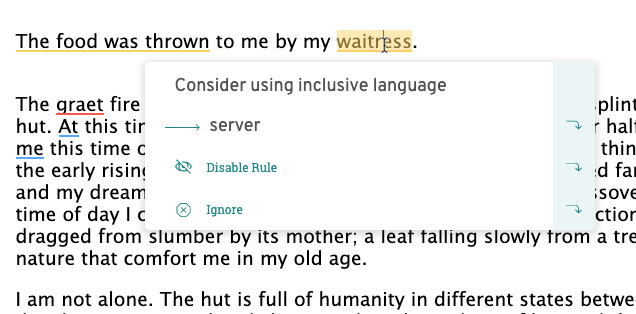 Find out more about our Inclusive Language Suggestions.
Improvement 5: Weekly Achievements Emails
Sometimes it's easy to forget just how much progress you've made. When you begin using ProWritingAid, you'll receive a weekly email summarizing your editing sessions that week.
You'll see how many suggestions you accepted, and what type of suggestions you accepted the most. This will help you to see how your writing ability and style have changed as the weeks go on.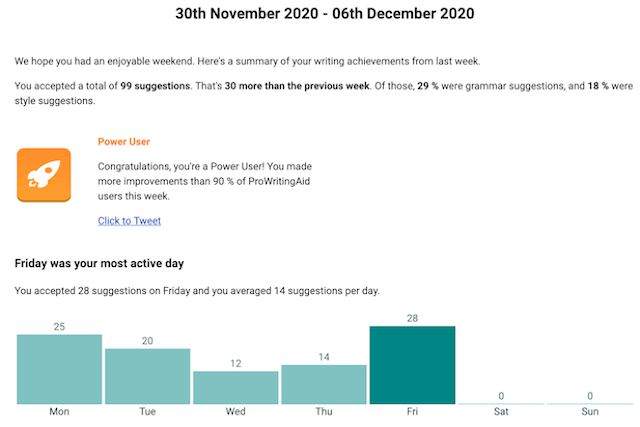 You'll also see a graphic showing you exactly which suggestions you accepted the most. Maybe you're overusing adverbs or using generic adjectives. This will help you work out where to focus in the week ahead. Finally, you'll see articles, videos, and quizzes relevant to the suggestions you've accepted most this week.
Sign up to our newsletter to start receiving your weekly achievements.
Improvement 6: Upvoty
We're always looking to make our app better for our users, and we love hearing your suggestions. This year, we launched a new user feedback platform over on Upvoty. Upvoty allows you to suggest new features (or changes to current features), and then lets you monitor your suggestion so you can see when we comment on it or take it forward.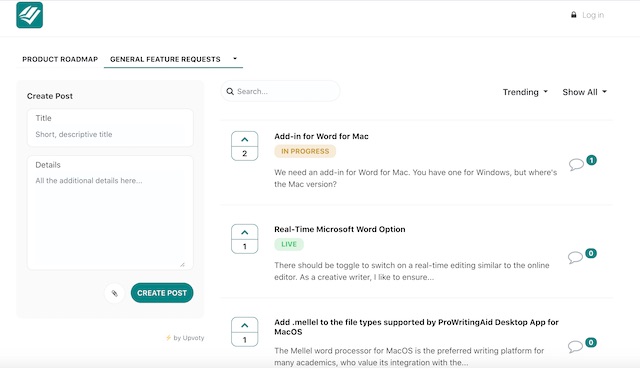 Find out more about Upvoty, and make your voice heard.
Priority: Make ProWritingAid Available Wherever You Write
Here at ProWritingAid, we believe that you should be able to edit wherever you write. That's why we offer more integrations than any other editing tool out there—and we've added even more this year. Find out more below:
Mac users, it's finally here. The ProWritingAid Word Add-In is now available on Mac.
If you're used to working with your Word for Mac documents in the Desktop App, now there's another way (though the Desktop App will always be there for you!). With your Premium license, you'll can now download a ProWritingAid Add-In that sits in the Home tab of Word for Mac.
Find out how to download and use the add-in here.
ProWritingAid's Desktop App allows you to work with Word docs, Scrivener projects, Text Files, Rich Text files and now, Final Draft Documents.
We know that Final Draft is popular among screenwriters. Many of you got in touch to let us know that this was an integration you'd like to see—we listened.
Now you can open your Final Draft doc in our Desktop App, make your changes, and then save those changes directly back to your original file, no copy and paste required. All of your formatting will be retained in the original doc. It couldn't be simpler!
Improvement 9: Use Our Browser Extensions in Google Docs
Our Google Docs add-on allows you to bring ProWritingAid's full editor into Google Docs, but sometimes you just need to cover the basics. That's why we've extended our Browser Extensions to cover Google Docs, so that you can see our Realtime suggestions without needing to open your doc in the full editor.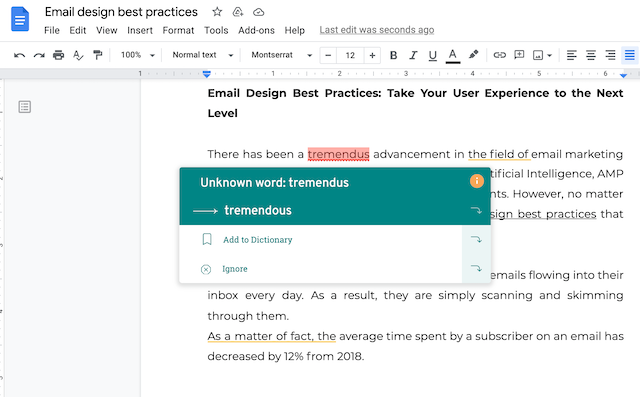 Just open your Google Doc, and start editing with the Realtime suggestions that appear.
If your company uses Arbortext, we're about to make life easier for you. ProWritingAid's grammar checking software integration offers a simple, affordable way to build consistency, with the flexibility to edit in real time whilst you write. With ProWritingAid, you can improve the quality of writing across your entire team.
Take a look at how it works in the video below:
Improvement 11: Complete Redesign of ProWritingAid's Word Add-In for Windows
Our Word Add-in is one of our most popular integrations, but it needed a revamp. We updated the design of the add-in to make it easier to navigate, and added new features like bug reporting and suggestion filtering.
Priority: Creating Opportunities to Learn About Writing
We love being part of the writing community. When the world went into lockdown in March, we decided to bring people together with our free webinar events and series. We also expanded our library of eBooks (free to Premium users) all about the craft of writing. Check out what we've been up to below.
Each month, we host events ourselves and in collaboration with our partners, all aimed at helping you become a better writer. As well as five monthly series, we also offer one off trainings with some of the leading voices in self-publishing, marketing, writing and editing.
Here are just some of the sessions we hosted this year:
Live Loglines Workshop
Horror Story Essentials
5 Questions to Ask Yourself Before Writing Your Novel
Thinking Like a Publisher
Leveraging Short Fiction in Your Writing Career
...and many more!
Click here for more information about upcoming sessions.
Watch replays of past sessions here.
Brand New for This Month: Join Us for Self-Editing School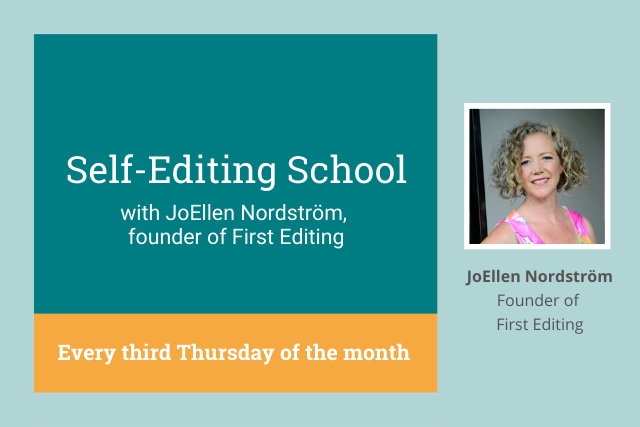 Get Free Help from a Professional Editor
We've teamed up with Story Coach and founder of First Editing JoEllen Nordström for Self-Editing School. On the third Thursday of every month, you're invited to join us as we learn how to use self-editing to take a manuscript from a rough first draft to a polished piece ready to send to editors.
Improvement 13: eBooks
When we're not reading about writing, we're writing about writing! Our eBook library is full of titles to help you become the best writer you can be. With books on writing for business, editing tips, planning your novel, building your author platform, using ProWritingAid in the classroom and more, there's something there for everyone.
Each of our books has been written by writers, for writers. You'll find great advice and practical activities to help you put what you learn into practice.
This year, we released two new eBooks (keep reading for some free downloads).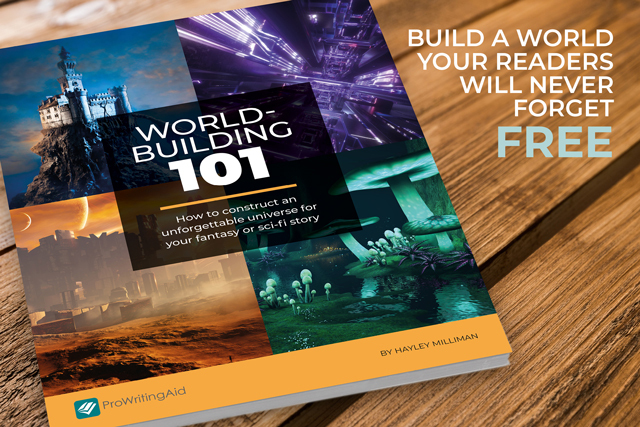 In World-Building 101: How to Construct an Unforgettable Universe for Your Fantasy or Sci-Fi Story, we delve into the top 10 fictional worlds ever created to see what they can tell us about crafting our own fantastic universes.
It's finally here: the complete guide to ProWritingAid. Ever wondered how the Consistency Report works, or how to change your writing style? Maybe you just want to know how to change the email address on your account. Well, look no further—it's all in this ultimate user guide.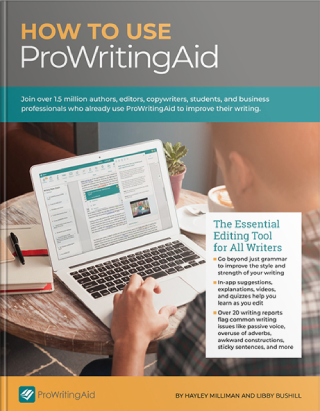 Find everything you need to know about getting started, downloading our apps and extensions, using the reports, managing your account and more.
Looking Forward to 2021
Collaborative Working in ProWritingAid
We know that collaboration is at the heart of writing and editing. Whether you're an editor sending revisions to a client, or a businessperson working on an important report with colleagues, being able to work together on a document is vital to your workflow.
That's why we're introducing document sharing and commenting in the New Year. You'll be able to edit documents together with other members of your team, leaving comments for others to work on or working simultaneously to make your writing shine.
Formatting
Many of you have been asking us to introduce formatting to our editor. Next year, you'll be able to see your documents' formatting as you edit in the Web Editor, as well as add new formatting as you go.
Easy-Access Goals
Soon, ProWritingAid users will be able to access specific goals and scores right in the Reports sidebar. You'll see specific goals related to the ProWritingAid report you are working with, helping you keep track of what you need to do next to improve your writing and making your editing process more efficient.
Here's a sneak preview of what this feature will look like: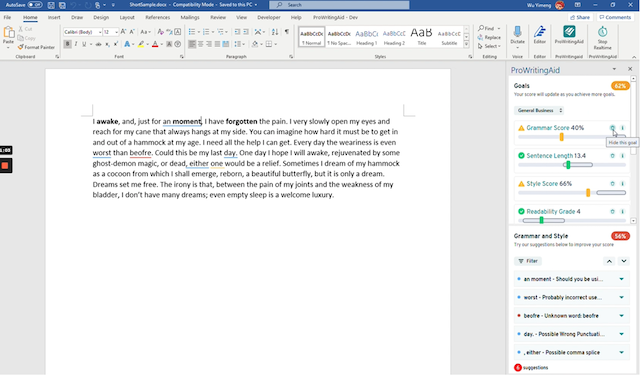 Document Types
With Document Types, you'll be able to select the kind of document you're working on to get suggestions tailored to your purpose. Fiction authors will be able to set specific genres, like Fantasy, Science-Fiction and Romance. Writers will also be able to work with over 30 other document types including academic essays, emails, case studies and cover letters.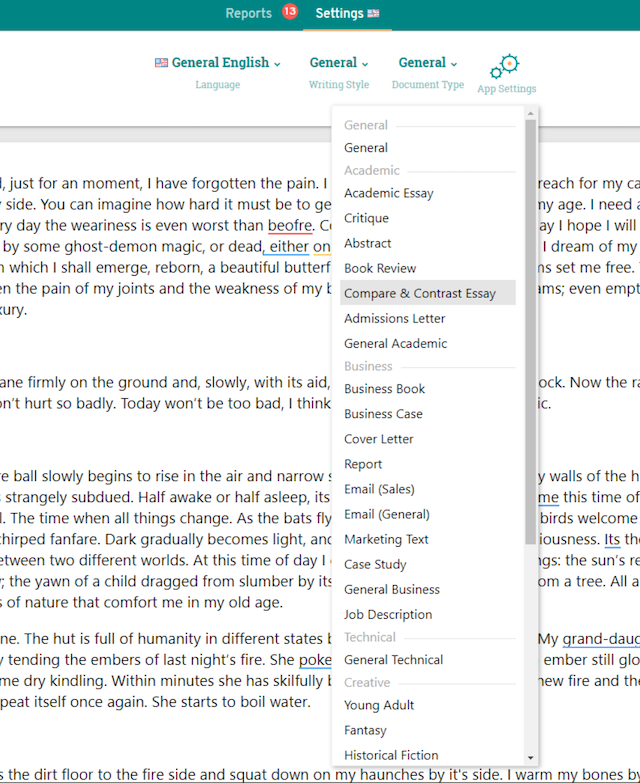 With document types, you'll always know if your document is heading in the right direction.
Referral Program
2020 has been a tough year, so if ProWritingAid Premium remains a bit too far out of your budget, starting next year, you will be able to earn an annual license, or even a lifetime license, by helping us spread the word about ProWritingAid to other writers. More details coming soon.
---
We hope you've enjoyed using ProWritingAid this year as much as we've enjoyed working on it. We've loved hearing your feedback, seeing your reviews and hearing from you at our webinars.
Which feature from this list was your favorite from 2020? Don't forget to suggest even more new features for 2021 over on Upvoty! We can't wait to keep writing and editing with you.
---
Try ProWritingAid's Editor for Yourself