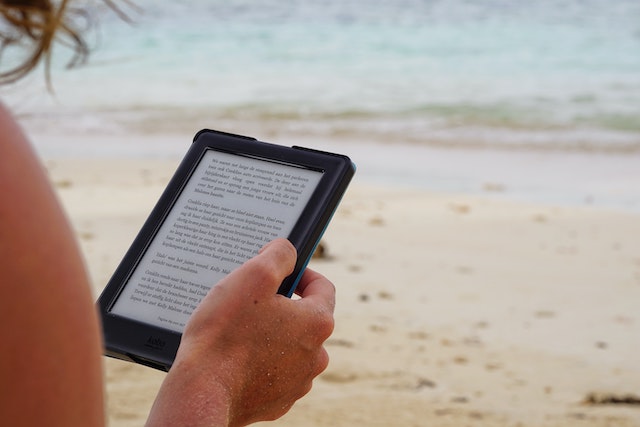 I can't explain why, but I really love the show Extreme Cheapskates.
If you haven't seen it, it's a reality show about people who go to extreme lengths to save money. As someone who has published a book on a shoestring, I also know a little something about going to extreme lengths for a bargain.
Now I'm not suggesting indie authors become extreme cheapskates. No need to go dumpster diving or recycle old food. But if you have a story you want to publish and not a whole lot of money to spend on it, this article could help.
Note: These prices are correct as of September 2020.
Tip 1: Start with an eBook
Yes, you can independently publish paperbacks and hardcovers. However, that comes with inbuilt costs. You'll need to order proof copies, and in some instances, you might need to pay a setup fee. An eBook, on the other hand, is pretty much free to make.
Start with Amazon. Though folks have mixed feelings about this gargantuan, there's no denying they make eBook publishing faster and more cost-effective than pretty much anybody. They also offer Kindle Create, a free piece of software that converts Microsoft Word documents into eBooks.
We've taken a deep dive into the costs of publishing on Amazon on the blog before, but it's pretty safe to say that it's one of the cheapest ways to get your book out there.
Assuming you already own a computer and word processor, so far we've spent this much: $0.
Tip 2: Save on Your Cover
Several options here. Cover designs are pricey (and frankly worth investing in), yet there are ways to reduce their cost. For example, you might arrange a work swap with an artist or designer friend of yours. Instead of paying them to design your cover, they design it for free. In exchange, you help them with a writing project for free.
There's always the DIY option as well. Even for those without artistic experience, there is hope. I swear by an online application called Canva, which is free to use (aside from some enhanced features).
The coolest part about Canva is that it offers tons of free eBook cover templates – all designed and optimized for Amazon. What's more, they look sharp. There are tons to choose from, so scroll through until you find a template that matches your story.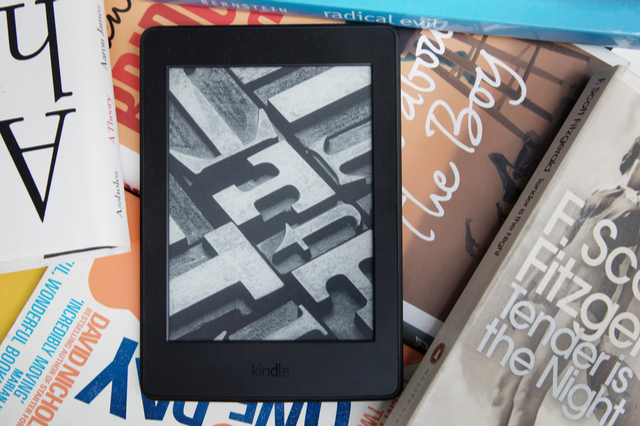 However, don't just insert your name and title and hit "publish." Try working from a similar color palette and arrangement, but add elements that make it your own. If you need professional photos, look to sites like Pexels or Unsplash.
Find out more about creating an effective book cover with these tips from a cover designer.
Since Canva works on a freemium model, you can get most graphic elements for free, or pay extra for the best. I think we can afford to shell out a few bucks.
Our total spend thus far: $3.
Tip 3: Edit Wisely
No one wants to read an unedited book. However, a good edit is not cheap. So how can we reconcile that cost?
Just like your book cover, you might propose a work exchange with a friend or colleague. However, folks with the right talent can be hard to find. So consider a writer's group.
For those who've never joined one, writers' groups are exactly what they sound like: Groups of writers who help each other improve their work. Unless there's a membership fee (unlikely), these groups are free. If you can't afford a developmental edit, getting your work critiqued by a writers' group is the next best thing. They'll help improve your pacing, enhance your character development, compose better prose, and more.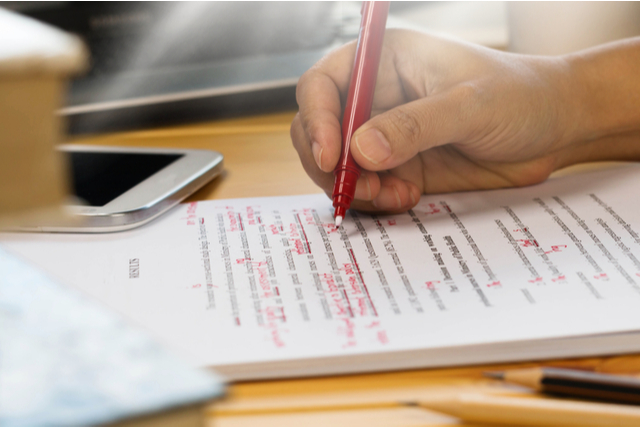 A line edit is a little different. As the name suggests, that's when an editor goes line-by-line to ensure proper grammar and spelling, optimal word choice, etc. Fortunately, our very own ProWritingAid helps with that.
ProWritingAid doesn't just look at grammar. There are over 20 reports focussing on areas such as dialogue tags, sentence length variety, pacing, overused words, structure, diction, consistency, and more.
It can even give you a detailed report on your writing as a whole. The Summary Report will show you where you can make the most amount of improvement in the shortest amount of time: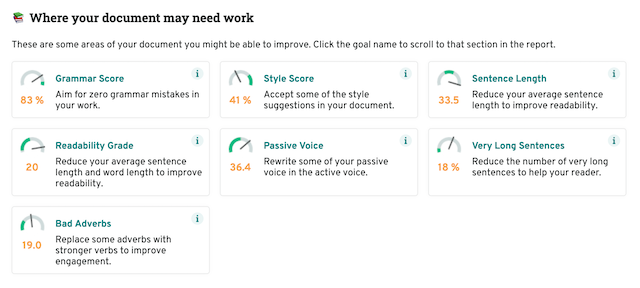 (Note: The screenshot above is a sneak peak of our new summary report, which comes out soon!)
You can start with a free trial, try $20 for a month or $79 for a year – discounted to $59.25 right now for your first year! Let's take advantage of that deal.
Our updated total spend thus far: $62.25.
Tip 4: Use Targeted Promotions
Now that your book is finished, it's time to spread the word. Though I could write a whole other article on ads for writers, here are a few quick tips that should keep costs down:
For online cost-per-click ads (Facebook, Amazon, Google Ads, etc.), create several ads, then sink more money into those performing best.
Contact local bookstores. Though they probably aren't doing author events currently, once things get back to normal, ask if you can sell and promote your book there.
Take advantage of word-of-mouth, since it's still the best way to sell books. Tell your friends and family that you wrote it, then ask them to kindly share that info with others.
Use social media sparingly. Though it is a free marketing channel, less promotion produces better results, especially in our ad-heavy world.
With a little creativity, I bet we could do some decent advertising for $50, bringing our final total to... $112.25.
Final Thoughts
Though we're not extreme cheapskates by any means, we can still reduce the cost of self-publication. And about a hundred bucks isn't bad to get your very own book out there. Give it a go!
---
Should I go with traditional, indie, or hybrid publishing? Download this free book now: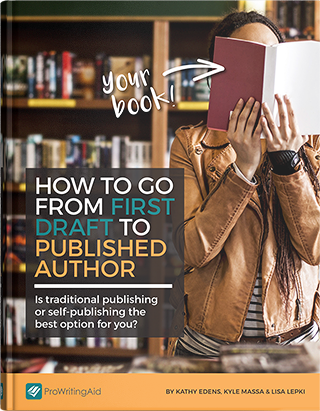 How do I write a pitch? What kind of royalties should I expect? What the heck are beta readers and why do I need them?
This guide will take you through the entire process, from refining your manuscript to choosing a publishing track to releasing your book into the world.