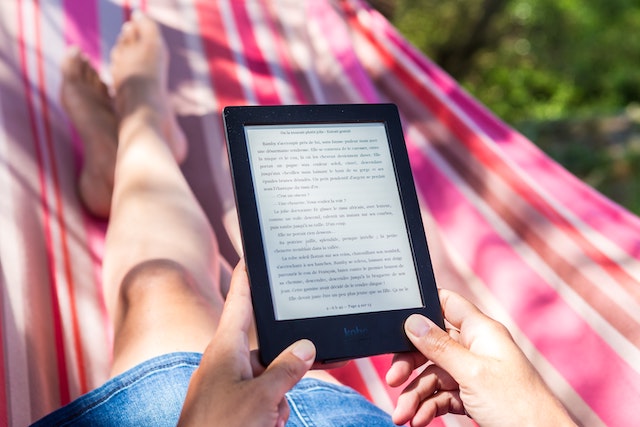 It took weeks, but I've finally finished it. My very own eCommerce site!
In other words, you can now buy eBooks straight from my website. I've been doing tons of research into the subject, so while it's all fresh in my mind, I'd like to share what I've learned with you. And trust me – you'll get it a lot faster than I did.
In this article, we'll examine how to sell eBooks directly from your website. Doing so could be the next big step in your writing career.
First, Why Sell eBooks from Your Website?
Before the how, how about the why? The first reason: moolah.
As you probably know, eBook distributors keep a percentage of every sale. Amazon, for example, takes 30%, which is a relatively generous cut for the writer. But let's not kid ourselves – that's still a lot.
Most eCommerce solutions claim far less from sales. I use WooCommerce, for example, which is WordPress's eCommerce solution. They take just 2.9% + $0.30 per transaction. Let's compare that with Amazon:
Amazon $4.99 eBook -30% = $3.49 per sale
WooCommerce $4.99 -2.9% -$0.30 = $4.55 per sale
That's over a dollar difference per sale! It might not sound like much, but in the aggregate, you stand to make far more money (at no additional cost to your readers).
Furthermore, selling from your site gives you useful information. When readers buy eBooks on sites like Amazon or Google Books, all you see is the sale—you don't get your customer's email address. With an eCommerce platform on your site, you do. You can encourage readers to join your mailing list, or you can send them discounts on future stories. That's excellent information for any writer.
Finally, a store on your site saves time for your readers. Imagine they discover their book through your website and decide to buy it. They must click the link for Amazon, get redirected, then log in, then click again to buy. With your eCommerce shop, they'll be able to buy your book without ever leaving your website.
Convinced? Excellent. Let's delve into the set up.
Begin with Your eCommerce Platform
I use WooCommerce for WordPress, and so far I've loved it. It's intuitive, flexible, and there's no monthly cost to use it. However, it's made for WordPress, so it's not compatible with some other website platforms. Here are a few alternatives:
I've tried and enjoyed this classic eCommerce solution. Handles digital products, back-end adjustments, and payments as well as any competitor. However, there are monthly subscription charges starting at $29.99 a month.
I'm less familiar with this one, though it appears to offer much of the same functionality as others. It even features a 0% transaction fee, which is sweet. However, they too have monthly charges. Worth a look, but worth researching further, too.
You've probably seen Square's cool credit card readers at local businesses or trade shows. Turns out they have web-based solutions, too! No fees to set up or maintain, and they offer the same generous transaction fees as WooCommerce (2.9% + $0.30 per transaction).
All these solutions provide free trials. I recommend WooCommerce because I'm using and enjoying it, but try out any of the others.
Next, Appease the Taxman
The nice thing about Amazon, Apple Books, and the like is they handle sales tax for you. When you sell eBooks from your site, assigning the correct tax is up to you.
Before we proceed, let me be very clear: I am not a tax expert. I'm not even a tax padawan. But I have done a good deal of eBook taxation research in the United States (that's where I live, so I can't vouch for other countries), and these are my conclusions. I hope they help get you started, but please consult a tax expert for the final word.
In the U.S., sales tax laws vary for every state. Some states enforce a tax on digital products, while others do not. And some wonderful states, such as Delaware and Oregon, don't enforce sales tax at all! Which brings me to our topic for today: "tax nexus." Prepare yourself, because it's a doozy.
Tax nexus is basically a series of conditions for every state. If you meet them, you must enforce sales tax on customers residing in that state. If not, you don't have to. The simplest version of tax nexus is physical presence, which is exactly what it sounds like. If you live in a state, you have nexus in that state.
But there are other kinds! Most, such as affiliate and remote employee nexus, probably won't apply to writers like us. The one we must watch out for is economic nexus.
If you meet a certain threshold of sales in a state, you have nexus in that state and therefore must enforce sales tax. So if you're selling all over the country through your website, you might qualify. But, qualification is steep. We're talking something like 200 transactions or $100,000 in sales per year in a specific state. Let's be honest – if you're selling that many books in one state, you can afford the tax!
So let's say you have nexus in a state that taxes eBook sales. There are several products that can help track and correctly assign tax, such as WooCommerce Tax, Avalara, and TaxJar. I believe Woocommerce Tax is the only of the three that's free, though, so keep that in mind.
Sorry to linger on a dry subject, but it's essential information. And I'll repeat: Consult a tax expert for exact laws!
Finally, Add Your eBook
This is the fun part. If your book is already published on Amazon, you already have a .mobi version of it (that's Amazon's custom eBook file type). You'll want to make it available on your site, plus a standard .epub file for those using Nooks, Kobos, or other eReaders.
Before you share your store with readers, test it. Buy your book and make sure everything's working properly. Only then should you share the link.
Take Your Store Further
Now that your store is published, have some fun with it!
Start by adding additional products, such as short stories sold only on your site. Use email clients like Mailchimp to automate marketing. For example, you can automatically send discounts to customers, or you can remind those who've abandoned their shopping carts to finish their purchases. Once you've started selling eBooks from your website, you'll find there's tons more you can do.
Selling your eBooks from your site is a fair amount of work, but it's well worth it. I hope this article serves as a useful starting point.