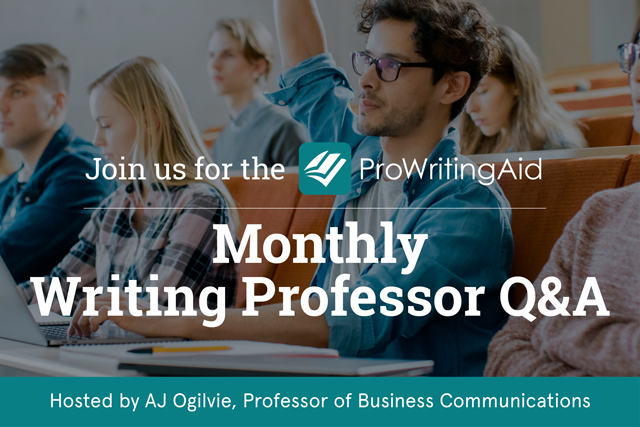 ProWritingAid Presents: Ask a Writing Prof: How to Boost your Business, Studies, or Career in a Practical Way with Exceptional Writing
On the third Tuesday of every month, the ProWritingAid community is invited to join Andrew (A.J.) Ogilvie, PhD, Professor of Business Communication for an in-depth training and Q&A.
A.J. has spent ten years designing and teaching undergraduate and MBA-level writing and communication courses. His primary research interests are writing development, knowledge transfer, and communication curriculum in higher education.
A.J. looks at how exceptional writing can boost your business, studies, or career in a practical way. How can a remarkable cover letter guarantee a job interview? How can written clarity win you more business, delight your customers, and build your reputation?
Monthly Themes
Each session will focus on a specific topic. A.J. will provide actionable training to help build your skills, and he'll invite you to ask questions too.
July 21: How to Write a Cold Business Email that will Engage Potential Clients
August 18: How (and why) to Stop Zooming and Start Writing to Get Further
September 15: How to Write a Persuasive White Paper that will Establish You as an Expert in Your Field
October 20: How to Seal the Deal with an Unforgettable Follow Up Email After an Interview
November 17: How to Write an Executive Summary that will Pique Your Potential Reader's Interest
A.J. Ogilvie, PhD
A.J. Ogilvie, PhD, is a professor of business communication at the University of Southern California. He has taught business communication, consulting, and writing courses for over ten years, and has published research on the theories of teaching, learning and communication.
Watch replays of our Monthly Writing Professor Q&A now!
5 Simple Principles for Creating Clarity
How to Write a Winning Executive Summary
Catch up on other free writing events
Check out the ProWritingAid YouTube channel to watch dozens of other free writing events. Click here to start the playlist.