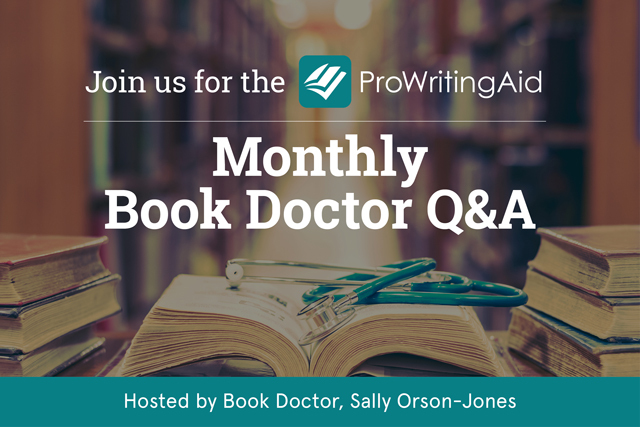 ProWritingAid Presents: Ask a Book Doctor, with Sally O-J
On the second Tuesday of every month, the ProWritingAid community is invited to bring all their questions to our favorite Book Doctor, Sally O-J.
What is a Book Doctor? A book doctor works alongside the author, looking at everything from plot and characterization to writing technique, dialogue, and texture. If you're wondering how to turn your manuscript from a labor of love into a bestseller, a book doctor's diagnosis might be what you're missing.
Each webinar will be based around a topic and Sally will provide practical advice and training before opening up for questions from attendees.
Sally Orson-Jones, Book Doctor
Sally Orson-Jones is a UK-based literary editor and writers' mentor. She has spent more than 20 years working with writers of all levels and genres, including Sarah Waters, Viv Albertine and Lilie Ferrari. Join us as we talk to Sally about how she helps clients diagnose their problems and transform their work.
Watch replays of our Monthly Book Doctor Q&A now!
Catch up on other free writing events
Check out the ProWritingAid YouTube channel to watch dozens of other free writing events. Click here to start the playlist.