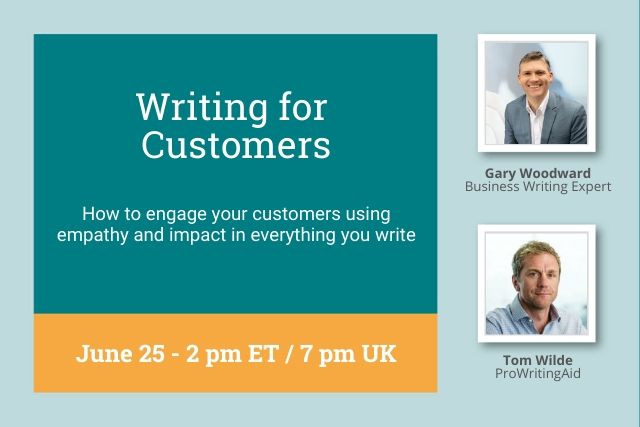 ProWritingAid Presents: Writing for Customers: How to Communicate with Impact and Empathy
Picture the scene. You've just written something really important for a customer. It has taken you a long time but you're pretty happy with it. (Maybe it's an email, proposal or complaint response, for example.)
You finally send it off and wait with bated breath for their reply. Sadly, they're not as happy as you expected. In fact, they've decided to switch to a competitor.
You review what you've written. 'It seems really clear and well written to me,' you conclude. You're a bit puzzled. Disappointed, too.
But clarity, while crucial, is not the only ingredient for getting results. Our writing needs something extra if it's to resonate with today's busy readers.
So what's the missing link? Join Gary Woodward in this session to find out. He'll take you through lots of practical tips that you can apply to your own writing immediately.
Gary Woodward, Business Writing Expert
Gary Woodward has been writing and training others to write for over 20 years. He's traveled the world training clients in every sector. From accountants and lawyers to scientists and customer service teams, he's helped others write for maximum impact. Some people find writing difficult. Other people enjoy it – and may even think they're good at it – yet they still don't get the results they want. Gary's mission is to take the pain away from writing and to help you get your message across.
Watch the replay now!
This webinar went live on June 25, 2020, but we recorded it for you to enjoy any time! Just hit the play button below to watch the replay.
Other resources
Get a free copy of Gary's book, "Write for Results: 33 Tips for Getting Your Message Across", here: https://gary-woodward.com/about/
Join us for future live training events here: https://prowritingaid.com/webinars
Join our writing community: https://bit.ly/PWA-community
Subscribe to the ProWritingAid Newsletter to get great information about writing delivered straight to your inbox: https://bit.ly/PWA-newsletter
Write us at: hello@prowritingaid.com