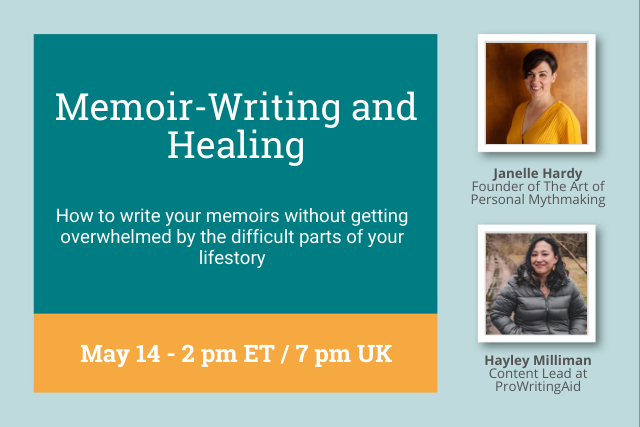 ProWritingAid Presents: Memoir-Writing and Healing: How to Write Your Memoirs Without Getting Overwhelmed by the Difficult Parts of Your Lifestory, with Janelle Hardy
So many people hold onto a desire to write their memoirs, but don't do it, sometimes for more than 20 years! Why does it seem so hard to get started, keep going and then finish your memoirs?
Well, because our lifestories are personal. Along with the joys we all have painful experiences that can feel difficult to revisit. Add that to the often lonely process of writing, and it's no wonder the desire to write your memoir keeps getting put off for a 'better' time.
There is no 'better' time but there is a way to both write and heal.
Imagine having support and guidance from a body-based trauma-informed memoir-writing teacher, someone who can help you face the painful, distressing and overwhelming parts of your life – the parts that have been stopping you from starting.
In this session, Janelle Hardy, creator and teacher of the Art of Personal Mythmaking, a transformational memoir-writing course, shows you common memoir-writing challenges related to a need for healing and shares some tips on how to bring your body into the memoir-writing process to calm and settle your nervous system and get that first draft generated.
You'll finish the workshop:
with insight into why you're feeling so much resistance to your memoir-writing process
knowing how to start working with your resistance and painful memories
understanding how your body can be your most trusted creative ally
feeling confident you can write and heal
Janelle Hardy: The Art of Personal Mythmaking
Janelle Hardy is a writer, artist, host of the Personal Mythmaking Podcast and the creator/teacher of a transformational memoir-writing course called The Art of Personal Mythmaking.
She's a born and raised Yukoner, a solo mother, who has been working as a trauma-informed bodyworker in the hands-on healing arts fields for 13+ years and as an artist (writing, painting, and dance) for 17+ years. Throughout that time she's taught adults out of her living room, arts centres, universities and community colleges.
For the past 4+ years, Janelle has integrated all of her expertise, including a BA in Anthropology, an MA in Dance and a Diploma in Structural Integration, into supporting people in their creative healing work via the alchemy of transformational memoir-writing.
Watch the replay now!
This webinar went live on May 14 2020, but we recorded it for you to enjoy any time! Just hit the play button below to watch the replay.
Catch up on other free writing events
Check out the ProWritingAid YouTube channel to watch dozens of other free writing events. Click here to start the playlist.
---