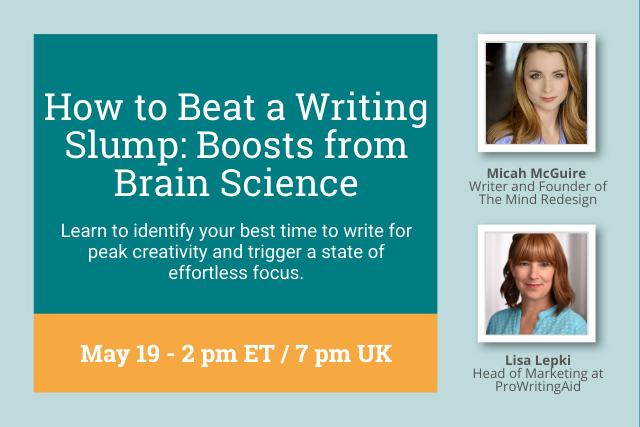 ProWritingAid Presents: How to Beat a Writing Slump: Boosts from Brain Science, with Micah McGuire
Does it feel like you barely have space to think these days, let alone work on your writing? Have you promised yourself "I'll write today" only to find the hours slip away and you still haven't written? Has writing even a few words become a struggle?
You're absolutely not alone.
Writing is hard and modern life hasn't made it any easier. Between endless to-do lists, digital distractions, and daily avalanches of information, it's easy to get overwhelmed by everyday stresses. And nothing crushes creativity like stress.
Fortunately, we can all create the mental space and clarity needed to write more without all the frustration and worry.
This session will walk through research-backed psychology and neuroscience techniques to help you write more with less stress. You'll learn how to identify your best time to write for peak creativity, reframe critical thoughts for smoother writing sessions, and trigger a state of effortless focus to hit your word count targets faster than ever.
Join us and learn the best ways to boost your writing brain!
Micah McGuire: Writer, Coach, and Self-Professed Productivity Geek
Micah McGuire is a writer, American Council on Exercise (ACE) certified health coach, and a self-professed productivity geek. She is the founder and program strategist for The Mind Redesign, a company specializing in helping creatives, freelancers, entrepreneurs, and students get more done with less stress. To learn more or schedule a free consultation, visit themindredesign.com.
Watch the replay now!
This webinar went live on May 19 2020, but we recorded it for you to enjoy any time! Just hit the play button below to watch the replay.
Catch up on other free writing events
Check out the ProWritingAid YouTube channel to watch dozens of other free writing events. Click here to start the playlist.
---