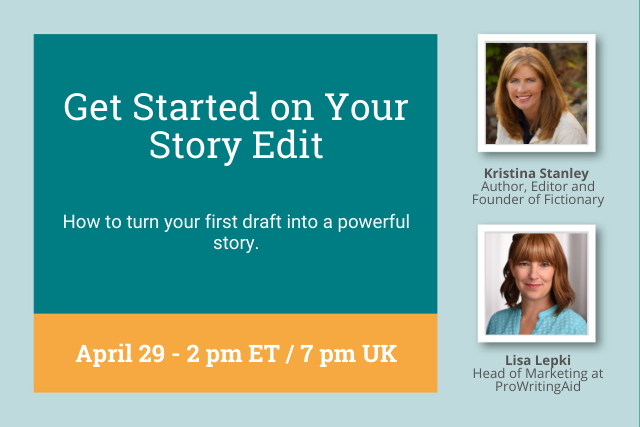 ProWritingAid Presents: Get Started on Your Story Edit, with Kristina Stanley
We all get excited when we type "The End" on our first draft. Before you share your story with others, you owe it to yourself to tell the best possible story. Learn how to story edit, and you'll create a story readers love.
In this session, Kristina Stanley, CEO of Fictionary and ALLi Story Editing Advisor, will teach you where to begin a story edit. If your dream is to craft a powerful story, she'll show you how to "see" your first draft in a new way.
Story editing is the primary structural review of your manuscript and the story you're telling. Whether you're self-publishing or going the traditional route, your story needs to be as good as you can possibly make it before sharing it with others.
Before sharing with anyone, it's time to evaluate your writing with a story edit and turn your first draft into a powerful story.
But just re-reading your novel and looking for areas of improvement without having a process can waste a lot of time. Questions such as Where to start? What to change? and How to make it better? all come to mind.
Don't despair. There is light at the end of the editing tunnel.
Just like you learned how to write a novel, you can learn how to perform a story edit. All you need is a clear process, some editing knowledge, and the right tool.
It's your job as a writer to put in the hard work of self-editing and rewriting your story until it works. My goal is to help make that job a lot easier!
Kristina Stanley, Founder and CEO of Fictionary
Combining her degree in computer mathematics with her success as a bestselling, award-winning author and fiction editor, Kristina Stanley is the creator and CEO of Fictionary - creative editing software for fiction writers and editors. Her novels include the Stone Mountain mystery series and Look the Other Way.
Watch the replay now!
This webinar went live on April 29 2020, but we recorded it for you to enjoy any time. Just click the play button below to watch the replay.
Catch up on other free writing events
Check out the ProWritingAid YouTube channel to watch dozens of other free writing events. Click here to start the playlist.