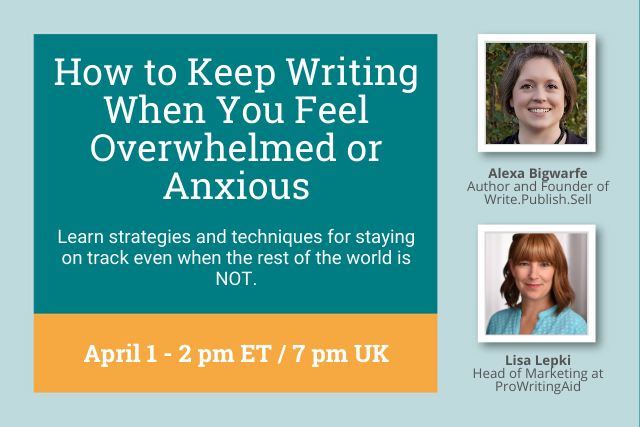 ProWritingAid Presents: How to Keep Writing When You Feel Overwhelmed or Anxious, with Alexa Bigwarfe
At a time when everyone's feeling uncertain, it can be hard to sit down and write. Alexa has experience guiding writers through the noise of stress and bad news so they can come out the other side.
In this webinar, Alexa discusses strategies and techniques for staying on track when the world is definitely NOT, and why this is the perfect time to commit to writing.
Alexa Bigwarfe, Author and Founder of Write.Publish.Sell
Alexa Bigwarfe is a wife, mother, proud veteran, a USA Today Best-Selling author, author coach, publisher, and podcaster. Her writing career began after her infant daughter passed away at 2 days old and she turned to writing for healing.
Blogging led to self-publishing, and the launch of her own publishing companies. Now she guides other authors through the publishing and marketing process, with a special focus on mindset and healing through writing. She is also the founder and host of the Women in Publishing Summit, a place where women writers can learn together and support each other.
In her free time, she runs a nonprofit for grieving mothers, Sunshine After the Storm. She lives in Columbia, SC, with her husband and three living children. Download her free book Ditch the Fear & Just Write It at writepublishsell.co/dtf.
Watch the replay now!
This webinar went live on April 1 2020, but we recorded it for you to enjoy any time! Just hit the play button below to watch the replay.
Catch up on other free writing events
Check out the ProWritingAid YouTube channel to watch dozens of other free writing events. Click here to start the playlist.