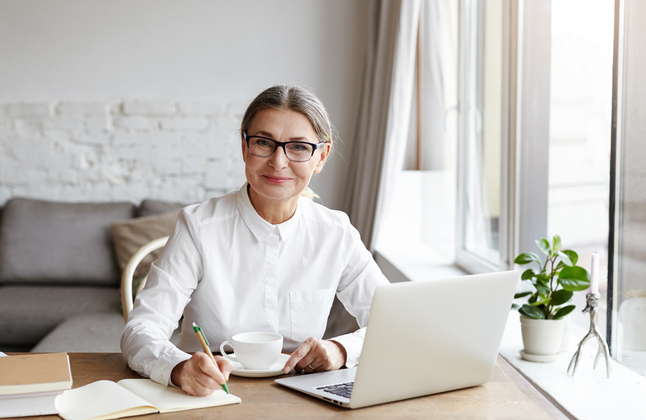 Today, four generations are living side-by-side: the Baby Boomers, the Gen X-ers, the Millennials, and the Gen Z-ers. Whichever generation you belong to, most likely you need a website, especially if you write for a living (or even "just as a hobby").
As a Gen X-er, anything online doesn't come to me naturally. I had to learn how to operate a computer, how to swipe on tablets, and how to use those colorful apps on my smartphone. I also had to take online courses that taught me how to create my own website with Wordpress.
Today, I'm both a professional writer and a Wordpress developer. Combined, I'm proud to have created multiple sites without spending a fortune, including JenniferXue.com, which is my freelance writing site. However, you don't need to master Wordpress just to create your own writer's site, as there are several other options.
In this article, we'll be discussing best practice for a writer's site and how it can be optimized to attract new clients and generate new sales leads. In other words, let your site work for you.
Design and Navigation
According to Editor's Choice, in 2019, 34 per cent of websites worldwide used Wordpress, which translates to more than 750 million sites. Why is Wordpress so popular? Because it's easy to use, comes with tons of themes and plugins to customize look and functionality, and it's cost-effective. You don't need to know coding (a.k.a. programming) to use it.
Considering its simplicity and convenience, it's natural that most writers' sites use this platform. With this in mind, I'd recommend you to use either a self-hosted Wordpress site or the one hosted on Wordpress.com. Other options to consider include Squarespace and Wix, which are site builders and hosting providers (in one) that don't require any coding skills at all, just like Wordpress.
For the domain name, you can use your own name like ElnaCain.com or Linda Spencer's WritingThoughts.com. Most domain hosting providers have a domain name registration service for their customers, such as Bluehost, Siteground, and Godaddy.
Once you've decided on the domain name and hosting provider, you can start designing. There are many free templates for self-hosted Wordpress sites, so hiring a developer might not be required unless you don't have the time to do it yourself. Remember the basic design rule: keeping it simple. For color ideas, Color Hunt is a great place to start.
Must-have sections, which are actually "pages," include: about (biography), portfolio (or writing clips with live links to the articles), books or e-books published (with their covers and links to where they can be purchased or obtained), clients or publications (logos), social media icons or badges (as social proof), LinkedIn badge (an online resume), blog (to share your activities and latest works), and email newsletter signup (to keep in touch with visitors or readers). Make sure to use professional-looking logo design and a header that includes your tagline or unique value proposition. For email newsletter list, use MailChimp, which comes with a free account for the first 2000 subscribers.
SEO (Search Engine Optimization)
As a writer, SEO means two things: a tool to market your services and a service that you provide to clients. Either way, SEO is a skill too valuable to pass.
The good thing is, SEO can be conveniently learned with self-study, either through reading articles and books on this topic or taking online courses from reputable SEO experts like Search Engine Journal or Neil Patel.
As a tool to market your writing services, SEO keywords must be included in your writer's site (pages and blog posts), so they'd attract organic traffic. Also, be specific with your writing offerings so that the keywords would reflect them precisely.
For instance, if you write parenting articles, include SEO keywords related to parenting, such as foster parenting, single parenting, adoption, childhood development, autistic children, and their variants. If you write about e-commerce, include related keywords such as dropshipping, Woocommerce, AWS, Aliexpress, and others.
Most likely, you'd need to use these tools to find which keywords would fit your site and writing services: Uber Suggest, Google Keyword Planner, and SEMRush. There are also other tools out there, which range from free to costing a fortune. But these three are the staple for SEO writers.
If you provide writing SEO articles as a service to your clients, be clear on the site, including on About Us and Portfolio pages. Whenever possible, include logos of past clients who have successfully generate or increase their organic traffic with your SEO articles.
As an SEO writer myself, several viral articles that I've written are included on the portfolio page. Such Google rank proof would boost your credibility as an SEO writer. If your articles were viral on certain social media, like Facebook or Twitter, include their screenshots as well.
Stay open-minded and continuously upgrade yourself on SEO trends as Google and social media algorithms do change from time to time, so what worked in the past might not be useful in the future. To reduce the impact of possible algorithm changes, it's recommended to have your writing site listed in freelance writing directories or linked on writing gig sites, as it would also create reputable backlinks to your site, which Google recognizes as "higher ranked."
Generating Sales Leads
As a writer, you're your own business. As a solopreneur, the buck starts and stops with you. The thing is, you might have been too busy working on assignments than generating leads, which are vital for acquiring new clients.
Spend at least an hour a day tweaking your sales leads tactics. It can be anything from posting meaningful articles on your blog or LinkedIn to creating free e-book giveaway to entice new email list subscribers, or keeping in touch with past clients to offer your latest services and whether they have any referral for you.
The main idea of lead generation activities is simple. To generate sales leads, you'd need to share free information that matters to your prospective clients. Your goal is to be known as a subject matter expert in specific topics that you'd like to write for. Or, at least, as someone with a genuine interest in the issues.
For instance, if you're aiming at technology startups as your clients, start writing about specific new technologies that would provide solutions to their problems. For instance, if you're aiming at Wordpress plugin creators, write about issues that most pressing to them.
Also, you can showcase your profile as a technology writer on writer communities' sites, so prospects who are looking for such writers would be able to find you. Be confident about your skills and be ready to answer questions about specific technology and tech writing problems whenever they contact you.
Last but not least, your blog is a gold mine. Carefully decide the SEO keywords to include in each article, as prospects who find you through Google are likely to come through a blog post. Your blog is like a "backdoor" to you. Keep it open and attract visitors with valuable information.
Here are some top ideas to include in your blogs:
1. Discuss common issues or problems that your prospective clients are likely experiencing and provide intelligent solutions. You can also entice readers by including them in free e-books that are given away to subscribers of your email newsletter.
2. Share success stories of your past clients. This can be in the format of question-and-answer interviews or case studies.
3. Interview third-party experts who are highly distinguished in the field. They can be C-level executives, startup founders, successful independent contractors, business consultants, inventors, and others.
4. Invite visitors to your site to participate in a giveaway that is sponsored by a business that belongs to the targeted industry. Finding a sponsor shouldn't be hard as it's also a promotional opportunity for them.
5. Look for cross-promotion opportunities with fellow freelance writers who aren't your direct competitors. For instance, if you write about AI (artificial intelligence), you might want to cross-promote with writers who write about e-commerce or startups.
6. Create YouTube videos and post the transcript of the videos on your blog. Make sure to include SEO keywords that would attract your targeted prospects. Google loves YouTube transcripts, and with the right headline, your video might receive a high rank.
7. Outreach to influencers in the targeted industry. If your and service names are mentioned by them and linked to their sites, it's a form of reputable endorsement.
8. Answer questions on Quora that would interest readers who belong to your targeted industry. You can also ask questions to start a conversation going.
9. Share about your working style, workload, and how you interact with clients. In other words, show the world how you handle each project favorably.
10. Create a list of useful tools for your prospective clients. For instance, startups are likely having funding issue, so enlisting free productivity tools would greatly help.
11. Create a list of "what to look for" when hiring a specific type of writer. For instance, if you write marketing white papers, consider writing a listicle article on "selecting a professional white paper writer from a pool of freelancers" or something of that sort.
At the end of the day, a writer's site is more than a showcase of your talents, skills, and past achievements. It's a sales lead generation tool and a way for you to nurture past and prospective clients with your free information.
In this age where anyone can have a website within several hours, it's not an excuse for a professional writer not having one. Whichever generation you belong to, you definitely need an author's site. Let's rock the whole worldwide web.
---