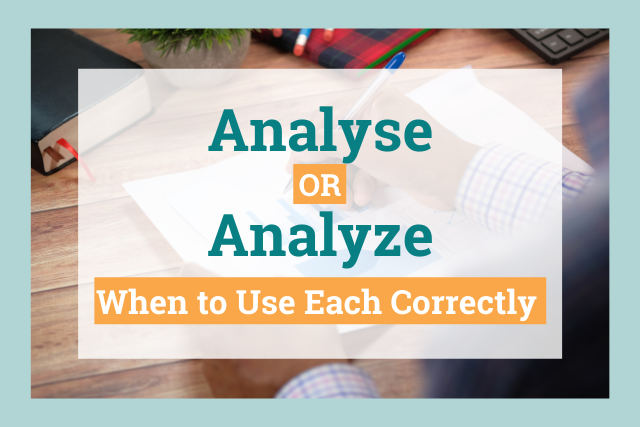 There's a lot of confusion around when to use analyse and analyze, since they're two commonly accepted spellings of the same word.
So when should you use each variant?
The short answer is that it depends on whether you're writing for a British audience or an American audience. Analyze is standard in American English, while analyse is standard in British English.
In this article, we'll teach you the difference between analyse and analyze and show you when to use each word.
How to Spell Analyze (in American English and British English)
Analyze and analyse are two forms of the same verb. Their definition is "to examine something in detail, in order to discover more about it."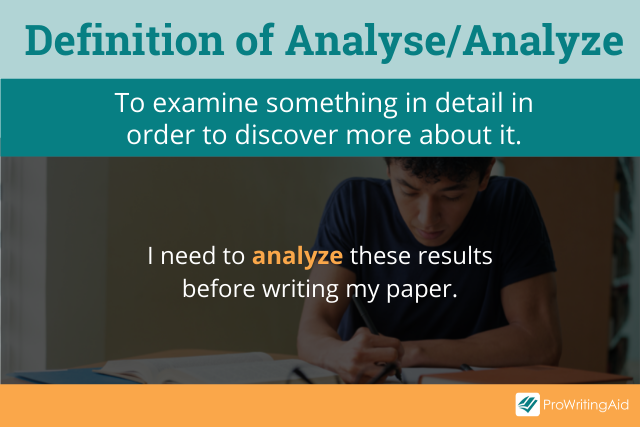 You can use both analyze and analyse in the same sentences. Changing the spelling doesn't change the meaning of the word.
The corresponding noun for both variants of this verb is "analysis."
For example, you might use the verbs analyze or analyse to describe the act of conducting a scientific or grammatical analysis.
The only difference between the two spellings is the geographical audience you're writing for.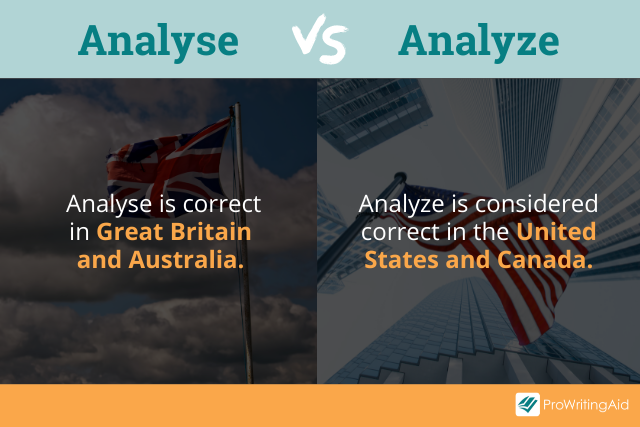 Analyze is considered correct in areas that speak American English, such as the United States and Canada. If you're communicating with a primarily American audience, you would write "I analyzed your chemical sample and sent you my report."
Analyse is considered correct in areas that speak British English, such as Great Britain, India, and Australia. If you're communicating with an audience in one of these areas, you would write "I analysed your chemical sample and sent you my report."
TIP: To remember the difference between analyse and analyze, remember that the word "British" includes an S. The word analyse also includes an S, so it's the preferred spelling in British English.
This tip is applicable to several other words that also follow this same pattern. Here are some more words that are spelled with an S in British English and a Z in American English:
Catalyse (UK) and catalyze (US)
Crystallise (UK) and crystallize (US)
Organise (UK) and organize (US)
Realise (UK) and realize (US)
To learn more about the differences between British and American English, check out our article on common alternate spellings.
Should You Use Analysing or Analyzing?
The words analysing and analyzing are the present participle forms of the verbs analyse and analyze.
The rules here are the same as the rules for analyze and analyse. Again, all you need to remember is that the version with an S is British English, while the version with a Z is American English.
If you're writing for an audience that uses a different type of English from your own, you can use set your language choice on ProWritingAid to reflect that.
That way, the tool will tell you when you should be using an alternative spelling from the one you're used to.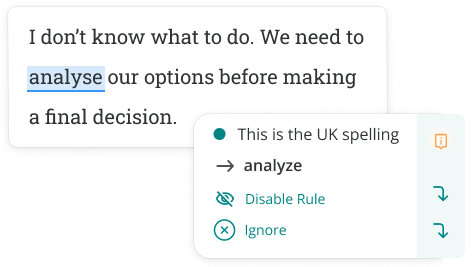 Examples of Analyse and Analyze (in American English and British English)
The best way to intuitively understand the difference between analyze and analyse is by seeing them in action. Let's look at how news sources in different parts of the world use these two spellings.
Analyse Examples (British Spelling)
Here are some sentences that include the word analyse from British, Indian, and Australian publications, all of which use British English.
"While the actual examination will be of three hours in both the shifts, students will get a 'cool off' time of additional 15 minutes in each shift to read and analyse the questions and also to plan the answers accordingly."—The Times of India
"Scots boffins are set to analyse slithers of a mystery specimen—in order to determine if it's a potato."—The Scottish Sun
"Training during the day limited work possibilities but it did allow time to prepare, analyse and train more."—Sydney Morning Herald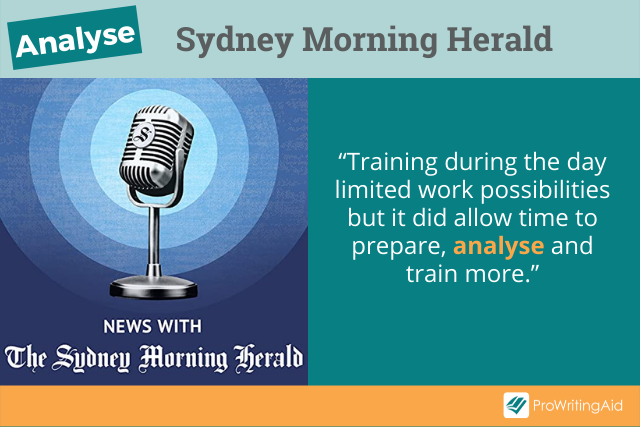 "If an automated system analyses voters' behaviour at poll booths, how accurate will this system be, what kind of data will be stored, and how will the secrecy of ballots be maintained?"—Medianama
"If consumers today use artificial intelligence to analyse their spending, they can not just save money but also make money by investing at right places."—Financial Express
"Industry experts analyse the opportunities and the challenges brought about by the surge in VoD services in the Nordic countries."—Cineuropa
"Before investing in a mutual fund SIP, analyse these 5 factors."—Economic Times
"After the artificial intelligence algorithms have analysed the video feed, the processed images are eliminated from the system in a 'matter of milliseconds.'"—RailTech
"She then started to analyse the link between the wearing of sunglasses and the broader phenomenon of 'what it is to be cool.'"—The Guardian
Analyze Examples (American Spelling)
Here are some sentences that include the word analyze from American and Canadian publications.
"A federal agency failed to adequately analyze the environmental harm that could be caused by increasing the size of a southeastern Montana coal mine that feeds a nearby power plant before approving an expansion permit."—US News
"Businesses must analyze real-time trends to grasp the breadth of the disability economy."—Forbes
"As a result of this approach, enterprises and users in over 50 countries have been able to analyze larger volumes of observability data, drastically reduce costs, and enable faster MTTR without the manual toil of traditional platforms."—NBC
"Using artificial intelligence to analyze vast amounts of data in atomic-scale images, Stanford researchers answered long-standing questions about an emerging type of rechargeable battery posing competition to lithium-ion chemistry."—Stanford University News
"For its study, the center analyzed spending and achievement data from the 2007-08 school year for about 9,000 school systems."—Washington Post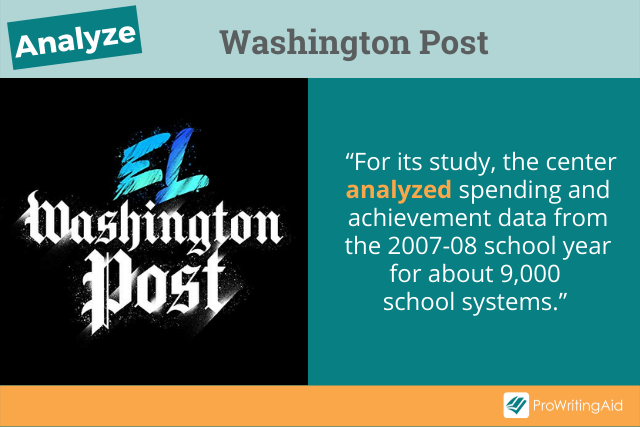 "Filmmaker Nanfu Wang, who was in China with her son visiting family for Chinese New Year in January 2020, imbues the scenes with her own pandemic story, as she analyzes how China stage-managed the catastrophe."—Los Angeles Times
"Analyzing the brain changes that occur in the first stages of juvenile fibromyalgia could help to better understand the pathophysiology of this syndrome, which had not been approached from this perspective to date."—Medical Xpress
"The latest book by Liliana Naydan, associate professor of English at Penn State Abington, analyzes mainstream literary fiction by authors writing about the United States from the time of the Y2K crisis to the onset of the pandemic."—Penn State News
"By analyzing data on a player's in-game behavior, the goal of the position will be to make gaming an increasingly interactive experience."—Financial Post
Conclusion on Analyse or Analyze / Analysing or Analyzing
As an easy rule of thumb, remember that analyse is used in British English, while analyze is used in American English.
What are some words with multiple spellings that you tend to get mixed up? Let us know in the comments.
---
Take your writing to the next level: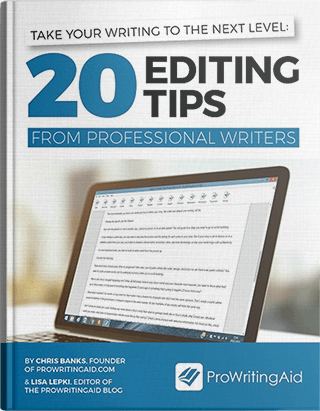 Whether you are writing a novel, essay, article, or email, good writing is an essential part of communicating your ideas.
This guide contains the 20 most important writing tips and techniques from a wide range of professional writers.
---