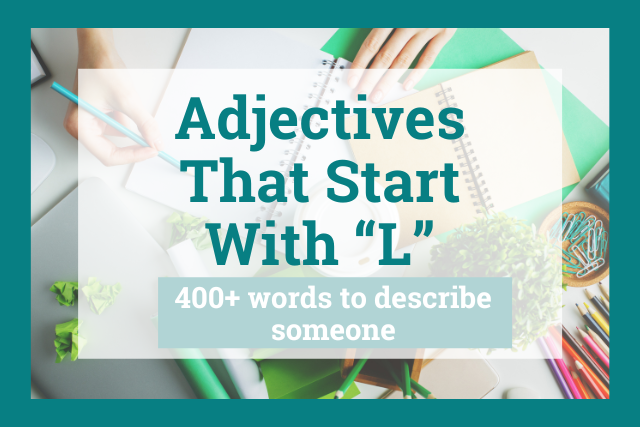 "The lovely lady looked at the luminous lake."
Maybe you're looking for adjectives that start with L to use in an alliterative sentence, like the one above. Maybe you're working on a business slogan or headline that prominently features the letter L. Or maybe you want to add some more L adjectives to your writing to help your readers picture the people you're describing.
Whatever your reasons are, you've come to the right place!
This article will give you a full list of adjectives that start with L to help you spice up your writing.
Descriptive Adjectives That Start With L
Descriptive words are words that clarify a characteristic of a noun or pronoun. For example, large is a descriptive adjective because it tells you the size of a person, place, or thing.
Here's a list of over 400 descriptive adjectives that start with L that you can use in your writing.
Labeled
Labial
Labiate
Labile
Labored
Laboring
Labor-intensive
Laborious
Labyrinthian
Labyrinthine
Laced
Lacelike
Lacerated
Lachrymal
Lachrymose
Laciniate
Lackadaisical
Lacking
Lackluster
Laconic
Lactic
Lacy
Ladylike
Laden
Laic
Laid
Laid-back
Laid-off
Lambent
Lame
Lamentable
Laminal
Lamplit
Lanate
Lancelike
Lancinating
Landless
Landlocked
Landscaped
Languid
Lapsed
Languishing
Laniary
Lank
Lanky
Lantern-jawed
Lapidary
Lapsed
Larcenous
Large
Larger
Large-scale
Largest
Larval
Laryngeal
Lascivious
Lashing
Last
Last-ditch
Lasting
Last-minute
Late
Latent
Later
Lateral
Latest
Lathery
Latitudinal
Latter
Latticed
Latticelike
Laudable
Laureled
Laughable
Laughing
Lavender
Lavish
Law-abiding
Lawful
Lawless
Lax
Layered
Lazy
Lead
Leaden
Leading
Leafless
Leaflike
Leafy
Leaking
Leakproof
Leaky
Lean
Learnable
Learned
Leased
Leasing
Least
Leather
Leathered
Leatherlike
Leathery
Leaved
Leavened
Lecherous
Leechlike
Leering
Leeward
Left
Left-handed
Left-wing
Leftover
Legal
Legato
Legendary
Legged
Leggy
Legible
Legion
Legislative
Legitimate
Leguminous
Leisurely
Lemonlike
Lemony
Lendable
Lengthwise
Lengthy
Lenient
Lenten
Lenticular
Lentiform
Lentiginous
Lentissimo
Lento
Leonine
Lepidote
Leprose
Leprous
Lesbian
Less
Lessened
Lesser
Lesser-known
Lethal
Lethargic
Lettered
Level
Levelheaded
Levitical
Levorotatory
Lewd
Lexical
Lexicalized
Lexicographic
Liable
Libelous
Liberal
Liberated
Libidinal
Licensable
Licensed
Licentious
Licit
Licked
Lidded
Lidless
Liege
Life-giving
Lifeless
Lifelike
Lifelong
Lifesize
Life-threatening
Lifted
Light
Light-armed
Light-blue
Lightheaded
Light-fingered
Light-footed
Light-handed
Lighthearted
Lightless
Light-minded
Lightproof
Lightsome
Lightweight
Ligneous
Likable
Likelier
Likely
Like-minded
Lilac
Lilaceous
Lilliputian
Lilting
Lily-livered
Limacine
Limbed
Limber
Limbic
Limbless
Limited
Limiting
Limitless
Limnological
Limp
Limpid
Limping
Lincolnesque
Lincolnian
Lineal
Linear
Lined
Lingering
Lingual
Linguistic
Lingulate
Linked
Linnaean
Lionhearted
Lipless
Liplike
Lipophilic
Lipotropic
Lipped
Liquefiable
Liquefied
Liquescent
Liquid
Liquified
Lissome
Listed
Listless
Lit
Lite
Literal
Literary
Literate
Lithe
Lithesome
Lithographic
Litigious
Littered
Little
Little-known
Littler
Liturgical
Livable
Live
Livelier
Liveliest
Livelong
Lively
Liver-colored
Liveried
Liverish
Livid
Living
Loaded
Loath
Loathsome
Lobed
Lobular
Local
Localized
Locatable
Located
Locked
Locomotive
Lodged
Lofty
Logarithmic
Loggerheaded
Logical
Logistic
Logistical
Logographic
Logy
Lone
Lonely
Lonesome
Long
Long-armed
Long-distance
Longer
Longest
Longhand
Longing
Longitudinal
Long-lived
Long-range
Long-sighted
Long-standing
Long-suffering
Long-term
Longtime
Long-winded
Look-alike
Loony
Loopy
Loose
Looseleaf
Loosened
Looser
Loosest
Looted
Lopsided
Loquacious
Lordless
Lordly
Lossy
Lost
Louche
Loud
Louder
Loudest
Loud-mouthed
Loud-voiced
Lousy
Loutish
Lovable
Loved
Lovely
Lovelier
Loveliest
Lovelorn
Loving
Low
Lowborn
Lowbred
Lowbrow
Low-budget
Low-calorie
Low-carb
Low-cost
Low-density
Lower
Lowercase
Lowered
Lowermost
Lowest
Low-fat
Low-grade
Low-interest
Low-key
Lowland
Low-level
Lowly
Low-lying
Low-maintenance
Low-necked
Low-pressure
Low-priced
Low-ranking
Low-risk
Low-spirited
Loyal
Lubberly
Lubricated
Lubricious
Lucent
Lucid
Luckier
Luckiest
Luckless
Lucky
Lucrative
Luculent
Ludic
Ludicrous
Lugubrious
Lukewarm
Lumbar
Lumbering
Lumbosacral
Luminary
Luminescent
Luminous
Lumpen
Lumpish
Lumpy
Lunar
Lunate
Lunatic
Lupine
Lurid
Luscious
Lush
Lusterless
Lustful
Lustrous
Lusty
Luxe
Luxuriant
Luxurious
Lying
Lymphatic
Lymphoid
Lyrate
Lyric
Lyrical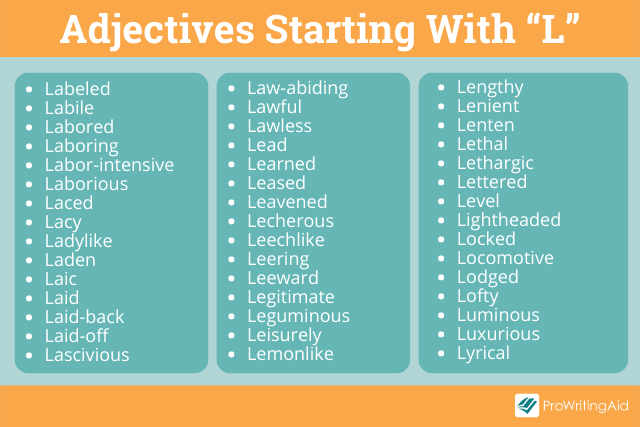 Describing Someone: Positive Adjectives That Start With L
Maybe you're looking for adjectives starting with L that have positive connotations. For example, likable is a positive adjective because it describes a person in a flattering way.
If you're coming up with a slogan for your business, for example, you want to use positive words to make readers feel optimistic about your brand.
Similarly, you probably want to use positive adjectives to describe a character in a story that you want readers to like.
Here's a list of 50+ positive adjectives that start with L.
Laid-back
Lambent
Lamblike
Laudable
Laughing
Laureate
Laureled
Lavish
Law-abiding
Lawful
Lead
Leading
Lean
Learned
Legendary
Legitimate
Lenient
Lettered
Level-headed
Life-giving
Lifesaving
Lighthearted
Likable
Like-minded
Limber
Limitless
Limpid
Lincolnesque
Lionhearted
Lissome
Literary
Literate
Lithe
Lithesome
Lively
Lofty
Logical
Long-sighted
Loquacious
Lovable
Lovely
Loving
Loyal
Lucid
Lucky
Lucrative
Luculent
Luminescent
Luminous
Luscious
Lush
Lustrous
Luxuriant
Luxurious
Lyrical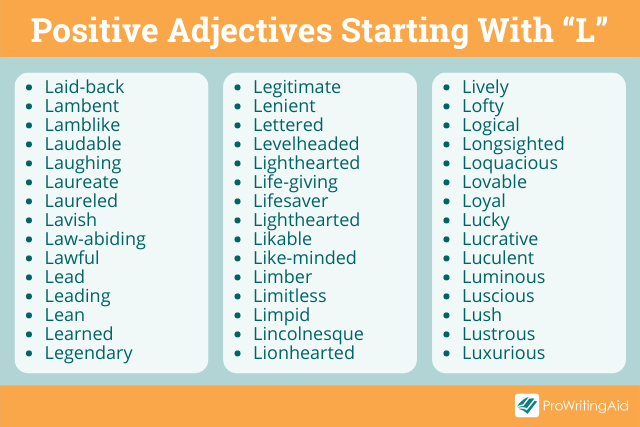 Describing Someone: Negative Adjectives That Start With L
Maybe you're writing a story with characters who have faults and flaws, and you're looking for a negative adjective.
For example, lazy is a negative adjective because it describes a person in a critical way.
So what are some L adjectives with negative connotations?
Here are 70+ negative adjectives that start with L.
Labored
Laborious
Laconic
Lachrymose
Lackadaisical
Lackluster
Lacky
Laconic
Lame
Lamentable
Languid
Languishing
Larcenous
Lascivious
Last
Late
Laughable
Lawless
Lax
Lazy
Leaden
Leathery
Lecherous
Leering
Less
Lesser
Lesser-known
Less-qualified
Lethargic
Lewd
Liable
Libelous
Libidinous
Licentious
Life-threatening
Lifeless
Light-fingered
Lily-livered
Limited
Limp
Limping
Listless
Litigious
Livid
Loathly
Loathsome
Lonely
Lonesome
Loony
Loopy
Lopsided
Loser
Loud-mouthed
Lousy
Loutish
Loveless
Lovelorn
Low
Lowbred
Lowbrow
Lower
Lowly
Low-ranking
Low-spirited
Lubberly
Luckless
Lugubrious
Lukewarm
Lumbering
Lumpen
Lumpy
Lunatic
Lurid
Lustful
Lusty
Lying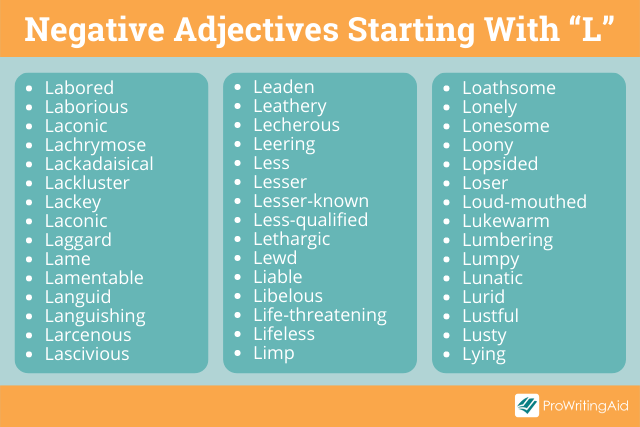 There you have it: our full list of adjectives that start with L, whether positive, negative, or somewhere in between.
What are your favorite L adjectives in the English language? Let us know in the comments.
---
Take your writing to the next level: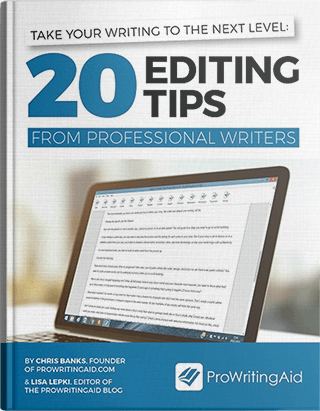 Whether you are writing a novel, essay, article, or email, good writing is an essential part of communicating your ideas.
This guide contains the 20 most important writing tips and techniques from a wide range of professional writers.