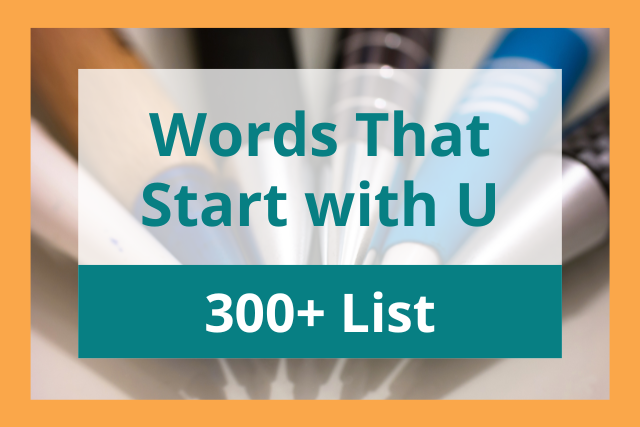 Want to beat your friends and family at word games like Scrabble and Words with Friends? It's time to sharpen up and refresh your vocabulary.
In this article, we're going to show you a list of over 300 words that start with the letter U.
Full List of Words That Start with U
Words that start with U abound and are plenty. You could call them ubiquitous. (See what we did there?) This is because the prefix un- is very common and can easily be placed in front of many base words.
Here is a list of words that start with U, so you can be undefeated in your next Scrabble game.
Uber
Ubiquitous
Uglier
Ugliest
Ugly
Ulcerated
Ulterior
Ultimate
Ultimately
Ultimation
Ultra
Ultraconservative
Ultramarine
Ultramodern
Umbel
Umber
Umbilical
Umbrage
Unabashed
Unabashedly
Unable
Unaccountable
Unadorned
Unadulterated
Unadvised
Unaffected
Unaffectedly
Unafraid
Unalloyed
Unambiguous
Unambiguously
Unanimous
Unanswered
Unappetizing
Unarguable
Unassailable
Unassuming
Unattached
Unbearably
Unbeatable
Unbeaten
Unbelievable
Unbelievably
Unbiased
Unblemished
Unbound
Unbreakable
Unbridled
Unbroken
Unburden
Unburdened
Uncanny
Uncaring
Unchallengeable
Unclean
Unclear
Unclouded
Uncluttered
Uncomfortable
Uncommon
Uncomplaining
Uncomplicated
Unconditional
Unconditionally
Unconfined
Unconscious
Uncontestable
Unconventional
Uncorrupted
Uncouth
Uncover
Uncovered
Uncritical
Uncritically
Unction
Unctuous
Undamaged
Undauntable
Undaunted
Undefeated
Undefiled
Undeniable
Undeniably
Under
Underage
Underappreciated
Underbear
Underfong
Underlying
Undernourished
Understand
Understandable
Understandably
Understanding
Understated
Understood
Undertake
Underwriter
Undesigning
Undiminished
Undisputable
Undisputed
Undisturbed
Undivided
Undoubted
Undoubtedly
Undying
Unencumbered
Unequaled
Unequivocal
Unequivocally
Unerring
Unerringly
Uneven
Unexpected
Unfailing
Unfailingly
Unfair
Unfaltering
Unfaultable
Unfazed
Unfeigned
Unfetter
Unfettered
Unflagging
Unflappable
Unflashy
Unfold
Unforgettable
Ungodly
Ungracious
Ungrudging
Unhampered
Unharmed
Unhesitating
Unhurried
Unhurt
Unicity
Unification
Unified
Unify
Unimpaired
Unimpeachable
Unimpeded
Union
Unique
Uniquely
Uniqueness
Unite
United
Unity
Universal
Universally
Universe
Unlimited
Unmatched
Unmistakable
Unmitigated
Unmoving
Unnatural
Unnecessary
Unnerving
Unobjectionable
Unobstructed
Unobtrusive
Unopposed
Unparalleled
Unpretentious
Unquestionable
Unreal
Unrealistic
Unreasonable
Unrefuted
Unregenerate
Unrelenting
Unreliable
Unreserved
Unrestricted
Unrivaled
Unruffled
Unruly
Unsafe
Unsatisfactory
Unselfish
Unselfishly
Unshakable
Unshaken
Unsoiled
Unspoiled
Unspoilt
Unstoppable
Unstructured
Unsuccessful
Unsuitable
Unsullied
Unsurpassed
Unswerving
Untalented
Untarnished
Untidy
Untiring
Untouchable
Untouched
Untroubled
Untrowable
Unused
Unusual
Unvarying
Universalism
Unwary
Unwasteful
Unwavering
Unwieldy
Unwilling
Unwind
Unwitting
Unworried
Unwritten
Unyielding
Unzipped
Up
Upas
Upbear
Upbeat
Upcheer
Upcoming
Updated
Upfront
Upgradable
Upgrade
Uphold
Upholder
Up-leveled
Uplift
Upmarket
Upmost
Upper
Uppermost
Uppity
Upraise
Uprate
Upright
Uprightness
Uproarious
Upscale
Upset
Upsetting
Upside
Upskill
Upspeak
Upstand
Upstanding
Upstay
Uptight
Up-To-Date
Uptown
Upturn
Upward
Upwardly
Urban
Urbane
Urbanely
Urbanology
Urgent
Urinary
Ursiform
Usable
Usance
Use
Useable
Used
Useful
Usefully
Usefulness
Useless
User-friendly
Usual
Usually
Utile
Utilize
Utmost
Utopia
Utopian
Utter
Uttermost
Uxorious
Use ProWritingAid to Come Up with Words That Start with U
This list is a good place to start, but an even better way to come up with the right words is with ProWritingAid's Word Explorer.
The Word Explorer will take any word in your writing and give you the meaning, synonyms, and associated phrases. It can also show you alliteration, so you can find other words beginning with the letter U.
Sign up for a free ProWritingAid account and try the tool today.